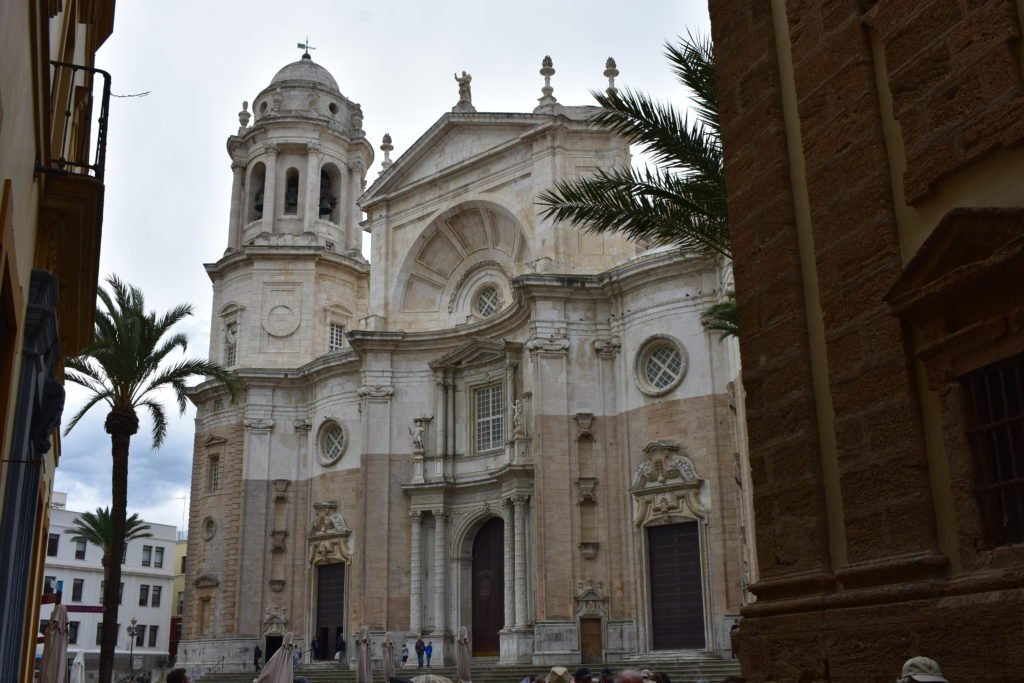 Cádiz is reputed to be Western Europe's oldest city. It attracts visitors all year round: Some arrive by cruise and stay for a day, while others take a day trip from Seville or Málaga. However, the ideal way to experience Cádiz is by staying there for multiple days.
That will require you to find accommodation in the city. So the vital question is where to stay in Cádiz?
If you are in a rush, our principal recommendation in the city centre is Hotel Alquimia – arguably the most unique hotel at a great location – and as an alternative, the Hotel Cádiz Paseo del Mar for those who want to stay near the beach. But continue reading below for more details about the areas. We will go through the best neighborhoods of Cádiz and give a specific hotel recommendation in each one!
Centro
If you want a cultural trip to Cádiz, the Centro district is by far the best place to stay. This is where the majority of the traditional attractions are located. The district is considered to be the "old town" of Cádiz. Furthermore, Centro is home to some nice bars and restaurants.
You should know that it is also the most touristic area. That means prices will be higher and that there will be plenty of other travelers around. Almost everybody stays in this area because this is where the majority of hotels are located. At times, this can be annoying, but it isn't as bad as in other Spanish cities where tourists have completely taken over. Cádiz Centro still feels authentic overall, even in the peak of the travel season.
Staying in Centro is ideal for first-time visitors, culturally interested visitors, and those who want to be near the main restaurants and shops. Most of the hotels are situated in the upper section of Centro, while the lower neighborhood El Pópulo has the main attractions (Cathedral, Roman Theatre). Some hotels are also located in the lower end. Overall, the entire historic centre is packed.
Best hotel in Cádiz Centro: Hotel Alquimia – Go to booking
One of the most unique hotels you'll ever experience is the Alquimia in Cádiz. It is not a luxury hotel by any means – more like a hostel with private rooms – but it gives an extremely good impression to everyone who visits it.
The hotel has that traditional, quirky local vibe. You truly get the local culture under the skin at this hotel. The building is quite old. It is clear that there is an emphasis on authenticity and history over comfort. Room size will depend on which room you reserve. Some are small, some are large. Most rooms have large paintings or at least some unique decorations.
The common areas are the highlight. From the awesome bar on the terrace to the many plants and flowers in the reception – the experience is absolutely unique. Many visitors at this hotel like to be social and have conversations at the terrace bar. And did we say that Hotel Alquimia is located extremely central in the old town of Cádiz? You'll get a very competitive price if you make your booking online in advance.
La Viña
La Viña is a smaller neighborhood located immediately west of Centro and it faces the Caleta Beach. It is an enjoyable area with authenticity and a local vibe. One of the university faculties is located in La Viña. From the beach, you have a view of the castle. And there are cool monuments at several locations in this neighborhood.
The Caleta Beach is the most historic beach of Cádiz. It is relatively small and not always ideal for bathing, but it is famous for its history and for its Cuban-like look. A scene from the 007 film, Die Another Day, was filmed at the Caleta Beach! Local customs and traditions still take place at the beach, as well as in other sections of La Viña.
There aren't too many hotels in the La Viña area, but there are some alternative accommodations. You will find a decent number of holiday apartments in this neighborhood of Cádiz, plus a few hostels.
It makes sense to stay in this area if you love history, want to be in a cool and fascinating area, and if you prefer apartments over hotels.
Best aparthotel in Cádiz La Viña: Plaza de la Luz Apartments – Book here
This wonderful building is like a merge of a hotel and an apartment building. It works as a hotel, but the rooms are more like small apartments and you have plenty of facilities. The apartments come with small kitchens, somewhat large bathrooms, and spacious bed rooms with modern furniture.
Plaza de la Luz Apartments offer smaller apartments for two people, but also larger apartments with up to three bedrooms, ideal for groups who travel together. The aparthotel is located just 100 meters away from the beach and has a central location within the La Viña neighborhood.
Port & Station Area
The train station and the port of Cádiz serve as the main entry gates to the city. At least for most travelers: The two common ways to get into Cádiz is by cruise ship or by train. The port of Cádiz and the train station are located extremely close to each other, with the bus terminal being a bit further south.
For practical reasons, it can be useful to stay near the station. Especially if you are arriving at night or leaving early in the morning.
Both the train station and the port are located just southeast of the historic centre. There are some nice hotels in this area. You will still have walking distance to the historic centre and the beach. Remember, everything is relatively compact in Cádiz, the city isn't that big.
Best hotel near Cádiz train station: Boutique Convento Cádiz – Go to booking
Here we have another unique hotel in Cádiz. This is basically a large boutique hotel with a style of its own. Situated in an old convent near the port, this hotel is plenty spacious. Both the rooms and the common areas provide all the room you'll need on your trip to Cádiz. The grounds of the hotel clearly indicate that this is a historical place. But don't get fooled – it is also a well-maintained place that offers comfort to its visitors.
At a practical location and with beautiful surroundings, this popular Cádiz hotel must be considered. On top of all the practical benefits, it also serves a great breakfast buffet in the morning where you have a decent selection of bread, toppings, fruits and snacks. They have a solid selection of different juices as well – and like in most other hotels, you can also get your coffee in the morning.
It is not the cheapest hotel in town, but the prices are not outrageous either. For most visitors, this is a really good option. It is ideal for those who want an 'alternative' experience while being close to the main junctions of Cádiz.
Playa Victoria
Playa Victoria is the best area to stay in Cádiz if you want a beach vacation. It is the most popular beach in Cádiz. With a length of 3 kilometers and an average width of 30 meters at low tide, there is room enough for everyone.
There are plenty of hotels and restaurants near Playa Victoria. Some nightlife as well. The downside is that you will be farther away from the historic city centre. It is still reachable by taxi, by bicycle or even by foot if you don't mind a decent walk. But this area of Cádiz speaks more to those who love beach and entertainment, rather than those who prioritize culture and sightseeing. So keep that in mind.
Playa Victoria is arguably the best place to stay in Cádiz for families. Kids love the beach, and it is a very safe area because it is so popular among everybody – tourists as well as locals. Everybody who loves going to the beach should consider staying near Playa Victoria. If you love the nightlife, you can also stay in this part of the city. There are plenty of bars, and a good thing is that the nightlife is more civilized than in other parts of Spain, yet every bit as interesting and entertaining.
Best hotel near Playa Victoria: Hotel Cádiz Paseo del Mar – Book here
A beautiful, modern hotel located just a few steps away from the most central part of Playa Victoria. It is one of the few hotels in Cádiz with 4 stars. As for user reviews, it has an average rating of 8.5 out of 10 which is very good.
The hotel provides extremely comfortable beds. Some rooms are large enough for entire families. There is a gym, a spa, and some restaurants on site. Both the furniture and the decorations are very modern. The best rooms have a magnificent sea view, so make sure you get one of those rooms! You can select the room type you want if you reserve online at Booking.com. The price will be higher than the average rate in Cádiz, so it appeals to those who don't mind paying extra for a special experience. Hotel Paseo del Mar is the closest we get to a luxury hotel in Cádiz.
Playa Santa María del Mar
Another nice beach in Cádiz is Playa de Santa Maria del Mar. This one is a bit smaller than the Victoria Beach. But it is located north of it – which means it is closer to the city centre, giving you a location that is the best of both worlds.
So if you want to be near the beach, plus within a fair distance of the cultural attractions of Cádiz, this is an area that should be considered. Coincidentally, one of the best hotels in Cádiz is situated right by this beach.
Hotel near Playa Santa María: Monte Puertatierra – Book here
Perhaps the best beach hotel in Cádiz when everything is accounted for.
Hotel Puertatierra is extremely popular. This is mainly due to its great location by the Santa María Beach (which is also somewhat close to the city centre) as well as the beautiful rooms and the high level of service. For these reasons, it is also the top rated hotel in Cádiz with an average rating of 8.9 out of 10 by previous visitors.
The hotel is extremely modern. It has high-end, trendy furniture and most rooms are very spacious. Always clean and tidy. It is a great pick for families and large groups who travel together. The level of service is probably the best in Cádiz – the staff is very helpful and competent.
Cádiz hotel recommendations
Several hotel recommendations have been given along the way – but we would like to do a brief summary.
If you want to stay at a central and extremely vibrant hotel in the very centre of Cádiz, go for Hotel Alquimia.
Do you prefer a holiday apartment over a hotel room? Then stay with Plaza de la Luz Apartments in the cool neighborhood La Viña.
The most unique experience in Cádiz will probably be at Boutique Convento Cádiz with its unique setup and practical location near the maritime terminal and the train station. It is also close enough to the old attractions and the main beaches.
If you want to stay at the beach, you have two great options: Hotel Cádiz Paseo del Mar by the Victoria Beach, and Hotel Puertatierra by the Santa María Beach. Both are ultra-comfortable 4-star hotels with great service and nice facilities. The first probably gives a bit more luxury, while the latter is at a beach closer to the city centre. You can always click the links and have a look at the hotel images to determine which one suits you the best.
The best neighborhoods of Cádiz
After describing the best areas of the city individually and giving some recommendations for hotels in Cádiz, we would like to do a brief summary of the areas and neighborhoods of Cádiz.
The old town, known as Centro, on the northern end of the peninsula is the best place to stay for most visitors. It has the largest selection of hotels, by far. Many of the best attractions and restaurants are also located in the old town. The historic neighborhood of El Pópulo is located just south of Centro and often just considered a part of it. To the west of Centro, the neighborhood of La Viña is certainly one of the most interesting places of Cádiz.
On the northwestern front of the city centre, there are some interesting places such as La Caleta Beach (located in La Viña), the Santa Catalina Castle, and the Parque Genovés located on the northern end of Centro.
To the northeast we find the marina and some industrial sections of the port. Further to the south of that section, and directly east of El Pópolu, the maritime passenger terminal is located. This is where cruise ships and ferries come in. From Cádiz there are connections to the Mediterranean Sea as well as to Atlantic destinations such as the Canary Islands! Near the maritime terminal, you also find the main train station, so it can be a highly practical area to stay. There are some good hotels in the area, plus shopping facilities and fastfood restaurants.
Going south from there, you will get to the more residential areas of Cádiz. The northern end of the peninsula is generally known to be historic and touristy, while the southern end is more residential. You can see this immediately, especially in the neighborhoods of San Severiano, Estadio and Puntales. There can be great shopping facilities though, particularly El Corte Inglés in San Severiano.
The parts of southern Cádiz that aren't residential would be the beach sections along the western coast. Here we find the Santa María and Victoria beaches, as described earlier in the article. Both of these beach areas are great for tourists. If you continue further south, there are more beaches, so the city is pretty rich when it comes to beaches.
Overall, most tourists should stay in the historic northern part of the city, known as the old centre, or along the main beach areas just mentioned.
Conclusion
Cádiz is a historic city with plenty of things to do. The city certainly warrants a stay if you are into culture, history, nice weather and great food. It has such a unique location on a peninsula in southwestern Andalusia. While many tourists do visit Cádiz, it is not anywhere near as popular as cities such as Málaga or Seville. That comes to your advantage since it means better prices and more authenticity. For those reasons, it makes sense to visit Cádiz as soon as you can!
Finally, we hope that this article has been useful and that you have a good impression of where to stay in Cádiz. You are always welcome to re-visit this article if you need some area descriptions or hotel recommendations in Cádiz. Furthermore, the comment section below is open. We wish you a fantastic trip to Cádiz!