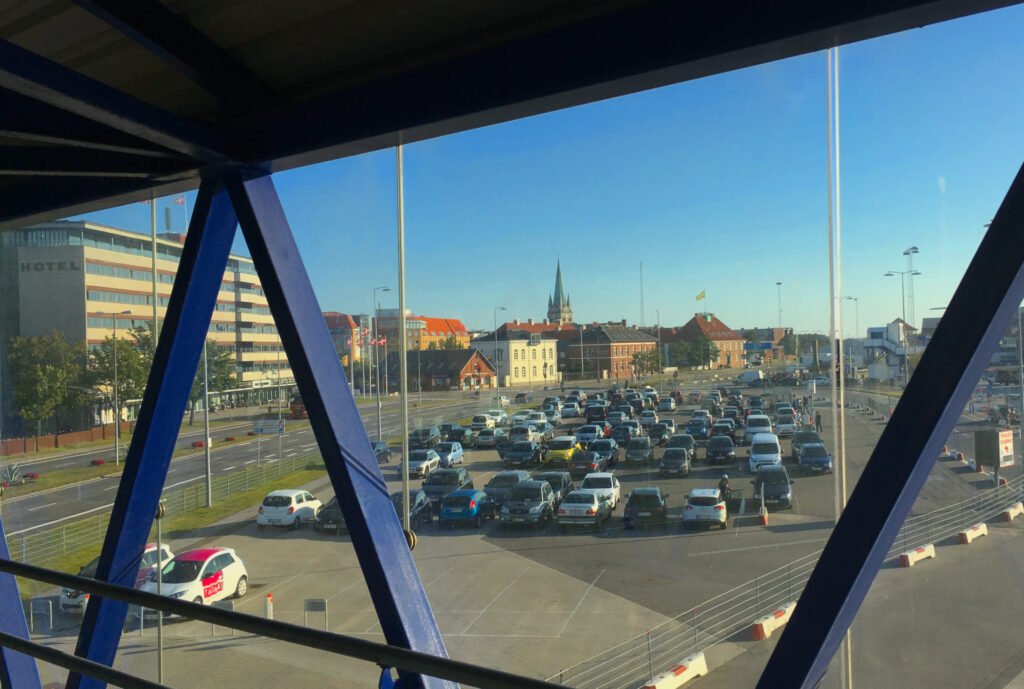 Frederikshavn is a popular tourist destination in Denmark, mostly because of the presence of the Port of Frederikshavn where ferries connect the town to major Nordic cities such as Gothenburg and Oslo.
There are also some interesting attractions in Frederikshavn, a long pedestrian shopping street, and multiple seafood restaurants. It is also located near Skagen, another popular Danish travel destination.
If you are coming to visit Frederikshavn, you will have to find a place to stay – even if it is just for one night. In this article, we will recommend some of the best hotels in Frederikshavn and describe some areas in order to determine where to stay in Frederikshavn.
The Park Hotel
Family-owned hotel in Frederikshavn → Go to booking
This charming hotel has a great location at the northern edge of the town centre. The Park Hotel is located near the train station, the city hall, the art museum and the church, so it is absolutely ideal for anyone who wish to experience the cultural side of Frederikshavn.
The Park Hotel is run by a family – it is not one of those chain hotels that there are so many of in Denmark. So you actually get an authentic experience here. Rooms are traditional, and most rooms will have paintings on the walls. If you read the reviews from previous guests, many call it the comfiest hotel they have ever slept in!
There is a breakfast buffet in the morning and the food is really good. You can also order the breakfast to your room. During the summer, you can sit outside on the terrace. The Park Hotel has a special room that is basically a mix of a bar and a small library. It is a great place to hang out. It also has an old chessboard, so you can easily entertain yourself at the hotel's own premises!
Overall, this is the hotel to choose if you want a traditional Danish experience and if you want to see the cultural side of Frederikshavn. Prices are very reasonable all year round, so it makes sense from all angles.
Book your stay at the Park Hotel here!
Hotel Jutlandia
Hotel near the Port of Frederikshavn → Go to booking
Most people stay near the port in Frederikshavn – either because they have an outgoing journey to Gothenburg or Oslo the following morning, or because they are arriving in Frederikshavn in the evening and need a place to stay.
If you want to be as close to the port as possible, you should simply stay at Hotel Jutlandia. This hotel is located right in front of the ferry terminal, and overall it is a very nice hotel. It works for both tourists and business travelers.
Actually, Hotel Jutlandia is one of the largest hotels in Frederikshavn, so there are a lot of different room types to choose from, and there is almost always availability. The rooms are comfortable and equipped with modern furniture and modern decorations. All rooms have a TV and a minibar – some of them have a balcony overlooking the port, but not all of them, so if you want a balcony with a view, make sure you select the right room type when you book.
The prices can be a bit higher than at other hotels in Frederikshavn, but it's not a huge difference, and it's certainly worth it if you want to be near the ferry terminal for practical reasons.
Reserve your room at Hotel Jutlandia here!
Scandic the Reef
Luxury hotel in Frederikshavn → Go to booking
Our third recommendation is Scandic the Reef. Part of the popular Scandic-chain of hotel, it is considered to be one of the finer places of accommodation in Frederikshavn. It has a nice location in the town centre and it is also near the port. There's only about 300 meters to the Stena Line terminal, so Scandic the Reef also works if you have to catch a ferry out the next morning.
The unique thing about this hotel is that it is very theme based. Aside from being a hotel, there is also a tropical water park at the hotel. This water park has an 80 meter water coaster, several pools and spas, a sauna, and some game areas. Even the rooms and the hallways are decorated as if they are part of the water park: Many rooms have tropical pictures hanging on the walls, and in some of the hallways, the floor is painted to look like water!
For a fun, interesting and difference experience, we would recommend you to stay at Scandic the Reef. Theme-based hotels are always cool and this is no exception. This hotel is popular among families. There are regular rooms for two people, as well as larger family rooms, so the place is well suited for families and groups. Prices can be higher than average, but considering the uniqueness of the hotel, the money is probably well spent in the end.
Book your stay at Scandic the Reef here!
Best areas of Frederikshavn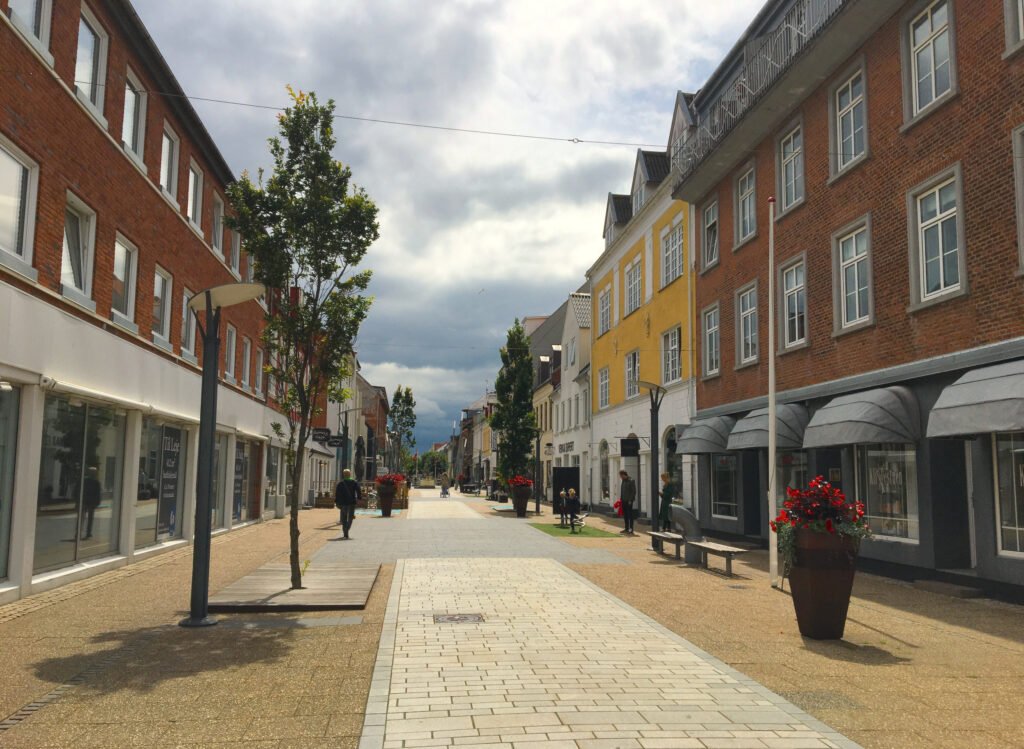 The commercial centre of Frederikshavn is preferable if you want to experience the local culture, if you want to shop, and if you want to eat at restaurants. This is where most hotels are located. The large pedestrian street is full of shops, cafés, banks, etc. It is the best area of Frederikshavn for most visitors. The Park Hotel is a great choice in the central area.
The northern section of the port is mostly industrial and not that interesting. However, the southern end of the port is where the ferry terminal is located, and this would be a very practical place to stay. Fortunately, it is also bordering the town centre, so you will find many places of accommodation there! If you want to be near the ferry terminal, choose Hotel Jutlandia.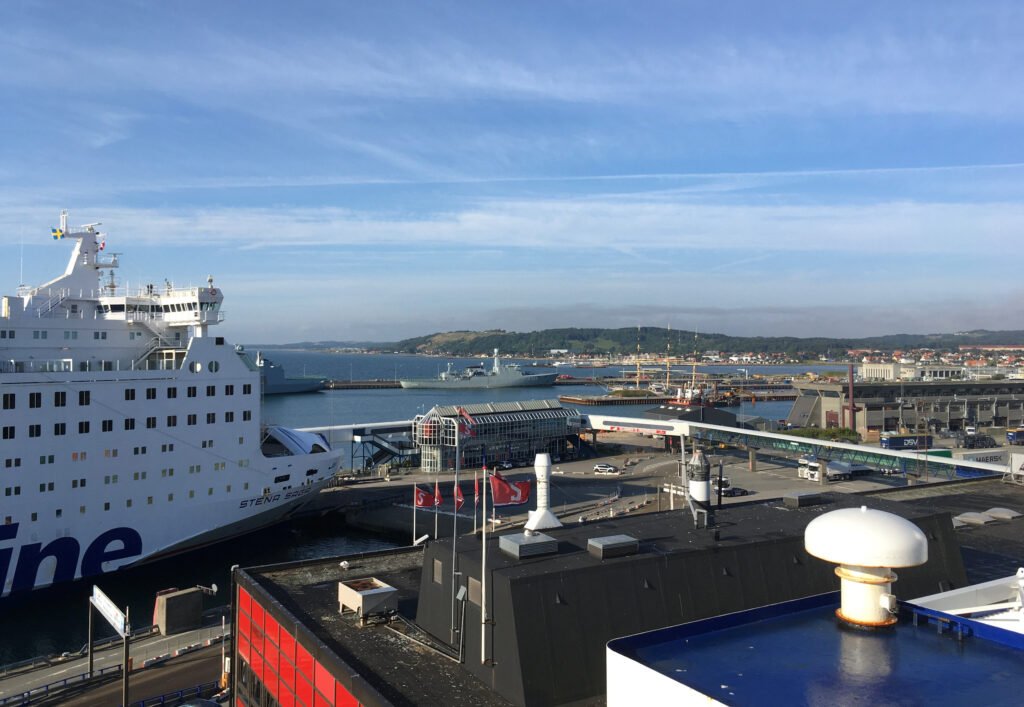 North of the town centre, the neighborhood Fiskerklyngen has some decent restaurants and a few basic attractions. Not a good place to stay for the trip, but a fine place to stop by for lunch.
Going further north, you will eventually reach Palmestranden (The Palm Beach). This is a beautiful area and much more suited for tourists. There is a camping ground near Palmestranden, so you can park your RV or autocamper and stay there. It is a place that is well suited for families, because we also find the FunHouse Frederikshavn there – a massive indoor playground.
South of Frederikshavn, there are also beaches, and they are quite nice and spacious. The Botanical Garden is located in the southside of Frederikshavn as well. Hotel Lisboa is a popular hotel there and can be considered.
West of Frederikshavn's town centre we find the residential area. Many apartment buildings, houses, supermarkets and schools are located there. Not an interesting place to stay, unless you want to see the day-to-day life of the locals, but you will pass by it on the way to the commercial centre and the port.
Staying in a nearby town
The North Denmark Region is quite popular among tourists, so there are also other towns in the vicinity of Frederikshavn where you can stay.
Skagen is the top choice – it is Denmark's northernmost town, and it is located within the municipality of Frederikshavn. Skagen is famous for its architecture, its museums, its dramatic coastline where two seas flow into each other, and like Frederikshavn it has many nice seafood restaurants. Skagen, however, is completely crowded in the summer. Many Danish domestic tourists go there to party in July, so be prepared for that. For the rest of the year, however, Skagen is a very calm and peaceful town. Read our article where to stay in Skagen to get hotel suggestions!
Hjørring is an old merchant town located directly west of Frederikshavn. It takes about a half hour to drive from Frederikshavn to Hjørring – you can also take the train. Hjørring is a slightly larger town, but it has a different vibe, and it might be an interesting place to stay as well. In Hjørring there is a decent nightlife, a large mall, three old churches, and a very charming town centre with typical Danish architecture. Check out the Hjørring travel guide for more information!
Sæby is a smaller coastal town just south of Frederikshavn. Buses go there from Frederikshavn all day long. Sæby has great beaches and feels a bit calmer than Frederikshavn, so it is also a decent place to stay – although there are fewer places of accommodation available.
The island of Læsø is located in the Kattegat Strait. You can sail there with ferry from Frederikshavn. It is a very charming island with some great sights and unique nature.
And then we have the city of Aalborg – the largest in Northern Denmark. It is not too far away from Frederikshavn. You can drive, take a bus, or take a train to get there. Aalborg has Denmark's wildest nightlife, some interesting cultural events, several museums, and a nice city centre. To learn more about Aalborg, read about where to stay, or check our list with the top attractions in Aalborg to find out what to do.
Conclusion
Frederikshavn is a very interesting town despite its small size. Many tourists go there, especially in the summer, thanks to the international ferry connections at the port. Frederikshavn is connected to large cities such as Oslo and Gothenburg, plus the idyllic Læsø Island, among other places.
Now that you have a good overview of where to stay in Frederikshavn, what are you waiting for? Book your hotel today and get ready for your vacation!