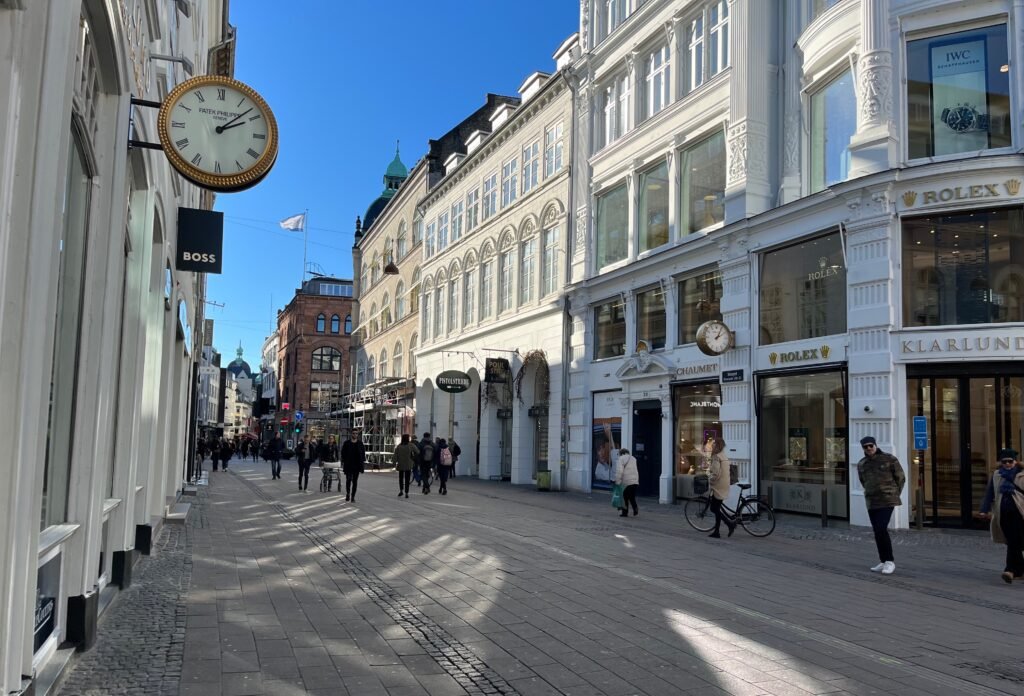 Shopping in Copenhagen is a very popular thing to do by most people who visit the city. You have a lot of great options, so in this article we are taking a look at the best areas, shopping streets, malls, shops and more. Welcome to the ultimate Copenhagen shopping guide!
Strøget: The most famous shopping street
Strøget is the name of the most popular shopping street in Copenhagen. It is the longest and oldest pedestrian street in the world, and it has plenty to offer.
When you walk on Strøget, you will find all types of stores. That includes local Danish stores, but also big and famous brands – from Denmark and from other countries alike. Prices can vary a lot. On one hand, you will find H&M which is quite affordable, but on the other hand, you can also shop at Chanel or Louis Vuitton, along with other expensive fashion stores.
Clothing is not the only thing Strøget has. You will find stores with items as well, ranging from electronics to book stores to much more. Walk around and check out the stores you like the most!
Strøget is also home to a few popular department stores. Namely Magasin du Nord and Illum. But more about them later!
Other shopping areas in Copenhagen
Købmagergade is another nice shopping street. They have affordable brands, primarily within the clothing industry. It's a good place to shop if you are looking to extend your wardrobe, or if you want a good alternative to Strøget.
Check the area around Kongens Nytorv. You will find a lot of interesting stores here as well. This area primarily has Danish brands, such as Bang & Olufsen's flagship store. The majority of the stores are higher class design stores.
DON'T MISS: Where to Stay in Copenhagen
Check the area around Kongens Nytorv. You will find a lot of interesting stores here as well. This area primarily has Danish brands, such as Bang & Olufsen's flagship store. The majority of the stores are higher class design stores.
Bredgade, close to Amalienborg Castle, is another popular place to go. This street is famous for its many art shops. You can also buy nice antiques and furniture around here.
Best malls in Copenhagen
Copenhagen has quite a few malls. None of them are enormous in size, but they are very nice, and most people enjoy them.
You will find the two famous department stores right in the centre: Magasin du Nord and Illum. Magasin du Nord has everything, while Illum is focused on fashion and perfumes. Both are high-priced, but they are amazing to visit, and they have some unique items that you should check out. Magasin du Nord is almost 150 years old and is a very important department store – a sight in itself!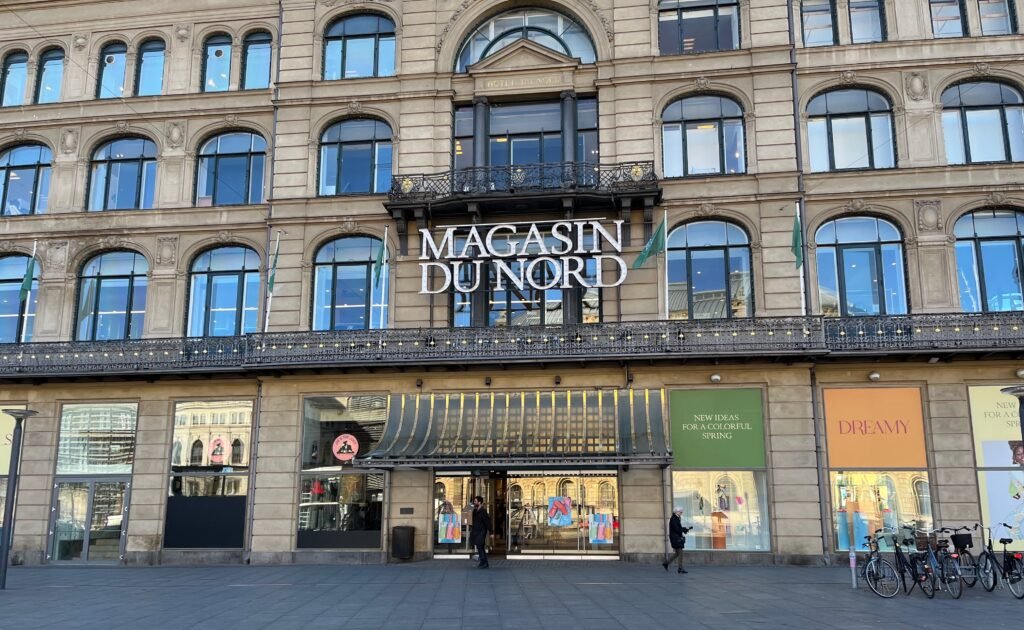 But those are department stores – so let's look at some actual malls with a wide selection of stores.
Fisketorvet is one of the most popular malls in Copenhagen. It is located by the harbor, a little bit outside of the centre. It has a lot of great restaurants in addition to its decent amount of shops. You will also find a cinema and some basic entertainment options inside Fisketorvet.
Frederiksberg Centret is also worth visiting. It is a very typical mall and it's quite central – located in the very popular Frederiksberg district. This shopping mall is very modern and has clothing stores, boutique stores, brand stores, restaurants, cafés and more.
Price overview
Shopping in Copenhagen can be expensive. As you have probably found out, Denmark is an expensive country as a whole, and the stores and malls are no exceptions.
So it will be a good idea to bring some cash (or credit) for the trip. Clothing can sometimes be found for decent amounts, just slightly more expensive than other European counterparts. But everything else usually has prices that are way above the EU average. That includes restaurants and cafés – both are typically very expensive in Copenhagen, although also high quality.
The currency that you need to use is DKK – danske kroner.
However, many stores also accept Euros.
We recommend you to have some DKK ready, just in case. But you will absolutely be able to shop with your credit card most places. Credit card usage is insanely widespread in Denmark, with most people practically never using cash when doing regular shopping. So you can easily shop just by carrying your card around. If you do prefer cash, it's best to exchange before your trip, but you will be able to use ATMs in Copenhagen as well – just be aware of fees.
Best time for shopping
Most stores open at 10 in the morning and close at various times in the evening. The central stores will usually be open until 21 or 22, although some stores close as early as 18. That's how it is on weekdays – on Saturdays, they typically close a bit earlier, around 14-15 in the afternoon. And on Sundays, most stores will be completely closed.
Malls are an exception, they are usually open for a long time, and they are usually open on Sundays as well.
DON'T MISS: Best things to do & see in Copenhagen
On holidays, such as Christmas, New Year's Day, the Easter holidays and various public holidays during the spring, you can expect most shops in Copenhagen to be closed.
Most Danish people shop in the afternoon during the weekdays, and around noon on Saturday's. So if you want to avoid the rush, then we recommend you to shop early during the weekdays. However, Copenhagen is not over-crowded compared to other capital cities, so you can have a great shopping adventure of any time during the day!
Conclusion
We highly recommend shopping in Copenhagen. It's fun to do, especially if you have already visited most of the popular attractions in the city. It's also a solid opportunity to bring something Danish home with you.
If you have any questions regarding shopping in the city, feel free to write in the comment section. It's also open if you have further suggestions yourself. Otherwise, we hope you enjoyed our Copenhagen shopping guide!