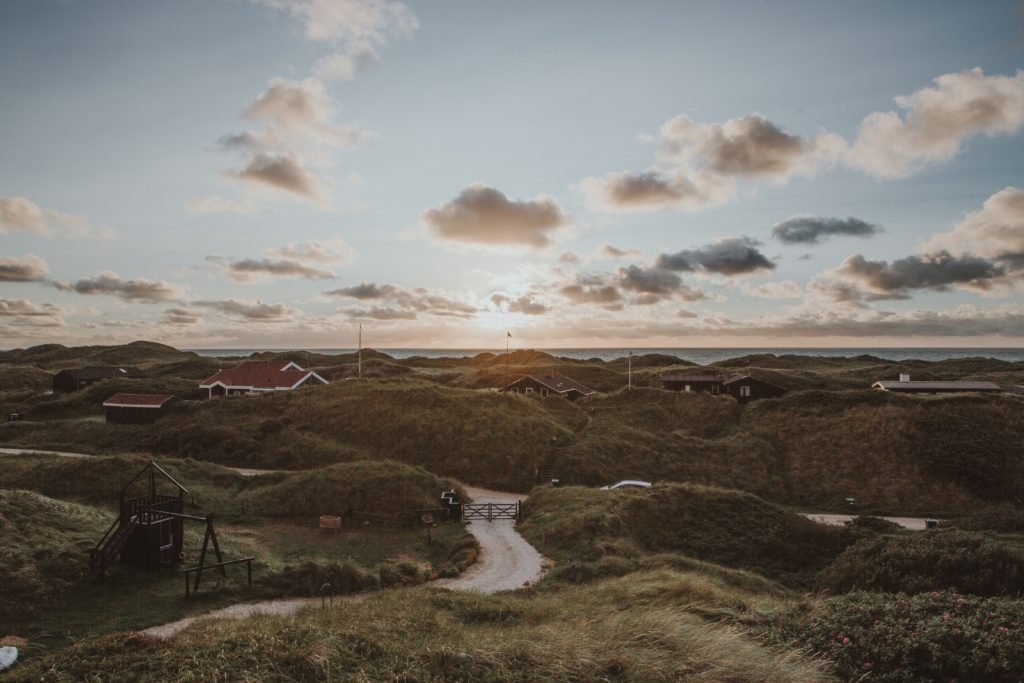 Aalborg is a very entertaining city to visit. There are plenty of things to do – but if you're lucky enough to have a long time there, you might also want to visit some of the nearby cities, towns and villages.
Northern Denmark is full of cozy, beautiful beach towns. So that's one way to go – especially if you're coming in the summer. But Aalborg also has some historic cities close, and overall we end up with a lot of different options.
Here are the best Aalborg day trips – places where you can easily go in the morning and return again later the same day.
Aarhus
The second-largest city in Denmark, Aarhus, is within a fair distance of Aalborg. It takes one and a half hours to get to Aarhus with the InterCity Lyn train, and it is not overly expensive. Of course, you can also drive if you have a car available – in fact, it will be even faster, approximately an hour and fifteen minutes.
Aarhus is quite a bit larger than Aalborg, and there are a lot of things to see. However, you can probably experience the vibe of the city and a select few attractions in a single day. So even though Aarhus is definitely worth a longer visit, it can work absolutely fine as a day trip.
If you're going from Aalborg to Aarhus for a single day, we advise you to take a walk in the center, see the cathedral and visit the art museum ARoS. You can also consider a visit to the street food market. If you have a weekend or more in Aarhus, it's a great idea to set a day aside to visit The Old City – a live historical museum of old-fashioned Aarhus. The best attraction in the city, but it deserves a longer time.
Skagen
If you're visiting a city like Copenhagen or Odense, it's a bit of a stretch to do a day trip to Skagen. And that's a shame – because Skagen, despite being a small town, is one of the best destinations in Denmark.
However, from Aalborg, it's very easy to visit Skagen. You can either rent a car and head directly northeast through Frederikshavn – or you can take the regional train to get there.
If you decide to go to Skagen, read our guide on what do to there. We highly recommend going to Grenen – the northern peak of the beach where you can watch the two seas flow into each other. Otherwise, enjoy the architecture in Skagen, and eat in one of the great seafood restaurants. Skagen is absolutely ideal as a day trip from Aalborg!
Løkken
Løkken has been covered extensively here on the site – you can read about the best sights and attractions here and about the best places to stay if you intend to do more than just a day trip.
It's one of the main beach towns of Northern Denmark and it's wildly popular among tourists. Løkken has a great Long Beach, many nice restaurants and stores, and it is a very charming town. The air is incredibly fresh and the people are friendly. Løkken is a great place to go if you're looking for a calm and nice day.
Take bus line 71 or 971X from the terminal in Aalborg, and the trip will take around an hour. You can also drive there in 40 minutes if you have a car.
Fårup Sommerland
This attraction park is a must-visit. Fårup Sommerland is located close to Blokhus, and quite close to Løkken as well.
It's a modern entertainment park with great facilities. There are many roller coasters, rafting, 4D-cinema, towers, games and all kinds of things to entertain yourself with.
Fårup Sommerland is family-friendly and particularly great for kids and teenagers. Most visitors are families, school groups, and so on. However, everybody can enjoy it. Groups of adult friends can also go there and have a great time. Aside from all the attractions, there are also a few good places to eat inside Fårup Sommerland.
It takes a bit under 40 minutes to reach the attraction park from Aalborg by car. In the summer, there is a bus driving directly there. Fårup Sommerland is open from April to October but closed for the rest of the year. So it requires you to come while the season is open – but if that is the case, it's always a great choice!
Find detailed information about prices, opening hours and attractions on Fårup Sommerland's own website.
Rold Skov
Rold Skov is a forest located close to Rebild, around 35 kilometers south of Aalborg.
It is one of the most beautiful and authentic natural areas in Denmark. In fact, Rold Skov is the second largest forest in the country. It contains many different trees, hills and lakes. So if you're into natural setting, Rold Skov is the perfect place to visit.
You can easily go hiking around the area and enjoy the fresh air. A lot of people bring mountain bikes and ride around the forest to get some exercise. While nature lovers will undoubtedly enjoy it, history and culture lovers will too – there are a couple of nice museums near Rold Skov, and there are some fascinating tales about the area!
Here is a map detailing all the main attractions within and near the forest.