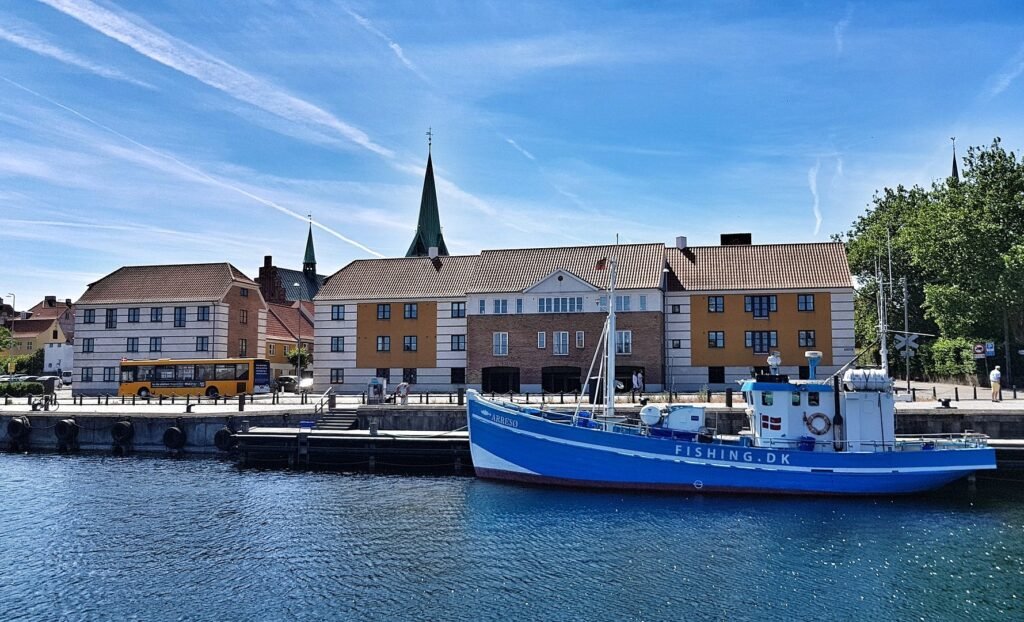 Helsingør (traditionally known as Elsinore in English) is a world-famous city thanks to Shakespeare's tragedy Hamlet. It is home to Kronborg Castle, one of the few UNESCO sites in Denmark, and it is located near the capital Copenhagen.
Therefore, Helsingør also gets a lot of tourism. Most visitors take day trips to Helsingør from Copenhagen, while others arrive with the ferry from Sweden.
Some tourists decide to stay for more than a day. This makes sense as Helsingør has a lot of interesting sights – despite its small size. It is also fun to sleep in the city of Hamlet. While you won't be able to stay at the Kronborg Castle where it all took place, there are some nice options around the city that are also traditional.
If you are not sure where to stay in Helsingør, continue reading below. We will recommend some of the best hotels in Helsingør and describe the best areas in detail.
Marienlyst Strandhotel
Luxury hotel in Helsingør → Go to booking
The best hotel in Helsingør is undoubtedly Marienlyst Strandhotel. It is located in the northern part of the city, just meters away from the beach. It is the ideal choice if you want to be in a calm, luxurious setting but still close to the main attractions of Helsingør – the Kronborg Castle is just a kilometer away.
As for the hotel itself, it offers modern comfortable rooms with plenty of space and nice furniture. Many rooms have terraces overlooking the beach. If you are in the mood for some wellness, try to visit the hotel's spa. There is also a gym and a yoga area at the hotel – both are free to use.
The breakfast is amazing and has plenty of different foods. So you can definitely start your day off right. The restaurant Brasserie 1861 is located at the hotel. It is highly rated and primarily serves Nordic dishes made from local produce.
The Marienlyst Casino – often considered to be Denmark's best – is located at the same address as the hotel, and it is open well into the night every day of the week.
A fun fact is that the Danish national football team often stay at the Marienlyst Strandhotel! That was the case during the Euro tournament in 2021 and the team occasionally returns because the DBU training field is located in northern Helsingør near the hotel.
Pricewise, it is the most expensive hotel in Helsingør, so it appeals to those who want a luxurious stay. If you are interested in staying at the Marienlyst Hotel, go to booking here!
Konventum Hotel
Modern hotel in Helsingør → Go to booking
This hotel is a great alternative to the Marienlyst. It is also located in the northern section of Helsingør, near the beach and the golf course. So you will be in great surroundings albeit a bit more north, but at a slightly lower price.
Konventum Hotel is also a classy hotel, though. It is a popular choice among business travelers. But it works for tourists as well. You will be impressed by the art collection that the hotel has. Architecturally, the Konventum Hotel is modern through and through. The interior is up-to-date with current trends and the furniture is very nordic in style.
A breakfast buffet is served in the morning and service at the hotel is great. If you want to stay at a lively, cultural hotel we would highly recommend the Konventum. It also has business facilities, so if you are coming to Helsingør in relation to work, it can be recommended as well. There is free public parking near the hotel. The staff can help you book a taxi if you need to get into the centre.
Interested in staying at the Konventum Hotel? Reserve your room here!
Hotel Hamlet
Central hotel in Helsingør → Go to booking
Hotel Hamlet has taken its name after the famous Shakespeare tragedy. The hotel is not the most luxurious, but it is very traditional and it is located in central Helsingør – that makes it a top choice among international visitors.
The rooms are very classic in appearance. While the beds are modern, the rest of the furniture is very old. So you get that traditional vibe. That can be a positive thing for some, and a negative thing for others. We like it because we believe the traditional vibe is important if you want to stay in the centre and get the authentic experience of the city.
You will find everything from small single rooms to large family rooms at Hotel Hamlet. It is close to most of the main attractions. Prices are reasonable: Expect to pay around 1000 DKK per night for a double room at Hamlet. Single rooms are a bit cheaper, but most prefer to have a double bed and some more space in the room, so that is usually the way to go.
Do you want to stay in central Helsingør? Book your room at Hotel Hamlet here!
Best areas of Helsingør
Helsingør is a small, compact city so it is easy to find the best area.
For a cultural stay, try to find a hotel in the old town centre. It has a medieval vibe and some historic attractions. Plus you can find public transport going everywhere. Some cool hotels in central Helsingør are Hotel Hamlet (which we described earlier) and the Skandia Hotel.
If you want a luxurious stay in the fanciest part of the city, pick a hotel in the north. The Marienlyst Strandhotel is extremely popular and gives you quick access to the beach, the casino, as well as the attractions in the city. The northern area of Helsingør is the wealthiest and it has many restaurants and entertainment facilities.
Kronborg Castle is located on the easternmost tip of Helsingør. It is the main attraction, but you likely won't be able to stay right next to it. A hotel in the old town or in Marienlyst will do – both areas are close to the castle.
The southern and western sections of Helsingør are more residential and not too interesting from a travel perspective. There are a lot of schools, industries and such, but also some shops. You can go through the area on one of your days in Helsingør. Hotel Sleep2Night is a decent hotel in the southwest, but we would first and foremost recommend staying in one of the more touristic areas (as described earlier).
How long should you stay in Helsingør?
One day is enough to see the main attractions. That's why it is so popular to take a day trip from Copenhagen to Helsingør.
But to fully enjoy the vibe of the city – and to get the most authentic experience possible – we recommend spending at least one night in Helsingør, and preferably 2-3. That will allow you to settle in and really get to know Helsingør. It is one of the coolest and most historic places in Denmark, so it is worth it to spend time there.
With that said, it also depend on your schedule and how many travel days you have. If you have one week in Denmark, it is probably best to spend it all in Copenhagen and just do a day trip to Helsingør. But if you have more time, such as two weeks or a month, absolutely spend a few nights in Helsingør or in another city like Roskilde. If you have already been to Copenhagen on a previous trip, but not Helsingør, that would also be a solid reason to make it your principal destination this time around – perhaps even for a whole week.
In any case, we highly recommend visiting Helsingør. You will enjoy it regardless of whether it is for one day or an entire week. It is easy to find a nice place to stay in Helsingør, and with all the attractions, restaurant and shopping options in the city, you will not get bored! Have an amazing vacation!