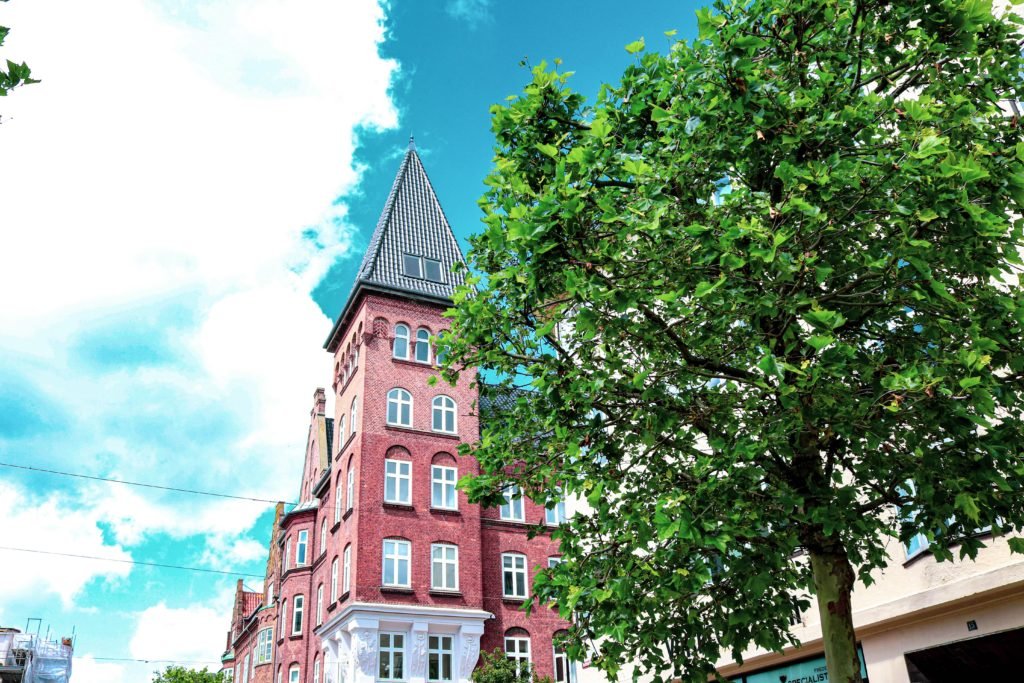 Denmark is one of the most expensive countries in the world. But a trip to the old Viking country does not have to break the bank: There are several ways to travel in Denmark on a budget. For example by staying in hostels, by shopping in supermarkets, by renting bicycles to get around, and by focusing on free attractions.
In this article, we'll give you some tips on how to visit Denmark and have an affordable vacation. You should be able to spend less than $50 per day, all expenses included.
Fly in with a low-cost airline
There are international airports in different regions in Denmark, and there are many different connections.
If your goal is to spend as little as possible, it makes sense to find the cheapest plane tickets.
Airlines like Norwegian and RyanAir fly to Copenhagen, Billund, Aalborg and Aarhus. They are low-cost and there are many different connections. WizzAir and EasyJet fly to Copenhagen.
Aside from the typical low-cost airlines, there are also traditional airlines like KLM, TAP and Iberia with several connections that are not overly expensive. In conclusion, you have several nice options when you want to fly to Denmark. It is best to use Skyscanner, Expedia or Google Flights to search for the best tickets.
Stay in hostels
Hotels in Denmark can be a little expensive. Accommodation is usually the main cost of a trip, so this is the easiest area to save a bit.
A night in an average hotel in a Danish city will typically set you back around 1,000 DKK (130 EUR). This is a bit steep, especially when you can stay in a hostel for a quarter of the price. Your average hostel will typically cost around 200-300 DKK (25-30 EUR) per night. In Copenhagen, the hostels are a bit more pricy, and in smaller cities and towns, it will cost less. Of course, the season also matters a lot. The cheapest months to visit Denmark are in January, February, March, April, October and November. It's also smart to book your stay in advance – aim to reserve your hostel a month before arriving.
Low-cost hotels can also be considered. If you read our guides on where to stay in Copenhagen, Aarhus and Aalborg, we frequently recommend good, affordable hotels.
You can also consider a free solution like Couchsurfing, which is somewhat popular in Denmark. There are also private rooms listed on Airbnb with prices around the same as that of a night in a hostel.
Rent a bike to get around
Instead of taking metros, light rail, buses and so on, you can simply rent a bike. Cycling is very, very popular in Denmark – there are more bicycles than cars. Locals love riding bikes, and you can rent a bike in almost every city. Sometimes it is even free. You insert a coin into the bike, and you get it back when you deliver it again.
So if you're staying in the same city, this is an obvious and cheap way to get around. It will cost you very little, perhaps even nothing – and you'll get a bit of exercise and a better chance of seeing all the surroundings!
Facilities are great for cycling in Denmark. Most streets have bicycle lanes and they are often quite wide.
Shop in supermarkets
Let's face it, restaurants are expensive in Denmark. Even fast-food costs a lot. Therefore, it is best to shop in supermarkets most of the time.
Keep an eye on these low-cost supermarkets that have plenty of nice products for low prices:
Rema 1000
Netto
Fakta
Spar
Lidl
Aldi
Other supermarkets in Denmark are Føtex, Meny and Super Brugsen. These are usually considered to be a bit more expensive, but they do have some very good discounts occasionally.
DSB Orange: Cheap train tickets
If you're going from one Danish city to another, it is usually easiest to do so by train.
Most Danish trains are run by DSB. When you book tickets online in advance, you can find major discounts. Specifically, you need to look for the DSB Orange tickets. These can be found for medium- and long-distance routes and seat reservation is included. Prices may vary, but you can find tickets for as little as 99 DKK (13 EUR) between the two largest cities, Copenhagen and Aarhus.
The only downside of Orange tickets are that they are not flexible. You must take the train at the correct time, you can't wait for a later one, and the reservation cannot be changed once you have made it. The cheapest Orange tickets are usually found 2-4 weeks in advance, but you can sometimes find them a few days in advance as well. DSB's official website is where you browse for the tickets and where you reserve them. Once you have your reservation, you can either print it out or have the ticket ready on the phone. It will be checked inside the train. We advise printing it out, since phones can run out of power, lose connection, etc.
You can reach almost any major Danish city or town with trains, so it's a great way to get around.
Focus on free attractions
Many attractions in Denmark are completely free.
You will rarely have to pay to enter a church. A lot of museums are free to visit. And of course, the beautiful nature of Denmark is there for everyone to enjoy.
So when you read about attractions in the main Danish cities – check our guides – note down the ones that are free and focus on those. You can still see some of the paid attractions as well, but then select the ones that you are most interested in, and don't overspend.
Furthermore, you can get discounts on the attractions that do cost money. Simply buy a Copenhagen Card or an AarhusCARD before arriving, and you will get free transport for the duration of your trip, discounts on various entries, and discounts in many stores and malls.
Visit other cities than Copenhagen
Copenhagen is the capital of Denmark and by far the most visited city. It receives plenty of tourists all year round, so the prices for hotels, hostels and taxis are much higher than in other Danish cities. Restaurant prices are also higher. It makes sense to visit some other cities if you are trying to save money, and it also gives you a much wider impression of Danish culture.
If you're curious about some of the other main cities in Denmark, feel free to read our guides to Aarhus, Aalborg, Odense, Roskilde, Esbjerg, Løkken, Skagen and Hjørring!