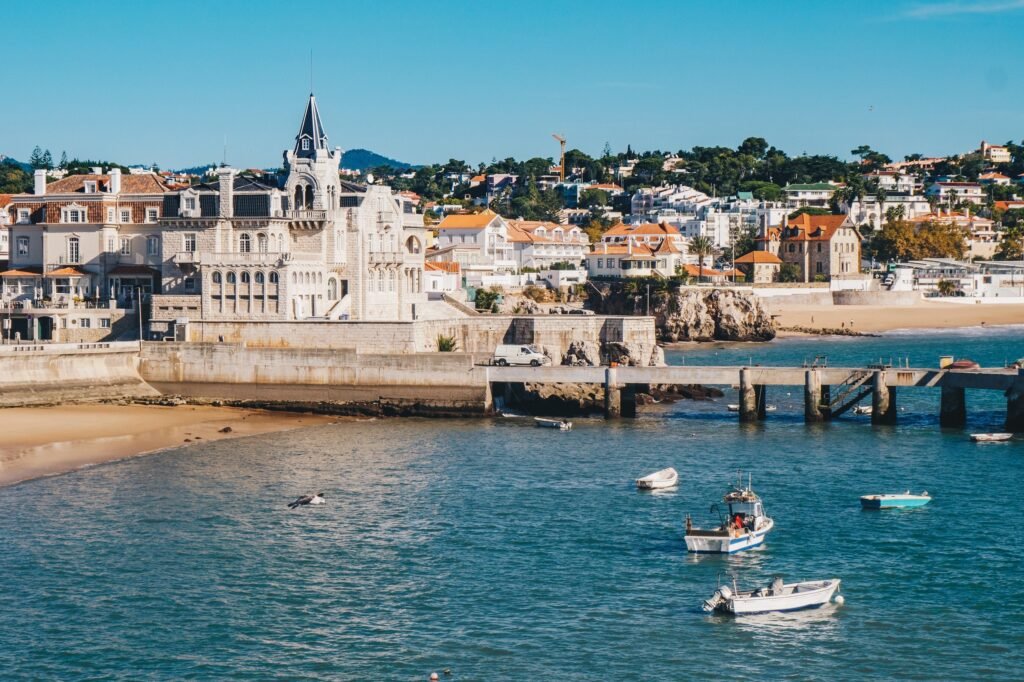 Known as the most prestigious and high end destination in Portugal, many travelers visit Cascais all year round. The close proximity to Lisbon makes it possible to sleep in Lisbon and visit Cascais during the day, but the ideal solution is to find a nice place to stay in Cascais city centre.
You will find our top hotel recommendations in Cascais below, plus some additional information about the best neighborhoods and locations in the city.
If you also want suggestions for Cascais' neighboring cities, check our guides on where to stay in Lisbon and Sintra by following the links. For now, however, we will focus on the best places to stay in Cascais.
Best hotel in Cascais
The Albatroz Hotel – Go to booking here
With an amazing location and a panorama view of the Atlantic Ocean, we consider The Albatroz Hotel to be the best overall option in Cascais.
The hotel is situated just east of the historic centre of Cascais, near the station, the palace and the most central beach. In other words, you will have everything nearby.
What we love about the Albatroz is that it stays true to the local vibe. The building has that typical Lisbon/Cascais-style architecture with spacious surroundings and an impressive interior. The rooms are traditionally decorated, yet they offer modern comfort. Most of the rooms have a terrace with a view – this is one of the highlights when staying at this Cascais hotel. The breakfast is tremendous and service is available 24/7.
With its five stars, The Albatroz Hotel can certainly be classified as a luxury hotel. It is not the most luxurious hotel in Cascais – but it gives the best overall experience since it has some authentic charm, on top of the many facilities. When all things are considered (quality, service, location, price, vibe) this is our favorite hotel in the city. Make your reservation in advance to secure a room for your travel days.
Affordable hotel in Cascais
Hotel Baia – Reserve your room here
In a relatively small city full of 5-star hotels, it is not always easy to find an affordable option. Prices are generally high in Cascais, due to its reputation as a luxury destination.
But there are still some solid options if you are looking for a nice, yet affordable hotel in Cascais. Our main pick is Hotel Baia – one of the best-located hotels in the city. It has an awesome location facing the coast in the most popular area of Cascais. You have easy walking access to most attractions and restaurants. Within the limits of the hotel, you can also expect good things. The rooms are generally spacious and offer decent views. The breakfast is on point, and the square in front of the hotel is extremely charming!
Hotel Baia has a rooftop bar and a swimmingpool. There is also a smaller bar inside. The restaurant Baia Grill has a decent menu with some tasty Portuguese dishes.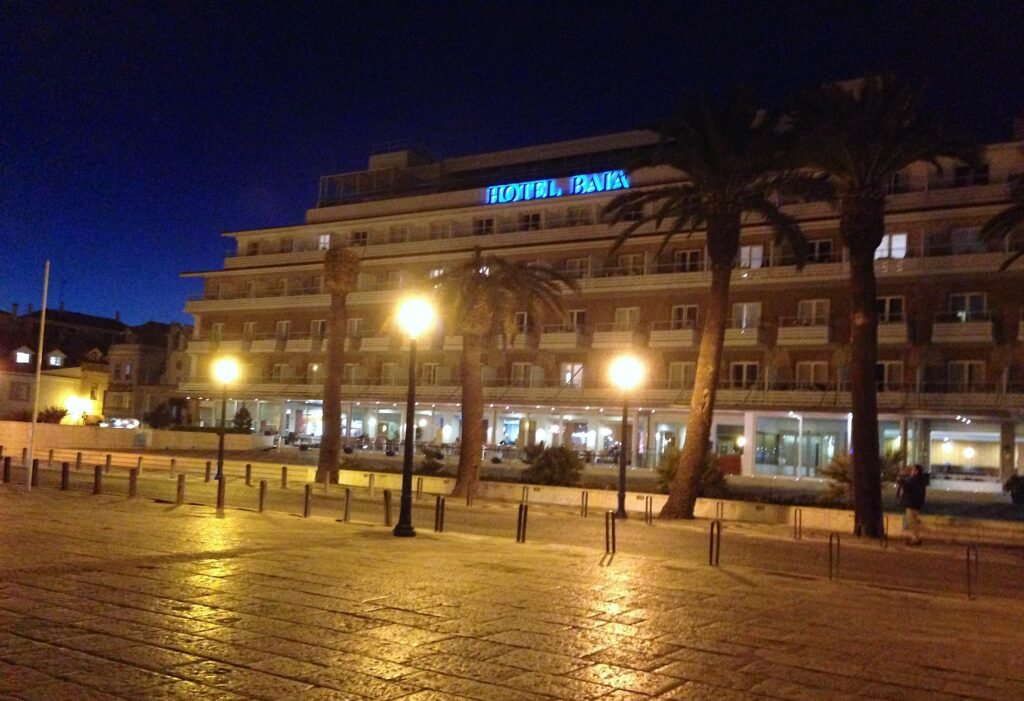 For most travelers who want to stay in Cascais city centre without paying a fortune, Hotel Baia is a fantastic choice. It is not an outright cheap hotel but you can usually get a better price at Baia than what the other central hotels in Cascais charge. Book your stay here!
Luxury hotel in Cascais
Hotel Cascais Miragem – Go to booking here
Finding a luxury hotel in Cascais isn't too difficult since there are several of them – but which one is the best of the bunch?
We would say Hotel Cascais Miragem. Located a few hundred meters east of the deep centre, this hotel faces Praia da Rata and has small walking distance to another beach, Praia da Duquesa. It is also closer to Estoril than most of the central hotels in Cascais. So you can get just about everywhere from this location.
The hotel itself is absolutely gorgeous. From the very inviting exterior to the comfy and luxurious interior with huge rooms. Hotel Cascais Miragem gives its visitors a clear sense of traditional comfort. There isn't one single downside to staying at this hotel. It gets an average rating of 9.3 out of 10 on Booking.com which is unusually high. The hotel is family and pet friendly. Couples can book the romantic package to get additional luxury.
Hotel Cascais Miragem has multiple restaurants on-site. Among them are a gourmet restaurant and a regular buffet. A breakfast buffet is also served in the morning. There are multiple swimmingpools, one specifically for families with kids, and another solely for adults. The water lounge is pretty cool, and if you aren't too busy exploring Cascais and Estoril, you should spend some time at the spa as well.
Regarding the price, we are obviously in the higher end here, but you get what you pay for. The Miragem is our favorite luxury hotel in Cascais – it is the ideal choice for those who want a trip out of the ordinary. Book your stay here!
Top areas of Cascais
The historic centre of Cascais is the best area for first-time visitors. Here you'll find some very interesting shops, great restaurants, and many of the top hotels are located in this area. The small Ribeira beach and the slightly larger Rainha beach are both located by the coast of the historic centre.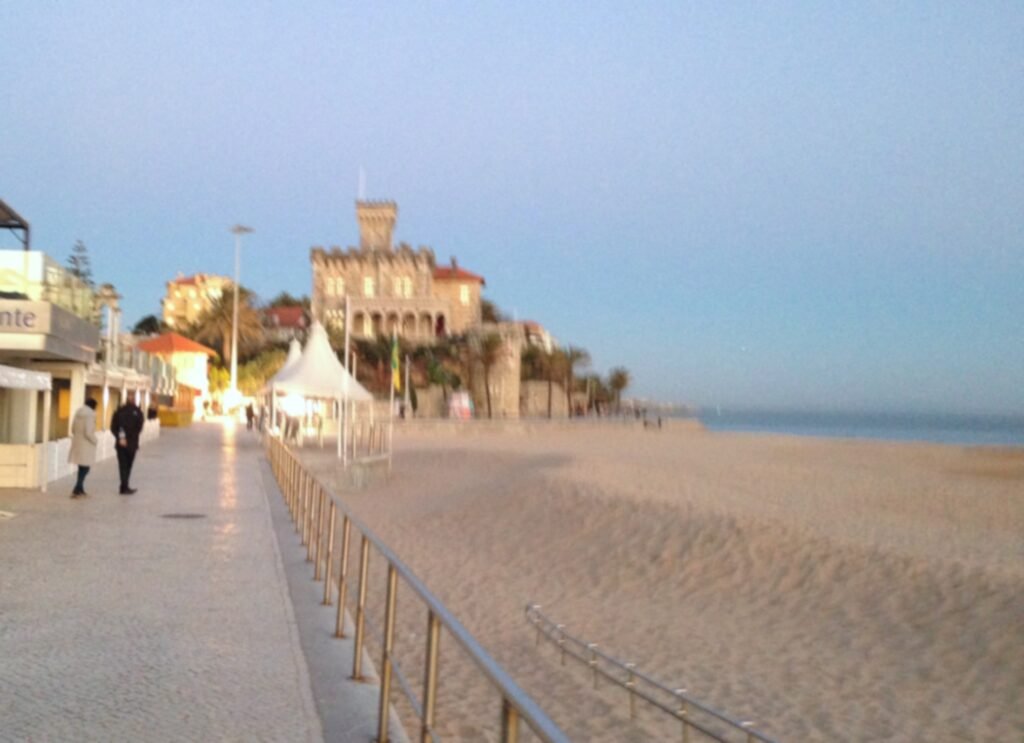 A bit further to the east, we find Praia da Duquesa where there is typically a bit more space. Staying near this beach is also a great option.
The main train station is located in the northern end of the historic centre, giving you access to easy transportation between Cascais and Lisbon, with the added opportunity of going to nearby Estoril – the casino town that also offers some great attractions.
When it comes to the best attractions in Cascais, you will have to explore the area of Santa Marta to the south of Cascais city centre. Here we find the Cascais Citadel, the Dom Carlos I Statue, the Santa Marta Lighthouse, the Paula Rego Museum, and some other fascinating places of interest. The southern coast of the Santa Marta district has some beautiful natural sights – such as Boca do Inferno and Pedra da Nau.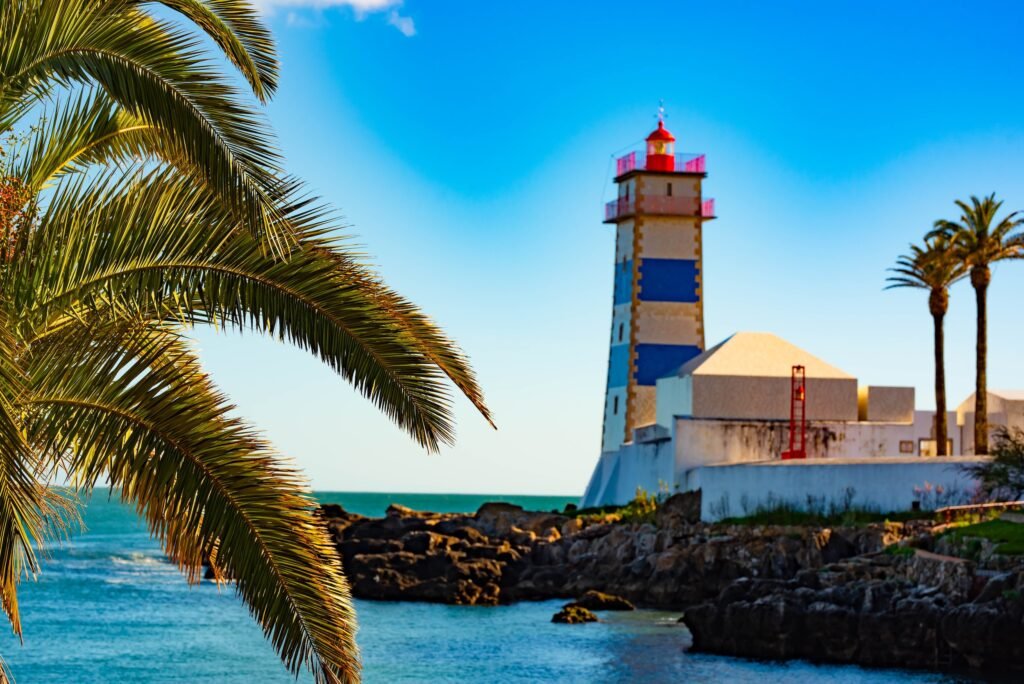 Neighborhoods in Cascais such as Rosário and Torre are more residential and less suited for tourists.
The further west you travel from Cascais, the more natural sights you find. Staying outside of the centre, but still within the municipality of Cascais, can be a great choice if you are more into nature and if you want a calmer experience on your Portugal trip. The areas of Marinha and Areia are stunning – and there are actually some nice attractions there, such as golf courses, camping sites, restaurants, and obviously a few beaches on the coast. It is somewhat easy to find nice hotels and holiday apartments in these areas as well.
If you go to the northwest, you will eventually reach Cabo da Roca – the famous cape that most travelers decide to see when they visit either Cascais, Sintra or Lisbon. It is the westernmost location in mainland Europe. If you want to stay near Cabo da Roca, the town of Azóia has some holiday houses and smaller hotels.
But despite the fact that there are many interesting areas and neighborhoods of Cascais, we mostly recommend finding a hotel in Cascais centre and explore the rest from there.
Where to stay in Cascais – FAQ
What is the best neighborhood in Cascais?
Centro Histórico – the old city centre – is the best place to stay in Cascais for the vast majority of travelers, particularly first-time visitors. Restaurants, shops and beaches are all nearby. There are plenty of hotels to choose from in Centro Histórico.
What are some interesting places near Cascais?
Estoril is a resort town located immediately east of Cascais. It has a casino, a race track, a football club and some nice beaches.
Sintra, located to the north of Cascais, is a historic city that deserves a visit. Cabo da Roca, to the northwest, is a beautiful place famous for being the westernmost location in mainland Europe.
Marinha, also known as Quinta da Marinha, is the large western section of the Cascais municipality, also highly worth visiting and experienced tourists often decide to stay there.
What is the best hotel in Cascais for families with children?
We recommend Hotel Cascais Miragem since it has family rooms that can host 6 people. Pets are also allowed. It is located near one of the most spacious beaches in central Cascais, yet it is also a bit east of the city centre which makes the area a bit quieter. The hotel is expensive, but if you book one of the family rooms, it will likely be cheaper than booking multiple rooms at other hotels.
What is the best hotel in Cascais for couples?
Hotel Cascais Miragem is also an amazing choice for couples. The service and facilities are top-notch. Couples can book the Romantic room – it is extra stylish, with a balcony and ocean view, and with VIP treatment where they serve wine and chocolates.
Another option is The Albatroz Hotel – it is slightly closer to the historic centre and therefore ideal for couples who enjoy shopping and sightseeing.
What is the best hotel in Cascais for solo travelers?
Hotel Baia is a nice choice due to its central location and reasonable prices. It is a solid base for exploring the municipality, and the regular double rooms are well-suited for solo travelers.
How can I find a holiday apartment in Cascais?
Several websites let you book a holiday apartment in Cascais. Booking.com would be one of them – browse their listings here. When you search, open the filter and check for apartments rather than hotels. Vrbo and Airbnb also let you search for holiday rentals, hosted by locals.
What are the top tourist attractions in Cascais?
The most important attractions in Cascais are Boca do Inferno, the Santa Marta Lighthouse, the Paula Rego Museum, the Citadel, the Vila Market, and of course the central beaches. Don't miss nearby attractions such as the Estoril Casino or Cabo da Roca. Read our full article for additional descriptions and more suggestions on things to do in Cascais here!