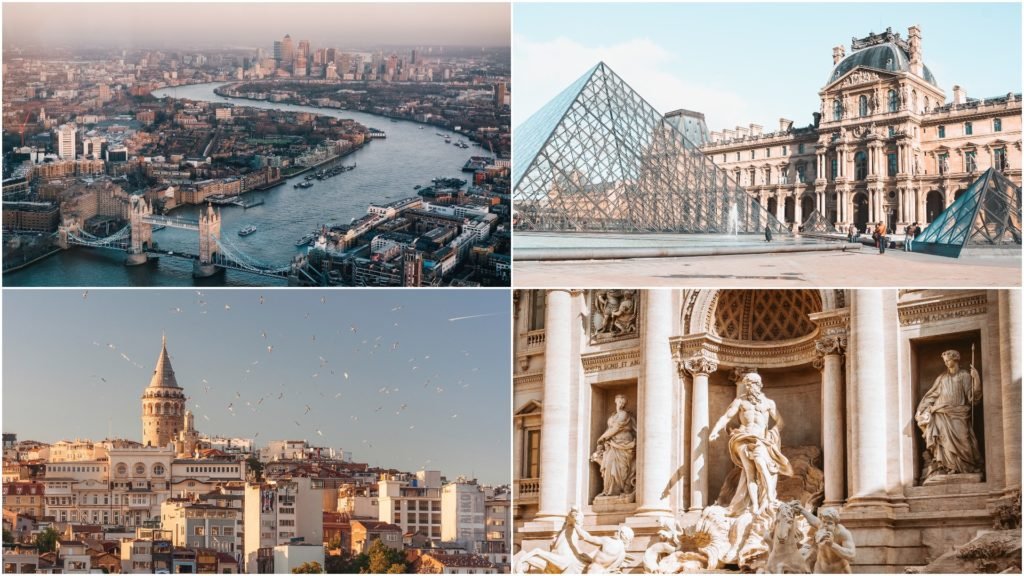 If you want to visit a new city in Europe but you're still not sure which one, it can be nice with some inspiration. Let's have a look at the cities that are popular among other tourists – here is a top 10 list of the most visited cities in Europe.
London
Ranking: 1
Visitors: 20.72 million
London accounts for over half of all tourist arrivals in the United Kingdom. It's a huge city – Western Europe's largest – and London has almost unlimited things to offer.
Aside from having world-famous museums, famous architecture, classic pubs, huge parks and countless monuments, London also offers many modern attractions. If you love sports, London might be the best place to go in all of Europe due to the sheer number of top football clubs. When it comes to shopping, London also impresses, and the English capital also attracts theatre enthusiasts from all over the world.
We can't possibly cover everything in this description, so if you're more curious about what London has to offer, then read some of our specific London articles. But to sum up, it is certainly justified that London ranks as the most popular tourist destination in Europe. It truly is an amazing and fascinating city.
Paris
Ranking: 2
Visitors: 16.84 million
Paris ranks just behind London when it comes to the yearly number of travelers. But it needs no introduction: Everybody has heard about Paris, and it is a dream destination for many.
While there have been a lot of changes in the city over the last decades, and while the crime and protest rates have been on the increase, Paris continues to attract people from all over the world. The main reason is the beautiful architecture, the romantic vibe, and the great French food. But that's just some benefits visiting of Paris – don't forget to experience the charm of the alternative, gritty Paris by visiting modern art museums, new innovative restaurants, special bars, street markets, and everything else that characterizes the modern-day French capital.
Istanbul
Ranking: 3
Visitors: 12.12 million
Istanbul is partly located in Europe and partly located in Asia. It's the only large city in the world that covers two continents at once. It's actually not the capital of Turkey, however it is the largest city. And Istanbul never fails to draw in huge amounts of tourists every year.
The tourists come from all around the world. First of all, many Russians like to visit Istanbul, and so do many people from Turkey's other neighboring countries.
Among EU citizens, Istanbul has also gained traction in recent years. It's an awesome destination because of its fascinating history – under the name Constantinople, Istanbul used to be the biggest city in the world. It has architecture dating back to antiquity, but it also has modern attractions. Istanbul is an interesting city, so we certainly understand why it is so popular among tourists.
Rome
Ranking: 4
Visitors: 9.53 million
Anyone who has been to Rome knows that it is a very touristy city. This can occasionally be frustrating, but at the same time it is understandable: It will certainly be difficult to find another city that has so many classic and historic attractions. Athens is probably the only city that can match Rome in this regard.
In Rome you can experience attractions such as the Vatican, the Colosseum, Forum Romanum, the Trevi Fountain, Pantheon, the Spanish Steps, Villa Borghese and much more. History enthusiasts usually come back time and time again, so Rome essentially has zero risk of losing its high ranking on this list. It also continues to attract tourists from all over the world, so it should soon exceed ten million yearly visitors.
Prague
Ranking: 5
Visitors: 9.04 million
The popular Czech capital has been climbing up in the statistics over the last couple of years. It's a beautiful city with stunning architecture: Just look at the astronomical clock, the Charles Bridge, or one of the many nearby castles. There are many things to see all year round in Prague.
Prague also has a vibrant party scene. The beer is cheap and good – something that attracts many travelers. You won't find many cities with a better nightlife than Prague!
Overall, Prague is one of the most interesting cities in Europe, so it is no surprise that the Czech metropolis is now receiving more than 9 million visitors per year. The city is absolutely stunning!
Amsterdam
Ranking: 6
Visitors: 8.48 million
Amsterdam is famous for a bit of everything: The open-minded culture, the history, the art, and the many canals and harbors.
The look of Amsterdam is so recognizable that most people know what it looks like – even if they've never been there. However, a trip to Amsterdam is always recommended, and an increasing number of people are stopping by each year. In 2018, it was the sixth most visited city in Europe, totaling over 8 million arrivals.
It's easy to get in and out of Amsterdam. With railway connections to Germany, Belgium and France, you can affordably move on to your next destination after you've experienced the city. The Amsterdam-Schiphol Airport – one of Europe's best airports – also offers connections to all corners of the world.
And don't miss out on Rotterdam and The Hague – two other interesting Dutch cities, both within a very reasonable distance of Amsterdam.
Barcelona
Ranking: 7
Visitors: 6.73 million
Despite not being the capital of Spain, Barcelona is by far the most popular destination for people traveling to the Iberian peninsula. With a precious location right on the Mediterranean coast, Barcelona is able to provide both the city experience and the beach life.
The Gothic Quarter in Barcelona is certainly something special. Football lovers will also enjoy it, as you can see the huge Camp Nou stadium and perhaps catch an FC Barcelona match if the team has a game scheduled while you're there.
Perhaps a bit surprisingly, Barcelona is getting fewer visitors each year. It had 6.73 million international arrivals in 2018, but it had almost a million more the year before (7.62 arrivals), and the latest numbers are also fewer than in 2016.
It could be because so many people have already visited Barcelona, or it could be because so many locals have spoken out against mass tourism and the city is purposely trying to find the right balance. But in any case, Barcelona still has a secure spot on this top ten list since it gets a tremendous number of visitors + a great amount of attention in travel publications.
Milan
Ranking: 8
Visitors: 6.51 million
Fashion capital Milan is the second largest city in Italy – and also the second most visited in the country, just after Rome.
It did get fewer visitors in 2018 than it did the year before, just like Barcelona. It's hard to find a reason for this trend. But perhaps Milan will bounce right back again. It has all the means do to so, since many people around the world are interested in what Milan has to offer. The city is famous for its food, art, architecture, and of course for fashion and nightlife as well.
Vienna
Ranking: 9
Visitors: 6.30 million
Vienna is by far one of the most influential cities in Europe throughout the continent's history. Many notable and influential people lived in Vienna – artists, politicians, scientists, and various controversial figures.
At the same time, Vienna is one of Europe's most beautiful cities, and the quality of living is incredibly high for the locals. It ranks as number nine on this list, but perhaps Vienna should rank even higher: It simply has so much to offer.
Regardless of how popular it is, it's a city well worth visiting, and it's a place you will never really get tired of – even if you've been to Vienna multiple times, there's always that urge to go back and visit it once more. The sheer amount of cultural attractions is just so high in the Austrian capital.
Dublin
Ranking: 10
Visitors: 5.93 million
Just sneaking into the list as the tenth most visited city in Europe, we find Dublin. The Irish capital has a very interesting culture, and a trip there is always recommended.
Thanks to many low-price airlines, particularly Ryanair which is headquartered in Dublin, it is now possible to fly affordably to Ireland from almost any major airport in Europe – and even from some airports outside of Europe. There are also many connections between Dublin and the Americas, although slightly more expensive.
Dublin is a great place to visit if you are into art, history, churches, pubs, and so much more. Don't forget to go outside the city to experience the beautiful nature of Ireland. Dublin can work well as a base for exploring the nation of Ireland. Or, at the very least, take a visit to the Phoenix Park while you're in Dublin – it's Europe's largest city park!
---
Numbers are based on international arrivals, measured in one calendar year.
Source: Statista (Aug 19, 2019) with own commentary added.