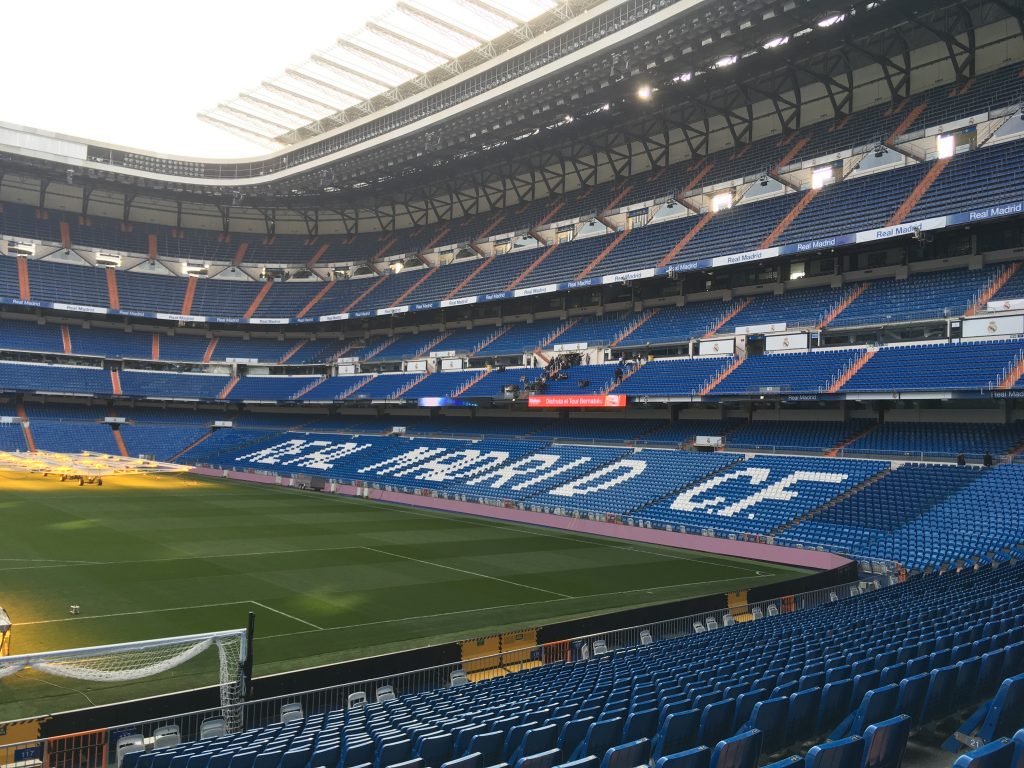 Football (soccer) is the most popular sport in the world. It has billions of fans, and the ultimate dream is to watch the biggest matches live at the stadium. But what are the best travel destinations for football fans when all things are considered? Get some inspiration here!
Madrid
Madrid is home to the most successful team in history. No team has won more Champions League titles, FIFA Club World Cup titles, or La Liga titles than Real Madrid.
Many of the best players in history have played for Real Madrid. From Alfredo Di Stéfano to Cristiano Ronaldo, it has been the club of stars, and that continues to be true to this day. You can watch the royal club play at Santiago Bernabéu in central Madrid, but tickets are expensive!
But Real Madrid isn't the only spectacular team in the Spanish capital.
Atlético Madrid is also an absolute top club by international standards, and with the new stadium Wanda Metropolitano, it is a joy to watch Atlético live. The second-most successful Madrid club is typically fighting with Real and Barcelona for the Spanish title, while also competing very well in the Champions League every year.
Aside from the two major clubs, you can also watch smaller teams in the Madrid area, such as Getafe, Leganés and Rayo Vallecano.
Sometimes, international football events are held in Madrid. The most recent example is the 2018/19 Champions League final at Wanda Metropolitano.
Manchester
Just like Madrid, Manchester is home to two football giants.
Manchester United might be the team that has the most fans worldwide. Thanks to Sir Alex Ferguson's dynasty, it is one of the most successful clubs in the history of the world. At the magical settings at Old Trafford, it is an experience of a lifetime to watch Manchester United play.
In the recent decade, United has gotten some serious competition from local rivals Manchester City. It has grown to become one of the richest and most competitive clubs as well. City has enjoyed a lot of success under Catalan manager Josep Guardiola, and while the Blueshirts still need a Champions League title to show for their investments and hard work, City is always a lock for a top finish in the Premier League.
In other words, there's lots of football action going on in Manchester – and we highly recommend experiencing a match or two. Especially if you can get a ticket to Old Stafford.
Read about the best places to stay in Manchester here!
London
London is another prime football destination in England.
It is home to several major clubs. Among them are Arsenal, Chelsea, Tottenham and West Ham. There's always top flight football going on in London, and thanks to the solid transportation system, it is easy to get around in the city.
The question is which match to see – and we suppose it all depends on the club you are supporting, or the strength of the particular matchup. But you have lots of choices in London because it is arguably the city in the world with the highest amount of top level clubs. And of course, we shouldn't forget the fact that you can sometimes watch the English national team play at the legendary Wembley Stadium.
Turin
What's so special about Turin? Well, if you love football, it is obviously the presence of Juventus.
This Italian club has dominated the local Serie A in recent years, and it is a team that always competes well in international settings. Juventus has attracted stars in decades. Gianluigi Buffon, Dino Zoff, Roberto Baggio, Michel Platini, Zinedine Zidane, Andrea Pirlo and Cristiano Ronaldo are just some of the players that have played for Juventus. The current home ground for the club is Juventus Stadium, built recently in 2009 and with a capacity for 41,500 people.
An honorable mention goes to Milan. We would recommend you to visit the mega Stadio Giuseppe Meazza (San Siro) where both Inter Milan and AC Milan play. In fact, Turin and Milan aren't that far apart, so you could theoretically arrange one major football vacation and visit both cities within a week!
Lisbon
Lisbon might not be on the top of the list for most football fans, but it is sneakily a great destination for all lovers of the sport.
First and foremost, it is home to two great clubs. Benfica and Sporting are two historic teams.
Benfica has enjoyed a lot of European success and historically, it was a dominant team in the European Cup. In the 1960s, Benfica was the best football club in the world. Superstar Eusébio made them fun to watch, and his statue is now apparent outside of the giant Estadio da Luz where you can now watch their matches.
Sporting hasn't had the same European success, but within the Portuguese league, the green-striped team is always taking a challenge to Benfica and Porto. Sporting is a fun team to watch, and it is usually easy to get tickets to their matches in Estadio José Alvalade.
Smaller Lisbon teams are Belenenses and Estoril, but remember that the Portuguese national team also plays its home matches in the city.
And we shouldn't forget – due to its warm weather and its impressive number of large stadiums, lots of international football events take place in Lisbon. Several Champions League and Europa League finals have been held in the Portuguese capital.
Buenos Aires
The Argentines go crazy for football, and it's quite the experience. Buenos Aires is home to several major clubs in the country
Among them, we find top teams such as River Plate and Boca Juniors – the two historical rivals that have traditionally dominated Argentine football. The atmosphere is intense when they play. The bad news is that it can be quite difficult to get tickets, but if you do manage it, you are in for a massive treat.
River Plate is from the Nuñéz/Belgrano neighborhood, while Boca Juniors is from La Boca. They both have huge stadiums with capacities of 61,000 and 49,000, respectively.
But they are not even the only major teams in Buenos Aires. We also find clubs such as San Lorenzo, Argentinos Juniors, Vélez Sarsfield and Huracán. These clubs provide fun football as well, so there are many great opportunities to watch live matches in the Argentine capital.
São Paulo
Brazil is probably the most football-obsessed country in the world, and we could mention several Brazilian cities that deserve to be visited due to their football history.
But we will focus on its biggest city, São Paulo, which is home to several impressive clubs.
The most successful team in the Brazilian Serie A has been Palmeiras. It was founded by Italian immigrants and went on to become incredibly successful with 10 Serie A titles. Palmeiras plays at Allianz Parque with a capacity for 43,700 spectators. The main rival is Brazil's most commercially successful club, Corinthians, and if you ever get the chance to watch the Derby Paulista between these two teams, it should be a snap call.
Santos FC is another major club in the São Paulo area, and there is also São Paulo FC. In other words, there are several great clubs to watch in Brazil's largest city. If you need even more options, for example, if you are taking a longer trip in Brazil, you can head northeast to Rio de Janeiro, or south to Porto Alegre, two other major football cities in Brazil.