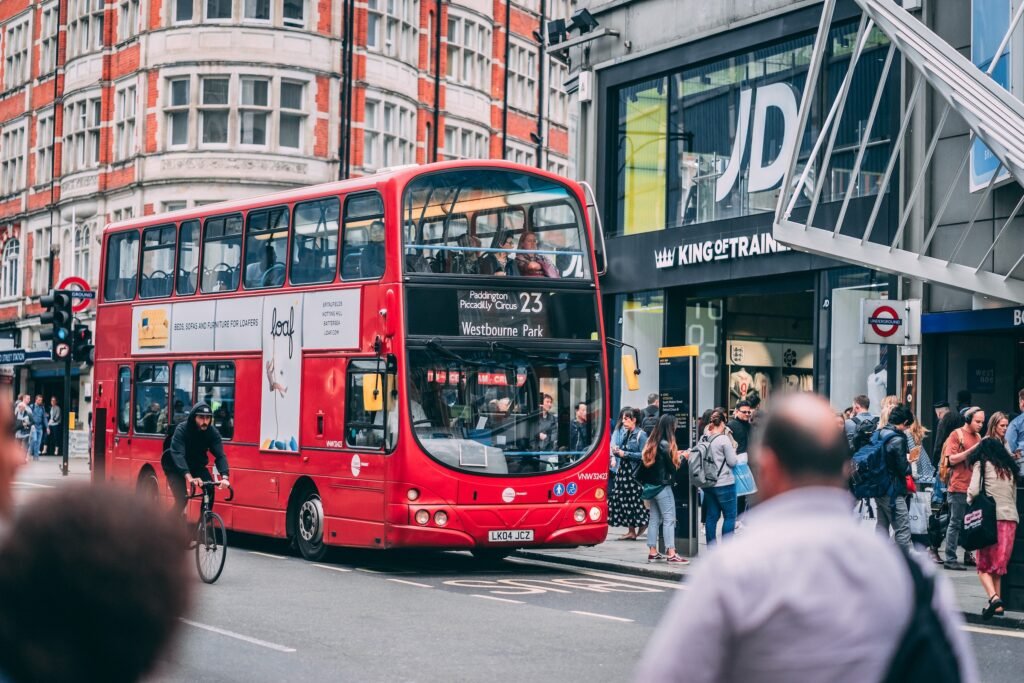 London is one of the most exciting destinations to visit for anyone who loves to shop. You'll find famous shopping streets, department stores, designer boutiques, and massive shopping centres to choose from throughout the city.
Regardless of your budget and tastes, at least one of these shopping locations below will appeal to you when planning your next visit for shopping in London.
Oxford Street
No trip to London would be complete without a trip to Oxford Street. Oxford Street is known for its high street brands and flagship stores, including Nike, Lush, Zara and Primark. It can get very busy here at peak times and weekends, but many stores remain open until as late as 9 pm or 10 pm each night. During the winter, don't miss the Christmas lights illuminating the street and making late-night shopping even more enjoyable.
Selfridges
Heading towards Marble Arch, you'll find Selfridges, one of the UK's most popular department stores. Selfridges is one of the best stores in London and is a high-end department store which attracts tourists and locals alike. Spread over nine floors, Selfridges offers something for every shopper and accommodates a wide range of budgets. The store generally remains open until 8 pm or 9 pm each night, and with many great dining options inside, it's a lovely place for shoppers to spend their evenings.
Regent Street
Connected to Oxford Street, you'll find Regent Street. Providing a similar shopping experience to Oxford Street, Regent Street offers visitors a few more designer and high-end stores. You'll find the Apple flagship store here, where you can purchase their famous electronics or receive assistance with your devices. If you are shopping in London with kids or for children's gifts, don't miss Hamleys on Regent Street. This iconic store is spread over seven floors and offers every toy or present you could imagine. Liberty London is located nearby and is a high-end department store housed in a Tudor-revival building.
Harrods
Located on Brompton Road in Knightsbridge, Harrods is one of the world's most luxurious department stores. With over 1.1 million square feet of shopping space, it's without a doubt one of the best stores in London. It offers over three hundred different departments, so women, men, and kids will enjoy visiting Harrods. Harrods is generally open from 10 am to 9 pm each day. You won't want to miss their spectacular Food Halls and their tribute to Princess Diana.
Westfield Stratford City
One of two Westfield shopping centres in London, the Stratford City shopping centre was built as part of the developments for the 2012 Olympic Games. This shopping centre focuses on high-street brands, including Marks & Spencer, Adidas, Boots, and Hollister. Westfield Stratford City provides fantastic views over the Queen Elizabeth Olympic Park and offers a great selection of restaurants outside. After spending your morning or afternoon shopping, you can enjoy watching a movie or playing a game of bowling here. The centre is open from 10 am to 9 pm daily, and from 12 pm to 6 pm on Sundays.
Harvey Nichols
Just down the road from Harrods, you'll find another luxury department store, Harvey Nichols. Opting for a more modern aesthetic and stocking trendy brands, this is a popular spot for anyone who enjoys keeping up with the latest designers and trends. This store in Knightsbridge offers fashion, accessories, beauty products and a food hall.
Bond Street
If you are looking to splurge on a new handbag or some designer clothing while shopping in London, head to Bond Street. Located off Oxford Street, you'll find designer stores including Louis Vuitton, Burberry, and Tiffany & Co. It's a popular spot with celebrities who enjoy visiting the flagship stores of some of the best British and international brands.
Westfield London, White City
For anyone looking for the best shopping centres in London, Westfield London in White City is at the top of our list. You'll find every store you could imagine here, and there's plenty of great restaurants to dine at once you are finished. The great thing about Westfield London is its mix of high-end and high street stores, so there's something for everyone here. Choose from luxury retailers such as Burberry, Louis Vuitton, Jimmy Choo, and Gucci, and then continue shopping at your favourite fashion stores such as Abercrombie & Fitch, Primark, Marks & Spencer and Urban Outfitters. It's the perfect spot for the whole family, with a dedicated row of shops for kids and babies. The shopping centre is open from 10 am to 10 pm daily.
Notting Hill
If you are looking to escape the standard stores of the popular high streets, head to Notting Hill, where you can find boho-chic fashion. You'll enjoy unique stores here, including vintage and designer stores. It's an enjoyable area to walk around and offers some fantastic bargains for shoppers.
Covent Garden
Covent Garden is one of the most popular areas for tourists in London, thanks to its charming atmosphere and a wide selection of stores. Jubilee Market is a great spot for picking up souvenirs for family and friends and showcases local artists. In the centre of the main Covent Garden market, you'll also find art stalls throughout the day, where you can enjoy shopping for one-of-a-kind gifts. Covent Garden is home to fantastic beauty stores, such as NARS, Charlotte Tilbury and Chanel, as well as some smaller designer stores and boutiques.
Carnaby Street
Tucked away off Regent Street is Carnaby Street, which has been popular with young Londoners since the 1960s. With over one hundred stores to choose from, there's something for everyone here, whether you are looking for classic or modern stores. After shopping, this is a popular area at night-time, as you'll find over sixty restaurants and cafes to choose from.
—
These are just some of the most popular areas for shopping in London, but almost everywhere you visit in the city, you'll find great shopping for all budgets and tastes. For one of the best shopping centres in London, don't miss Westfield London. Of course, no trip to the capital city would be complete without visiting the iconic Harrods and Selfridges department stores, which are certainly two of the best stores in London.
Are you ready for your trip?
Read this guide to London's neighborhoods and best hotels if you are looking for a place to stay!