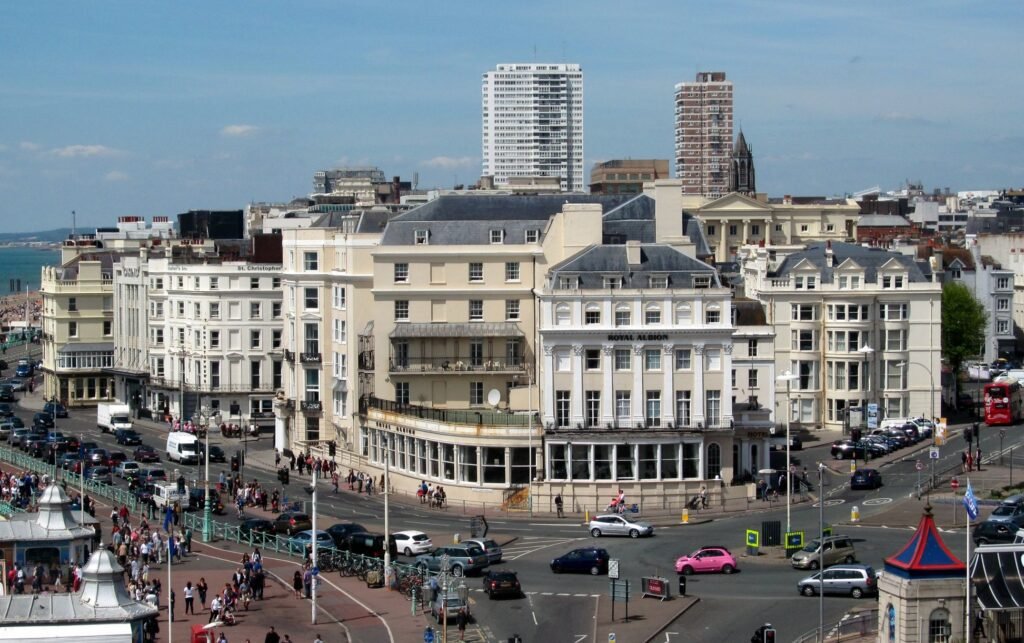 Brighton and Hove is a seaside city in England's southern county of Sussex. Welcoming around 1.5 million visitors in 2018 alone, 370,000 of which were tourists from outside the UK, Brighton and Hove is a much-loved location for weekend trips and longer vacations.
The city is well known for its expansive pebble beaches and its iconic pier. With many unique theatres and arts centres, it's also one of England's cultural hubs, hosting creative events and festivals throughout the year. It has endless cafés, bars, restaurants and a vibrant independent and vintage shopping scene.
Away from the central neighbourhoods, the area is also known for its green parks, countryside and nature reserves. Wondering where to stay in Brighton and Hove? Whether you're looking to be close to the beach, in the heart of the action or to relax in the countryside, there are many large and boutique hotels for you to choose from.
Here are some of the best neighbourhoods and hotels in Brighton and Hove.
North Laine and The Lanes
Situated in the heart of the city, and currently ranked as the number one thing to do in Brighton by TripAdvisor, North Laine is considered by many to be the cultural hub of Brighton. Adjacent to North Laine is The Lanes district, an equally exciting and popular neighbourhood.
The streets of North Laine and The Lanes are filled with lively independent cafés, restaurants, galleries and theatres. A number of the areas' pubs host live music and comedy nights. The Lanes area is also filled with hundreds of unique shops, including quirky vintage and independent antique stores, perfect if you're looking for a bargain.
Check out the Grade I listed Brighton Dome Theatre. Over its 200-year history, this venue has been used for many things, including a stable block, Victorian ice-skating rink and a military hospital during World War I. It's currently used as a performing arts venue, hosting, among other events, the annual Brighton Festival in May, where musicians, actors, speakers and dancers come together and put on fantastic shows.
This vibrant area is also home to colourful and original street-art, perfect for budding photographers and artists. Although the original version was sold in 2008, a replica of Banksy's Kissing Policemen still sits on the side of Prince Albert Pub for visitors to see.
North Laine and The Lanes: Where to stay
The Cappadocia Boutique Guest House on North Road is situated less than 10 minutes from Brighton Station and is within easy walking distance of the area's bustling shops, restaurants, bars and the beach.
Featuring 12 cosy and recently refurbished rooms, all with en-suites, this guest house has an eclectic mix of traditional Turkish and modern décor. It also boasts a unique gift shop, selling hand-finished pottery and drinking sets from Turkey as well as a Garden Café.
Book your stay with the Cappadocia Guest House here!
Kemptown
Running alongside Brighton and Hove's seafront lies Kemptown, one of the city's trendiest neighbourhoods.
Kemptown is an energetic area that has many chic bars, pubs, clubs and restaurants. It also has a number of shops selling vinyl records, antiques, vintage clothing and accessories. Kemptown is home to Brighton Flea Market, a unique, indoor market housing collectable, weird and wonderful home decorations, music collections and quirky jewellery.
Here, you'll also find Brighton Pier, one of Brighton's most famous landmarks that contains an array of food courts, an extensive funfair with rollercoasters, and an entertaining arcade. The pier juts out from Brighton's pebble beach which is the perfect location for an afternoon stroll. 
SEA LIFE Brighton, next to the beach is the world's oldest aquarium. First opened in 1872, it has thousands of underwater species including exotic fish and sharks. For those interested in architecture, Kemptown is home to the beautiful Sussex Square, an ornate and impressive crescent of Regency-style houses centred around a well-kept park.
Kemptown: Where to stay
The Red Brighton Blue is a Georgian-style guest house in the centre of Kemptown. It's been used as a guest house for over 50 years and, while the property has been refurbished, it still retains some of its original features. The hotel's 11 rooms with en-suites are spacious and comfortable, and guests can enjoy its outdoor terrace.
Red Brighton Blue is in a fantastic location among shops, restaurants and bars. It takes less than 10 minutes to walk to the beach, Brighton Pier, the aquarium and other key attractions.
Book your stay with Red Brighton Blue here!
Brunswick Town
Brunswick Town is an ideal location for those looking for a more relaxed vacation, while still being within walking distance of Brighton & Hove's busier areas.
Brunswick is famous for its brightly-coloured and iconic beach huts that line its pebble beachfront. The Hove Lawns, a long stretch of grass between the beach and Brunswick Town, is a great place for those looking to relax in the sun after a long day of exploring. The Lawns have pay-and-play tennis courts and bowling greens available for hire.
The neighbourhood and its volunteers host the annual Brunswick Festival in Brunswick Square, providing live music, entertainment and family-friendly activities for all to enjoy. The Old Market Theatre, which used to be a functioning market, is now a popular arts venue, hosting comedy shows, plays, cabaret performances and live music events.
Brunswick Town is also known for its impressive Regency-style architecture with its many majestic white town houses. Explore inside the Grade I listed 'Regency Town House', now a museum showcasing the property's recreated historic décor. The town house also hosts art exhibitions and small-scale local events.
Brunswick Town: Where to stay
The impressive Mercure Brighton Seafront lies on the eastern edge of Brunswick Town, bordering The Lanes. It has over 100 rooms, including luxury suites with sea views and balconies, that have all recently been redecorated. The hotel is in a fantastic location; there are many restaurants nearby and, alongside being within walking distance of Brunswick Town's key attractions, you are just a short walk from Brighton and Hove's central neighbourhoods and landmarks. If you fancy a quiet night in, The Mercure offers in-room dining with a host of cuisines to choose from.
Book your stay with the Mercure Brighton Seafront Hotel here!
Hanover
Just north of Kemptown lies Brighton and Hove's Hanover neighbourhood. This area is known for its brightly painted buildings, many of which are tightly packed together in a winding maze of streets along a very steep hill. Take a walk down the residential road, Ewart Street, to see some very colourful houses.
While Hanover has many cafés and restaurants, it's a lot less busy than Kemptown and is the perfect base for those who want to be close to the action and the beach, but who also want to explore a quieter part of the city. Hanover has several pubs scattered throughout the neighbourhood, many of which rustle up delicious Sunday Roasts, host live music performances and organise open mic comedy nights.
Hanover: Where to stay
As Hanover is a quieter neighbourhood in Brighton and Hove, hotel options are fairly limited. The Westbourne Hotel and Spa, while technically situated in the north of Kemptown, is a good choice for those looking to stay near Hanover. It's only a five-minute walk from several of Hanover's pubs and Kemptown's beachfront.
Each of its 12 rooms is individually decorated and spread over the five floors of this Victorian building. There's a spa on site with experienced therapists offering many relaxing massages and beauty treatments. Perfect after a long day of exploring the nearby neighbourhoods.
Book your nights with the Westbourne Hotel and Spa here!
Rottingdean
Rottingdean Village lies a couple of miles to the east of Hanover and is the perfect neighbourhood for those looking to enjoy the outdoors, away from the bustle of the city centre.
Beacon Hill is a local nature reserve in Rottingdean with over 18 hectares of grassland. The reserve houses an iconic, 200-year-old, Grade II listed mill. From here, you can admire the fantastic views of the reserve and out towards the sea. With so much open space to explore, this is an ideal location for visitors looking to spend time in the countryside or for those visiting with dogs.
The quiet and peaceful Kipling Gardens, filled with herbs, wild flowers and winding brick walkways, is another tranquil attraction situated in Rottingdean. Rudyard Kipling, the famous author whose works includes The Jungle Book, lived in this area between 1897 and 1903.
Rottingdean: Where to stay
The White Horse Hotel on Rottingdean High Street is situated on the stunning and rugged white Sussex cliffs. While some may consider the décor of the hotel's 25 rooms to be somewhat dated, its location is fantastic. Boasting views across the sea from many of its rooms, and also from its outdoor seating space, the hotel is just a short walk from Rottingdean's pebble beach. There are several cafés and restaurants nearby and the Kipling Gardens are less than a five-minute walk away.
Reserve your room with the White Horse Hotel here!
Conclusion
With its expansive coastline, unique independent shopping scene, numerous bars and restaurants and a range of boutique hotels, Brighton and Hove is the perfect location for your next vacation.