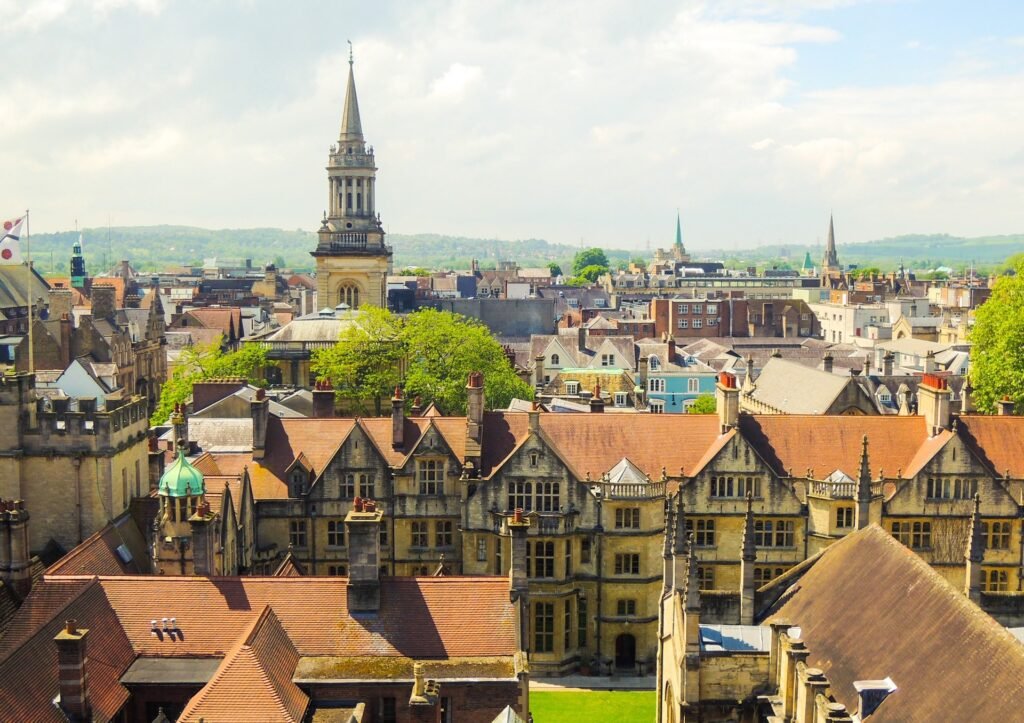 Whether you're planning a short weekend break or a longer stay, Oxford is the perfect place to visit. Oxford is an English city situated around 50 miles to the west of London. It's a popular tourist destination, with almost seven million domestic and international visitors each year.
The city is steeped in history, with famous landmarks that many visitors will easily recognise, including the Radcliffe Camera building and the Bridge of Sighs. Oxford is home to its world-renowned University, with picturesque colleges dotted throughout the city, many of which are open to visitors. There's evidence that teaching took place here as early as 1096, making Oxford University one of the oldest universities in the world.
It's a vibrant city filled with museums, markets, restaurants, theatres and it regularly hosts colourful street fairs and carnivals. The wider city is known for its parks, beautiful countryside and rivers. Here are just some of the best neighbourhoods and hotels in Oxford.
Oxford City Centre
Whether you're interested in history, architecture, shopping or entertainment, Oxford city centre has something for everyone.
The Ashmolean Museum of Art and Archaeology, Britain's first public museum, is a must-see. Founded in 1683, the museum is now filled with thousands of historic objects. Alongside Egyptian mummies, ancient coins and jewels, you can also view a range of contemporary artworks.
A trip to the city would not be complete without visiting the iconic Sheldonian Theatre and the Radcliffe Camera building, both part of Oxford University. The Sheldonian Theatre was designed by Sir Christopher Wren and opened in 1669. It hosts musical concerts, private dinner parties and receptions. The Grade I listed Radcliffe Camera, completed in the 1740s, is a circular columned building that's now a reading room of The Bodleian Library. Its dome, external and internal architecture are revered and worth seeing. Both venues offer guided tours.
Shoppers should visit Gloucester Green Market. The local independent vendors in this traditional, but lively, open-air market sell a range of goods from fresh fruit, vegetables and cheeses to house plants and unique accessories. Nearby, Westgate Shopping Centre has over 100 stores and more than 20 bars and restaurants, including impressive rooftop bars.
The Oxford Playhouse Theatre, designed by British architect Sir Edward Maufe, hosts many live performances. Well-known actors, including Dame Judi Dench and Sir Ian McKellen, have taken to the stage here.
Don't miss the photogenic Bridge of Sighs, a historic architectural landmark connecting two buildings. Oxford Castle and Prison is also a must-see. Alongside guided tours of the Norman medieval castle and 18th Century prison, part of which is now a hotel, visitors can climb St George's Tower to enjoy stunning views over Oxford.
Oxford City Centre: Where to stay
Wondering where to stay in central Oxford? Previously part of a Victorian prison, The Malmaison Oxford Hotel offers unique, quirky and luxurious accommodation. The hotel retains much of the prison's original architecture and character, with its former cells now providing 95 rooms and suites with bright and airy décor.
The hotel provides in-room breakfast service and its restaurant, Chez Mal Brasserie, serves an à la carte dinner menu. The outdoor terrace sits within the old prison exercise yard, which makes for an interesting dining experience.
The Malmaison Oxford Hotel is in the heart of the city, just a 10-minute walk from Oxford train station, making it a perfect location for visitors.
Jericho
Once an industrial hub, Jericho is a small, historic suburb to the northwest of the city centre. Its residential streets are filled with quaint, picturesque, red brick and pastel-coloured Victorian terraced houses. There are several cocktail bars, cafes and international restaurants on Walton Street along with nearby independent shops and an arthouse cinema. It's a vibrant but quiet area, ideal for people looking for easy access to the bustling centre while staying in a residential and peaceful neighbourhood.
The annual summer Jericho Street Fair, organised by a local community group, is an energetic one-day event. The fair boasts live music performances, world food and artisan stalls, fun activities, games and live entertainment, including Morris dancing.
The Jericho neighbourhood borders the southern tip of Port Meadow, 300-acres of open grazing land. This is one of Oxford's hidden gems, adjacent to the River Thames, and is a great spot for a countryside walk. There are several pubs dotted around the meadow and a small sailing club.
Jericho: Where to stay
The Old Parsonage Hotel to the east of Jericho is an independently owned five-star luxury hotel. Converted from a 17th Century parsonage, the hotel retains much of the building's historic charm. It consists of 35 individually styled bedrooms and suites with elegant marble bathrooms. Each room is decorated with striking artwork from the owners' private collection and some have terraces with views over the gardens.
The hotel's Parsonage Grill has an elegant but cosy atmosphere and a log burning fire. It serves breakfast, lunch and dinner, with guests enjoying refined British dishes made from fresh local produce. The hotel also offers delicious, traditional afternoon tea in its walled courtyard. Guests can relax in the hotel's library or borrow one of its many vintage-style bikes to explore Oxford.
The hotel is in a great location for exploring the Jericho neighbourhood and is a 5-minute drive to Oxford's train station and the city centre.
Book your stay with Old Parsonage Hotel here!
Cowley
Just two miles from Oxford's city centre is Cowley Road, an arterial road running through the north of Cowley. There's a diverse range of cuisine served in the area's many restaurants, cafes and bars and Cowley has a vibrant nightlife scene with several open mic venues. The neighbourhood also has a good selection of vintage and boutique shops.
The annual Cowley Road Carnival attracts around 50,000 visitors each year and is not one to miss. This Sunday in July is spent celebrating different cultures within the community. The road is pedestrianised to make way for an energetic and colourful parade with unique, hand-made displays, dancing and live music. There's also a host of food stalls serving a range of global cuisines.
Oxford University's St Hilda's College is located within Cowley and sits alongside the picturesque banks of the River Cherwell. Magdalen College is a short walk from Cowley Road and welcomes visitors throughout the year. Founded in 1485, the college is steeped in history and has beautiful private lawns, woodlands, river walks and even a deer park. Also, a short walk from Cowley is the Oxford Botanic Garden and Arboretum, showcasing indoor and outdoor plants from around the world.
Cowley: Where to stay
If you're looking for a relatively cheap and straightforward hotel, look no further than the Premier Inn Oxford hotel in Cowley. The rooms are spacious with ensuite bathrooms. The hotel's restaurant serves a range of delicious meals for breakfast and dinner. Situated in a quiet business park in the heart of Cowley, it's a good base for exploring the neighbourhood, central Oxford and the surrounding countryside. It's less than 10 minutes to Cowley Road by car and only a few miles to Oxford train station.
Reserve your room with the Premier Inn here!
Summertown and Park Town
Summertown and Park Town are small, mainly residential suburbs to the north of Oxford's city centre. The areas have a mix of boutique shops, thrift stores and several restaurants. This is the perfect neighbourhood to explore if you're interested in architecture. Many of the houses in Park Town are Grade II listed and there are two well-known and impressive residential crescents here.
You can easily explore the outer regions of Oxfordshire from here. Take a day trip to Blenheim Palace, a lavish 17th Century stately home, just a 15-minute drive from Summertown. This palace is a World Heritage Site with over 300 years of rich history. The palace's state rooms are filled with detailed tapestries, portraits and antique furnishings. Visitors can also wander around the stunning landscaped gardens and there are many walking routes within the grounds. Blenheim also hosts a range of exhibitions throughout the year.
Summertown and Park Town are ideal locations for visitors looking to stay within a quieter part of the city while still having easy access to shops and restaurants. It's only a 15-minute journey into the city centre by bus or car.
Summertown and Park Town: Where to stay
St Margarets Hotel sits on the border between Summertown and Park Town. This historic Victorian building has 11 charming ensuite bedrooms, with high ceilings and pleasant views. The rooms have traditional décor and period features. The hotel has an enclosed garden and conservatory for guests to use. There are some pet-friendly rooms available here too. 
While there is no bar or restaurant on site, the hotel does serve breakfast in the conservatory. And the hotel is situated just around the corner from North Parade Avenue which has many pubs and restaurants.
Although the hotel is within walking distance of the city centre, it's located on a quiet residential street, so you can enjoy a good night's sleep in between busy days exploring Oxford.
Reserve your room with St Margarets here!
Conclusion
These are just a few of the main attractions and best places to stay in Oxford. There's so much to see and do in this wonderful city that you'll undoubtedly want to visit again.