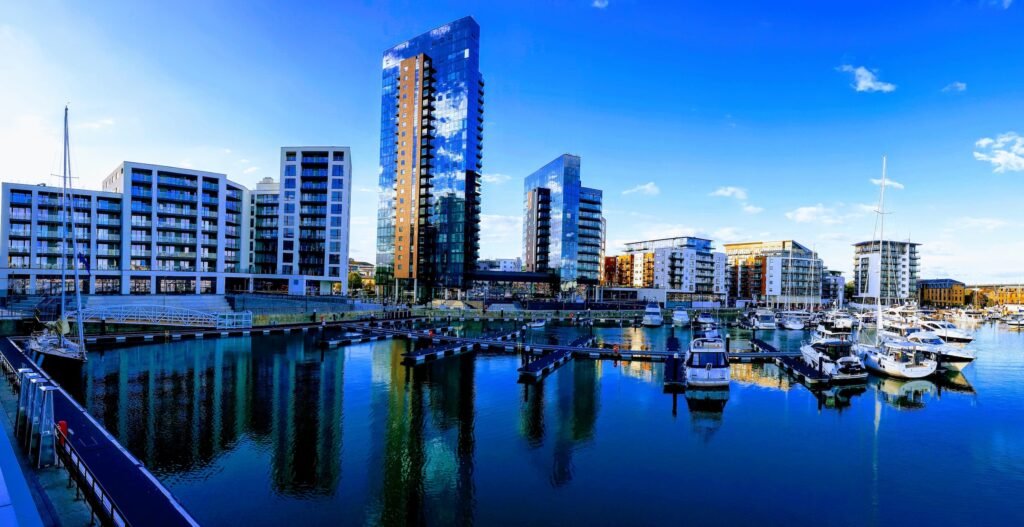 Southampton is one of Europe's most historic port cities, taking pride in a place on England's South Coast. The maritime heritage of Southampton is on display throughout the city – but it is not the only appealing feature. There are heaps of culture, from art galleries and museums to live music venues, a world-renowned university, and a Premier League football team.
Many people visit Southampton before they depart on a cruise to a different corner of the globe, but you shouldn't miss the highlights of the city as there is still lots to see and do here. The city is also very close to the rural beauty of the New Forest and a short ferry ride from the Isle of Wight.
Though this city is not the largest, Southampton is home to a fine selection of hotels and accommodation.
Choosing which one is right for you often depends on why you are going to the city. So if you are wondering where to stay in Southampton, we have set out a range of hotels in Southampton for you below, all based on the most common reasons for visiting this wonderful city.
Visiting Southampton city-centre
The city-centre of Southampton is home to fantastic shopping and interesting things to see & do. Visit 'The Bargate' is the historic entrance to the old town of Southampton, from when it was a fortified walled city. If shopping-til-you-drop is more your thing, head to the impressive Westquay Shopping Centre for hundreds of stores, restaurants, a cinema and a bowling alley.
Where to stay in the city-centre…
Situated right in the heart of Southampton's centre, the Moxy Hotel features stylish and comfortable rooms with all of the amenities. The Moxy's modern lobby, with its video wall and cosy fireplace, is an inviting place to relax. On top of that, the bar offers a good selection of wine and beer!
Book your stay with Moxy Southampton here!
Pre-departure cruise passengers
Southampton's port has been in place since Roman times and since then it has become one of the most famous and important ports in the world. The notorious sailing of the Titanic began in Southampton and the port has been home to many famous ocean-liners including Queen Elizabeth 2 (QE2). The port currently has four passenger terminals for cruise ships, with many customers choosing to stay in the city before their trip begins.
Where to stay in Southampton before a cruise…
Definitely the Leonardo Royal Southampton Grand Harbour!
If you're wondering where to stay in Southampton before a cruise, this impressive hotel is a perfect choice. The rooms here are very well appointed and many have sea views, the perfect way to get you prepared for your time on the ocean! The hotel's spa offers a range of relaxing therapies and treatments, a gym, an indoor swimming pool and a sauna. The excellent Marco Pierre White Steakhouse Bar & Grill offers beautiful food and wonderful waterfront views.
Book your stay with Leonardo Royal right here!
Visiting the Cultural Quarter
There are a number of different Southampton neighbourhoods, but few are as vibrant and lively as the cultural quarter around Guildhall Square. This area is at the heart of Southampton's live music scene, whilst also being the home of many fascinating museums and galleries. The John Hansard Gallery is a world-renowned space that hosts an array of contemporary visual art from artists including Michael Pinsky, Alec Finlay and more.
Where to stay in Southampton's Cultural Quarter…
The established hotel brand Jury's Inn has a fantastic hotel located just to the North East of the Cultural Quarter. Located just across the scenic East Park, this modern accommodation has everything you need for a relaxed and enjoyable stay, including large, comfortable beds and spacious bathrooms. The stylish bar area is always welcoming and the restaurant serves a range of seasonal food.
Book your nights at Jury's Inn Southampton here!
Football fans
Southampton Football Club is a fixture of the city. 'The Saints' (as the club is nicknamed) play in the Premier League, the top flight of English football and fans travel from far and wide to watch them, and the opposition that they play. Southampton F.C. calls St Mary's Stadium home. This impressive ground is located a very short distance from the city centre, has a capacity of 32,000 people and was built in 2001.
Every season, Southampton gets visited by top clubs such as Manchester United, Manchester City, Liverpool FC, Arsenal and Chelsea. These matches are highly worth visiting. The Southampton Football Club has also been very competitive during recent seasons.
Where to stay for football fans visiting Southampton…
We suggest the Premier Inn Southampton City Centre hotel.
Fans of visiting sides have an array of options when it comes to places to stay before visiting St Mary's to watch their team. If you're looking for a hotel that is very close and offers great value, you'd be hard-pressed to beat this option from Premier Inn. Just a 15-minute walk from the ground, it has all the usual features that you'd expect from this well-respected chain, including free Wi-Fi, comfy beds, TV and an en-suite bathroom. Parking is also available for a very reasonable cost.
Visiting the University of Southampton
The University of Southampton is the largest in the South East of England and is ranked as the 15th best university in the country as part of The Times/Sunday Times Good University Guide (2021). The university has a focus on research and was a founding member of the Russell Group – a group of 24 UK universities that focus on upholding the highest research and teaching standards. The university has a number of specialities and works closely with Britain's armed forces – a growing area of expertise is as a Centre of Excellence for Cyber Security Research.
Where to stay near the university…
There are seven teaching campuses at the University of Southampton, with the main being the Highfield campus.
Located just a five-minute drive from this campus is the DoubleTree Hilton Hotel Southampton. If you're travelling to visit the university or somebody studying there, this hotel is the ideal option. Rooms here are comfortable, with free Wi-Fi and room service available. The hotel has a fitness centre, and the Bracken Place Restaurant & Bar serves a range of tasty options.
Stay with the DoubleTree Hilton by booking here!
Enjoy your trip to Southampton
Maybe you're taking a long holiday in the south of England, or maybe you just need to make arrangements before departing on a cruise.
There are many reasons to visit Southampton. We certainly hope that this guide has helped you find a nice place to stay. If you are looking for more information about Southampton or nearby destinations, feel free to browse our archives for more travel guides!