London is known as a city of sport. The most popular sport is football – by quite a margin. As a matter of fact, London is home to several of England's best football clubs. Arsenal, Chelsea, Crystal Palace, Fulham, Tottenham and West Ham are the current Premier League teams based in the capital city.
Football tourism is a great opportunity for everyone interested in the combination of football and travel. London can accommodate all your needs, so let's take a look at the best stadiums to visit in London, where you should stay when you are visiting, and how you can make the most of your trip.
Emirates Stadium
Emirates Stadium is the home field of Arsenal FC, located in Highbury, just a tiny bit north of the city centre. It has a capacity of 60,704 which makes it the fourth largest stadium in England, and the third-largest in London.
If you're an Arsenal fan, this is the place to go. If you're a general football fan, it still makes sense to visit Emirates Stadium. Arsenal is a fun team to watch and the club regularly hosts top-class opponents.
The stadium has been described as beautiful and intimidating at the same time, and that is a good way to put it. With cannons positioned outside of the stadium, you're never in any doubt of where you are, and the red interior definitely shows the spirit of Arsenal.
You can get to Emirates Stadium with the London Underground. The Arsenal station is the closest, but Holloway Road and Finsbury Park are also near. Season-ticket holders get first access to the matches, but as a tourist, you can buy tickets online, or in person at the West Stand.
For an Arsenal football trip, you should find a hotel near the stadium. The neighborhoods Highbury and Holloway are ideal, but you also have close access to Emirates Stadium if you stay in the popular area of Camden.
Stamford Bridge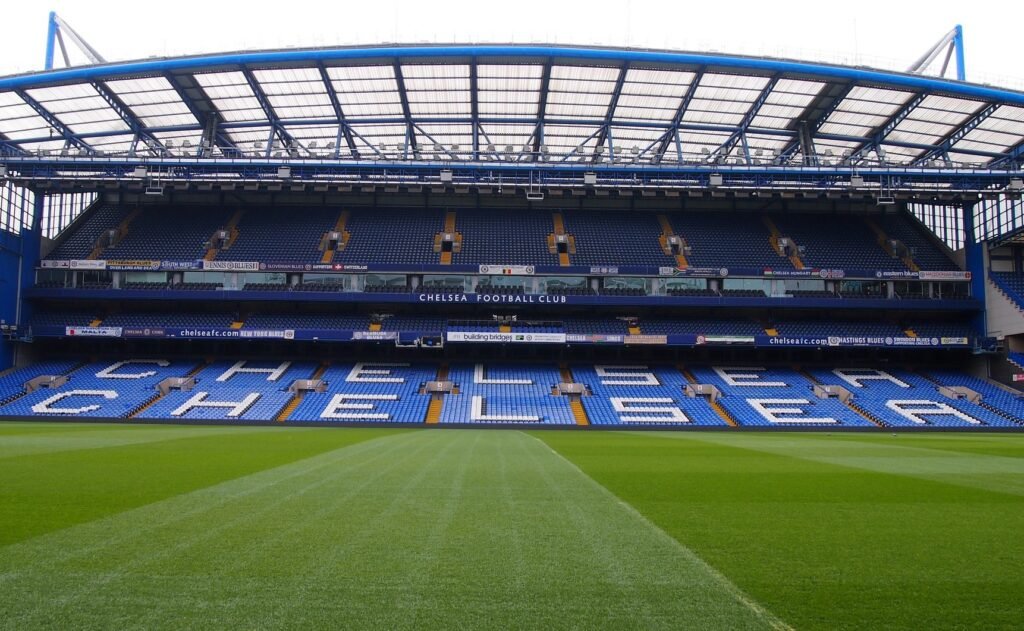 From one top venue to another: Stamford Bridge is home to Chelsea Football Club, another wildly successful club with a huge international fan base.
The Blues are fun to watch as they are regularly fighting for Premier League honours and European titles. Chelsea is very active in the transfer windows and the squad almost always has international superstars in it.
To see those superstars play, you should take a football trip to London. Chelsea plays in Fulham, right next to the neighborhood named Chelsea. This is in the western part of London and much more residential than the centre of the city, yet very charming, and obviously there is a lot of football action.
Stamford Bridge has room for about 40,000 spectators and the stadium is usually full when Chelsea plays.
If you take the Tube, you can get to Stamford Bridge through Fulham Broadway or Earl's Court. Buses can take you even nearer – the Walham Green stop is just 200 meters away from the stadium.
There are some nice hotels in the Fulham area if you want to stay near the stadium. These hotels are typically a bit cheaper than the mainstream hotels in central London.
Selhurst Park
Crystal Palace is another popular London team. Despite not winning as much historically as Arsenal and Chelsea, it is still a London club that has played countless seasons in the top English flight, and matches are usually quite entertaining.
Selhurst Park is the home field of Crystal Palace. It opened back in 1924 and still has that classic English vibe. With room for approximately 25,000 guests, it is not a small stadium by any means, and the atmosphere can be up there with the best. During a few years, Selhurst Park was also home to other clubs, such as Charlton Athletic and Wimbledon FC.
This stadium is located in the suburb named Selhurst in the southern part of London. Norwood Junction is the nearest metro station, but there are also bus stops nearby.
The average attendance for Crystal Palace matches is just shy of the full capacity. At least that is how it has been during its Premier League matches. Tickets can be bought online in advance while arranging your trip. If you're a Palace fan who wants to stay near the stadium, any location in southern London would be fine, but the boroughs of Croydon and Sydenham are ideal. You can also stay in the centre of the city and take the Tube when you're going to the stadium.
Craven Cottage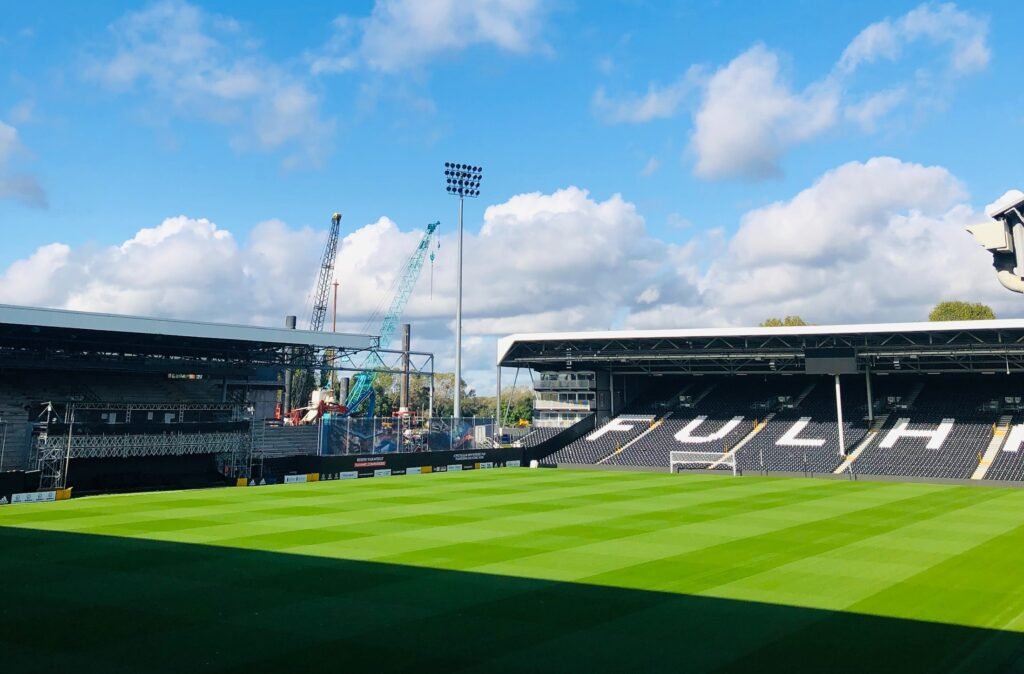 Chelsea is not the only club playing in western London – so does Fulham F.C., another historic club that currently plays in the Premier League.
Craven Cottage has a capacity of around 19,000 spectators, although it used to be much bigger. It was originally a cottage built in 1780, but it became a stadium in 1896.
Aside from being the home to Fulham F.C., Craven Cottage has also been used by some national teams – for instance, the United States national team, the Canadian one, the Irish one, and it has also been used for rugby.
But obviously, football and Fulham are the main attractions. Going for a match at Craven Cottage is a great experience, especially if Fulham is playing one of the top clubs in England. The highlight of the year will be the match against Chelsea FC since they are rivals based in the same area.
The nearest underground stations are Putney Bridge and Hammersmith. So you can easily get to the stadium. If you're going on a football trip to London to see Fulham play, you might also consider staying in the western part of London in order to be close to Craven Cottage.
Tottenham Hotspur Stadium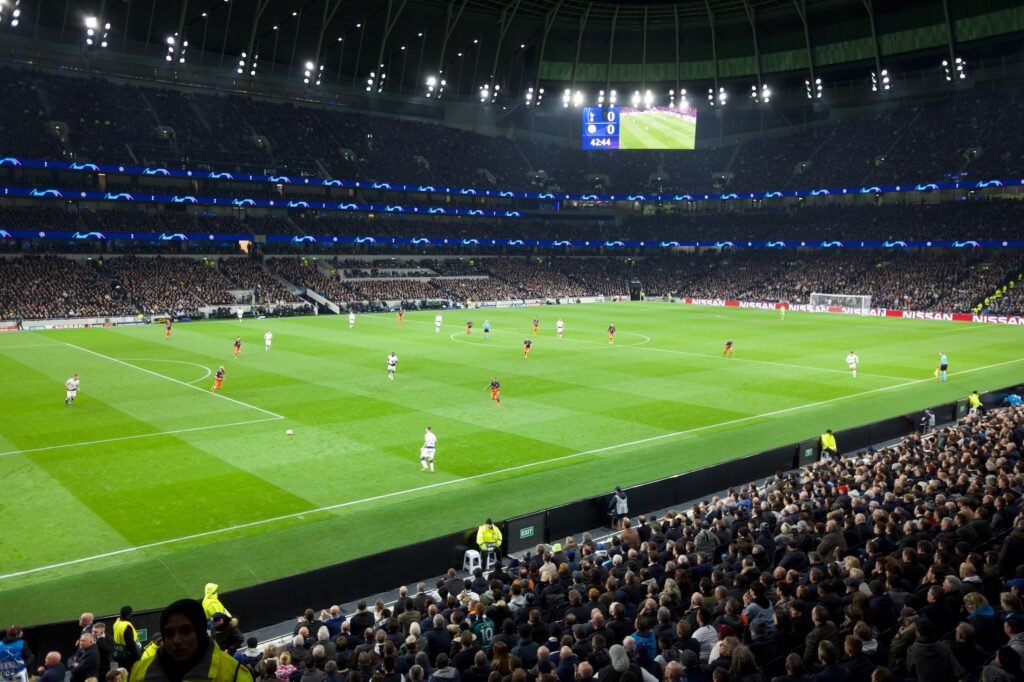 The newly built Tottenham Hotspur Stadium is the third-largest stadium in England and the second-largest in London. It is home to Tottenham Hotspurs, one of the top English clubs.
It is a multi-purpose stadium that is also being used for other events, such as concerts. There are usually a handful of NFL games played at Tottenham Hotspur Stadium as well.
But of course, as a football fan, the main reason to come here is to watch the Spurs play. They have over 20 home matches per season, so there's rich opportunity of seeing a match live. The stadium is located in the Tottenham area, of course. The nearest Tube stations are White Hart Lane and Seven Sisters.
Tottenham is a very popular club, so the stadium is usually packed. However, it is a stadium where tourists can easily get tickets. You can book online in advance, and you can also book in person. The stadium is also open to tours.
Watching a Tottenham match might be the simplest way to experience a live match with one of England's top clubs. Since the club plays a bit away from the centre, you can consider staying in the Tottenham neighborhood.
London Stadium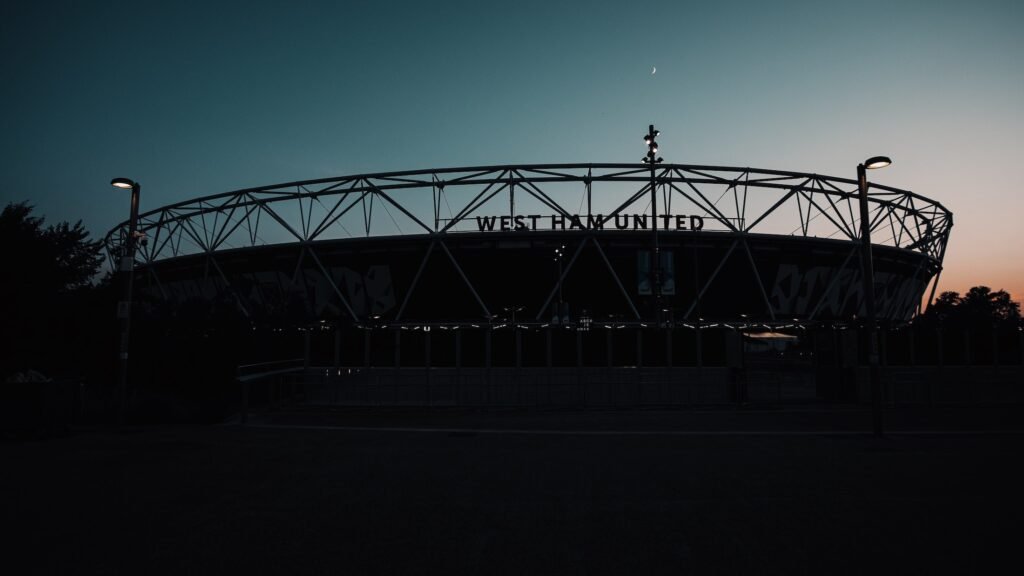 There's no way of leaving out London Stadium. This arena, named after the city itself, is home to West Ham United. It is also known as the Olympic stadium, and it is used as a multi-purpose venue for Manny sports and events.
London Stadium is modern – it was constructed specifically for the 2012 Olympics, and rather than staying empty, West Ham decided to use it as its home ground.
The regulated capacity is 60,000. However, for some sports games, it might be increased to 66,000. During big concerts, London Stadium can host as many as 80,000 guests so it is absolutely one of the biggest stadiums in the country. The oval shape allows relocatable seating.
West Ham is a proud club that has been in Premier League for more years than we can count. It is a club that is highly popular with fans. The highlight of the year is probably the home match against Tottenham Hotspur, which is West Ham's biggest rival.
London Stadium also hosted the first Major League Baseball (MLB) game in Europe.
Located in the district of Stratford, London Stadium has been placed in the northeastern part of the city. The neighborhoods West Ham, East Village and Fish Islands are all solid areas if you're staying in the area for a football trip. The Stratford station will be the main access point for getting to and from London Stadium.
Wembley Stadium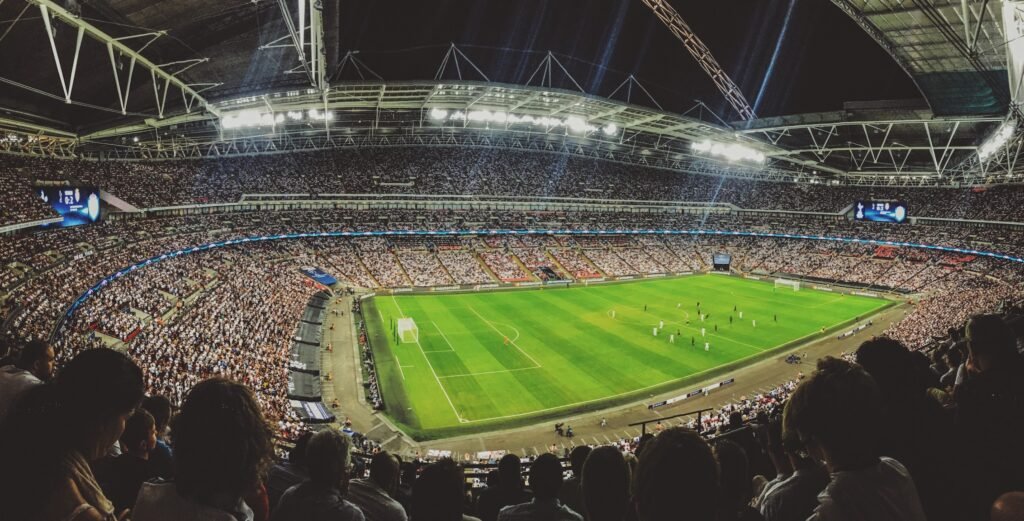 At last, we have the biggest stadium in the entire country – Wembley Stadium, a prolific venue that has a capacity of up to 90,000!
The original Wembley Stadium opened in 1923 and hosted many historical football matches, such as the 1966 World Cup final, the 1996 Euro final, five European Cup finals, and countless FA Cup finals. Pelé called it the cathedral of football. However, the old stadium was demolished, in order to build a new one at the same site.
The new Wembley Stadium was built between 2003 and 2007. It finally stood ready in March 2007.
What is Wembley Stadium used for?
It isn't home to any club. But it is used as the main venue when the English national team plays its matches, and Wembley is also used for the FA Cup final, for the League Cup final, and for the Community Shield match at the beginning of each season. It has previously hosted multiple Champions League finals and is expected to do so again in the future.
We find the stadium in the northwestern part of London, in the district Wembley which the stadium is named after.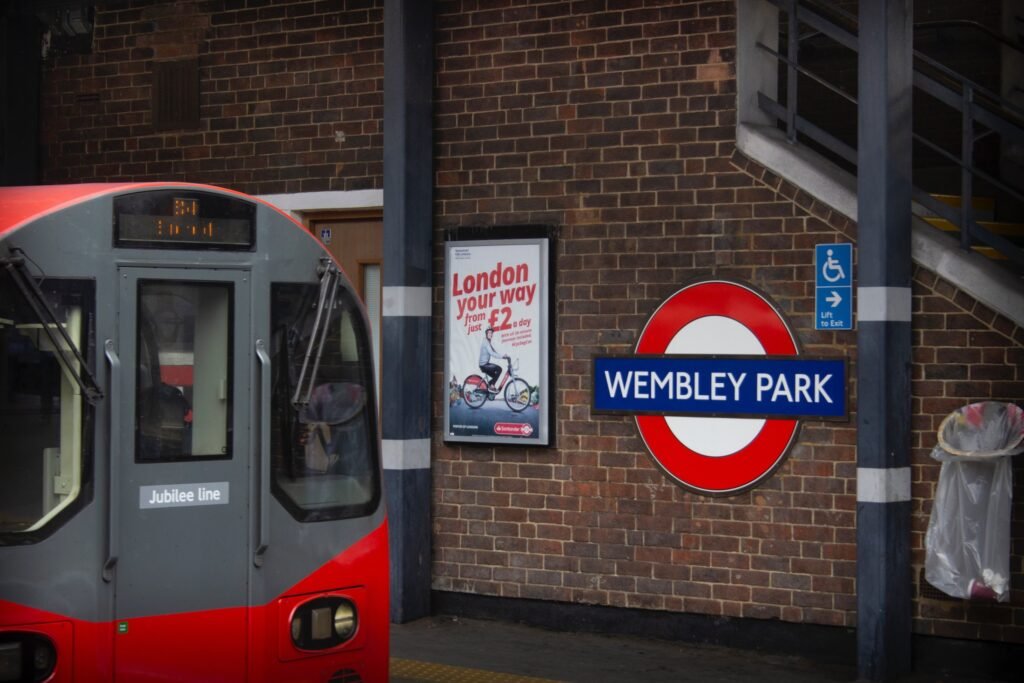 Stations Wembley Park and Wembley Central will take you to the venue. Getting tickets to a match or an event at Wembley Stadium is quite easy – you can book online. It is easy to get concert tickets, and a little harder to get football tickets. If you want to watch the FA Cup final or any major event like that, we recommend booking way ahead of schedule.
—
London might be the best city in the world for football and general entertainment. If you're a football fan, you'll find a large variety of clubs in London, and it is never hard to find an interesting match on the weekends. Hopefully, this guide has prepared you well for any upcoming football trips to London, and we wish you a great experience!
Read our guide on where to stay in London.