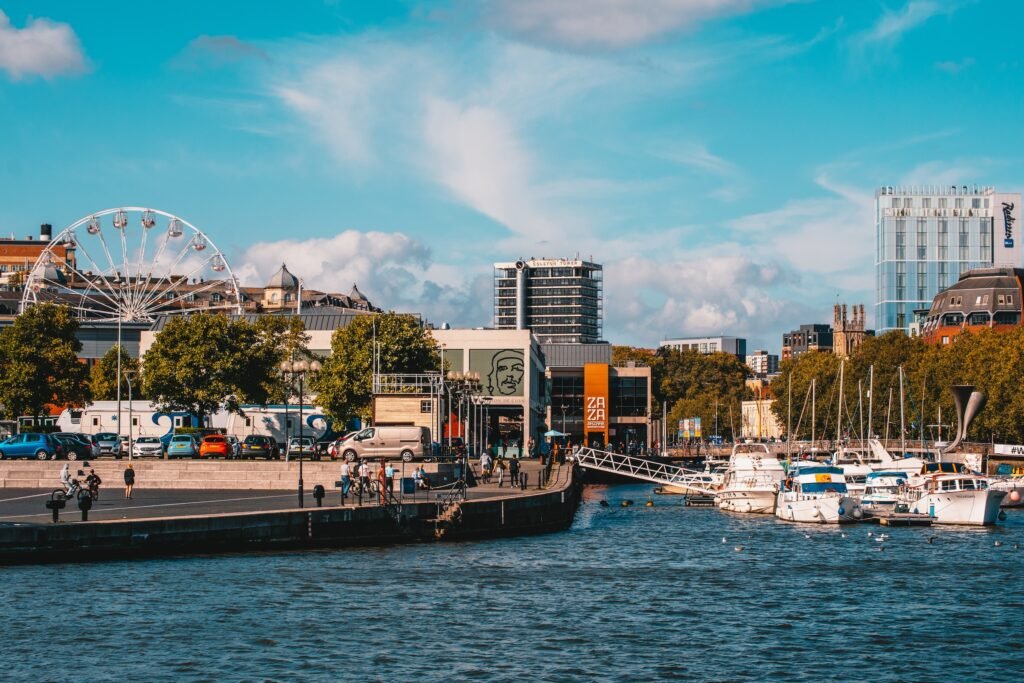 Bristol is a major city in the South West of England that is growing in popularity as a tourist destination. In 2018 alone, Bristol had over 2 million visitors from the UK and just under 600,000 international tourists.
The city is steeped in history and there are many notable sites throughout, from its medieval old city to its Victorian-era landmarks and docklands. In the past few decades, Bristol has undergone a revival and is now known for its countless eateries, trendy shops, boutique hotels and lively nightclubs. It's also a creative hub made famous for its unique street-art; rumour has it that Bristol is the birthplace of Banksy and where he first started experimenting with graffiti art.
Whether you're planning a weekend visit or a longer stay, Bristol has something for everyone. Here are some of the best neighbourhoods and hotels in Bristol:
Bristol City-Centre
Situated on the northern banks of The New Cut, part of The River Avon, lies the heart of Bristol. This vibrant location has plenty to see and do, all within easy walking distance.
The city's shopping quarter has over 500 retail outlets and an impressive choice of cafes and art galleries. It also has a vibrant nightlife scene with large capacity nightclubs showcasing top DJs from around the world. These include Lakota and The Island, which is located in what was formerly a police station. There are also a multitude of live comedy and music venues and, quite literally, hundreds of bars and restaurants on offer.
Bristol city-centre is brimming with history, particularly in its Medieval old city. There are several historic sites and markets for you to explore. The Bristol Indies Market on Corn Street is open every Friday and Saturday. Here, you'll find vintage clothing, distinctive artwork and handmade jewellery. Or, check out St Nicholas Market, where the stalls are inside The Exchange, a unique Grade I listed Georgian-style building.
If you need a moment to relax from the bustle, check out one of the city's open green spaces, especially the popular Castle Park.
Whether you want to visit the city's impressive sites or dance the night away at one of its nightclubs, you won't run out of things to do in Bristol's city-centre.
Where to stay in Bristol City-Centre
Wondering where to stay in Bristol? Check out The Mercure Bristol Grand Hotel on Broad Street, located in the heart of Bristol's old city. This Victorian hotel is a short distance from Temple Meads train station and roughly a 20-minute taxi ride from Bristol's airport.
Due to its central location, The Mercure is a perfect jumping-off point for exploring the city-centre on foot. In the evening, guests can easily walk from the hotel to many nearby restaurants, bars or nightclubs. With over 180 luxury rooms and suites, the hotel also boasts a health and leisure club with a swimming pool and jacuzzi. Perfect for relaxing after a long day touring the city.
Book your stay with The Mercure here!
Harbourside
While Harbourside is technically located within Bristol's city-centre, it is a neighbourhood worth visiting in its own right, and perfect for people wanting to experience a quieter part of Bristol.
Harbourside was originally one of Bristol's docking areas for merchant traders and sailors. Now it's a contemporary and desirable place to live and visit. Many of the old docks and storage warehouses have been renovated to house restaurants, bars, museums as well as prime residential accommodation.
Bristol's aquarium sits alongside the harbour with thousands of underwater creatures, from seahorses and tropical fish to piranhas and sharks.
Meander through the area and experience Bristol's trading past. The walkway offers great views of Harbourside's functional architecture, preserved cranes as well as a fantastic outlook across the docks.
Another great way to see the harbour is by boat. Bristol Ferry operates every day and offers river tours and even booze cruises. You can also try paddle boarding and sailing.
Where to stay in Harbourside
Bristol Harbourside Hotel and Spa is an award-winning, upmarket boutique hotel just a short walk from the harbour. Set in a stunning Grade II listed building, the hotel is also on the doorstep of Bristol's old city, making it the ideal location from which to explore Harbourside's neighbouring districts.
The building itself dates back to the 1850s and was designed by William Bruce Gingell, a renowned architect. Historically it was used as banking premises before being converted into a hotel.
Its kitchen, bar and terrace restaurant is available for guests to enjoy alongside an additional, quirky and opulent bar. The building's former basement bank vaults have been transformed into a luxury spa that includes a gym, sauna, and treatment rooms.
Book your stay with Bristol Harbour Hotel & Spa!
Clifton Village, West Bristol
Clifton Village is a suburb of Bristol, situated a short, five-minute drive from the city-centre. North of Clifton Triangle, a popular shopping destination with many bars and restaurants, this area is the perfect setting for people wanting easy access to the city-centre, the quieter suburbs and surrounding countryside.
Alongside delightful independent shops, quaint cafés and restaurants, this part of Bristol boasts some of its most iconic spots.
Spanning the Avon Gorge, The Clifton Suspension Bridge is a revered piece of engineering. Designed by the world-renowned Victorian engineer, Isambard Kingdom Brunel, the bridge was completed in 1864. Despite being over 150 years old, it carries thousands of cars each day, which is particularly impressive as it was originally built for use by horses and carts. Take a walk across the bridge for a breath-taking outlook over Bristol.
The Observatory, situated a short uphill distance from Clifton Suspension Bridge, has a viewing gallery where you can enjoy panoramic views over the bridge and the city. It also has an underground passage through the cliff that opens up onto another, unique vantage point overlooking the gorge and bridge.
Where to stay in Clifton Village
Your Stay Bristol Beaufort House is a boutique hotel situated in a renovated Georgian house in a leafy suburb of Clifton. The hotel offers spacious and tastefully decorated self-contained apartments, which are ideal for those planning a longer stay or who prefer catering for themselves. While close to shops, local cafes and restaurants, it's on a quiet road which is perfect if you're looking for a good night's sleep.
This hotel is also well-positioned for discovering the nearby area. Bristol Zoo Gardens is on the doorstep, and The Downs, where The Clifton Suspension Bridge and The Observatory are located, is a 5-minute drive away.
Book your nights with Your Stay Bristol Beaufort House here!
Southville, South Bristol
Love street-art? Then Southville is the place for you. Based on the south bank of the River Avon, Southville is a small but lively neighbourhood just south of Bristol's city-centre.
Although this area can initially come across as a laid-back residential suburb, it's known for its incredibly creative street-scene, including delicious street-food venues, creative festivals and colourful art displays.
Europe's largest summer street-art festival, Upfest, is held on Southville's bustling North Street each year. Browse the area's galleries and art shops where you can buy prints to brighten up your home. Walking through Southville, you'll find a number of dramatic murals painted on local residential and commercial walls, perfect subjects for budding photographers.
Southville is also known for its Tobacco Factory. Originally an old tobacco factory, as the name suggests, the building has become a popular, multi-purpose hub. It houses several bars, cafes, exhibition spaces and even a theatre. On Sundays, you can visit the Tobacco Factory Market in the local courtyard and sample a diverse selection of street food.
Where to stay in Southville
Just a short distance from the vibrant North Street, The Ibrox Hotel on Dean Lane is in a prime location for those looking to stay in Southville. While it doesn't have the bells and whistles of some of the city-centre hotels, its proximity to the action makes it a great base for those looking to spend the day exploring what's on offer nearby.
The Ibrox is set in a Georgian-style townhouse that encapsulates a mix of modern and traditional décor. It's only a 20-minute walk from Temple Meads train station and roughly a 20-minute drive to the airport.
Book your stay with the Ibrox Hotel on Dean Lane!
Montpelier & St Pauls, East Bristol
East Bristol is full of exciting neighbourhoods, including Stokes Croft, St Pauls and Montpelier, to name a few. Similar to Southville, these areas ooze creativity and artistry. Some of Banksy's famous works are here, including his Mild Mild West depiction of a teddy bear taking on riot police in Stokes Croft.
Founded in 1968, each summer, the popular St Pauls Carnival weaves its way through East Bristol. This celebration of Afro-Caribbean culture includes live music, dancing and an array of enticing foods. It's a fantastic event with a high-spirited atmosphere that should not be missed.
While in the area, make sure you visit Montpelier. Take a walk down St Andrew's Road behind Montpelier station to feast your eyes on its brightly painted residential houses. Or take time to peruse its many chic shops and cafés.
Where to stay in St Pauls, East Bristol
Situated in St Paul's, and extremely close to the main hub of Bristol city-centre, is the Hampton by Hilton Bristol City Centre Hotel. This modern hotel offers simple yet stylish rooms, round-the-clock fitness facilities and complimentary breakfast. The hotel is adjacent to Cabot Circus shopping centre and a 15-minute walk from Bristol's old city.
Reserve your nights with The Hampton in Bristol here!
Conclusion
With its historic past, diverse culture, vibrant nightlife and a range of quality hotels and restaurants to suit all budgets, Bristol is an all-around great city for visitors.