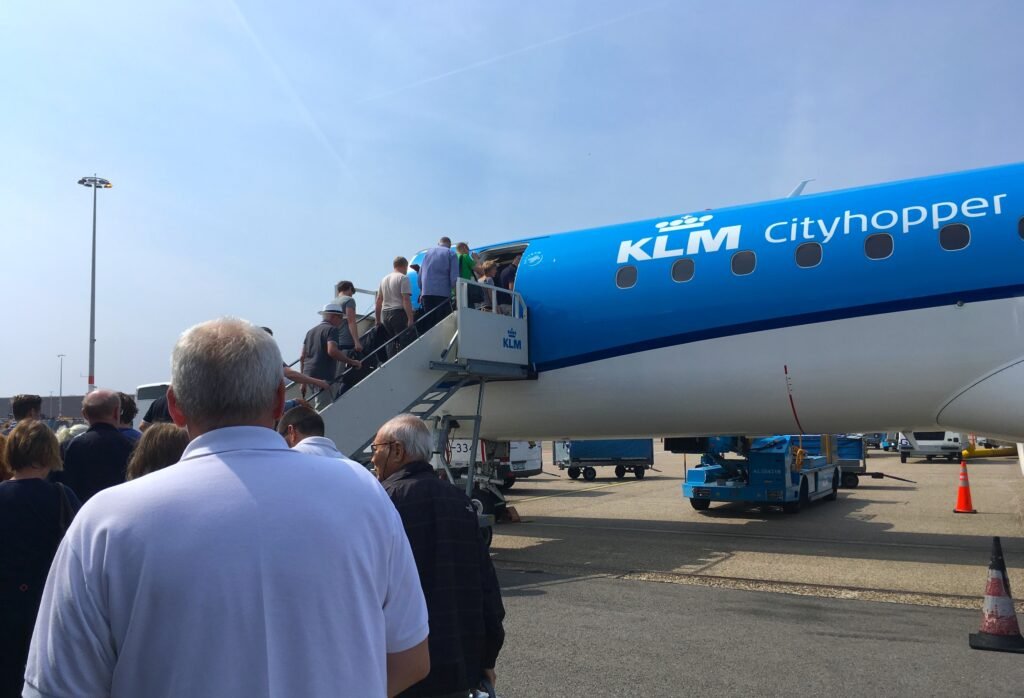 Amsterdam is a popular travel destination. Thanks to the large and modern Schiphol airport, it is easy to fly in and out of Amsterdam. Many travelers also do a layover at Schiphol, before proceeding to their final destination.
If you are looking for flights to Amsterdam, you have landed at the right page. You can search for flights here, book your transfer, find information about airlines that fly to Amsterdam, and get additional information about the Schiphol Airport before you go.
Buy plane tickets to Amsterdam
In order to find the best tickets to Amsterdam, you should use a search engine that scans the market across all airlines.
You have to fill in your travel days, your airport of departure, and how many persons you are traveling with. Then you search, and you get an overview of the options. You can sort by fastest flight, cheapest flight, best overall flight, and various other factors. If you see a flight you like, you can book it immediately. It is the best way to find plane tickets nowadays.
The best airlines that fly to Amsterdam
Amsterdam Schiphol Airport is the main hub of Dutch carrier KLM.
KLM offers flights to countless destinations all around the world – and it is usually to and from Amsterdam! So there are countless options if you want to fly with KLM. They offer great service and it is usually pleasant to fly with them.
Many other European airlines are present in Amsterdam as well. Those include AirFrance, Lufthansa, SAS, Iberia, TAP, and many more.
Several low-cost airlines fly to Amsterdam as well. Some good examples are Transavia, RyanAir and EasyJet. Therefore, it is possible to fly affordably to Amsterdam, at least if you live in Europe!
Naturally, there are also non-European airlines that have connections to Amsterdam. For example, Delta from the US, Emirates from the UAE, Qantas from Australia, AirChina, and countless others. They usually offer long-haul flights to Amsterdam from their own hubs – although some of them, such as Emirates, might offer additional routes.
Amsterdam Schiphol Airport
The locals just call it Schiphol, but most internationals will probably refer to it as "Amsterdam Airport". It is located 5.6 miles / 9 kilometers southwest of Amsterdam so the location is very close to the city centre.
Schiphol ranks as the third-busiest airport in Europe when it comes to passenger traffic. It often serves as the entry gate to Europe among travelers from other continents. Most Dutch people use Schiphol every time they travel – the airport is not only reachable from Amsterdam, but also from other major cities such as Rotterdam and The Hague.
It is a relatively simple airport since it has one large terminal. This single terminal has multiple departure halls, but they are all easy to access once you get inside.
The security section can be a bit uncomfortable in Schiphol since they are very strict and check almost everything. But you'll only have to worry about that if you are flying from Amsterdam – not if you have a layover, or if you are simply flying in.
Aside from the security, Schiphol is a very pleasant airport. There are some good shops and restaurants, plus internet and charging plugs. So time is easily passed at the airport. There are several lounges you can get into if you fancy a bit extra.
Schiphol was voted the best airport in the world in 2020.
To learn more, read our full Amsterdam Schiphol Airport guide here!
Book your airport transfer
If you are flying into Schiphol, you can easily take the train into either Amsterdam or Rotterdam.
However, if you have a lot of luggage, or if you simply prefer something more comfortable, you can book a private airport transfer. A driver will come to pick you up at the airport and take you directly to your place of accommodation. This will ensure minimum hassle and a much more enjoyable journey.
Arranging a private transfer is not that expensive – you can do it online in advance, just by a few clicks! Payment can either be done in advance or upon arrival.
Facts about Amsterdam
Amsterdam is a fascinating city and it should be on the bucket list of every traveler.
It has that typical European vibe. You can enjoy the architecture, the classic attractions, the amazing shops, and the local oddities that Amsterdam has to offer.
Approximately 900,000 people live in the city, and 2.4 million live in the metro area. That makes Amsterdam the largest city in the Netherlands and one of the largest in the European Union as well.
Dutch is the native language of the people living in the Netherlands, but almost everybody speaks English as well – so don't worry about the communication! Locals are helpful if you need anything, and Amsterdam generally has great infrastructure, so you will likely have a smooth experience.
Are you ready for your trip? Book your flight to Amsterdam and feel the excitement as you have a new trip right on the horizon!