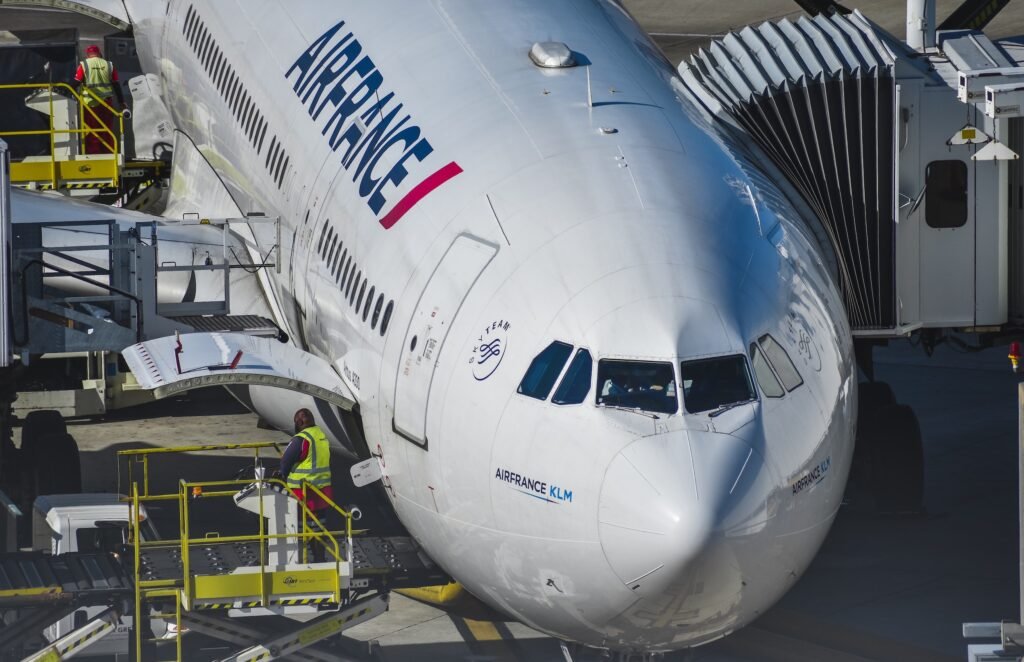 Paris ranks as the top tourist destination in the world. Millions of people visit the French capital every year – and the majority flies in through one of the Paris airports.
If you are looking for flights to Paris, we will give you the overview here. You can search for tickets through the best booking platforms, you can read about the airlines that fly to Paris, and we also give some practical information about the airports, along with some facts about the city and suggestions for things you can do upon arriving in Paris.
Buy plane tickets to Paris
You can easily search for tickets to Paris as you plan your trip.
We recommend you to use Skyscanner in most cases. If you prefer using alternate digital currencies, the platform Travala can be a solid alternative.
When searching for tickets, you have to fill in your place of departure, your preferred travel days (although they can also be left open), as well as the number of passengers. You will then be introduced to the options. You can sort by prices or by overall travel time. When you see a flight that suits you, move on to booking, and upon payment you will receive your tickets to Paris.
The best airlines that fly to Paris
The main airline in Charles de Gaulle Airport is AirFrance. It is the largest airline of France, and it has its main hub in Paris. Thanks to AirFrance, Paris is connected to most major cities around the world. If you intend to fly to Paris, it always makes sense to check for an AirFrance connection. This airline is not a low-cost company, but it usually isn't too expensive either.
Major national airlines from other countries usually also fly to Paris on a regular basis. There is a good chance you will be able to fly to Paris with the main airline of your country – especially if you are based in Europe or in a large country outside Europe.
Low-cost airlines such as easyJet, Vueling, RyanAir and Transavia also connect Paris to multiple airports around Europe. They are often cheap to fly with, but you need to be aware of extra fees for luggage and overall a lower level of service. Many of these low-cost airlines fly to Charles de Gaulle Airport, just like the major regular airlines, but some prefer to use Paris Orly as their hub instead.
Airports in Paris
Paris has two major airports, and they also rank as the two busiest in France.
The main one is Charles de Gaulle, located 23 km (14 mi) north of the city centre of Paris. It is the second-busiest airport in Europe and the ninth-busiest in the world. It is also the physically largest airport in Europe. It hosts the most airlines of any airport in the world. There is a high chance that you will be flying to CDG Airport if you are coming to Paris.
The second one is Paris Orly. It is even older than CDG, but it is not the main airport of Paris. It used to be the main airport of the city prior to 1974 when CDG was established. Yet, it still receives a lot of traffic and is the second-busiest in France. All sorts of airlines are present at Paris Orly, although it is perhaps best known for low-cost airlines. It is located just south of the city centre.
Facts about Paris
Paris is often considered to be the principal tourist destination of the world. It is a city that most people dream about visiting. If you haven't already visited, it should certainly be a priority. Paris has a rich history and a fascinating cultural life. And if you have already been to Paris before, you might be considering another trip there. The French capital never really gets old.
It is a massive city with over 2 million inhabitants within the central parts. The entire metropolitan area has over 13 million inhabitants. The city is separated into different sections, known in French as arrondissements. There are 20 of these in total.
Paris has some impressive attractions. The most popular one, when measured by the amount of visitors, is the Sacré-Cœur Basilica. The most famous landmark of Paris is undoubtedly the Eiffel Tower. And the most prestigious place in the city is typically considered to be the Louvre Museum.
On top of those, you will also find other great attractions around the city. Paris is also known for its many luxurious hotels – so you can easily find a nice place to stay – plus its many restaurants and its vibrant shopping scene.
If you stay in Paris for a week or longer, consider doing a day trip to Versailles where the palace is a mind-blowing attraction. There are other nearby towns that are also worth visiting.
It is also a city of sports: Paris will host the 2024 Olympics. It is also the location of the final Tour de France stage each year. Tennis fans will enjoy the French Open tournament. Rugby is a popular sport among the locals. And of course, the football club Paris Saint-Germain plays in the city with it many superstars such as Lionel Messi, Kylian Mbappé and Neymar.
Are you ready to visit Paris? Then book your Paris flight today!