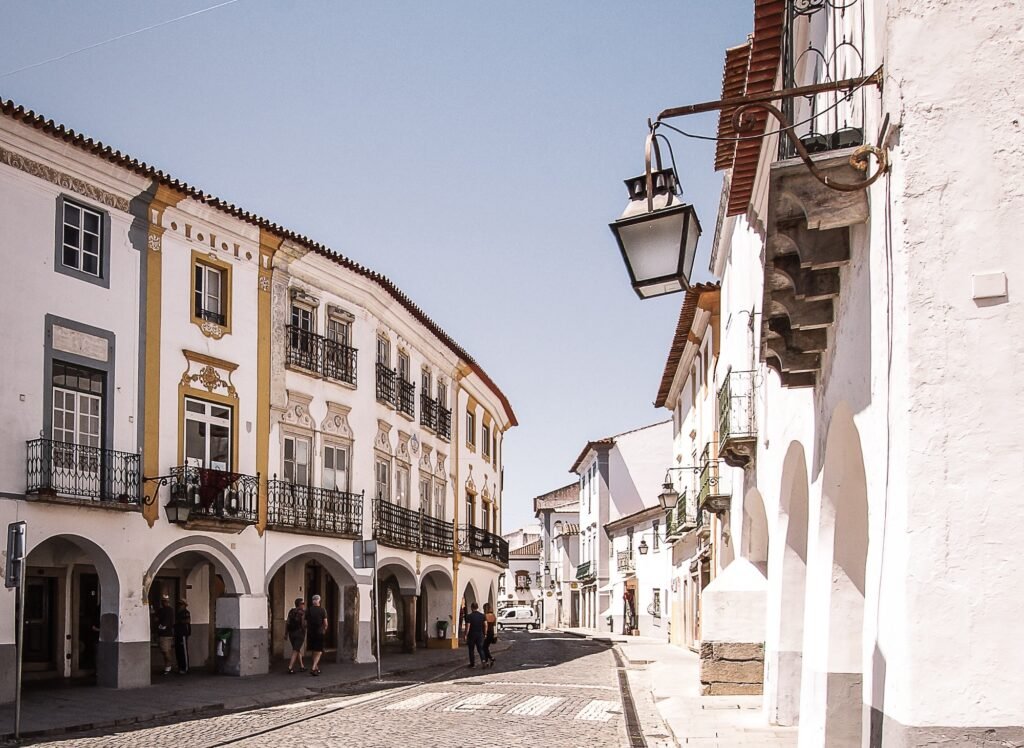 Portugal is a popular destination among tourists. But most visitors stick to the same areas – Lisbon, Sintra, the Algarve Coast, Porto and Madeira. If you are looking for some gems, continue reading below – there are several underrated travel destinations in Portugal!
The benefits of taking the road less traveled are endless. You avoid the crowd of tourists. You often get better prices. And chances are that you are going to visit the big normal destinations anyway, so it definitely makes sense to spice it up with some underrated places.
Évora
Évora is located inland in central Portugal – in the region of Alentejo, to be more specific.
While Évora does get tourists, it is not nearly as many as Portugal's major cities. However, Évora is a very unique destination due to its Roman history. The city center is also a UNESCO World Heritage Site.
It is a charming and highly livable city with ancient architecture. You can easily go sightseeing in Évora for a few days. We recommend seeing the Cathedral, the Roman Temple, and the Gardens of the Royal Palace. You should also take some time to stroll around. Évora is very walkable. It is not a huge city by any means, and it has approximately 56,000 residents. Évora gets very hot in the summer – there are frequent heat waves. The best times to go are in the spring and in the autumn when the weather is just perfect.
In some ways, Évora is reminiscent of the city of Segovia in Spain.
You can reach Évora by taking the train directly from Lisbon. You can also drive. It works well as a day trip, but you can also stay in Évora for a longer trip.
Setúbal
It's rare that industrial cities make good tourist destinations – but Setúbal might be the exception.
The city has a port and it is quite charming in its own way. Located near Lisbon, you can get there very fast if you are staying in the capital. In fact, Setúbal is located within the Lisbon metropolitan area.
Traditionally, it was a center for fishing and factories. Now it has a decent tourist industry with some nice resorts. However, most people who travel to Portugal rarely think of visiting Setúbal, which could be a mistake. The city has great weather, several nice restaurants, and some decent attractions to see. It is a medium-sized city with well over 100,000 inhabitants.
Serra da Estrela
This mountain range is perfect for travelers who want the alternative Portugal experience. Located in central Portugal, you can drive there from Lisbon or Porto in a few hours. Serra da Estrela is very snowy for parts of the year. It is quite cold in the winter.
There are many local legends related to these mountains, and the area is important for Portugal's food and energy production.
To explore Serra da Estrela, you should stay in one of the towns in the region. Seia and Covilhã are arguably the top options. Since the mountain range stretches over 100 kilometers, you have quite a few choices.
Guimarães
Portugal's birthplace. Guimarães is a historic city, settled in the 9th century. Portugals first ever king was believed to be born in Guimarães.
The entire city center has a very medieval vibe. There are some great attractions, like the Palace of the Dukes of Bragança, Campo da Feira church and gardens, Praça da Oliveira and the general architecture of the city.
It is a small city with approximately 52,000 people. The entire municipality, however, has around 150,000 inhabitants. In 2001, the center was named as a UNESCO World Heritage Site, and in 2012, it was the European Capital of Culture.
Guimarães is one of many great destinations in the Minho region. Another one would be the city Braga, also located nearby, but many tourists are aware of Braga.
Trains depart from Porto to Guimarães almost every hour of the day. Driving by car takes less than an hour. Be sure to enjoy the nice natural settings around the city! We recommend staying in Guimarães for a few days, but it can absolutely be done as a day trip too.
Bragança
This small city should also be visited if you have the time for it.
Bragança is located in the northeastern corner of Portugal, right on the Spanish border. The area was colonized by the Celtics as well as the Romans. Some of the architecture dates back to the Medieval Age.
The highlight is the Bragança Castle. But don't forget to see Domus Municipalis, Portugal's oldest town hall. The church is also uniquely Portuguese.
You should visit Bragança if you drive around the country by car. It is quite far from Portugal's main cities, which is the main reason why it is so underrated among tourists. But, for instance, if you are driving from Portugal into Spain, you should definitely make a stop here and enjoy Bragança for at least a day.
—
Portugal is full of hidden gems, and these were just some examples.
Of course, we highly recommend the main cities as well. Lisbon, Sintra, Cascais, Porto, Coimbra and the entire Algarve Coast are all great to visit. But it never hurts to know that you have some more options, and if you love to dive deeper into the places you travel too, some of these underrated destinations are absolutely meant for you.