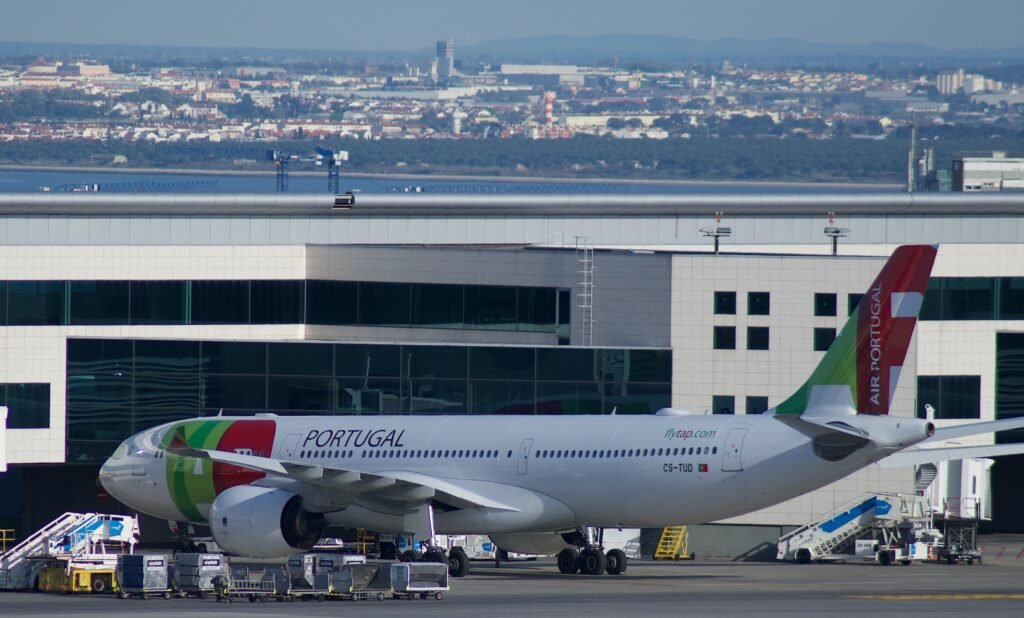 Do you want to visit Portugal? Then you have to choose between the many great destinations in the country. The mainland has three major international airports, but it also has some minor ones, and we cannot forget about the Portuguese islands. Here is an overview of the most important airports in Portugal.
It can be useful in many ways to learn about the infrastructure of a country. If you're going to Portugal, you have to decide which airport you are flying into. That can be an easy matter if you simply want to visit a city that has its own airport, but if you're during a longer trip to several destinations, it makes sense to plan more carefully.
At the same time, you can possibly save money by choosing the right Portuguese airport. For instance, many low-cost airlines fly to Faro in the south. Due to the great train network in Portugal, you can easily get around, so some travelers elect to fly into the airport where they find the cheapest connection.
Lisbon Airport
Lisbon Airport (LIS) – also known as Humberto Delgado Airport – is the largest and most widely used airport in Portugal.
It is the main hub for TAP Portugal, and most large international airlines have regular connections to and from Lisbon.
It is located 7 kilometers northeast of the city center. You can easily go back and forth between the airport and the city by taxi. Another option is taking the metro – there is a direct metro line to Lisbon Airport, and that is usually the cheapest option.
Due to Lisbon's central location in Portugal (from the capital you can head north, east and south) it gives you easy access to the entire mainland.
The airport is easy to navigate, although there are often delays in the flights departing from Lisbon – so that is something to be aware of.
Obviously, Lisbon Airport is the choice if you are going to Lisbon, if you are going to any place in central, eastern or southern Portugal, or if you plan a long trip where you explore the entire country.
Check our Lisbon Airport guide for more information.
Porto Airport
Porto Airport (OPO) is the main airport in the north of Portugal. It is the second-biggest airport based on airplane operations and passengers. TAP is the company with the most flights to and from Portugal, but you also find frequent RyanAir, EasyJet, Transavia and Iberia flights to this particular airport.
It is probably the most pleasant airport in Southern Europe. Great service, very spacious settings, and easy to navigate.
You can also get to and from Porto Airport fairly easily. The metro connects it to the city center, so there you have a cheap connection. On top of that, naturally, there are taxis at all hours. Some buses also drive from Porto and to the center. Some buses even take you to Vigo in Spain.
Several low-cost airlines fly to Portugal. Some major national airlines do as well.
You should use Porto Airport if you are visiting the city of Porto, or any other place in the north – such as Braga, Guimarães, Aveiro or any of the other magical cities in this part of the world.
Read our full Porto Airport guide.
Faro Airport
The third major airport in mainland Portugal is Faro Airport (FAO). It is also called Algarve Airport by some.
It opened in the 1960s and it has become incredibly popular throughout the years. Tourists love the coast of Algarve, and Faro Airport is the way to get there. For that reason, the airport gets a lot of charter traffic. The experience in the airport is usually pleasant, although it can get crowded during some periods of the year.
Many low-cost airlines fly to Faro. It is often possible to get very affordable tickets.
You should use Faro Airport if you are taking a beach vacation on the Algarve coast. However, it can also be used if you want to explore other parts of the south, and if you find tickets to Faro that are much cheaper than tickets to Lisbon, you can easily take the flight to Faro and move on with train from there.
Minor airports in mainland Portugal
There are other airports in Portugal, such as Aveiro, Évora, Beja, Coimbra and Braga. However, these are mostly regional airports that mostly handle domestic traffic. Don't expect to find any International flights to these airports.
Madeira Airport
The airport in Madeira has been named after Cristiano Ronaldo, and it is another major international airport in Portugal. The IATA code is FNC. It is located near Funchal, the main city of Madeira.
An interesting fact is that Madeira Airport is considered to be one of the most dangerous airports in the world. It has a spectacular runway, and pilots are required to do specific training to be able to fly here.
TAP has several connections between Madeira and Lisbon and Porto. Many international airlines fly to Madeira from other parts of Europe and North America. Madeira is a popular destination for tourists who love nature. You will find frequent flights to the island from cities such as London, Manchester and Frankfurt.
João Paulo II Airport
The archipelago of the Azores is also highly popular among tourists. This airport, named after Pope John Paul II, is the primary airport in the Azores. It is located on São Miguel Island.
It is relatively new, with the terminal being finished in 1985. Most connections are domestic, scheduled between São Miguel and mainland Portuguese cities such as Lisbon, Porto and Faro. However, there are also seasonal connections to and from other countries. In fact, with the local Azores Airlines, São Miguel Island is also connected to North America with several connections! Azores Airlines fly to João Paulo II Airport from Boston and Toronto.
This is the airport to use if you are visiting the Azores. Oftentimes, if you are traveling from Europe, it will require a stop in Lisbon first, but that is no problem.
It is a nice and modern airport, and we highly recommend visiting the beautiful Azores!
———-
To conclude, we wish you a nice trip to Portugal. We hope that you could use this information and that you find the best possible flight tickets to the destination you are looking for. Portugal is an amazing country to visit, and with an impressive amount of international airports, it is generally easy to fly in and out of the country!