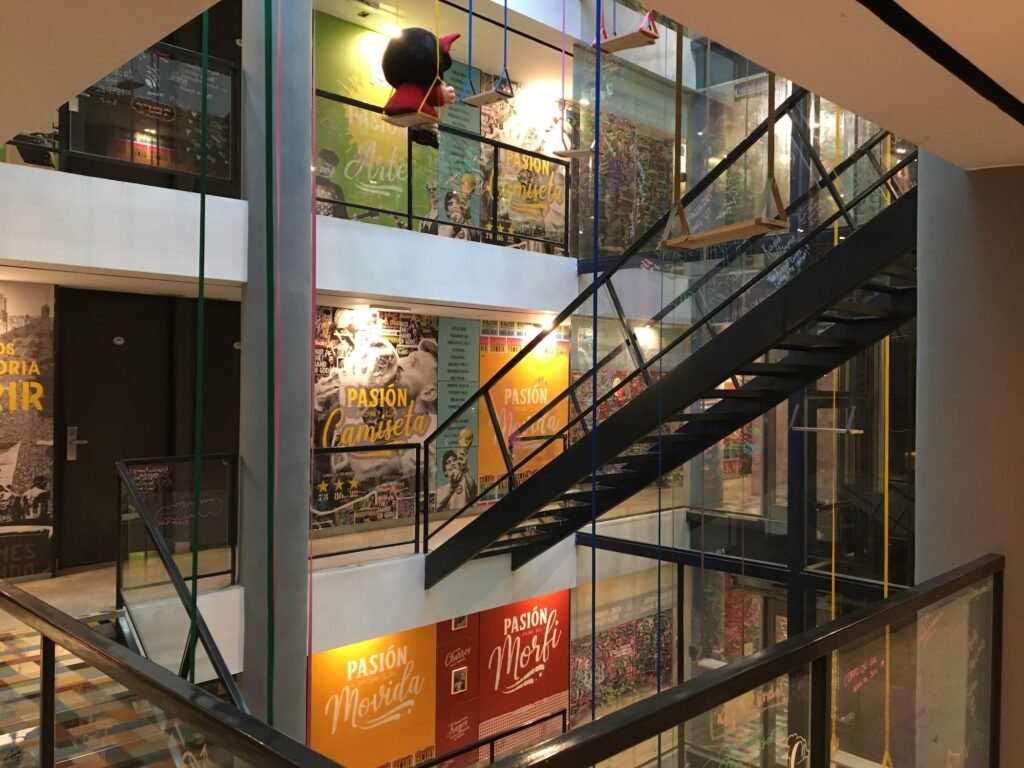 There's a strong hostel scene in Buenos Aires. The Argentine capital is a popular destination for young travelers and many of the hostels offer more than just a cheap bed to sleep in.
So if you like to socialize and join a lot of events around the city, staying at a hostel in Buenos Aires is probably a good option. Here are the three best ones!
Viajero Buenos Aires
Neighborhood: San Telmo
Starting price: $35
Average rating: 9.2/10
→ Book your stay at the Viajero here!
Definitely the most fun hostel in Buenos Aires. At the Viajero, there are cool events every single day. You can take tango classes, have barbecues, go on pub crawls, and much more.
You'll find all sorts of people there: Those who love to party, those who are chill, and those who are just coming to explore the city. Viajero generally attracts cool people and it's an easy place to socialize and make friends.
The location in San Telmo is excellent. With plenty of cool bars, shops and attractions nearby, you won't ever get bored. The neighborhood feels relatively safe as well. The Microcentro is within quick reach, just head north and you'll quickly be walking on Calle Florida, the main pedestrian street in Buenos Aires.
If you want to stay in a dorm, prices are really good. It won't cost a lot to stay at the Viajero, not even during the peak tourist season. However, private rooms can be a little pricy ($80-$100 per night) so the value definitely lies in the dorms.
The breakfast is excellent and they usually have varied options every day. There's a bar/restaurant at the hostel where you can always grab a bite to eat if you don't feel like going out. The bar area is also where many of the social events start, so hanging out there is recommended.
For those arriving early, you can store your luggage in a locked room at the Viajero until your room is ready. And if you're leaving late on your final day, you can also have your luggage stored. The staff is great.
And did we say that the Viajero has a really cool interior that is strongly inspired by modern Argentine culture? It just adds to the charm. Great place overall!
Che Juan BA
Neighborhood: Microcentro
Starting price: $25
Average rating: 9.5/10
→ Book your stay at the Che Juan here!
The Che Juan hostel is actually the highest-rated hostel in Buenos Aires.
Known for its cleanliness and calm vibes, this is the place to stay if you want to be right in the center of the city – and if you want to put a clear emphasis on the cultural experience of visiting Buenos Aires.
It's not a party hostel, but there are some cool events. Che Juan has more of a 'homely' vibe than many of the other popular hostels in the city. The kitchen is really cool, and so are the common areas where you'll find a room with a foosball table, a patio, and a nice breakfast area.
There are plenty of dorm rooms to choose from, and the beds have curtains which is nice for privacy. We have found that this is not so common at hostels in South America, so if you like some privacy while staying in dorms, this is definitely a big reason to choose the Che Juan.
Unfortunately, there only seem to be two private rooms at the hostel, and they will typically be booked way in advance. So if you like the social scene of a hostel but prefer having a room to yourself, this is only sometimes an option here, and that is probably one of the only downsides of this hostel. More private rooms would have been nice.
Still, it's a beautiful place overall and possibly the best hostel in South America if you want a chill vibe, a clean place to stay, and a world-class location. Prices are a little higher than at other hostels, but if you book a few weeks in advance, there can be some great deals.
Selina Palermo
Neighborhood: Palermo
Starting price: $35
Average rating: 8.9/10
→ Book your stay at the Selina Palermo here!
Palermo is one of the coolest and most popular areas in Palermo. It's where locals and tourists both go to party on the weekends, so naturally it makes sense to stay at a hostel in Palermo.
The Selina Palermo is the highest rated option. It's a really nice hostel with large rooms and gorgeous decorations. Like the Che Juan, the hostel we recommended in the Microcentro of Buenos Aires, the Selina has a very homely vibe. The rooms as well as the common areas are modern, clean and comfy.
Events and activities are plentiful. When staying at the Selina, you can easily join some tours or go out at night with other people from the hostel. You can also socialize within the common areas – the rooftop is a particularly cool place to be, as long as the weather is good, which it often is in Buenos Aires!
You have a great selection of both dorms and private rooms. If you want a private room, make sure you book a bit in advance. If you want to stay in a dorm, there's usually decent availability, despite the fact that the hostel is popular and that a lot of people always seem to be staying there.
Note that it's not a cheap hostel – in fact, it's kind of pricey compared to some of the alternatives. This is essentially the hostel you choose if you value the location in Palermo Soho, since most hostels are in the Microcentro/San Telmo areas. Plus, if you like the modernity and comfort that is exactly what the hostel has to offer.
Conclusion
There is a long list of hostels in Buenos Aires, but our main recommendations are the Viajero, the Che Juan, and the Selina Palermo.
These hostels are basically the safe choices, as they all have great locations, and they tend to attract quality people. They all have some cool events and their facilities are quite modern.
They are all more expensive than average though, so if you're looking for more options, then check Booking.com's list of the highest-rated cheap hostels in Buenos Aires!