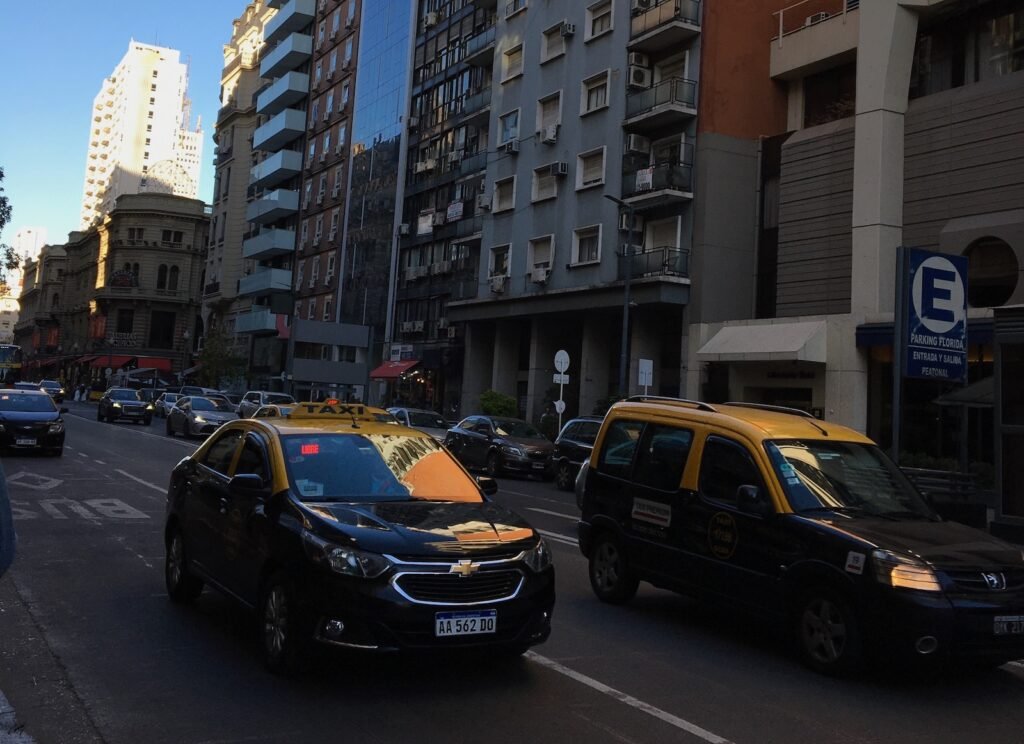 The easiest way to get around the city of Buenos Aires is by taking a taxi. It's not even that expensive – but there are some things to keep in mind, and you may also consider one of the ridesharing apps such as Uber or Cabify.
Here's a guide to how taxis work in Buenos Aires, plus some information on the legality and efficiency of the other services.
How to get a taxi in Buenos Aires
Finding a taxi is extremely easy. There are estimated to be over 40,000 cabs in Buenos Aires! You will see them everywhere if you're staying in a central or popular area.
How do you get a taxi? Simply hail the cab from the street. Raise your arm when you see one and he will come over to pick you up. You may also see a taxi parked somewhere – then you simply walk over and ask if the cab is free.
There is a specific way of telling the driver where you want to go. You generally say the names of two streets and the driver will take you to the corner of those two streets. It's just how things work in Argentina. You can also say the specific address, but it's much easier for the driver to take you to "la esquina de Venezuela y Peru" rather than "Calle Venezuela 610".
If you're not comfortable speaking in Spanish, or if the driver doesn't understand your pronunciation (don't worry, it's normal and it happens) you can always write down the address or show your phone to the driver with the location in Google Maps. Maybe it takes a half minute extra but it works.
You pay at the end of the trip. It's pretty straightforward. Many taxis will allow you to bring luggage without charging extra for it.
DON'T MISS: Where to Stay in Buenos Aires – Best Areas
Buenos Aires taxi prices
Currently, taxis in Buenos Aires are very affordable. For this reason, it is the preferred method of transportation for many foreigners when they visit Buenos Aires.
Taking a taxi costs more than taking a bus or the Subte (subway), but in comparison to taxi prices in other countries, it is pretty cheap.
A 30-minute ride in the city center in the daytime will only set you back about $4-5 USD. The same ride may cost $6-$7 USD at night. Shorter rides are obviously even cheaper, and longer rides more expensive, but overall it's very cheap to take a taxi in Buenos Aires. So cheap that many visitors just prefer taxis over public transportation.
Are taxis in Buenos Aires safe?
It's almost always safe to take taxis in Buenos Aires as long as you make sure it's a normal and regulated taxi. They won't kidnap you or anything, like it can happen in other countries.
You can recognize official taxis by the yellow and black color, the registration number on the site, the meter inside the car, and the registration papers and prices (tarifas) should be shown somewhere inside the taxi.

If something feels off and you're not comfortable inside a taxi for some reason, just get out and if there are any complaints from the driver, then spot him some money and just move on. Safety is most important, even if you just have a hunch that something is off.
With that said, it's generally very safe to take taxis in Buenos Aires. Just make sure it's an official one.
Some drivers may overcharge you when they recognize you as a tourist. It's not as common as you would think and in 95% of cases, they won't even try it.
But when it happens, the way they do it is that they simply take a longer route and drive around for ages. It seems like overcharging mostly happens when you take a taxi from the airport or the Retiro bus terminal. It also seems to happen more for women than men, and more for people who don't speak Spanish. If you're going from the airport to the city center of Buenos Aires, you should be getting an arranged transfer anyway.
How do you prevent being overcharged? Well, check Google Maps on your phone a couple of times while inside the taxi. If it looks like the driver is deviating from the main route, just ask him about it. A little bit of pressure like that will usually discourage them from scamming you.
If you are paying by cash, try to pay close to the exact amount – and if you pay a little bit more, just tell the driver to keep the cash. No need to overthink it or risk getting fake change in return. If you are paying by card, then check the price on the screen and make sure it is actually correct. Compare the price of the card reader with the price of the taximeter.
But again, taking taxis in Buenos Aires is generally very safe. And in most cases, they won't even try to overcharge you. Many drivers are nice and the rumors of them being scammers are vastly exaggerated.
Do taxis accept credit cards?
Some of them do, some of them don't. More than half the taxis accept credit cards. Look for a "Mercado Pago", VISA or MasterCard sign when you get inside. It can also be a good idea to ask the driver before you start driving anywhere.
But in any case, many of the drivers prefer getting cash, and in Argentina it's always a good idea to carry around a bit of cash anyway. Specifically for situations like this.
Using Uber in Argentina
Officially, Uber is illegal in Argentina and it's a controversial topic.
But long story short, it still exists there and you can use it. The app does work in Buenos Aires and you can usually find an Uber driver to pick you up anywhere in central Buenos Aires, also at night.
With that said, we recommend using Cabify, a service that is legal and pretty much works in the same way that Uber works.
Using Cabify in Argentina
Cabify is the legal alternative to Uber. It's basically just a different service with the same concept. You download the app, add your credit card to your account, and you can start requesting rides. The app is very intuitive and nice to use.
Cabify only works in a few cities in Argentina (Buenos Aires, Mendoza, Córdoba and Rosario). But it's a really good service. Having the app will also come in useful if you travel to other areas of Latin America and Spain – since Cabify is often used more by locals than Uber.
It is also considered the safest way to travel by the locals. They all know Cabify and recommend it when you talk to them. The entire route is tracked, and there's never any discussion regarding payment (since the app clearly shows the price). So the drivers can't trick you.
The only downside is that you sometimes have to wait up to 10 minutes to find a driver. It depends on your location in the city and the time of the day. If you're in a central, crowded area, there will probably be a driver to pick you up within minutes. But if you're going home from a restaurant in another part of the city at 2 a.m., the waiting time may be a bit long.
You can also use Cabify when going to one of the airports of Buenos Aires – Ezeiza and Aeroparque.
Cabify charges roughly the same amount of money as a taxi does. It's cheap. If you're curious about prices, you can just download the app, fill in two random addresses in Buenos Aires, and see the price. You can do this even if you're not currently in Argentina. Gives a nice overview.
Conclusion
There are so many taxis in Buenos Aires that you can always find one. They are generally safe and the risk of getting scammed is low if you show some confidence and know exactly where you're going. Don't be afraid to point out to the driver if he's taking a longer route. And don't be afraid to note down the registration number and make a complaint later if something isn't right.
Since it's so cheap to take a taxi in Argentina, it is often the preferred method of transportation for most tourists. And it feels extremely cool driving through such a beautiful city and seeing the buildings, especially at night. So enjoy the rides ahead of you.
Ridesharing services can be used as alternatives to taxis. Uber works, but Cabify is a better choice for legal reasons. Cabify is also the safest of all the transportation options in Buenos Aires, so it's a good choice in any case.