Zakopane is one of the most visited towns in Poland. It only has a population of 27,000, but millions come to visit it each year. The nearby Tatra Mountains are the main attraction, but there are also cool things to do within the town of Zakopane as well.
Here's an overview of all the best attractions in Zakopane!
Morskie Oko

This incredible lake is located within the Tatra National Park and is generally considered the best attraction to visit while you're staying in Zakopane.
It's simply a natural wonder and additionally, you get to enjoy the mountains and trails around Morskie Oko.
To get from Zakopane to Morskie Oko, you first need to take the bus to the Tatra entrance, and from there either hike or take the horse carriage for the rest of the way to the lake. Read our full guide on how to get to Morskie Oko here!
Hiking in the Tatra Mountains
In addition to Morskie Oko, the Tatra Mountains have even more to offer. There are beautiful sights and trails all over. Since Zakopane is located by the foot of this mountain range, it's an excellent gateway to several hiking trails.
Krupówki Street
This is the most important street in Zakopane. Krupówki Street is basically the most central part of Zakopane, as it stretches about 1100 meters from the northwest to the southeast of the city center.
It is closed off to cars but Krupówki is full of pedestrians. There are good reasons for this, as many of the city's best shops and restaurants are located on the street. Krupówki is particularly busy in the summer and the winter, but there are activities happening all year round.
Since it's a street you are guaranteed to pass by during your trip to Zakopane, we simply suggest that you experience it for yourself. But to sum it up: There is a lot to do while strolling through Krupówki!
Holy Family Church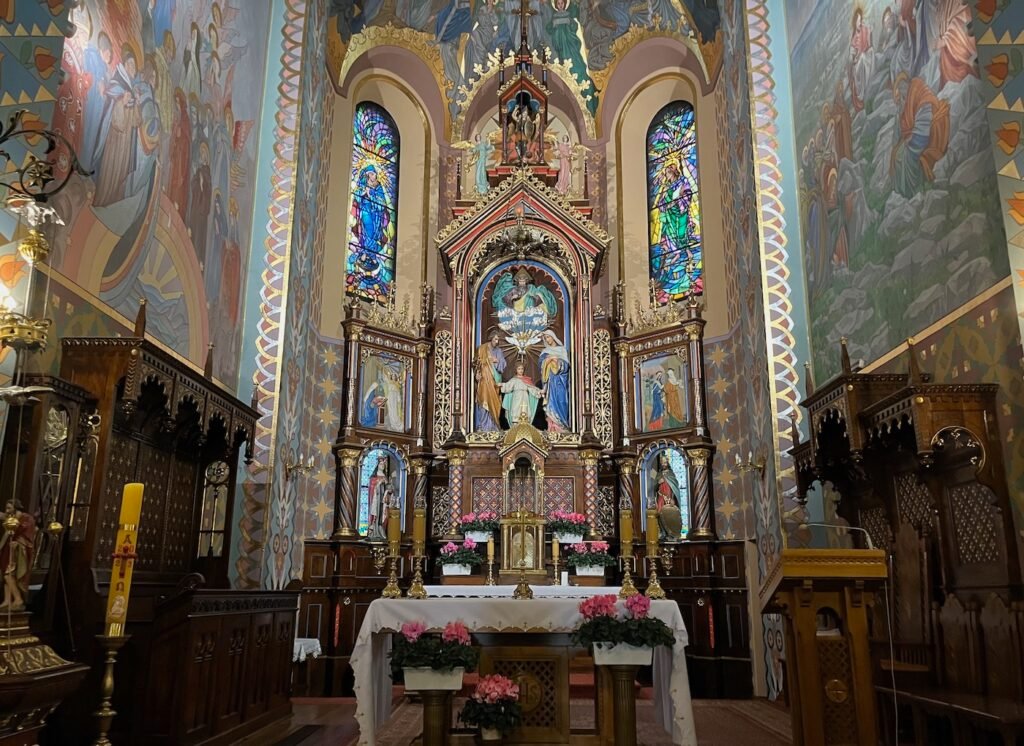 This church was built in the late 19th century and is one of the most emblematic pieces of architecture in Zakopane. You'll find it on the southern end of Krupówki Street and it is free to visit.
Despite being younger than most famous churches in Poland, the Holy Family Church does have some history. It was founded by the first parish priest of Zakopane and it once hosted Pope John Paul II.
The church is built in stone but has many decorations inside. On the outside, there's a big wooden cross.
We highly recommend experiencing this church, and again, it's free to enter.