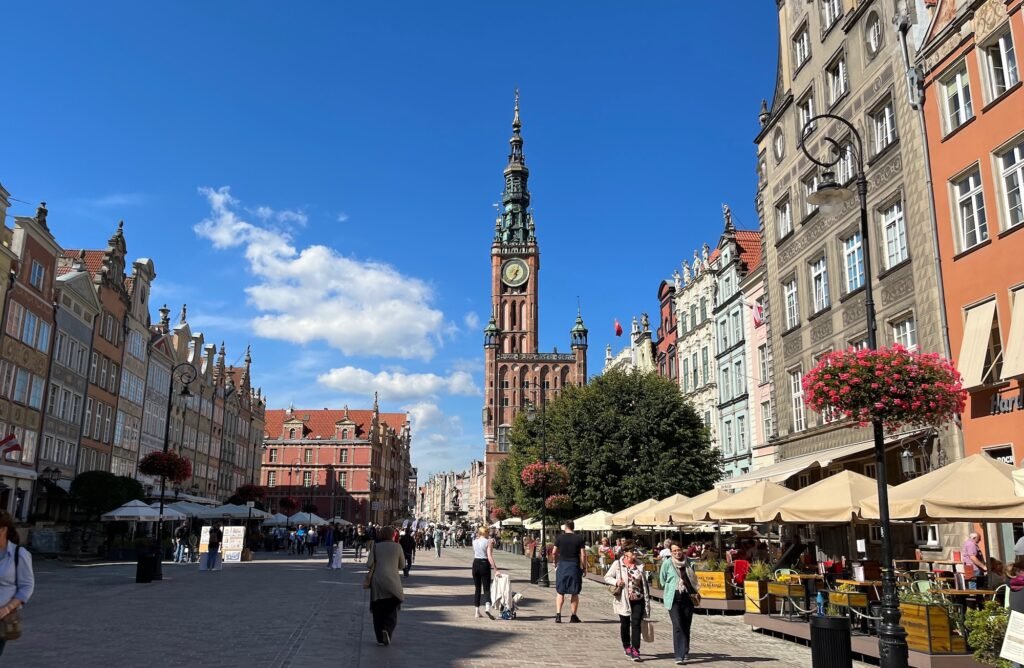 Gdansk is a relatively large city and it gets many visitors all year round. That means there are quite a few hotels to choose from – most are located in the old town of Gdansk, but you also find options in other districts, plus in the neighboring resort of Sopot.
In this article, we focus on hotels within Gdansk city center. You'll find 3 recommendations below: A central hotel that works well for all types of visitors, then a cheap hotel, and finally an authentic luxury hotel.
There are many hotel chains present in Gdansk, such as the Hilton, Radisson, and Scandic – plus many others. These are great if you are traveling on business or if you prefer the facilities that big chains offer. But we like things to be somewhat authentic, so the recommendations in this article are mostly smaller chains or family-run hotels.
Central hotel in Gdansk
Qubus Hotel Gdansk – Go to booking
Average price: $150 per night (including breakfast & dinner)
This hotel is located right by the water. So despite not being on the main street, it is still quite central, and you really get to experience the essence of Gdansk since the city is so connected to the sea.
Walking to most of the central attractions takes between 5-10 minutes. In other words, you have everything nearby. But you do have to cross a bridge to get to the
What are the best things about the hotel itself? We liked the breakfast a lot. There are many options. If you get the regular price, a dinner meal is also included. You have to check for it though, since it may not be included in discount offers where the price is lower.
Additionally, the rooms are modern and spacious. Super comfy all around. They are soundproof, unlike the rooms in several other hotels in Gdansk. Most rooms have a view facing the river. There's a gym with decent equipment and you can also enjoy the sauna.
The Qubus Hotel Gdansk might be a little pricier than other hotels in the city, but you get absolutely tremendous value overall. It's an authentic hotel with several useful facilities and it is highly rated by previous visitors – the average rating is 8.8 out of 10.
If you're interested in learning more, then go to booking here and check the photos!
Cheap hotel in Gdansk
Number One by Grano – Go to booking
Average price: $50 per night
Hotels are generally quite affordable in Gdansk, even in the high season. You can frequently find rooms at this central hotel for $50 per night or less, so we definitely consider it to be a good budget option.
Despite the low price, you can still expect an excellent stay. Number One by Grano is a highly-rated hotel situated just a bit south of the old town. You can easily have your base here and explore the city.
It's a hotel with a modern style. The furniture is comfy. Larger rooms will have couches and chairs alongside the bed.
We really liked the common areas, specifically the bar and the dining area. There is also an indoor pool at the hotel. The hotel has a really solid breakfast selection, so if you are an early riser, you can get a great start to the day by eating there. We recommend booking with breakfast included from the start – since it's otherwise a little expensive (by Polish standards) at around $17 if you have to add it once you're there.
Access to the wellness area, pool area and gym area is free for all guests. However, you can pay extra to get massage and other treatments.
There is a friendly reception and it is open 24/7. We consider this hotel to be the best in Gdansk if you are looking for an affordable option. Make your reservation here!
Luxury hotel in Gdansk
Podewils Old Town – Go to booking
Average price: $150 per night
Finally we have a 5-star hotel. Podewils Old Town is arguably the best hotel in Gdansk. It also comes at a slightly higher price than its competitors, but we feel it's worth it.
The hotel has a traditional Polish style. It's an authentic hotel through and through – the kind of place that has a local and romantic vibe. Rooms are decorated well and have incredibly comfortable and beautiful furniture. The staff is very service-minded so you can expect great assistance with anything you may need on your trip.
All rooms have a 50″ TV and airconditioning. The breakfast buffet is really good, and there's also a restaurant on site.
We recommend booking one of the larger rooms (either the Grand Deluxe or a regular Deluxe with marina view). This way, you get the best possible experience. There are also regular rooms if you still want to stay at the hotel, but at a lower price.
It's a pretty small hotel overall. Local style, not a chain. That means there aren't too many rooms, so you should book in advance if you can. Just to make sure there's some availability. Go to booking here and check if your preferred room type is available!