The capital of Lithuania offers several nice dining options. Whether you want a tasty lunch or an actual dinner, there will always be places to go. Here are some of our favorite restaurants in Vilnius.
Most of our recommendations are affordable to mid-range when it comes to prices. Rather than recommending fancy restaurants with small portions, we are mostly focusing on solid restaurants with well-sized portions so that you can eat yourself full after a long day of sightseeing.
One of the best things about eating out in Vilnius is that drinks are relatively cheap. Much cheaper than at restaurants in many other European capitals. That means you can spend extra on a good meal without worrying too much about what the drinks cost.
But let's have a look at the restaurants!
Lokys
$$-$$$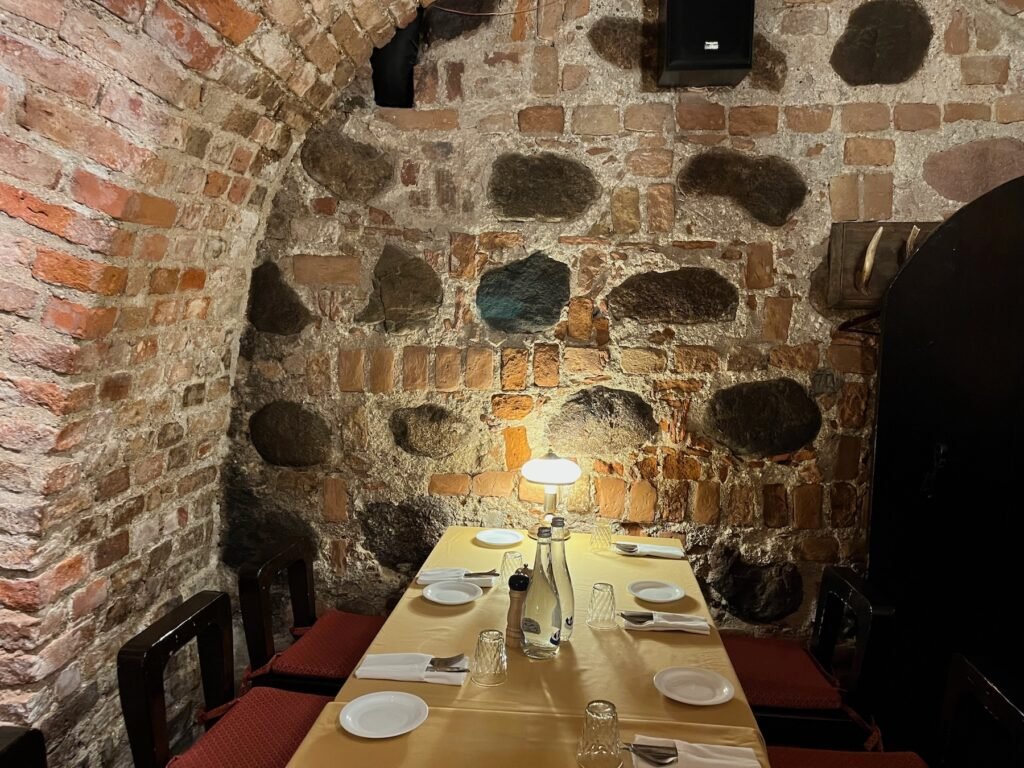 This family-owned restaurant is our favorite pick in Vilnius. Lokys is located in the historical centre of Vilnius in a merchant's house from the 15th century. There are plenty of tables, both outside, inside, and down in the basement.
Lokys has a very comfy and stylish interior. But of course, the highlight is the food! Lokys specializes in traditional Lithuanian cuisine from the forest.
The menu offers a wide variety of dishes. The hunting takes are very popular, especially the boar meat roast and the "Lokys house regale" plate. You can also order some more typical meats such as a rib-eye steak or pork tenderloin. Traditional Lithuanian cuisine also includes a couple of vegan dishes which you can find at Lokys.
The desserts are very tasty as well. Wine goes well with most dishes, but you may also select a local beer, cider, or a fancy cocktail. Water is served first thing as you sit down – you simply have to say if you prefer still or sparkling water.
Even though the quality of food is super high, the prices are very reasonable. You can have a main dish, a dessert and a nice drink for around €40-€50. Definitely worth it!
Address: Stiklių g. 8, Vilnius 01131
Da Antonio
$$$
One of the most popular restaurants in Vilnius is the Italian-inspired restaurant, Da Antonio.
It is situated on the pretty Vilniaus Street right in the city centre. You can order everything from soups and pastas to meaty dishes and nice desserts.
The food is decently priced. The main dish will typically cost you around €20-€30. Drinks are more expensive at Da Antonio compared to its competitors.
Address: Vilniaus g. 23, Vilnius 01402
El Mercado
$$$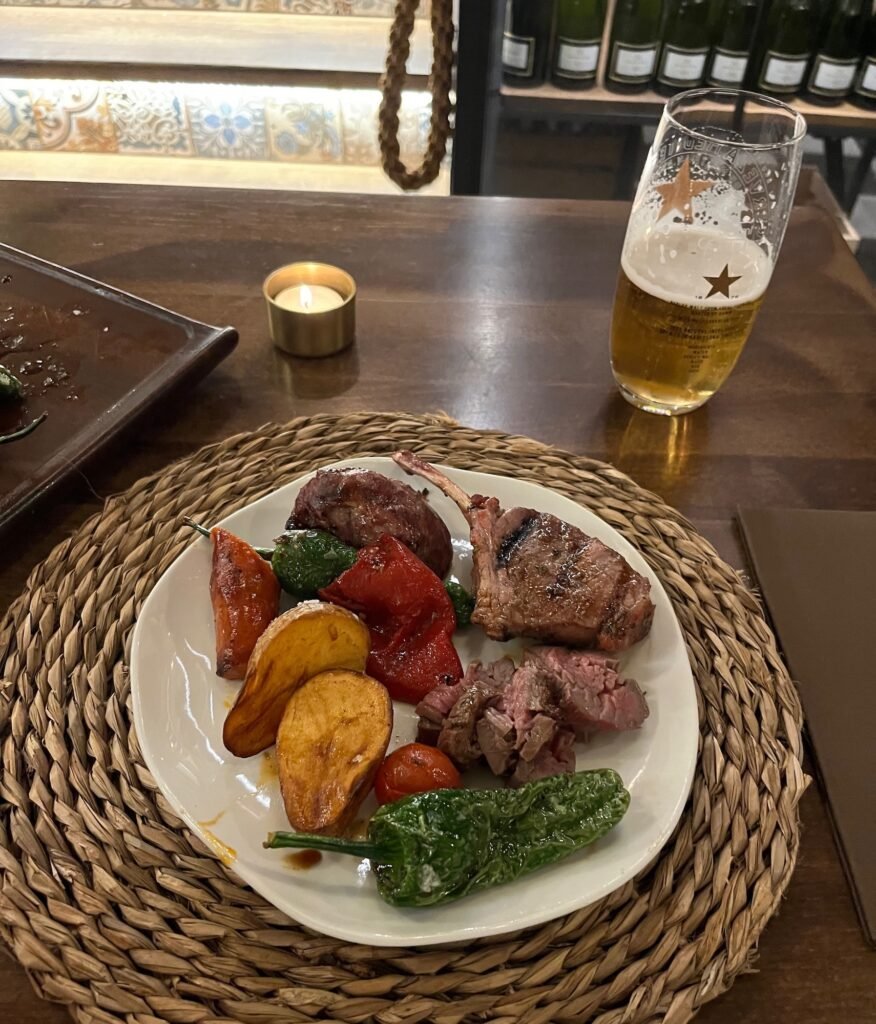 Located on Didžioji Street, this Spanish restaurant is a popular choice among tourists as well as locals. It's a pricy restaurant compared to other dining options in Vilnius – mostly because the size of the dishes is large – but the location attracts lots of visitors and the food is tasty, so it's certainly worth it.
The food is exclusively Spanish. El Mercado serves dishes from all around the Iberian peninsula. You can get paellas, tapas, various seafoods, croquet with ham, and even crema catalana for dessert. They also sell chuletón steaks – priced by the weight of the steak, which often exceeds a kilo.
There is a splendid selection of Spanish wines, particularly from La Rioja region. If you want something less fancy, just go for a good old Estrella Damm beer.
Making a reservation is recommended, but they usually have a couple of available tables even if you haven't reserved one. The interior is stylish and Spanish-language music is played through the speakers.
Address: Didžioji g. 3, Vilnius 01128
Etno Dvaras
$-$$
This is actually a chain of Lithuanian restaurants and they have several locations throughout the city. There is one in the city centre on Pilies Street and it's a great place to eat.
Etno Dvaras serves traditional Lithuanian dishes plus some common international dishes (such as bacon and eggs). While it is a chain of restaurants, it can feel a bit like a bistro, especially if you get there early in the day.
You can have a very affordable lunch or dinner at Etno Dvaras. Their dishes based on chicken, pork, potato and soups are all cheap. The beef dishes will set you back a bit more, but prices are still reasonable. Most main dishes cost less than €10 and drinks are cheap as well.
Despite the low prices, the food is actually really good. That's why we recommend going there. Etno Dvaras is not fancy in any way. It's a down-to-earth restaurant. We'd say it's an awesome place to eat for the traveler who wants a filling meal after a long walk around Vilnius.
Address: Pilies g. 16, Vilnius 01123
Vegan restaurants in Vilnius
Vegafe is a nice place to go if you want a solid selection of vegan and vegetarian dishes. It is located on Totorių g. 3. You can easily go with non-vegan friends. They will enjoy it too, as the dishes are quite good.
The Rose-Hip Vegan Bistro on Barboros Radvilaitės g. 7 is worth a visit as well. Once again, you find a nice variety of vegan dishes.
Aside from those, many regular restaurants will have vegan and vegetarian dishes on the menu. That includes Lokys, our first recommendation, where they have a bit of everything.
You can also go to any regular Lithuanian restaurant and try the cold beetroot soup – one of Lithuania's most famous dishes!
How much does it cost to eat out in Vilnius?
Obviously, it depends on where you go and how much you order.
At a local Lithuanian restaurant, you can get a main dish for €10 and a drink for €3.
At some of the most popular high-end restaurants, you can get a three-course menu and drinks for €150 or so.
Do you tip in Lithuania?
It is appropriate to tip when you go to a restaurant in Vilnius (or any other part of Lithuania). When you get a receipt, it will usually state that tips are not included in the price.
Any leftovers you leave when paying with cash will typically be considered a tip. For instance, if you pay for a €45 check with a €50 note, the waiter/waitress will usually not return any change. It will automatically be considered a tip.
If you pay by card, they will often ask if you want to tip or not – and when you respond yes, they will ask you for the amount you want to tip. It is then added to the bill.
But how much do you tip in Lithuania?
Tipping 5-15% is normal in Lithuania. If there is exceptional service, you can tip a bit more. If you intend on coming back to a particular restaurant, it can be a good idea to tip extra, as you will often receive better service on your following visits. In that case, tipping 20-25% is not a bad idea. Since restaurant prices are quite reasonable in Lithuania, a tip like that doesn't break the bank either.
But the average tip usually falls around 10% and that is a solid guideline to follow.
You would tip a similar amount at bars and cafés as you would at restaurants.
Do waiters in Lithuania speak English?
The vast majority of them do. So you can easily show up at a restaurant, ask for a table in English, read a menu in English, and make your order in English. Waiters and waitresses are typically young and they speak English just as well as other young Europeans do.
Some restaurants also have menus in German and Russian.
In other words, it's almost never a problem to order and converse with waiters and waitresses in English.
Conclusion
This was a quick guide to restaurants in Vilnius – with some tips and knowledge on eating out in Vilnius in general.
We hope the article was useful. If you have further restaurant recommendations, please drop them in the comment section below! It will almost certainly benefit future readers.