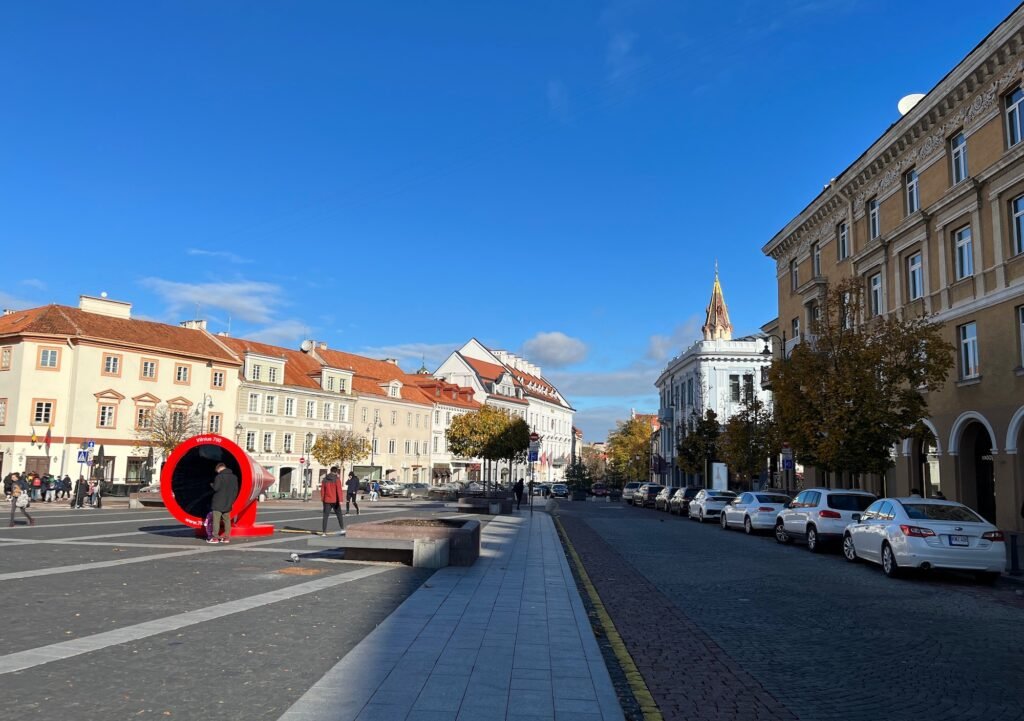 Vilnius is by far Lithuania's largest city. But it doesn't get as many visitors as other European capitals. Does that make it underrated, or is there a reason why it's not as popular as the other capitals on the old continent?
In our opinion, Vilnius can be categorized as underrated. It's a fun city to visit and there are enough things to do to keep you occupied for up to a week. So the answer is yes: Vilnius is worth visiting. The question is whether it's the best city in the region. Riga, Tallinn and Gdansk are some excellent destinations too.
Let's have a look at the top reasons why Vilnius is worth visiting – along with some of the downsides of going there, plus alternative options if you aren't completely sold on Vilnius yet.
Why you should go to Vilnius
Beautiful city centre with interesting architecture
Cool attractions such as the castle
Nice and stylish restaurants
Great shopping opportunities – several malls in Vilnius
Most people speak English
Relatively affordable city to visit
Very safe
To sum up the bullet points, Vilnius is a pretty city with nice architecture. It is a joy to walk around the old town of Vilnius. If you go to the hill of the castle complex, you can see some great attractions, and there is an excellent view of the city as well.
If you love eating out, Vilnius has several nice restaurants in all price ranges. Many of the restaurants are stylishly decorated, very comfortable, and they serve good food.
For shoppers, Vilnius is a nice option too. You'll find some interesting shops in the city centre. North of the centre there are quite a few malls. The best ones are Akropolis and Ozas. It costs about €5 to take an Uber to either of these two. There are also the more locally inspired CUP and Europa malls in the centre.
Prices in Vilnius are lower than in other European capitals. Hotels, restaurants and shops all have very fair prices. A trip to Vilnius will cost less than a trip to cities such as Stockholm, Prague or Tallinn.
Finally, Vilnius is safe. There are low crime rates and tourists do not need to worry about anything. All the young people speak English. Older people generally don't, but English levels are rising. Lithuanian is the local language and we recommend picking up a few phrases before going. It's practical and fun. You don't need to learn a lot, just a few phrases to get your foot in the door.
Downsides of visiting Vilnius
Locals can sometimes be rude
Not a huge city
Public transport is not the best
As said in the introduction, we really like Vilnius and recommend people to go there.
With that said, every place has some downsides. And it's good to know about them in advance.
Many Lithuanians can come across as rude when you first talk to them. Actually they are nice people, but they go straight to the point. Most people don't talk to tourists any more than what is needed. So if you feel like the people are a bit cold to you, don't worry – it's normal. This rudeness is often felt in bars, trains, buses and at times in shops. However, if you're socializing with people outside of their work, you will find that the Lithuanians are super cool once you get to know them better.
Vilnius is obviously the largest city in Lithuania. It has a population of roughly 600,000. So it's not a small city, but not a massive one either. If you want to visit a big European metropolis, there are better options. London or Paris would be better. So would Warsaw, a city located not too far from Vilnius with similar prices. Because Vilnius ranks as a mid-sized city, it doesn't have a huge number of attractions, but it has enough to keep you entertained for a week or so.
At last, public transport is lacking a bit. There are buses and trams to take you around the city. Some are new and those in the city centre work well, but in other areas, the buses are very old and not comfortable. Vilnius does not have a subway/metro. The city centre is relatively walkable, but if you want to get to other areas (such as the large malls up north) you will have to take a bus, a taxi, or an Uber/Bolt. The train station in Vilnius has connections to other cities but we wish there were more – especially to its neighboring countries.
Are there any better options?
Overall, we consider Vilnius a very nice place to visit. Especially if you are into Baltic culture, and if you enjoy restaurants and shopping. It's also a safe city.
But the question remains: Is Vilnius the best city to visit, or are there similar cities that are slightly better?
We consider Vilnius the best city to visit in Lithuania, so let's compare it to cities in other countries.
Many travelers consider Riga to be a better destination than Vilnius. We like both, obviously, but Riga is arguably a prettier and more active city. Perhaps you could visit both of these Baltic capitals on the same trip. Otherwise, go for Riga first – then Vilnius.
Vilnius is pretty far from the coast, so if you are coming in the summer and want to go to the beach, a coastal city might be better for you. Check out Riga again, or perhaps Gdansk in Poland. We would also recommend Klaipeda in Lithuania which can easily be combined with a trip to Vilnius.
Book your trip to Vilnius
If you're ready to book your trip to Vilnius, we recommend you look at flight tickets immediately.
AirBaltic and Ryanair offer flights between Vilnius and many European cities. It's always best to book directly with the airlines.
If you need a hotel in Vilnius, we recommend the centrally located and affordable Hotel Congress. The hotel has new facilities but the rooms come in a charming old style. The breakfast buffet is great. Make your booking here.
Aside from that, you can read some of our other guides to Vilnius and Lithuania. Have fun!