Vilnius doesn't attract as many tourists as some other European capitals – but that doesn't mean the city lacks good hotels. If you are looking for a place to stay in Vilnius, here are our top picks.
First, you'll find a central affordable hotel. Then a luxury hotel, and finally an aparthotel if you're looking for something more casual.
What all the recommendations have in common is that they are super central. Let's begin!
Affordable hotel in Vilnius
Hotel Congress – Book here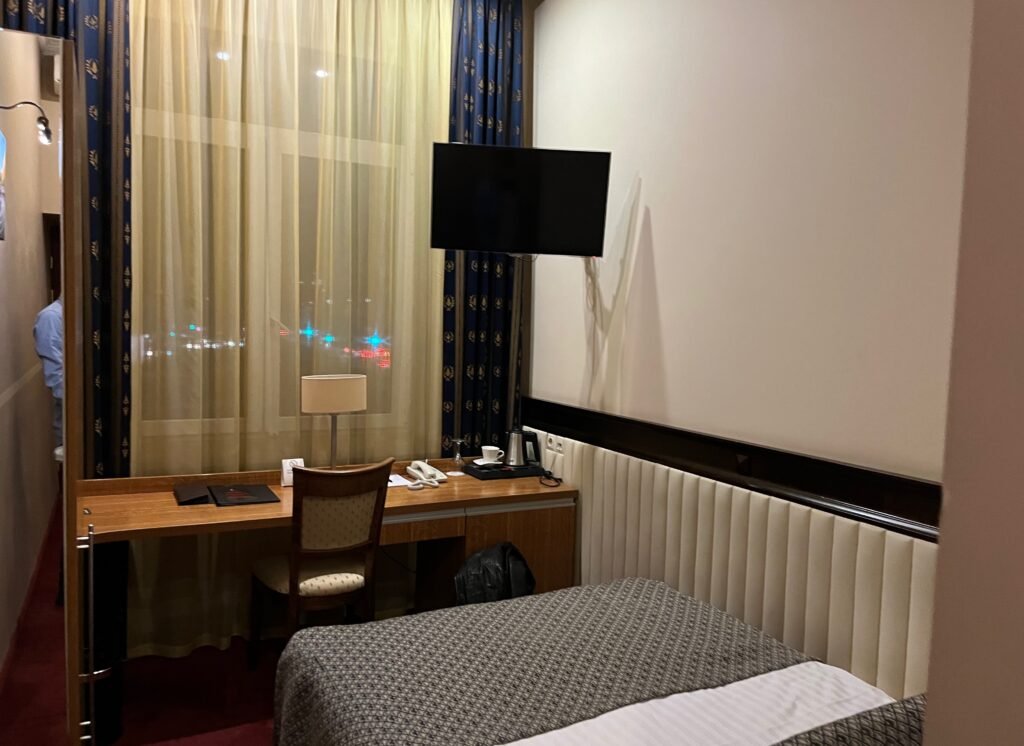 This 4-star hotel has a great location in the northern part of the city centre, right by the Neris River. Almost everything worth visiting in Vilnius is within walking distance.
The best part about Hotel Congress is that it is affordable. So you get tremendous value for the money when you stay there. Seen from the outside, the hotel is modern. So are the lobby and common areas – highly up-to-date. But many rooms have a traditional vibe and we actually loved that. The hotel feels pretty authentic and the interior is charming.
You can enjoy a nice breakfast every morning. They have bread, cheese, bacon, eggs, pancakes, fruits and much more. Coffee and juice too, of course. The level of service is decent, especially by Eastern European standards. There's always someone in the reception and room service takes place at steady hours.
We recommend this hotel if you want a nice stay in central Vilnius – without paying a fortune for the privilege. You can often find rooms for €50 per night. There's no specific luxury here, but everything is in order. Hotel Congress is the perfect choice for casual visitors who want to experience Vilnius in a pleasant way. Make your booking here!
Luxury hotel in Vilnius
Grand Hotel Kempinski – Book here
If you want the best possible experience in Vilnius, this is the place to stay. It obviously costs more than the other options around the city. But if you have a budget that allows splurging, it's fully worth it.
The Grand Hotel Kempinski is located in the Old Town and offers the most luxury of any hotel in Vilnius. With its large and well-decorated rooms, you can expect a comfortable stay. There are several rooms to choose from, and we recommend the Deluxe Room with Balcony. It gives you a tremendous view and enhances the Vilnius experience while offering the best value for the money.
The hotel also has restaurants, bars, meeting rooms, and a luxury spa. Undoubtedly, the hotel is well-suited for business travelers and tourists who want to spend a bit extra.
If you book a few weeks in advance, expect room prices to start around €230 per night. Suites and deluxe rooms will cost more than that, of course. Deluxe rooms give the best value when it comes to price and quality. The most expensive option is the Presidential Suite, typically priced at around €1800 per night. Reserve your room here.
Aparthotel in Vilnius
ROOMA Apartments – Book here
Located in the southern part of the city centre, we find ROOMA Apartments. A modern and down-to-earth aparthotel where you basically stay in an apartment rather than a hotel room. However, the place is still centrally run and offers some amenities that Airbnbs don't have.
There are several apartments to choose from. They are all studio apartments, but bed sizes vary, and some rooms have balconies. We obviously recommend booking one with a balcony if you can. But all the apartments are nice regardless, and you will also find the prices to be reasonable.
This aparthotel gets great reviews and has an average rating of 9.8 out of 10 on Booking.com. That's actually the highest rating in Vilnius. You don't get the luxury hotel experience, but the service is very good, and staying in an apartment can certainly make a trip feel more authentic. Find your apartment here!
Additional options
If you are looking for even more hotels in Vilnius, we advise you to head over to Booking.com. They list most of the hotels in town, so finding the right place will be no biggie at all.
Go to the Booking.com overview for Vilnius city centre here!
The most important things to look for are location, prices and reviews. If you can stay in a central hotel with an average rating above 7.5 out of 10, it should be a good place.
It's usually a solid idea to book with free cancellation and breakfast included. These things might cost a bit extra, but for most tourists, it's worth it. Being able to eat (and drink coffee!) at a hotel buffet is often cheaper and better than having to go out and find a new place to eat each morning.
Aside from that, select a hotel that suits your needs. If you are in doubt, just go with one of the hotels we recommended in the early sections of this article!
Areas in Vilnius
We have another article that guides you through the various neighborhoods and areas of Vilnius.
You can go to that article here – Where to Stay in Vilnius
To sum it up, just stay in the city centre – preferably within a close distance to the Old Town of Vilnius! It's that simple.
How much do hotels in Vilnius charge?
It varies a lot. Let's assume you want to be in the city centre and not too far away from the actions. Some of the low-cost hotels will typically have prices starting around €40 for basic rooms. Prices then go up to €2000 for presidential suits at five-star hotels.
But on average, you can find solid hotels for €50-€100 per night. So Vilnius can certainly be considered a cheap European city to visit.
Conclusion
Let's wrap up the article here. If you are going to Vilnius, make sure you book your hotel in advance so that you can guarantee yourself a nice place at a fair price. Have a wonderful trip!