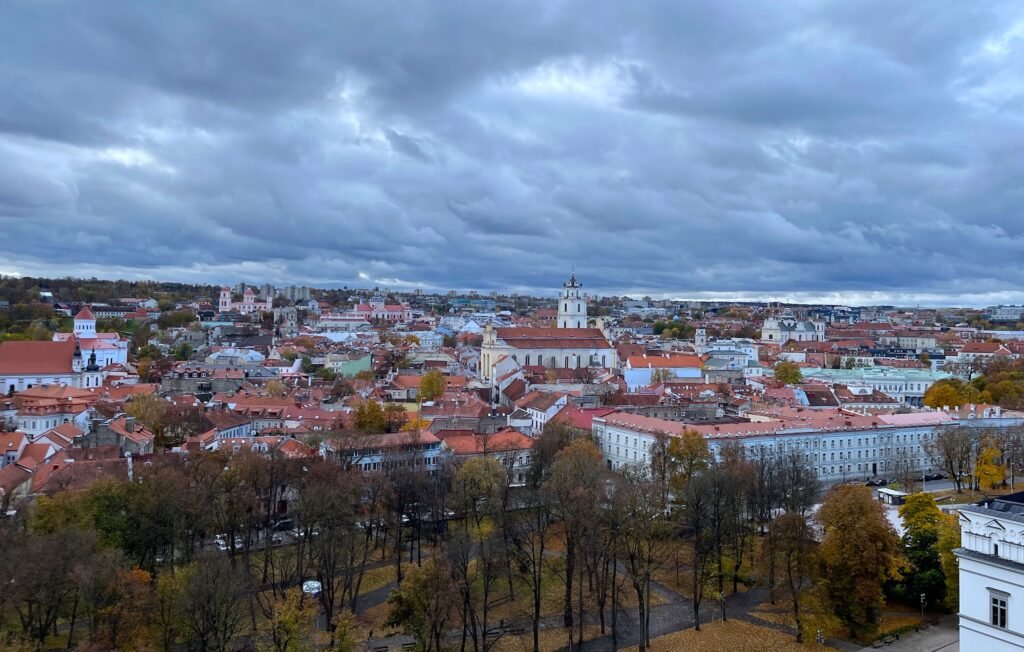 As a capital city, Vilnius has several interesting areas. Some are better than others, especially if you are a tourist and looking for the right place to stay. Here is an overview of the best areas to stay in Vilnius!
You will find descriptions of the top three areas below. In each area, we are sharing a hotel recommendation as well.
Senamiestis – Old Town
Best hotel in Senamiestis: Grand Hotel Kempinski
Senamiestis is the most central area of the city. It contains the Old Town and for that reason alone, it is the best place to stay in Vilnius for tourists.
Many of the best hotels are located here. You will find a wide selection of classic attractions, plus the best architecture of the city. There are many restaurants in Senamiestis, but you can expect prices to be higher than in other areas. That is okay though – the quality is also higher.
It is easy to get to and from the Old Town. There are buses all day long, some trams as well, and Ubers are extremely cheap if you want to get around in a more convenient way. The main train station of Vilnius is located just south of Senamiestis and is always within walking distance.
As for specific things to do in Senamiestis, check out the Castle Tower, the neoclassical Town Hall, the Cathedral and its square, and the Vilnius University. For shopping and dining, head over to Pilies Street.
Senamiestis is our most recommended area for everyone visiting Vilnius – and particularly first-time visitors.
The best hotel in this area is undoubtedly the Grand Hotel Kempinski. Absolute luxury and really good service. If you want the best, that's where to stay. A cheaper option is Hotel Congress in the northern section of the Old Town.
Šnipiškes – Financial District
Best hotel in Šnipiškės: Radisson Blu Hotel Lietuva
Šnipiškės is an interesting area just north of the Neris River. Architecturally, it has a mix of old and new. You will see traditional Lithuanian woodhouses, but also modern skyscrapers and shopping centres.
It is probably the best area to stay in if you are coming for either shopping or business. Šnipiškės has some nice shopping centres in the southern part, which also happens to be closest to the city centre. These centres are CUP and Europa. Additionally, the larger malls Akropolis and Ozas are within a close distance, just north of Šnipiškės.
Many of the hotels in Šnipiškės provide business facilities. There are many restaurants in the area. Some of them are very classy, while others are affordable. You can easily explore the area on foot, but with the low taxi prices of Vilnius, it makes more sense to get a ride whenever you need to go somewhere. Being a business area, you can always hail a cab or order an Uber. Public transport is there as well.
Again, Šnipiškės is extremely suited for business travelers. Tourists can consider it too since there are some good hotels and shopping options. There is some nightlife in Šnipiškės, mostly casinos and clubs. But for traditional sightseeing, the area of Senamiestis (Old Town) is probably better.
If you're looking for a hotel in the area, go for the Radisson Blu Hotel Lietuva. Located in the southern part of Šnipiškės, it's also near the Old Town. Service is top-notch and prices are highly reasonable. Book your room while there's still availability.
Naujamiestis – Modern Vilnius
Best hotel in Naujamiestis: Hilton Garden Inn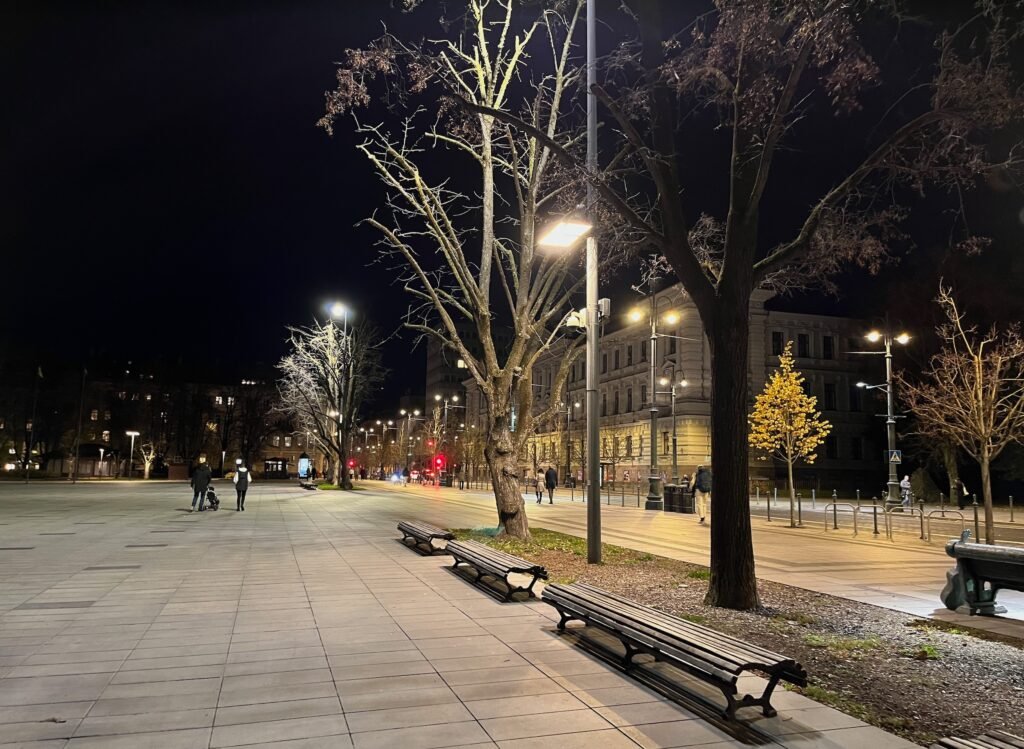 Located immediately west of the Old Town, Naujamiestis is basically known as the modern, residential Vilnius. Many people live their regular lives in this part of the city, so it has all the things you need.
Naujamiestis is full of embassies and residential buildings. There are some tourist attractions as well. The main places of interest are the Holocaust Museum (which focuses specifically on the Jewish people in Lithuania and the things they went through), the large Vingio Park, and the smaller Tauro Park which offers a great view of the city. Additionally, you can walk down Gedimino Prospektas, arguably the main shopping street of Vilnius. It has quite a few flagship shops, bars and restaurants.
In the southern section of Naujamiestis, we find the main train station. This southern neighborhood, which is part of the overall Naujamiestis area, is also known as Stotis. You'll find a lot of street art and alternative attractions there.
We recommend Naujamiestis if you're going for a longer stay in Vilnius. It has a more local vibe. Authentic as it relates to the current time. It's safe and you can choose between hotels, hostels and apartments – Naujamiestis has it all!
Hilton Garden Inn is the best pick in the area. It can be a bit pricy, but the location is great, the breakfast is tasty and the rooms are super comfortable. Make your booking here.
Other areas in Vilnius
There are a couple of other areas and neighborhoods in Vilnius that are also worth mentioning. We honestly recommend that you just stay in one of the three areas previously mentioned in detail – because those three are the best – but other areas are worth stopping by when you're in Vilnius.
One of them is the unique Užupis. Located immediately east of Senamiestis, it is a part of the city centre. Užupis is full of artists, so naturally it has a very bohemian vibe. On the main street of Užupis, there is a declaration – because the area has actually been declared an independent republic by some of those who live there! That's a bit special, and it does feel distinctly different than other areas of Vilnius. There are some cool, underrated attractions in Užupis. Mostly art galleries and alternative cafés. The entire area is a bit 'alternative' so that's why we don't recommend staying there for the whole trip, at least not if you're just coming as a regular tourist or business traveler. But you should absolutely stop by the area — if only to see it!
To the northwest of the city centre, we find the Žverynas area. It is one of the most expensive in Vilnius. Super fancy, nice residential buildings, and a solid range of high-end restaurants and cafés. Everything in Žverynas is well-structured and pleasant, so it should be visited, but as a tourist, you might prefer one of the more central options with more classic attractions.
This content was first published on ScopeTrip.com. Don't copy.
The airport is located south of the centre. We don't really recommend staying that far south. Even if you have an early flight out, it's better to stay in centre and get a taxi. No point in staying by the airport.
There are more residential areas in the north but they are of little interest to most visitors.
So to sum it up: Stay in Senamiestis, Šnipiškės or Naujamiestis. All those areas are good. Furthermore, stop by Užupis and Žverynas during your trip. But don't stay there unless you are looking for a very specific experience when you visit.
How to get around
In the central areas of Vilnius, you can easily get around on foot. Bicycles and scooters can be rented, too.
The cheapest way to get around is by bus. Buses cover most of the Vilnius areas. There are stops all over the city, you just get on or off. Buy your ticket at one of the newsstands/kiosks, get a tourist pass, or simply buy your tickets from the bus drivers as you get on. Learn more about the buses on the official website.
Taxis, Uber rides and Bolt rides are also good options. They are pretty affordable as well. It only costs about €5 to go from the Old Town to the Akropolis shopping centre, for example. So even if you take multiple rides during your trip, it won't cost too much. Especially not if you're traveling with company and you share the costs.
Hotel recommendations
The best hotel in Vilnius is the Grand Hotel Kempinski. Absolutely lovely and with the most comfort of any place in the city.
A cheaper alternative in the city is Hotel Congress. A great place with super fair prices.
Radisson Blu Hotel Lietuva is the pick if you want to be in the business district.
For those wanting to stay in Naujamiestis, we recommend the Hilton Garden Inn.
Holiday apartments can be found on Airbnb. If you want a slightly more organized aparthotel, go for ROOMA Apartments.
For more in-depth descriptions of these hotels, read our guide to hotels in Vilnius.
Conclusion
Vilnius is a cool city with many cool areas. It's the second-largest city in the Baltics, so location does matter.
First-time visitors should stay in Senamiestis, also known as the Old Town. It's that simple. But it's good to know about all the options, especially if you're going to Vilnius for business. Enjoy your stay in Vilnius, and don't forget to explore all the unique areas of the city!