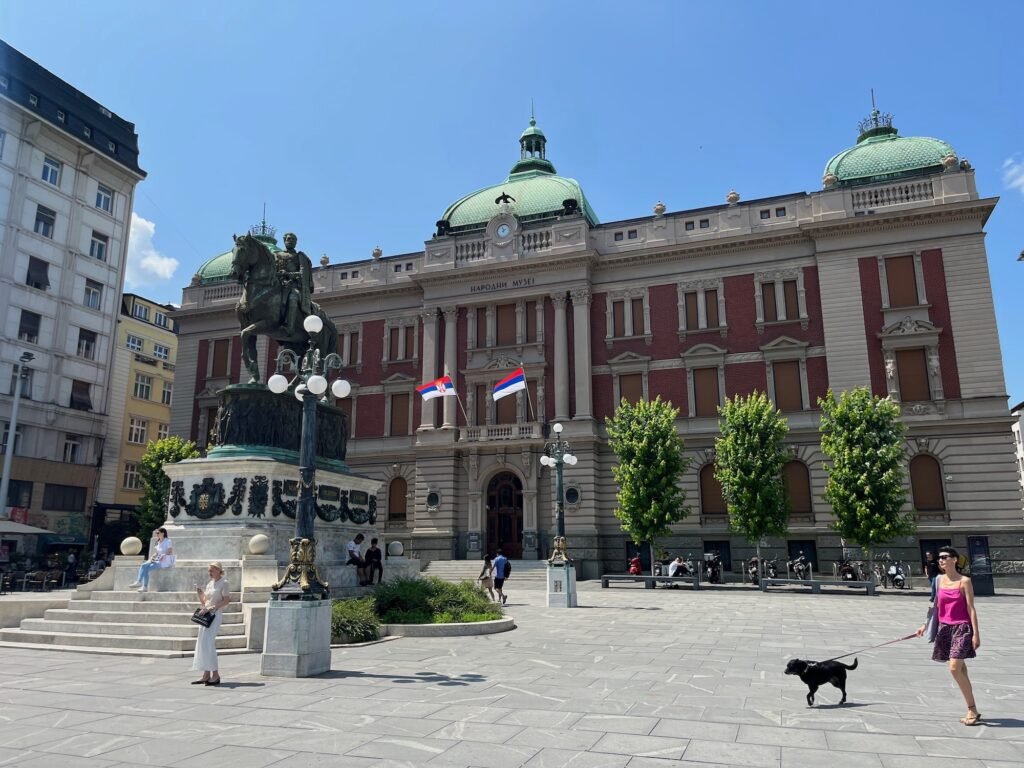 Belgrade (Serbia) has been one of the least visited capitals of Europe over recent decades. But things seem to be changing – Belgrade is rising in popularity and for good reason. Here are the main reasons why Belgrade is worth visiting.
We consider Belgrade to be one of the best destinations in Europe. So if we have to sum it up in one line – just visit the city! But to learn more, keep on reading below. We are looking into the best things about Belgrade, as well as the few downsides, just to see it from all angles.
Additionally, you'll find suggestions on how long to stay there, whether it's safe, and where to stay in the city.
Why Belgrade is worth visiting
Belgrade doesn't get as many tourists as other European cities. It is projected to get around a million visitors per year, many of whom are from neighboring countries such as Croatia, Montenegro, and North Macedonia. So it's a bit off the radar still, despite rising in popularity, and you may want to visit before Belgrade becomes a top destination – something that is bound to happen within a few years.
Prices are relatively cheap. Hotels can be found in any price range, depending on your needs, while Airbnbs are very affordable as a whole. You can eat out at good restaurants without paying too much money. Finally, supermarkets are cheap, so day-to-day life is cheap if you want to stay for a longer time. Tourist attractions cost roughly the same as in cities such as Budapest, Krakow, etc.
Belgrade has fine weather in spring and autumn. The summer can be really hot, and the winter is cold. But both could be worse.
There are some cool attractions such as the Saint Save Temple, the Kalemegdan Park, the Belgrade Fortress, and the Nikola Tesla Museum. All highly worth seeing.
The locals are cool. Some Serbs can seem a bit tough at first, but once you get into conversations, you'll find that they are extremely friendly and interesting. Young people speak excellent English, but older people generally don't. Aside from the native language Serbian, many locals are capable of speaking Russian.
If you want to do some day trips, there are many interesting places near Belgrade. One example would be the city Novi Sad, located just a bit north.
Finally, Belgrade is overall quite safe, but we'll get more into that later.
Belgrade downsides
With all those positive things mentioned before, we highly recommend visiting Belgrade. But no place is perfect, so here are some downsides you should be aware of before you go.
Cleaning standards in hotels can be lower than in other countries. So be sure to pick a hotel with good reviews. Some of the Airbnb apartments can be a little run down, especially those on the cheaper side. For that reason, try to avoid the cheapest options. Rather pay for a mid-range place that is actually nice. Prices are still reasonable overall.
Young people speak English just fine, so it's no problem to talk to people in bars or restaurants. However, older people don't speak it as well, so if you go to a supermarket you might not be able to communicate with those who work there.
The airport can seem a bit intimidating on the outside. Some parts are under construction. It's usually a heavily guarded area with lots of police and military presence. Be sure to read our Belgrade Airport Guide before going – just so you can prepare and so you can arrange for transportation in advance.
In 2022, several places in Belgrade received bomb threats. Nothing has actually come off it, but it caused some places to shut down for safety reasons. In 2023, there were some shootings in Serbia, but the risk of being stuck in a shooting is very low as a short-term visitor.
How many days in Belgrade?
5 days is ideal. Belgrade is a large city that deserves some time. You can see all the main sights in 2-3 days, but if you want to fully explore the Serbian cuisine, socialize with some locals, and perhaps do a day trip to Novi Sad, it is best to have a few days extra. So that makes 5 days perfect.
If you end up not liking Belgrade, one full week is probably too much and overstaying can make the trip even less enjoyable. We recommend going for 4-5 days if you are visiting Belgrade for the first time. If you like it, you can always come back for more.
Is Belgrade safe?
Belgrade is a safe city overall. There is a low risk of crime, especially in the city center. Some areas can be dodgy, like certain parts of Novi Beograd. But if you stay in any central part of Belgrade, like Stari Grad, Skadarlija or Savamala, you won't have any problems at all. You can walk outside at all hours, even alone. But common sense is always good, of course.
There have been bomb threats causing some places to shut down for a day. But actual terrorism hasn't happened for a long time and is still considered unlikely. Serbia has a competent police force and military.
Traffic is probably your main worry. Drivers are fast and some roads are confusing. Traffic is still better than in many other countries, but be careful in traffic because it's probably the only legitimate worry when visiting Serbia.
Where to stay
It's best to stay in one of Belgrade's central areas. Stari Grad is best. Skardarlija is super cool, but it's a small area and prices are higher.
Savamala, Waterfront, and Vracar are all great too. Non-central areas are best to be avoided, simply because you will be far from everything and there won't be much to do as a visitor.
As for whether you should choose a hotel or a holiday apartment, it depends on personal preference. A hotel is usually best for smaller trips (<7 days) and Airbnb holiday apartments are best for longer stays.
The most popular place to stay is Hotel Moskva. A very pretty and historic hotel in a central part of the city.
Otherwise, browse for options below:
Conclusion
Belgrade is absolutely awesome. It's still flying under the radar, so visit while you can. It could become a big, popular destination in just a few years.
Is Belgrade worth visiting? Yes, definitely. Every traveler should at least check it out. Most will probably end up liking it. In fact, many end up moving to Belgrade after visiting the city. Usually, they resonate with the Serbian culture and enjoy prices that are far below average for a European capital.
So if you're considering a trip to Belgrade, Serbia – just go ahead with it. It's worth it to at least check it out. You're probably going to like it!