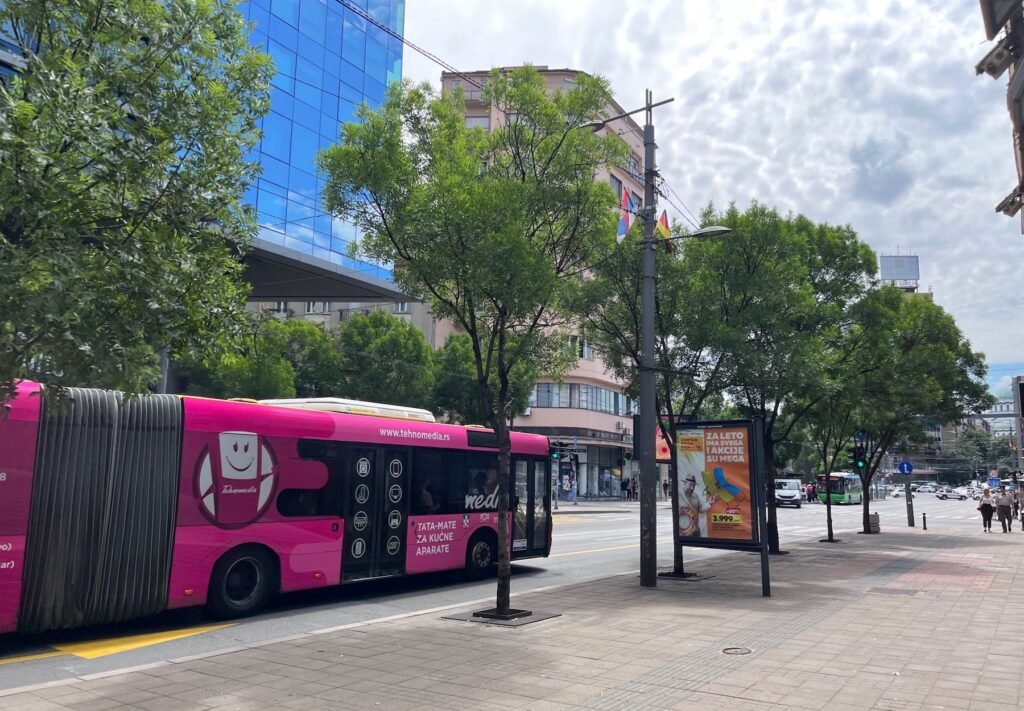 Visiting Belgrade is always a nice experience. Not just because of the city itself, but also because it works well as a base for exploring the rest of Serbia. Here are some of the best places near Belgrade in case you are interested in doing a day trip or two.
In each description, you will learn more about what the place has to offer – and why you should do a day trip there. The best ways to get around Serbia will either be by train, bus or car rental.
Novi Sad
Novi Sad is the second-largest city in Serbia. It serves as the capital of the Vojvodina region and there are some great connections between Belgrade and Novi Sad every single day.
In fact, Novi Sad is only 80 kilometers away from the capital. Roughly 100 buses connect the two cities each day. You can also take the train, which is often a bit quicker and more comfortable.
When you reach Novi Sad, check out the Petrovaradin Fortress, the St. George Church, and the Vojvodina Museum. It is a student city, so there are many bars activities. The city is highly walkable – you don't really need a car or public transportation to get around. The EXIT Festival in July is always awesome, and there are a few other festivals in spring and summer as well.
One day is enough to see the main sights in Novi Sad, but if you want to interact more with the local culture, we recommend staying for 3-4 days.
Zemun
Zemun is actually a part of Belgrade, but it isn't central, so you will have to take public transport to get there. For this reason, we can include it as a day trip destination.
It used to be an independent town, but Belgrade grew so much that it absorbed Zemun in 1934. It's a historic area with beautiful architecture. The Serbs, Hungarians and Ottomans all influenced Zemun.
Furthermore, it's not a small place by any means. The municipality of Zemun has 168,000 inhabitants. When you go there, be sure to visit some of the many cafés. Visit the old City Park, and enjoy the architecture. If you decide to stay in Zemun for a night, consider staying in the gigantic Hotel Jugoslavija – one of Europe's largest hotels in size.
Drvengrad
One of the most popular day trips from Belgrade is to visit Drvengrad.
It's a small village that was built as a set for the film Life is a miracle (2002). While the Serbs call it Drvengrad, it is also known internationally as Küstendorf.
The location is in the mountains near the border of Bosnia and Herzegovina. It has cute houses, a church, a library, a photo gallery, an art shop, and much more. The streets are named after famous people, including Nikola Tesla and Novak Djoković.
It's difficult tog et to Drvengrad by public transport, but there are organized tours going there. Simply book your place on a tour in advance. Alternatively, you can rent a car and drive to the vicinity of the Drvengrad village.
Golubac
Golubac is a village located by the Danube River, facing the Romanian border. It is another popular day trip destination from Belgrade, particularly because of its fortress.
Golubac Fortress is to be found just a bit east of the village. The fortress is majestic with its ten towers and walls. It has hosted countless historic battles, repelling over 120 attacks throughout its history. Now that times are more peaceful, the Golubac Fortress is simply a tourist attraction. It is open to visitors and on the inside you can see the wonderful frescos, as well as exhibitions that detail the history of the fortress.
How to get there? The best way is to join a guided tour that departs from Belgrade. But it is also possible to take a bus – or to rent a car and drive there yourself.
Đerdap National Park
For practical reasons, you might want to combine a day trip to the Golubac Fortress with a trip to the Đerdap National Park. The two are located near each other, with Golubac marking the entrance to the park.
Đerdap is a huge natural area. It contains the gorge known as "the Iron Gates". It's a magnificent sight to see the Danube run through the dramatic cliffs of Đerdap. There are mountains and lakes in the area as well. Much of it is covered by forest.
Spending a few hours in the Đerdap National Park is a great experience. If you have more time, try to visit the Mraconia Monastery and the Iron Gates Museum as well – located on the Romanian side of the Danube.
Kragujevac
Kragujevac was the first Serbian capital so naturally it's a historic place. Nowadays, it ranks as the fourth largest city in the country. Kragujevac has a central location, just a bit south of Belgrade. That makes it easy to reach by public transport.
Famous for its weapons and automobile industries, Kragujevac is considered to be one of the most important manufacturing centers in the Balkans. There is also a university with 12 faculties and thanks to the presence of many students, there are several music and art festivals throughout the year.
Kragujevac is not the most picturesque city overall, but it does have some important monuments. Check out the Zastava Gate, the theatre, the stadium, and the church. It's generally not a city that people visit for sightseeing, but rather to get a feel for the 'real' down-to-earth Serbia in a place that certainly isn't touristy.
Sremski Karlovci
Situated near Novi Sad, it doesn't take long to reach Sremski Karlovci from Belgrade.
This small town was the seat of the Serbian Orthodox Church. Despite being small in both size and population, Sremski Karlovci has several sights that attract tourists. The architecture is stunning, much of it is traditionally Serbian, and we highly recommend seeing the Gymnasium of Karlovci since it's just marvelous. There are both Orthodox and Catholic Churches in the town.
You can visit Sremski Karlovci the same day you visit Novi Sad. It is possible to stay for longer if you'd like – Sremski Karlovci has a few nice hotels and they are reasonably priced.
Fruška Gora
Fruška Gora is a mountain in northwestern Serbia. The landscapes are absolutely beautiful, and the area is home to many Orthodox monasteries. Nowadays, Fruška Gora is a national park, so the area is very well preserved by the government.
Since Fruška Gora isn't located that far from Belgrade, it's a very reasonable day trip to make. We recommend joining a guided tour or renting a car to drive there.
Subotica
Subotica is an old city in the very north of Serbia. In fact it is only 10 kilometers away from the Hungarian border and ethnically, there are more Hungarians living in Subotica than there are Serbs. However, Serbian is the main language in use.
It was once the largest city in the Vojvodina region, but the population has been stagnant for the last 50 years, so it has been overtaken by Novi Sad.
There are many beautiful sights in the city centre. The palace, the cathedral, and the synagogue are some highlights. The National Theatre looks majestic and should be visited as well.
Since it is located so far north, it takes longer to get to Subotica than it does to get to Novi Sad. But it's still a very do-able day trip, and Subotica can perhaps even be combined with a trip to Szeged (an important city in Southern Hungary).
Niš
Serbia's third-largest city Niš should not be underrated. Serving as the main city of the south, Niš has a rich history dating back to the 3rd century BC.
Roman emperors used Niš as a residence and it was an Imperial City under the Byzantine Empire. Niš has a pleasant city centre with several nice attractions, such as the Constantine Memorial, the Čegar Hill, the Niš Fortress, and of course the general architecture of the city.
Niš is affordable to visit, and it's a city that has plenty of hotels and restaurants, so some visitors decide to stay there for a longer trip. But a day trip from Belgrade to Niš is certainly enough if you only want to do sightseeing. It's a two-hour drive south by car. If you take the bus, it should take around three hours. There are also flights between Belgrade and Niš.
Montenegro
Neighboring country Montenegro can be an interesting day trip as well. It takes a while to get there from Belgrade. But the solution is this: Take the night train from Belgrade to either Podgorica or Bar, spend a full day there, and take the next night train back again. It will actually save you two nights of staying in a hotel, but of course, it will require a lot of energy than the easier day trips mentioned in this article.
Nevertheless, Montenegro is an incredibly country, and everyone should visit it. Combining Serbia and Montenegro is a great idea for a trip. Ideally, you would spend many days in Montenegro, but if your time or your budget only allows a day trip, then at least consider the option!