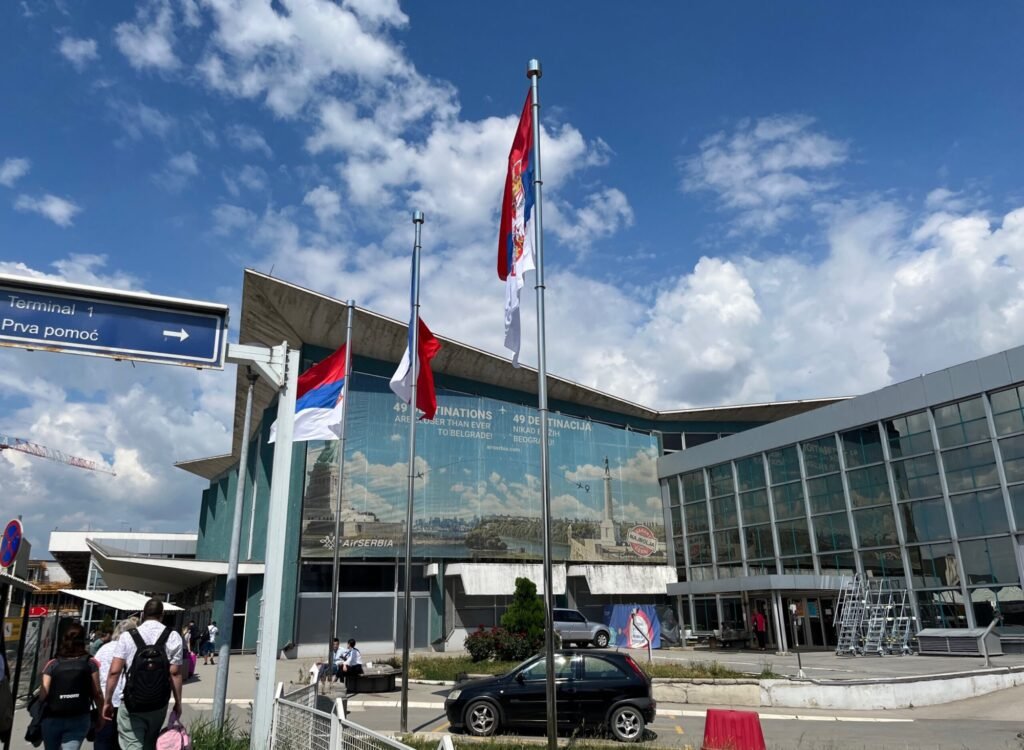 Belgrade Nikola Tesla Airport is the main gateway into Serbia. The airport is pleasant and modern on the inside, but a bit rough around the edges when you get outside. For that reason, it is useful to prepare transportation in advance.
This guide will show you how to get from Belgrade Airport to Belgrade city centre and vice versa.
We will also look into general facts, the main connections, the airlines that are present, plus the facilities within the airports such as restaurants and shops.
From Belgrade Airport to Belgrade city centre
There are several ways to get from Belgrade Airport to central Belgrade:
Airport bus shuttle
Public buses
Taxi
Private transfer
There isn't any rail connection between the airport and the city, but there are plans to build one.
A1 Shuttle Bus Belgrade
Cost: $2.5
Time: 30 min
Using the airport bus shuttle is a good option. The bus is called "A1" and it is a mini bus that connects the airport with Slavija Square, a central spot in the city. It takes around 30 minutes to get there since there are only 1-2 quick stops along the way. From the morning to the late afternoon, there are 3 routes each hour. For the rest of the day, there is one departure per hour, even at night.
If you are going from central Belgrade to the airport, you can also take this shuttle. It departs from the street Kralja Milutina which is on the northwestern end of the Slavija Square. The bus usually arrives a few minutes early and is parked there. You can easily spot it, and if it hasn't arrived yet, there is a sign that says "A1" so you know where to wait.
How to pay for the A1 shuttle in Belgrade? Simply pay the driver. It costs 300 RSD which is only around 2.5 USD. You should preferably have the exact amount ready in cash.
Public buses
Cost: $2.5
Time: 30-40 min
Local bus lines 72, 607 and 860 also drive between the airport and the city centre. Prices vary from 89 RSD to 300 RSD. It is possible to get a ticket in a kiosk, which is cheaper, but you can also pay the driver in cash. It usually takes 30-40 minutes with these regular buses.
BUT: Remember to get off at your stop! These buses have several stops, not just at the airport and the central part of Belgrade, so just remember to get off at the right place.
Taxi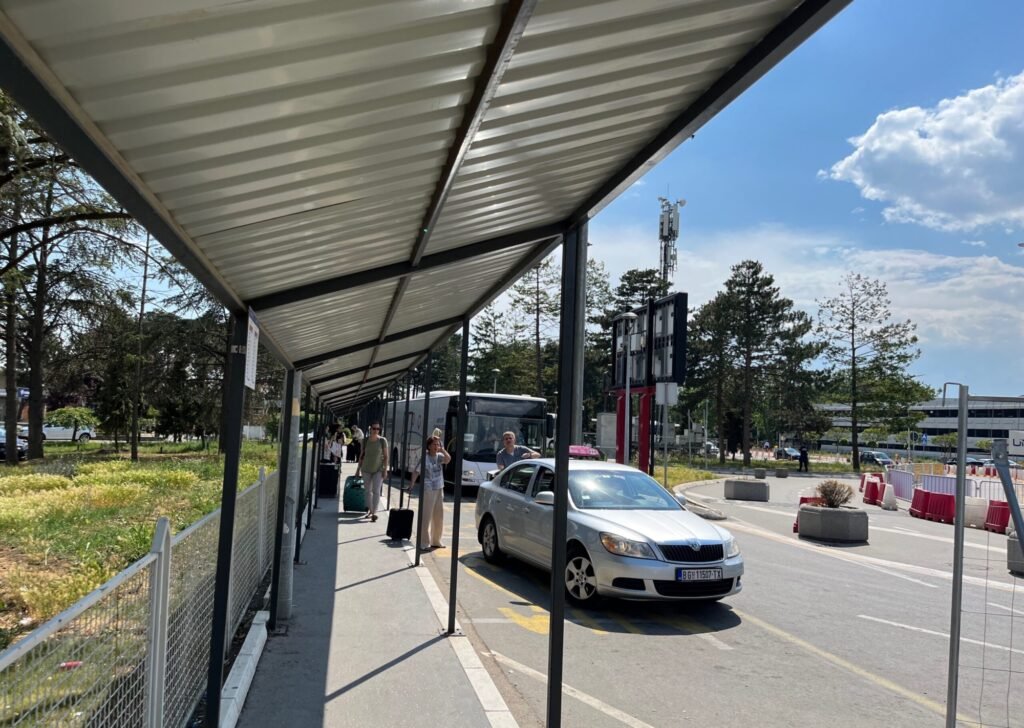 Cost: $19
Time: 25 min
You can always take a taxi to and from the airport.
If you arrive at the airport, you have to pay for your taxi fare while you are INSIDE the airport. Located in the arrivals area, there is a ticket office where you buy a voucher. After getting the voucher, you hand it off to a taxi driver outside, and he will take you to your destination. Prices depend on where in Belgrade you are going. If you are staying in the city centre, for example in Stari Grad or Skadarlija – two of the most popular areas of Belgrade – the price will be 2200 RSD (19 USD).
From the city to the airport, simply hail a cab from the street, call one before, or have your hotel arrange one.
Private transfer
Cost: $25-30
Time: 25 min
A private transfer can be arranged ahead of time. A driver will show up at Belgrade Airport carrying a sign with your name.
You can book your private transfer through Booking.com or ask your hotel to arrange one. Most of the good hotels in the centre have their own drivers, or they are connected to companies that offer private transfers.
This is by far the easiest and most pleasant way to get from Belgrade Airport to Belgrade city centre. But it is also the most expensive, with prices often being around 25-30 USD. Also remember that a private transfer must be booked in advanced – preferably at least two days in advance.
Another benefit of getting a private transfer is that the drivers are used to dealing with tourists. They will often have decent skills in English, and they can give you some tips to the city.
Facts about Belgrade Airport
Belgrade Nikola Tesla Airport (BEG) is named after the famous Serbian scientist Nikola Tesla who changed the world in multiple ways.
The Serbians call it Аеродром Београд (Aerodrom Beograd).
It is located in the western end of the city, roughly 18 kilometers (11 miles) away from the city centre.
Operated by Vinci Airports, it has two terminals and has been extended and modernized in recent years. Parts of the airport, specifically the parking facilities, are under continuous construction.
Prior to the coronavirus situation, Belgrade Airport peaked at around six million passengers. In 2022, it was projected to reach over four million passengers, and that number should increase in coming years as Belgrade grows as a tourist destination.
Airlines and destinations
The airport is the main hub for Air Serbia – the national carrier of Serbia.
Wizz Air uses Belgrade Airport as an operational base, and it is one of the European airports with the most Wizz Air connections.
Many national airlines from other European countries fly to Belgrade regularly. That includes airlines such as Aegean Airlines, AirFrance, KLM, Lot, Lufthansa, Qatar Airways, Swiss Air, and Turkish Airlines.
Ryanair is not currently present in Belgrade Airport. Therefore, Wizz Air is the main low-cost carrier that connects Belgrade to other destinations. easyJet has a few routes to Belgrade, but with slightly higher prices.
The busiest routes are to Podgorica and Tivat (Montenegro), Zürich, Istanbul, Vienna, Moscow and Dubai.
Shops and restaurants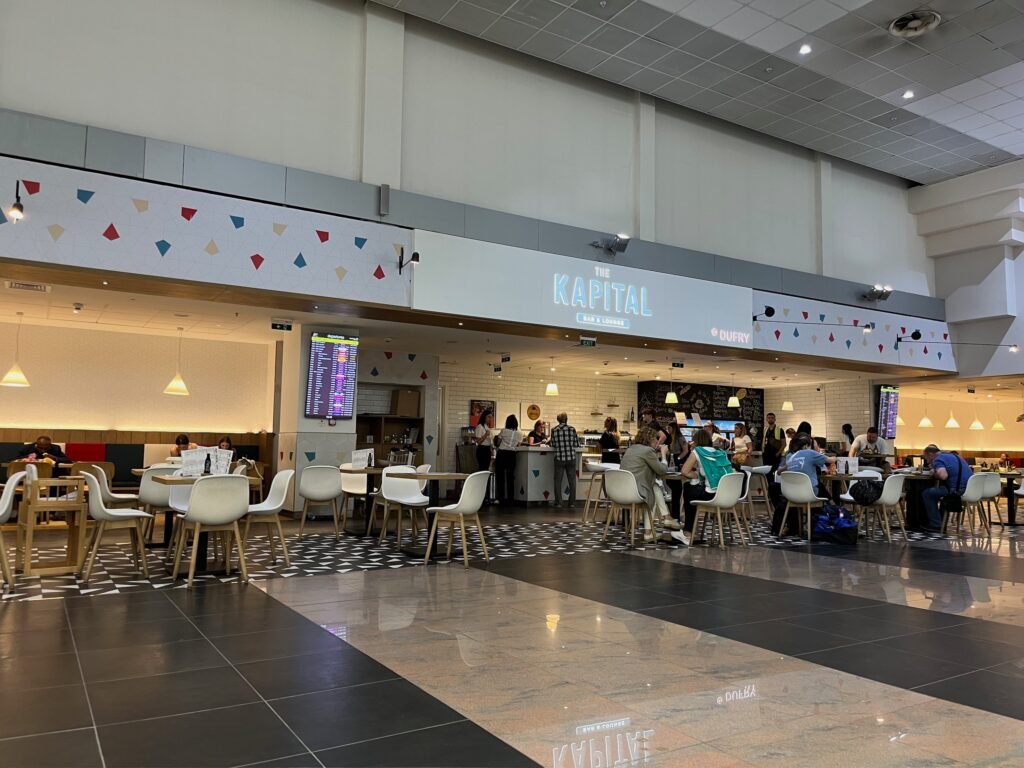 There are several convenience shops around the airport, selling foods, snacks, souvenirs and smaller items. You will find duty free shops where it's even possible to check the prices online in advance – in case you see a good deal.
Fashion shops are plentiful. There are some general ones, plus Victoria's Secret and Hugo Boss. The bookshop Službeni glasnik could be interesting, and there is an electronic/gaming shop too – ComputerLand.
As for restaurants, you have some before and after passport control. Land Side is the main restaurant before the passport control. A good place to grab a bite if you're waiting for the luggage desk to open, or if you have someone with you who's not going to board a flight. Restaurant Bistro is the main restaurant after passport control.
All the restaurants close at 8. If you have a late departure, you can visit the bar Kapital where they serve a bit of everything – fresh juices, sandwiches, liquor, wine. There is plenty of seating space at The Kapital and it's open from 4 am to midnight.
Hotel near Belgrade Airport
Airport Hotel Garni is the closest you get. It is not located directly by the airport, but it is just a few minutes away.
All the rooms are clean and have private bathrooms. The staff is excellent. Aside from being near the airport, this hotel is great because it facilities late check-ins as well as early check-outs thanks to the reception being open 24 hours. They even allow you to check in earlier than the regular check-in times if the room happens to be empty.
For these reasons it can be a practical place to stay. If you're coming for business or for an extended layover, Airport Hotel Garni is excellent. For sightseeing we would recommend a more central hotel instead. But if you wish to stay near the airport, it's a great option, with prices typically ranging around $70-$80 for a basic room.
Make your reservation at Airport Hotel Garni here!
Conclusion
Belgrade Airport is nice and comfy once you get inside. Don't let the construction outside confuse you – getting to and from the airport is usually quick and easy. We recommend getting a private transfer, which has to be booked in advance, but with buses connecting the airport to the city centre for all the hours of the day, it's never difficult to find transportation.
Enjoy your trip to Belgrade – and let other readers know about your airport experience in the comment section below!