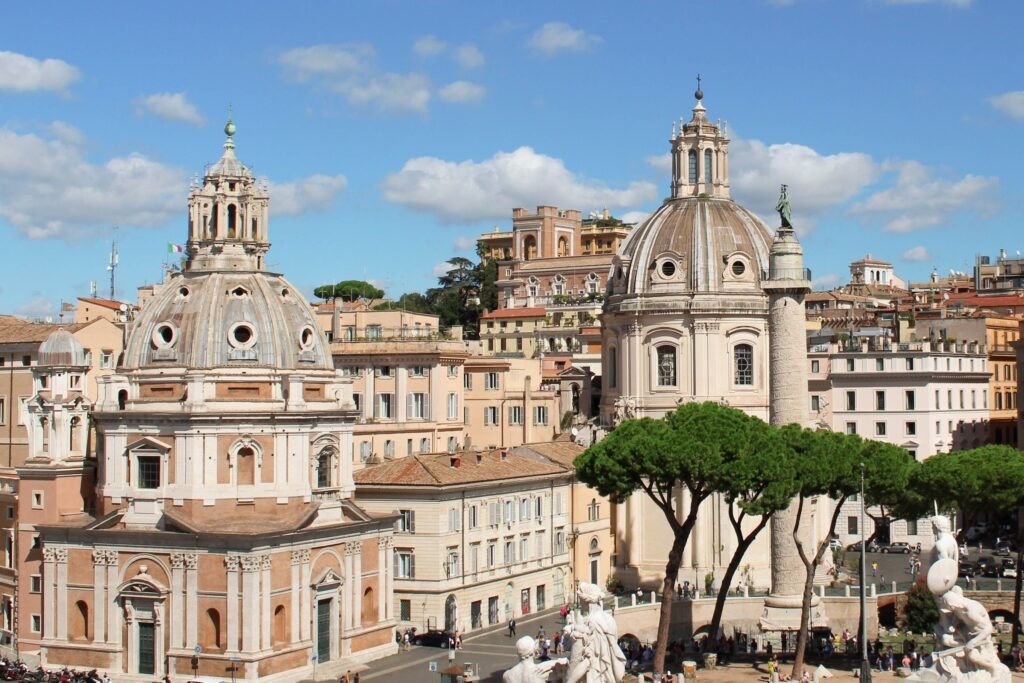 Rome is absolutely full of sights and attractions. The historic Italian city has been the centre of both the Roman Empire and the modern Italian republic. It is one of the most visited cities in the world, and for good reason – Rome is full of impressive sights, and we will guide you through the best ones!
You can download our checklist of 101 things to do in Rome by clicking here. It is a PDF document with all the best activities and sights in Rome, separated into different categories so that you can find attractions based on your personal interests.
However, some of the attractions in Rome are just so special that they deserve to be described in detail. So if you want to learn more about the best ones, continue reading below – you will learn more about Rome's most famous sites and we can guide you through the process if you need tickets, addresses, or just good tips.
Let's get going!
Best sights in Rome
We will start out by looking at the very best sights in Rome. Described in detail, here are the top Roman attractions that any traveller should prioritise!
Saint Peter's Basilica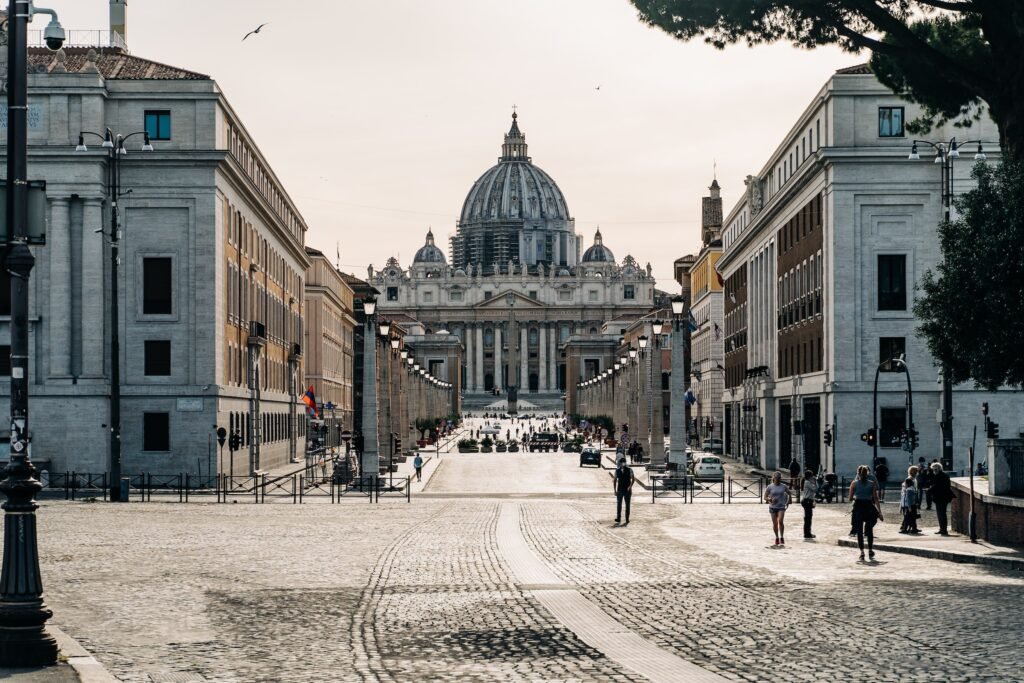 The most famous site in Rome is arguably Saint Peter's Basilica – the church of the Vatican City.
It is one of the largest churches in the world, designed by great architects and artists such as Bramante, Michelangelo, Maderno and Bernini. A perfect example of Renaissance style, the basilica stood completed in 1626. The tradition says that the church was built on the burial site of Saint Peter, the leader of Jesus' disciples. His tomb is said to be below the high altar.
Most Christians consider this to be a holy place. Saint Peter's Basilica is known as the greatest Christian church in the world, and for Catholics, it is the ultimate religious centre.
You can expect massive lines outside when visiting Saint Peter's Basilica. It is one of the most visited tourist attractions in the entire world – not just in Rome. It attracts Christian pilgrims as well as culturally interested travellers. You can visit this famous church for free if you don't mind waiting in line for an hour or two. We would however recommend you to book a guided tour with fast track access since it will allow you to skip right through. This can cost anywhere between 10 and 25 euros. But remember that Saint Peter's Square is also an attraction in itself, so be sure to also pay attention to the surrounding area when you visit the church!
The basilica is still used for practical purposes as well. The Pope holds liturgies several times per year and people do come here for non-touristic purposes too.
No trip to Rome is complete without a visit to the Vatican. And the most important attraction in Vatican City is St. Peter's Cathedral, so you should definitely reserve a few hours to see this magnificent sight.
Address: Piazza San Pietro, 00120 Città del Vaticano
Apostolic Palace
While St. Peter's Basilica is the most famous and most visited place in the Vatican, don't forget about the Apostolic Palace.
This is the official residence of the Pope. It is also where the Vatican Museums and the Vatican Library are located.
The famous Sistine Chapel (with Michelangelo's Last Judgment fresco on the ceiling) is a chapel in the Apostolic Palace. In other words, if your dream is to see the famous fresco on the ceiling, this is the place to go.
It is important to note that the Sistine Chapel has several notable frescoes – most of them are depicting Jesus and his disciples, but several also depict stories from the Old Testament revolving around Moses.
Tourists are welcome, but only to some parts of the palace.
Once again we recommend booking a guided tour. It will allow you to skip the line, which will save you hours. A guide will also make sure that you get to see the main places of interest – which would obviously be the Vatican Museums and the Sistine Chapel – but also that you pay attention to the right things. This can massively enhance the experience. A guided tour will typically cost around 30€ per person, although simple audio guides (with skip-the-line tickets included) will be cheaper.
Address: Palazzo Apostolico, 00120 Vatican City
Colosseum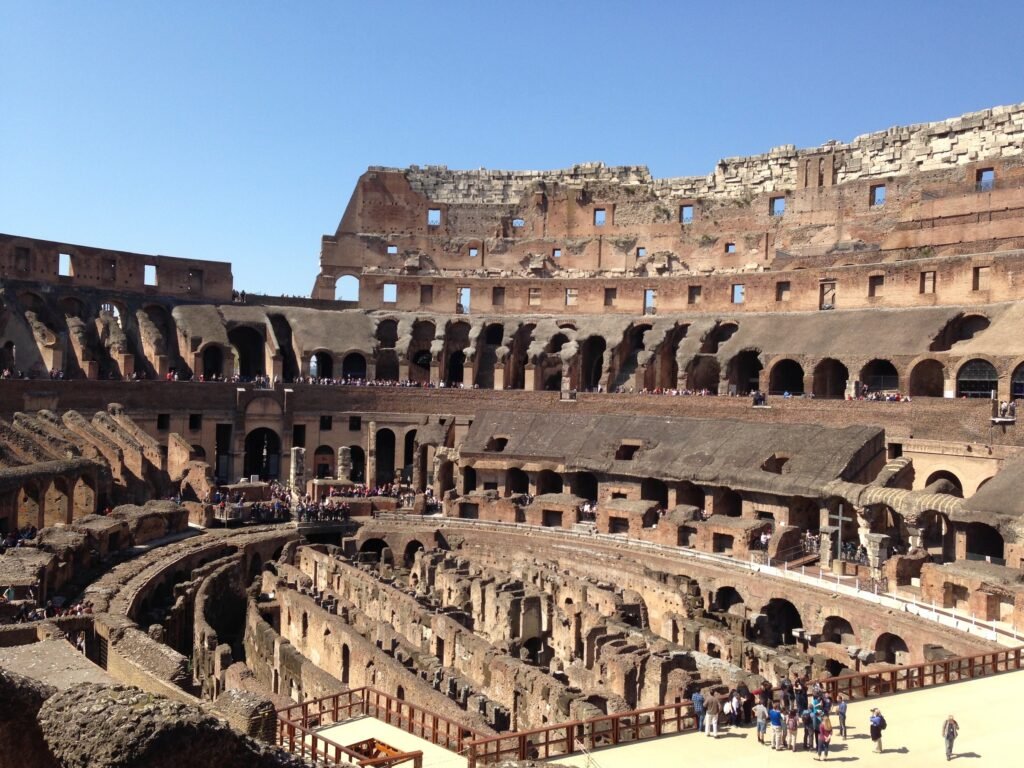 The Roman Colosseum is definitely the best-known amphitheater in the world. It was built under the reigns of Vespasian and Titus, between the years 70 and 80 AD. The original name of the venue was "Amphitheatrum Flavium" because of its relation to the Flavian dynasty of emperors.
Aside from being the most famous amphitheater in the world, it is also the biggest. The years have taken their toll on the Colosseum, so it is now ruined and no longer used for its original purposes. Back in the days of the Roman Empire, the Colosseum could host events with up to 80,000 spectators according to modern scholars. It was used for all sorts of events – dramas, comedies, gladiator battles, hunts, at one point it could even be filled with water and host sea battles.
Nowadays, the Colosseum is not used for any of these purposes. It is simply a cultural place of interest and a major tourist attraction. The Colosseum has become a symbol of Rome – in fact, a symbol for the entire country of Italy. Millions of visitors come to see the Colosseum every year, and it undoubtedly ranks as one of the best attractions in Rome.
The admission fee to visit the Colosseum is 16 euros per person. Handicapped persons, teenagers and kids under 18 get free access. EU citizens between the ages of 18 and 25 can enjoy a reduced rate of half price. When you buy a ticket, it will be valid for 24 hours, so you can leave and re-enter the attraction as you please during this time period.
A guided tour is worth considering if you want to learn more about the grand history of the Colosseum. It would cost a bit extra, but if you are travelling with a group, we highly recommend it.
Due to the central location in the city, the Colosseum is very easy to find.
Address: Piazza del Colosseo, 1, 00184 Roma RM
Forum Romanum
Forum Romanum, often named the Roman Forum in English, is yet another ancient site in Rome.
This square was once the centre of day-to-day life for the Romans. Through texts, we know that the Romans referred to it as Forum Magnum – the great forum. It was originally a marketplace, but the Forum was frequently used for public speeches, criminal trials, and even political elections. In other words, it was a very important location for the ancient Romans.
It is situated in a valley between two of Rome's hills – the Palantine and the Capitoline. People already began to settle here in the 7th century BC when the first sewage system was built.
The unique thing about Forum Romanum is not just the history of the square, but also the many ancient monuments at the site. Some of the surviving structures are the Regia, the Temple of Caesar, the Temple of Saturn, the Arch of Septimius Severus, among several other structures.
Due to the location in a valley, due to weather influence over time, and due to other construction works in Rome, the Forum Romanum decayed over the years. A German traveller reported as early as 750 that the Forum was decaying. This got increasingly worse over the years, and ironically the Forum took its worst damage during the years when the St. Peter's Basilica was built in the 1540s. After this, most of the structures on the Forum were no longer visible. This changed in 1803 when archeologist Carlo Fea began to excavate the Septimius Severus Arch. Under the regime of Napoleon a few years later, serious excavation started, but it took around a hundred years before all of Forum Romanum was once again visible. To this day, there are still active excavations in Forum Romanum with hopes to discover more secrets.
This article was first published on scopetrip.com.
Despite many of the structures being in a damaged condition, the Roman Forum is still highly worth a visit. We would go as far as calling it one of the best things to see in Rome. You will get the unique opportunity of walking around in the old Roman square, surrounded by history, and you can see some of the ancient structures way up close in person.
The Forum is near the Colosseum. There are two points of entry, through Via di San Gregoria, and through Via della Salaria Vecchia. Opening hours vary – usually, the area opens in the morning and closes an hour before sunset. There is a ticket office nearby – an adult ticket costs 16€, students get half price, while children and persons with disabilities get in for free. The ticket is connected with the Colosseum – you get access to both of these Rome attractions from the same ticket. If you don't want to stand in line, book it online in advance!
Address: Via della Salara Vecchia, 5/6, 00186 Roma RM
Pantheon
Want to see an old Roman temple? Then you simply have to visit the historic Pantheon!
The construction is famous for its circular opening in the ceiling (the Oculus), which is the only source of light in the building. The Pantheon is known as one of the best-preserved buildings from Ancient Rome, and it is easy to visit.
Nobody knows the exact date it was built, but there was a temple on this site during the reign of Augustus – this burned down, and it was then rebuilt by Hadrian into the Pantheon that we see today. That probably happened around 125-126 AD. The columns of the Pantheon were transported to Rome from Egypt and they have a massive weight of 60 tonnes each.
Originally, Pantheon was intended as a temple for all the Roman gods. Since the 7th century, however, it has been a Christian church. It is owned by the state and managed by the ministry of tourism. With well over 7 million visits per year, it is one of the most popular tourist attractions in Rome.
The Pantheon is located in the northwestern part of the city centre. You can easily reach it on foot or by taking public transportation.
It is currently free to visit, although there have been talks of implementing a small 2 euro entry fee. This has not happened yet, so you can still get in without paying. That arguably makes it one of the best free tourist attractions in the entire world!
Address: At Piazza della Rotonda, 00186 Roma RM
Trevi Fountain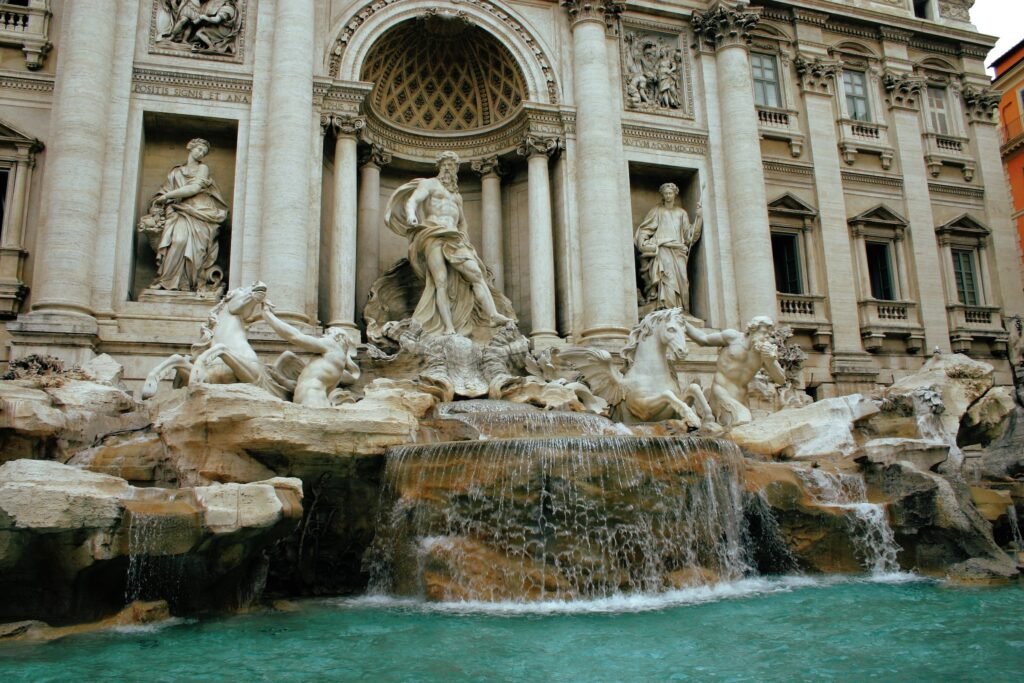 The Trevi Fountain is the most famous fountain in Rome – perhaps even the most famous in the world!
It was designed by Nicola Salvi and completed in 1762. The large marble sculpture portrays the titan Oceanus riding with his horses through the water streams.
Since it is a public fountain, it is completely free to visit, and it is something we recommend all tourists to do! In fact, it is the number one most visited monument in Rome.
You might have seen the Trevi Fountain in certain movies and tv-series. There was a famous scene from the Trevi Fountain in Federico Fellini's classic masterpiece La dolce vita, and the location was also included in Roman Holiday starring Audrey Hepburn. In the popular comedy tv-series, Everybody Loves Raymond, there was also an episode that featured the location.
A legend says that if you turn your back to the fountain and throw a coin with your right hand over your left shoulder, you will one day return to the city. This is the reason why so many tourists throw coins into the fountains. These coins are picked up later by local authorities and used for various forms of charity. In some years, the Trevi Fountain has brought in over a million euros!
Location: At Piazza di Trevi, between streets Via Poli and Via della Stamperia
Galleri Borghese
This might be the most famous art gallery in Rome. A great place to visit for all cultural travellers!
It houses the majority of the Borghese Collection. This was once the collection of Cardinal Borghese and it mostly consists of paintings, antiquities and sculptures. Now, you can see it at the museum, constructed by Renaissance architect Flaminio Ponzio. Aside from the many art pieces, the Galleri Borghese is famous for its garden which is considered an attraction in itself.
The main art pieces at the museum are various works of Caravaggio, the Baroque-style painter who lived in Rome. Check out Boy With A Basket of Fruit or Sick Bacchus to get an impression of his intense style. Another famous painting at Galleri Borghese is Raphaels' The Deposition. You can also see works by Rubens at the museum.
Going to the Borghese Museum is a great experience, and you should set aside a few hours for doing so. A ticket costs 13€ but with free entry for students and anyone under 18. This is just the normal entry price; to get a guided tour, you would pay more, and this is recommended for groups. Check the Galleri Borghese website for more information!
Address: Piazzale Scipione Borghese 5, 00197 Rome
Musei Capitolini
Here we have another big cultural attraction in Rome. The Musei Capitoline is a facility that has multiple museums across several buildings. The two most historic ones are Palazzo dei Conservatori and Palazzo Nuovo. You'll find a bit of everything here – Musei Capitoline has both art and archeological museums.
Musei Capitolini is generally known as the oldest museum in the world. It opened to the public in 1734 but its roots go back even further. In 1471, Pope Sixtus donated bronze statues to the public, which was the first step.
With a location on top of Capitoline Hill, it is an absolutely unique spot. The architecture is on point too, mostly designed or at least modified by Michelangelo.
Many visitors consider Palazzo dei Conservatori the best part of Musei Capitolini – here the collection is mostly centered around classic Roman, Greek and Egyptian sculptures.
A basic ticket costs 15 euros, but admission is usually free on the first Sunday of each month. It is also possible to get a guided tour, which is well-suited for groups. You can also join a group for a tour. Tickets can be bought on location, or online in advance.
Address: Musei Capitolini, Piazza del Campidoglio 1, 00186 Rome
The Spanish Steps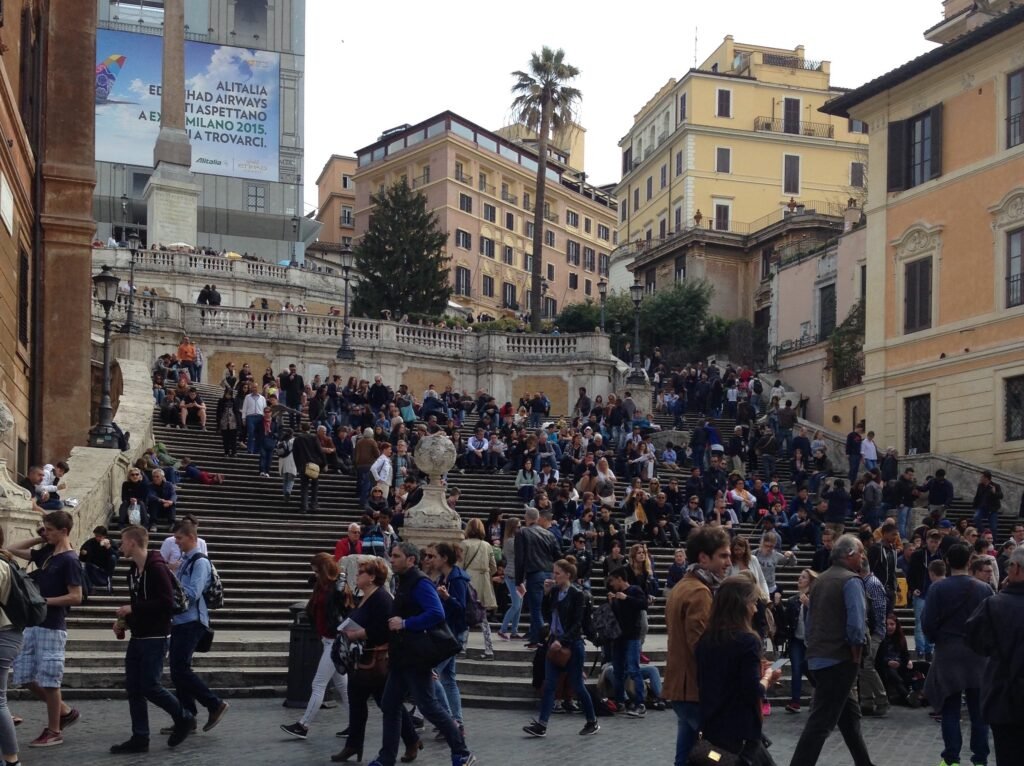 A set of steps doesn't sound too exciting, but there's no denying that the Spanish Steps are monumental!
It is a central stairway in Rome with a total of 135 steps. The stairway leads from Piazza di Spagna to the classic church, Trinità dei Monti. It was designed by talented architects and the intention was to link the church to the Spanish embassy.
The Spanish Steps have become a famous spot for tourists, partly due to its beauty, and partly due to its history. It also works as a meeting place for locals. If you go to see the Spanish Steps (which you should!) you can expect it to be very crowded. The stairway is full of people. In the past, many people liked to sit down on the stairs to enjoy the location fully, but as of 2019, this is no longer allowed. The Spanish Stairs have a listing on the UNESCO list, and measures have been made to protect the stairway. So don't sit down – but you can easily walk through and take some pictures!
Location: At Piazza di Spagna
Stadio Olimpico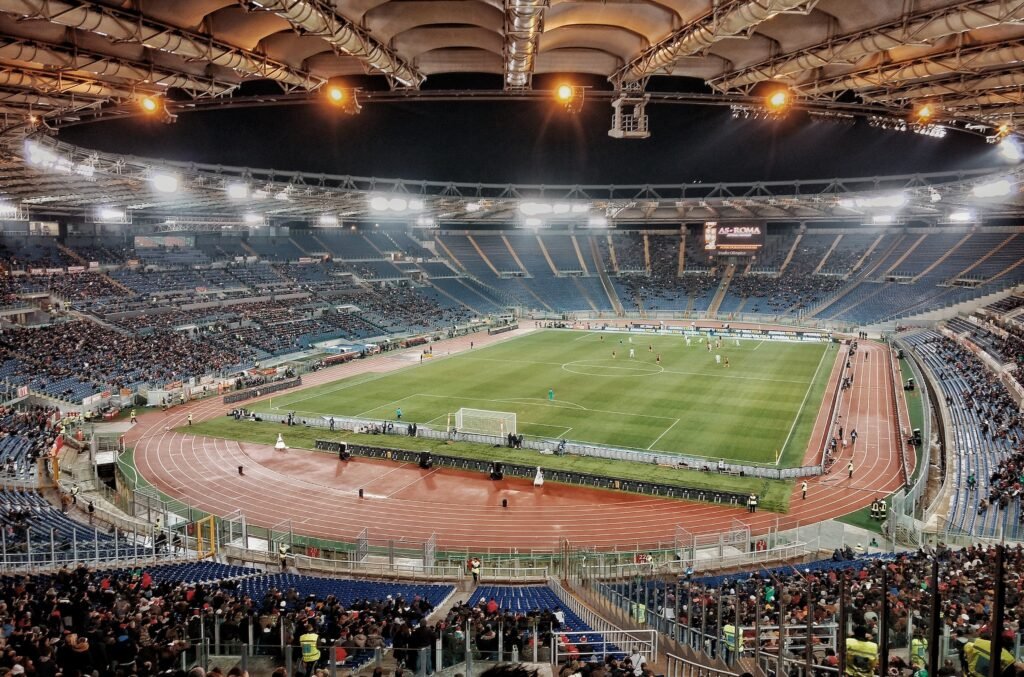 Rome is home to two major football clubs – AS Roma and Lazio – and they both play their matches at Stadio Olimpico, the Olympic Stadium.
It's the largest sports facility in the city, able to seat more than 70,000 spectators. It is mostly used for the wild and crazy home matches of Roma and Lazio, but also for the Italian Cup final, and it has previously hosted the FIFA World Cup final. Occasionally, there are also concerts at Stadio Olimpico.
The main reason to go to the stadium is obviously for football reasons. If you love football, you will adore this place, and you will love the great history of the two teams in Roma. Their supporters are known as some of the most passionate in the world, for better and for worse. But there's no arguing that it is a great experience to go and watch a live match! Just don't openly support any other team than whichever Rome club is playing. A costly mistake that some football fans have made in the past.
Average attendance for Roma and Lazio matches is typically a bit over half full. So it is possible to get tickets – you can book online in advance. It is also possible to book tickets for a stadium tour, but you can do this simply by showing up and asking for it at the stadium.
Address: Viale dei Gladiatori, 00135 Rome, Italy
Exploring Rome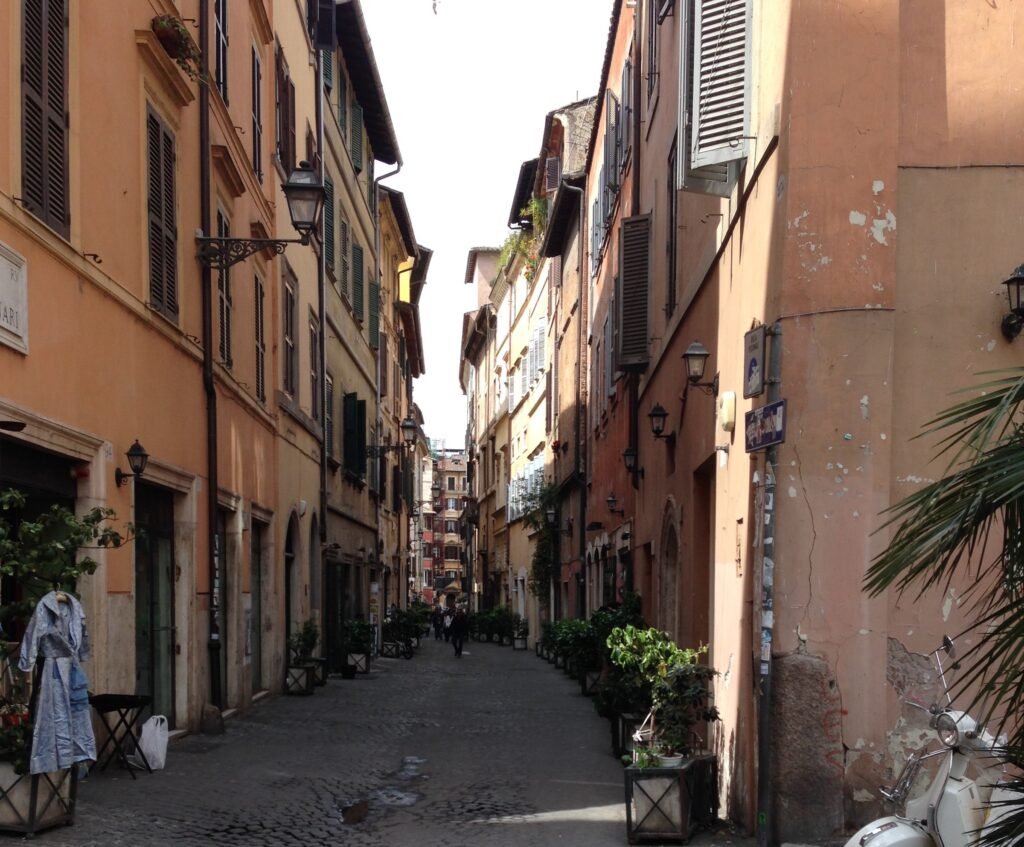 Obviously, it is good to have a list of specific things to see in Rome. This will ensure that you get to experience all the most important attractions.
But aside from that, you should also take some time off to casually explore the city.
The Italian capital is huge, and even a list of 101 things to do in Rome won't be enough to cover everything. Oftentimes, the best experiences on a trip are the ones that seem to happen out of nowhere.
If you have time for it on your trip, put aside one full day where you don't have anything planned, but where you simply walk around and let your intuition guide you. If a road looks nice, then take it. If a park looks nice, then explore it. If you see a nice cafe, don't hesitate to get in there and get something nice!
Because on top of all the well-known attractions, there are still many secrets in Rome, and you won't find them listed anywhere. It's up to you to find them! So don't be afraid to make a day without any plans and let things unfold by themselves.
Getting around the city
Rome is a huge city. You can walk around and see a lot of things if you are staying in the centre, but you might still need some quicker means of transportation if you want to see it all.
Rome has a metro that covers a lot of ground. The city also has trams and buses.
If you expect to walk around, for the most part, you can just buy single tickets whenever you need public transportation. But if you expect to ride with the metro a lot, it is possible to buy a 3-day tourist pass (BTI) which gives you unlimited access for a duration of three days. The prices start at 16.50€ which is reasonable.
Taxis can also be used, but it is more expensive, and some drivers cheat. So either make sure you're riding with a licensed taxi that runs by official prices or negotiate a price before getting into your cab. For longer drives, it can be nice to be in a taxi rather than the metro or a bus, and it is a useful method of transportation if you are going places at night.
To sum up, it is completely up to you how you want to get around the city. Some choose to walk as much as possible since that will also give more impressions along the way. The metro and the buses are great ways to travel cheaply around the city when needed, and taxis can be used for special occasions or for those who simply prefer it.
Full list: 101 things to do in Rome
If you didn't download the document in the beginning, here is the full list of 101 things to do in Rome.
We have separated the attractions/activities in different categories so that you can pick and choose what to do. Some travellers prefer the Ancient Roman attractions and architecture, while others are more into modern things like sports, parks and entertainment venues.
Ancient Roman attractions:
Colosseum
Forum Romanum
Pantheon
Palatine Hill
Castel Sant'Angelo / Mausoleum of Hadrian
Capitol Hill
Caracalla Baths
Diocletian Baths
Circus Maximus
Arch of Constantine
Nero's House
Villa Adriana
Trajan's Market
Religious places of interest:
Saint Peter's Basilica
Saint Peter's Square
Apostolic Palace
The Sixtine Chapel
Vatican Museum
Trinità dei Monti
Santa Maria Maggiore
San Giovanni Laterano / Archbasilica of Saint John Lateran
Santa Maria del Popolo
Santa Maria in Trastevere
Santa Cecilia in Trastevere
Basilica di Santa Croce in Gerusalemme
Santa Maria sopra Minerva
San Clemente
San Pietro in Vincoli
Landmarks, architecture, fountains and statues:
Trevi Fountain
The Spanish Steps
Piazza di Spagna
Piazza Navona
Piazza del Popolo
Victor Emanuel Monument
Piazza Venezia
Villa d'Este
Ponte Sant'Angelo
Quirinal Palace
Museums:
Galleri Borghese

Capitoline Museums
National Gallery of Modern Arts
Palazzo Barberini
Galleria Doria Pamphilj (in Palazzo Doria Pamphilj)
Etruscan Museum
Villa Farnesina
Museum of Rome
Sports:
Stadio Olimpico
Stadio Flaminio
Palazzo dello Sport
Parks:
Belvedere del Gianicolo
Villa Borghese Gardens
Villa Doria Pamphili
Parco degli Acquedotti
Vatican Gardens
Botanical Garden
Orange Garden (Aventine Hill)
Markets and shopping:
Via del Corso (for shopping)
Galleria Alberto Sordi
Monti neighborhood
Trastevere neighborhood
Via del Governo Vecchio
Via dei Coronari
Via Cola di Rienzo
Porta di Roma (mall)
La Rinascente
Campo de Fiori (market)
Special restaurants:
Eataly (food mall full of specialties)
La Pergola
Moma
Rosily
Felice e Testaccio
Trattoria Monti
Enoteca La Torre
Bonci Pizzeria
Pizzeria da Remo
Special bars:
Il Goccetto
Salotto 42
Terrazza Borromini
Bar del Fico
Litro
Day trips to nearby cities and towns:
Pompeii
Naples
Capri
Amalfi Coast
Civitavecchia
Ostia Antica
Tivoli
Castelli Romani
Orvieto
Assisi
Bracciano
Cerveteri
Florence
Pescara
Pisa
Anzio
You can download a PDF document with the list of things to do in Rome here!
Looking for a place to stay in Rome? Check the map below to find great hotels:
We wish you the very best trip possible!