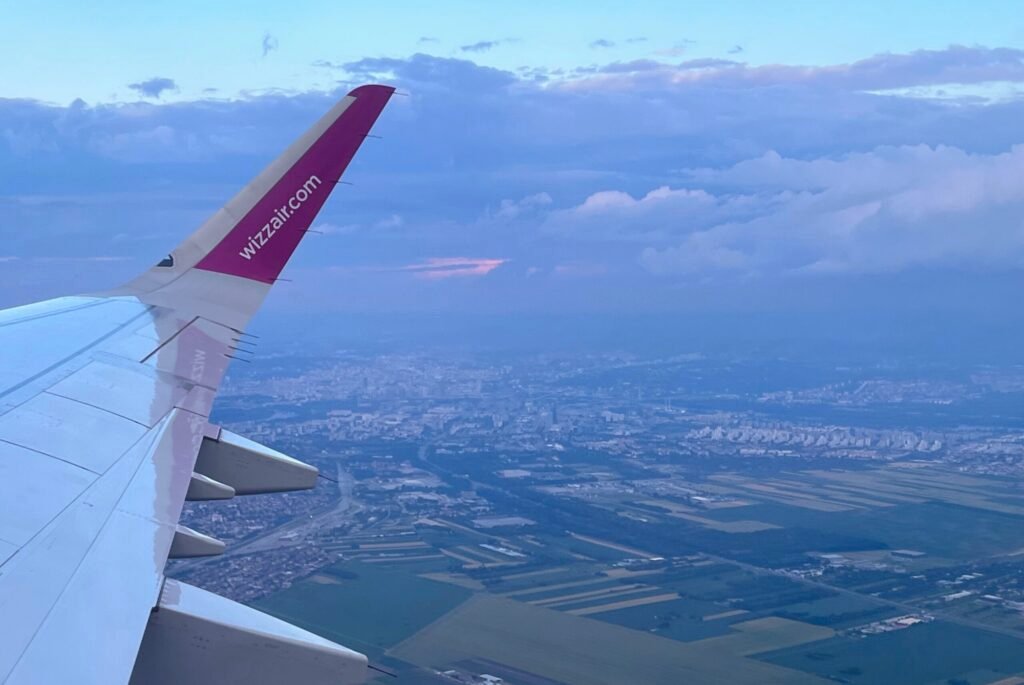 The Hungarian low-cost carrier Wizz Air usually provides the best opportunities for those wanting to explore Eastern Europe. Wizz Air has grown to become a major airline in Europe, as it now covers more than 150 destinations.
But what is it like to fly with Wizz Air? In this review, we cover everything you need to know about the airline.
Destinations
Wizz Air covers a wide range of destinations in Europe, the Middle East and Asia.
There is a specific focus on Eastern Europe. For instance, only rarely will you be able to fly between two airports in Western Europe, but there are many connections from the west to the east, and obviously between the cities in Eastern Europe.
Wizz Air is constantly adding new routes and moving into new regions, but we do expect the main focus to continue to be on Eastern Europe.
The main hub is Budapest, Hungary. The Hungarian capital is undoubtedly the best connected city on the Wizz Air route map. However, there are also some minor hubs in Poland, and Wizz Air now has a solid base at London Luton Airport as well.
To sum it up, Wizz Air is a great airline to use if you want to explore Eastern Europe. Depending on your origin, you may also be able to reach other destinations with Wizz Air.
Rating: 4/5
Prices
It is no surprise that prices are low when you fly with Wizz Air. It is basically the Eastern European version of RyanAir, and this allows passengers to fly cheaply around Europe.
While prices depend on factors such as destination, seasonality and availability, they are generally much lower than other airlines. If you book early, and you simply want a basic ticket without any extras, you can often get flight tickets all the way down to €10. This is insanely cheap, and Wizz Air has become a great competitor to RyanAir, as the two airlines often have similar prices.
If you book last minute, flights could become expensive though, and like most low-cost carriers you have to pay extra for everything. So if you have to print out your ticket at the airport, that will cost extra. Buying something on board? That will cost extra, too. Bringing any extra luggage or reserving a specific seat? You know where we're getting at – all the extra stuff (that is often included with traditional airlines) is for sale here. So there can be a lot of extra costs, but if you plan your trip correctly and you are aware of rules, it is possible to travel very cheaply with Wizz Air.
Rating: 5/5
Service
Don't expect great service when you fly with Wizz Air. There is very limited contact between the flight crew and the passengers – unless you are buying something or if there is a very specific issue.
If you want a cup of coffee or a sandwich onboard, you will have to pay for it – and unlike the tickets, these things are not cheap onboard. This is probably one of the main ways Wizz Air makes a profit.
The cabin crew often seems uninterested in conversing with passengers. Even RyanAir is better in this regard. On some routes, the pilots won't even make any announcements in English. If you are flying with Wizz Air to a place like Belgrade, there will typically be a Serbian crew, and in this example the pilots may only want to announce information in Serbian. The same can, likewise, be the case for other destinations. The safety briefing by the cabin crew will be done in English, though.
Overall, you can expect some of the worst possible service once you get inside the plane. This can be a big disappointment if you have been flying with a highly service-minded airline like Emirates recently. But then again, the reason to fly with Wizz Air is the affordability, so it probably doesn't matter much as long as you get to your destination for a cheap price.
Rating: 1/5
Fleet
All of Wizz Air's passenger planes are narrow-body aircrafts made by Airbus. The fleet consists of Airbus A320s and A321s. Depending on the aircraft, there will be room for anywhere between 180 and 239 passengers.
At the moment, the majority of the aircrafts in the fleet are a bit old, but Wizz Air has a few A320neo and A321neo in the fleet already – with more to come. Several hundred A321neo have been ordered, so in the future it appears that the majority of the fleet will consist of this model.
Since Airbus makes great and safe planes, Wizz Air scores well in this category. There are some limitations since these particular aircrafts are mainly suited for short and medium-haul flights. So they work well for flights around the European continent, as well as the Middle East, but they will prevent Wizz Air from expanding to the Americas. However, when it comes to quality and safety, it's all good. The rating is a 3 for now, but if Wizz Air adds a few long-range models, it could go higher.
Rating: 3/5
Safety
In general, Wizz Air ranks as a very safe airline. There has never been a fatal crash, and Wizz Air has been operating for almost twenty years at this point. Even when it comes to smaller issues, they are few and far in between. There have been reports of one pilot leaving the cockpit to converse with the cabin crew for an extended time, which could leave some passengers feeling anxious, but the safety record itself is great.
All the regular safety procedures seem to be taken onboard, and thanks to the fleet consisting only of Airbus planes, every Wizz Air pilot should be very well educated and experienced in the particular aircrafts.
Rating: 4/5
Conclusion
Wizz Air is a great carrier to use if you are looking for cheap tickets around Europe. Especially if you are going to Eastern Europe, where the connections are many. The safety record is great, and the fleet consists of top quality aircrafts. So there are many things Wizz Air does well.
The downsides are that there can be many additional costs, depending on what you need as you fly. Similarly, the level of service is almost non-existent so if you want an enjoyable and classy flying experience, Wizz Air can not be recommended.
Wizz Air does well as a low-cost carrier and appeals well to the kind of passengers who simply want to travel cheaply. If that includes you, it absolutely makes sense to fly with Wizz Air. Just make sure that your ticket covers everything you need. Wizz Air gets a good score overall, just be aware of the limitations.
Overall rating: 17/25
Book your flight with Wizz Air here!
(This article is NOT sponsored. It's a genuine review, based on flying with Wizz Air and researching the airline.)