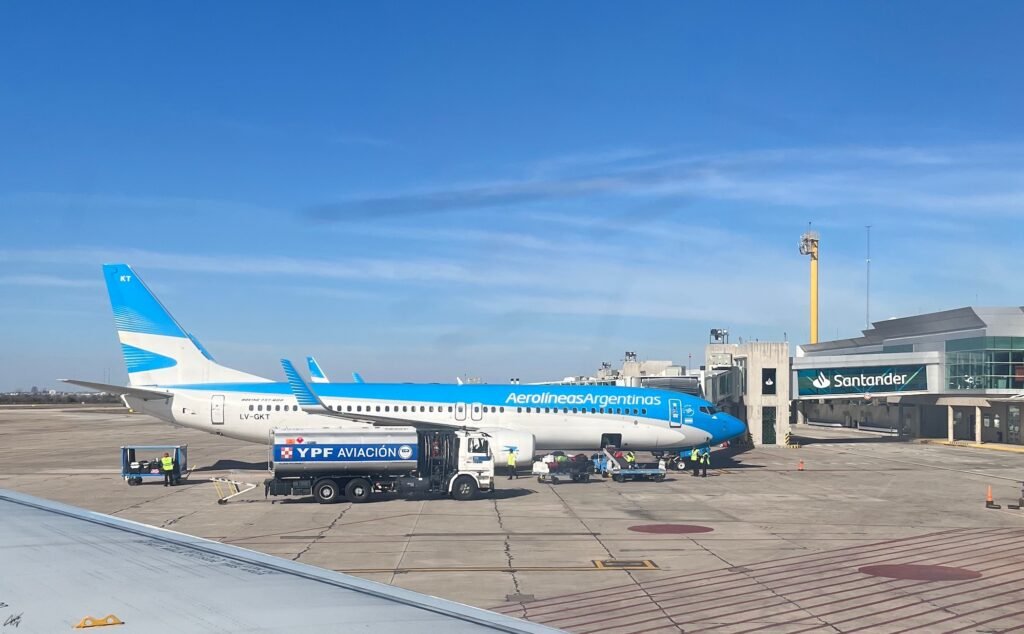 Is Aerolíneas Argentinas a good airline to fly with? The truth is that there are both positives and negatives. They have an excellent safety record and decent prices when flying around South America. For intercontinental flights, it can get expensive though.
We tried four different Aerolíneas Argentinas flights. Here is a full review detailing everything from prices, service, airplane conditions and food/snacks. You will also get information on their fleet and destinations.
Vamos!
About Aerolíneas Argentinas
As the name suggests, Aerolíneas Argentinas is the flag carrier of Argentina. It is often referred to as simply 'Aerolíneas'.
The airline is owned by the state after a renationalization in 2008. Furthermore, Aerolíneas Argentinas is part of the SkyTeam; an alliance of airlines that also includes Delta, Air France, KLM, Air Europa and others.
Aerolíneas Argentinas is headquartered at the Aeroparque Jorge Newbery in central Buenos Aires, with another major hub in Ezeiza – the larger airport on the outskirts of Buenos Aires.
More than 10,000 people work for Aerolíneas. The airline has a total fleet size of 78 and it covers more than 50 destinations.
Destinations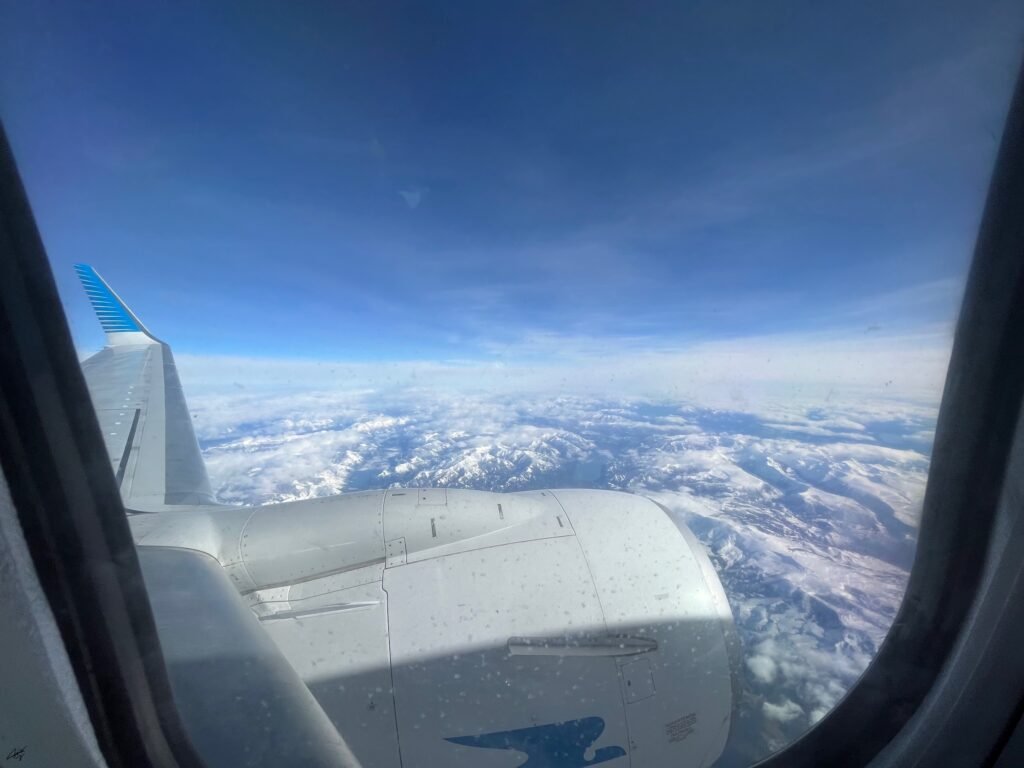 Aerolíneas Argentinas is present in all the notable airports in Argentina. Those include but are not limited to:
Aeroparque, Buenos Aires
Ezeiza Airport, Buenos Aires
Córdoba
Mendoza
Bariloche
San Martín de los Andes
Puerto Madryn
Salta
Ushuaia
Most flights go to and from Aeroparque and Ezeiza – these are the two major hubs, while Córdoba is a 'focus city'.
Other destinations in Latin America are also covered. Those include:
São Paulo Guarulhos
Rio de Janeiro
Florianópolis
Santiago de Chile
Montevideo
Punta del Este
Asunción
Lima
Bogotá
Santa Cruz (Bolivia)
Havana
Cancún
Finally, there are some regular connections to Europe and the United States. The main ones are:
Madrid
Rome Fiumicino
Miami
New York City JFK
So overall, Aerolíneas Argentinas covers a lot of destinations. If you include the destinations of its SkyTeam partners, there's almost no place you can't go as long as you're willing to take a layover or two.
But of course – Aerolíneas Argentinas is most useful when exploring Argentina. It will usually be the main option when you have to fly around that country.
Rating: 5/5
Prices
It's a little funny when looking at the prices. Because they depend a lot on the destination. Short routes are really affordable, while flights between Argentina and Europe are unrealistically expensive.
Because flights are typically very cheap when flying around Argentina. Popular routes such as Buenos Aires to Córdoba, Buenos Aires to Bariloche, Mendoza to Córdoba, etc – usually cost less than $100 for a base one-way ticket which includes both checked and carry-on luggage. Domestically, Aerolíneas Argentinas has really great deals. But you usually have to book around a month or two in advance to get the best price.
Flights between Buenos Aires and Uruguay are usually from $150 to $300. The same goes for flights to Chile, while those to Brazil can be a little more expensive on average.
Intercontinental flights to the United States are fairly reasonably priced, on par with other airlines that cover similar routes.
But flights between Argentina and Europe are usually very expensive. A return economy class ticket between Buenos Aires and either Madrid or Rome will usually be $2000 or more. You're better off selecting a European airline, such as Iberia, ITA Airways, KLM, or Air France if you want a decent price. With those airlines, there are at least frequent discounts and even the regular prices are lower than Aerolíneas Argentinas.
So it's a big plus for having cheap domestic connections, but a minus for the intercontinental connections to be so pricey.
Rating: 4/5
Service
The level of service depends on the length of the flight.
If you have a 1-2 hour flight, don't expect much – you essentially just go in and out of the plane. The staff greets you and is friendly, but there's not much else. For flights exceeding two hours, you are typically served a drink and a snack. For intercontinental flights, full meals are served.
We have to add that the people working for Aerolíneas at the check-in desks are extraordinarily kind and always good at English. So that is a massive plus.
However, it would be nice if they could give more attention to passengers and hand out snacks on the shortest flights, so a perfect rating is not obtained in this category yet.
Rating: 4/5
Fleet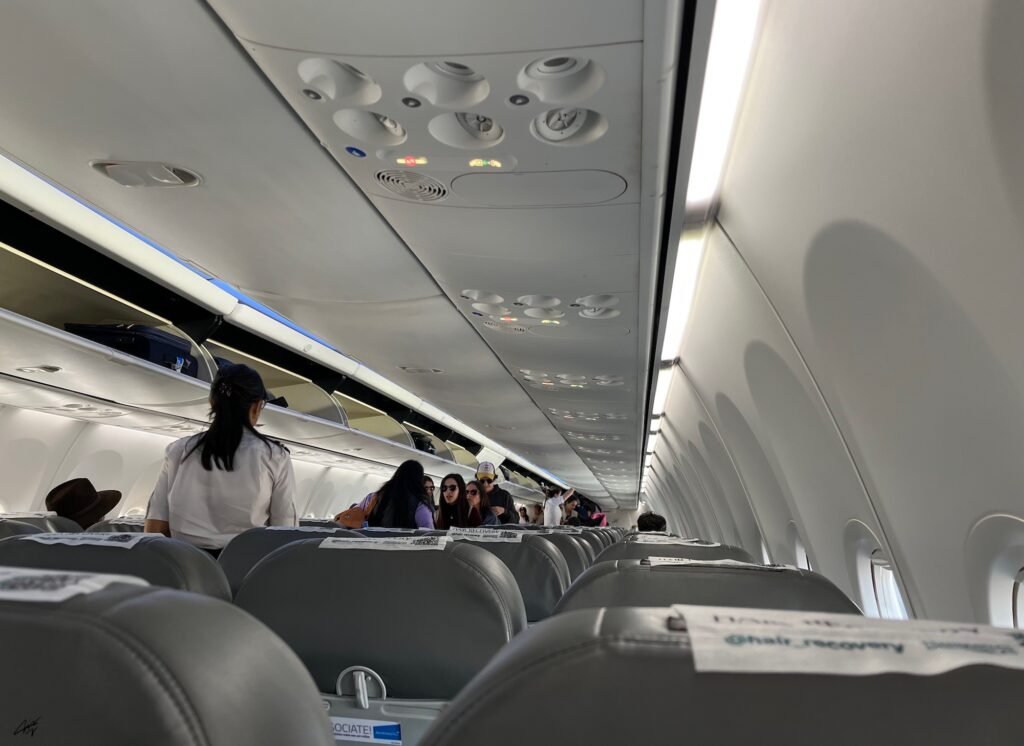 Aerolíneas Argentinas have a wide selection of airplanes in their fleet.
On long distance routes, they use the Airbus A330-200 of which they have 9 in total.
On short flights, they use either the Boeing 737-800 or the Embraer 190 on the vast majority of routes. They have some 737-700 and 737 MAX 8 in the fleet as well, but not quite as many as the two other models.
While the airplanes seem to be in good condition, some seats can look at little worn, and the seat numbers are not always so visible on some models, making it hard to see where you're supposed to sit.
However, there's no doubt that Aerolíneas Argentinas employs some of the best aircrafts out there. And having both wide-body and narrow-body airplanes, they are able to cover destinations both far and near from their hubs in Buenos Aires.
Rating: 4/5
Safety
Aerolíneas Argentinas has a really good safety record with no fatalities since 1970.
The Aviation Safety Network ranks them as one of the safest airlines in the world. So you can feel pretty calm about flying with Aerolíneas Argentinas, as accidents are very rare. The staff is professional and the aircrafts are some of the best on the market.
Obviously, we have to give Aerolíneas Argentinas a perfect rating here.
Rating: 5/5
Conclusion
Aerolíneas Argentinas is not the fanciest airline in the world, and the service isn't quite top-notch, but everything is very good. You know what you get with them, and if you have to fly domestically in Argentina, it is by far the best airline to fly with.
For intercontinental flights, we wish they were a little cheaper – at least on the same level as European carriers.
But still, Aerolíneas Argentinas is a nice airline overall. The great safety record and large variety of destinations make them a force to be reckoned with in the aviation industry. We specially love that it's easy to find cheap flights within Argentina and somewhat cheap flights from Buenos Aires to the main destinations of South America. If you happen to ever find yourself in Argentina, you will likely be traveling with Aerolíneas at some point and with everything considered, that's a really good option.
Overall rating: 22/25