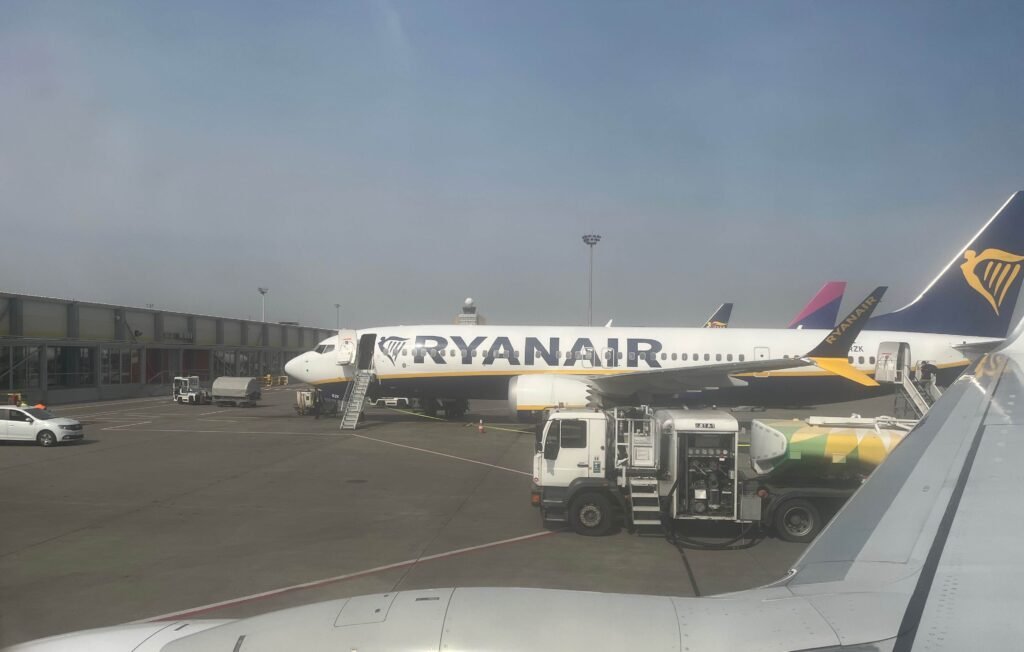 Ryanair is an incredibly popular airline in Europe. The company is often criticized for extra charges and bad working conditions, but if you want to fly affordably as a passenger, Ryanair will always be an obvious choice.
In this Ryanair airline review, we are rating Ryanair based on its destinations, prices, level of service, fleet and safety record. Additionally, you will get information about what it's like to fly with Ryanair, how you can make the most of the experience, and in which cases it makes sense to use this particular airline.
Destinations
Ryanair currently covers 37 countries and over 200 destinations. Most of these are in Europe, but Ryanair has also opened routes to countries such as Jordan, Israel and Morocco.
So you can fly just about anywhere in Europe with Ryanair, and that is a massive advantage.
The main hub of Ryanair is Dublin, Ireland. There are plenty of routes to and from the United Kingdom. Ryanair frequently opens routes between airports that have not previously existed. The route map is complex, and you often see the same aircraft covering several different connections per day.
There are only two downsides when it comes to Ryanair.
First and foremost, they only have short and mid-range aircrafts, so they don't cover long distances. For instance, you can't fly between Europe and the United States with Ryanair. Perhaps they will expand to more continents some day, but for now you are limited to Europe, as well as destinations around the non-European sections of the Mediterranean.
Secondly, Ryanair often uses alternative airports and not always the main airport of a city. Examples would be the Stansted Airport in London, or the Hahn Airport in Germany. The latter is promoted as an airport in Frankfurt but is actually 120 km away.
Ryanair scores high due to the many destinations all around Europe. But the airport names can sometimes be deceiving, and with Ryanair you are limited to just one part of the world.
Rating: 4/5
Prices
Ryanair tickets are known to be dirt cheap. You can often fly between major destinations for just €10-20. This is extremely affordable compared to traditional carriers, and it is the main reason to fly with Ryanair.
However, Ryanair is also famous for their many extra fees. You don't really get to bring much luggage, not even a regular-sized carryon, when you buy the cheapest ticket. Nothing is included in the flight, not a meal or a drink, not even the airport boarding pass. So you must be prepared to deal with the bare minimum when flying with Ryanair – unless you pay extra. If you're traveling on a cheap ticket, you can only bring a small bag, and you will likely have to show your boarding pass on your phone. We'd also recommend buying some sort of snack in the airport, before boarding the plane – it can be surprisingly expensive to get a drink or a sandwich once inside the plane!
Still, Ryanair gets a 5/5 rating when it comes to prices. It is amazing for people to be able to travel around Europe so affordably. Ryanair basically invented the ultra low-cost model and if you don't need a bunch of extra stuff, you can easily take advantage and get to travel a lot.
Rating: 5/5
Service
Obviously, you won't get much service with Ryanair. When you pay for a flight, the ticket is all you get. Everything else is extra, and you need to pay for it. So if you need to print out your ticket at the airport, bring an extra suitcase, or if you want something to eat or drink onboard, you will have to bring out the credit card.
Don't expect to have much contact with the cabin crew when you fly. Ryanair is not like the traditional airlines where they regularly check on you and offer free snacks.
With that said, the Ryanair crews are usually quite friendly when you need something. And they all speak English. This is something that people often take for granted, but try flying with Wizz Air or another low-cost carrier outside the west, and the primary way of communication might not even be in English. For these reasons, Ryanair avoids the lowest score, yet we still can't rank them highly when it comes to service.
Rating: 2/5
Fleet
Ryanair and its sister airlines have an impressive fleet mostly consisting of Boeing 737 aircrafts.
In fact, with 409 Boeing 737-800s in service, Ryanair is the second-largest operator of this model in the entire world.
These aircrafts are decent, they have a solid safety record, and the Ryanair pilots are all well-educated in flying them. However, unlike other airlines operating The Boeing 737-800 aircrafts, Ryanair has ordered them specifically to only have a one-class layout. That means it is impossible to fly traditional business class with Ryanair, and the entire plane can feel a bit less spacious and more dense.
When it comes to modernizing the fleet, Ryanair is mostly ordering new Boeing 737-MAX 200 models. The 737 MAX model is a controversial aircraft since it had two major accidents (with other airlines, not Ryanair) and many pilot complaints before it was grounded. The 737 MAX model has once again been cleared by authorities, and the issues appear to have been fixed, but some passengers may feel anxious due to the early history of the Boeing 737 MAX.
If you fly with Lauda Europe, part of the Ryanair Group, you will be traveling inside an Airbus A320-200. But the regular Ryanair flights, plus all the other sister alines, all fly Boeings.
Overall, Ryanair has a nice fleet mostly constructed by Boeing. But they are all short to mid-range, and some passengers may have concerns flying with the 737 MAX model. Fortunately, most of the aircrafts used at the moment are still the good old 737-800s, so that saves Ryanair from a worse rating in this category.
Rating: 2/5
Safety
Despite the controversies around the 737 MAX, Ryanair's fleet (at this point) mostly consists of the 737-800 aircrafts that have a strong safety record.
And most impressively, Ryanair has never had a fatal accident in almost 40 years of service. There was an incident back in 2008 with Flight 4102 due to bird strikes when landing in Rome Ciampino. Ten people aboard were injured but everyone survived.
So it is safe to say that Ryanair has a great safety record. The pilots are well educated in the Boeing 737 aircrafts and most Ryanair flights feel as smooth as they come. Any airline that has operated for such a long time without any fatalities deserve a strong rating, so that is exactly what Ryanair gets.
Rating: 5/5
Conclusion
Ryanair is certainly not the best airline in the world when it comes to service. But they do have ultra cheap tickets, they have a great record when it comes to safety, and they have all sorts of unique airport connections in Europe. So the overall score is not too shabby, and Europeans should be thankful that such a low-cost option even exists. It certainly opens up a lot of travel opportunities.
Overall rating: 18/25
Book your flight with Ryanair here!
(This article is NOT sponsored. It's a genuine review, based on flying with Ryanair and researching the airline.)