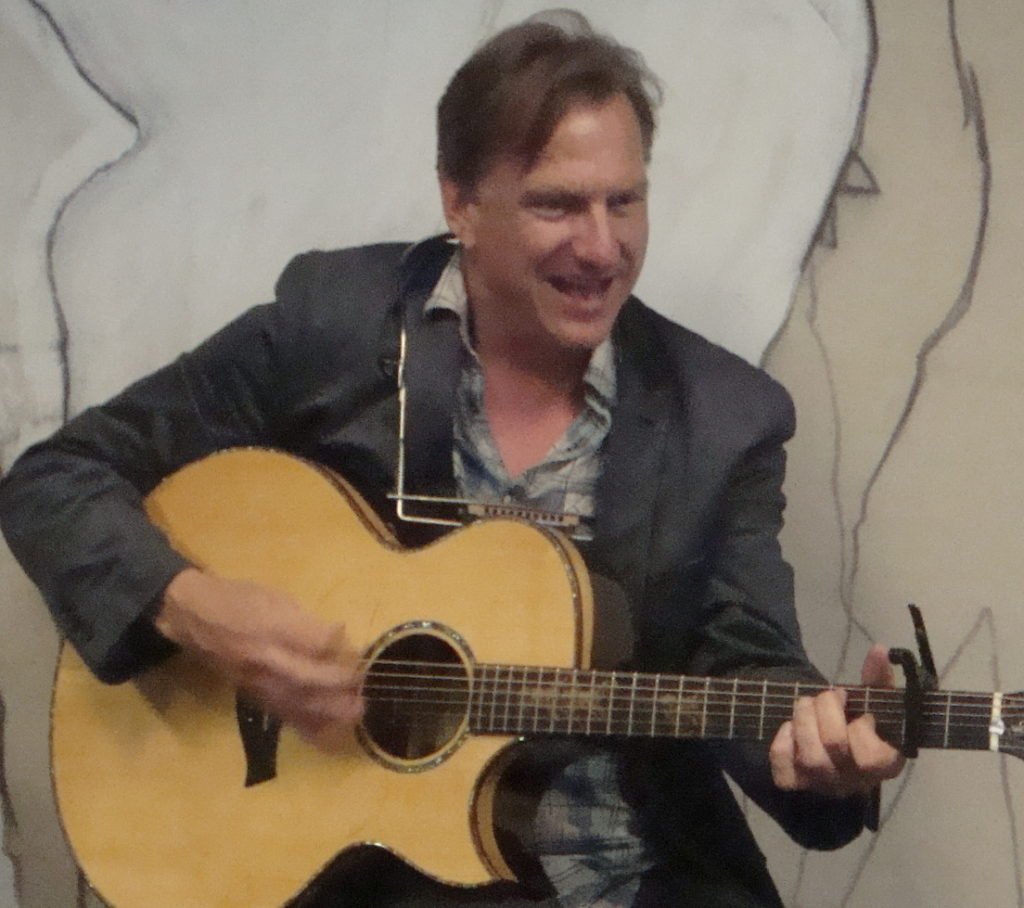 Ellis Paul is an incredibly talented singer-songwriter, self-identifying as a folk musician. Many of his songs involve traveling, and Paul himself plays countless concerts every year, almost constantly being on the road.
In 2019, he released "The Storyteller's Suitcase". A great album, but his entire career has been nothing but impressive. Let's look into Ellis and his music – because many of his songs definitely belong on your travel playlist.
An authentic musician
Ellis Paul is the definition of an authentic musician. He writes all of his songs on his own, or in collaboration with other folk musicians – aside from the occasional cover. Furthermore, he is very often seen up on the stage completely on his own.
Even when you check Ellis Paul's own YouTube channel, it will often feature solo performances in
That's a clear a look at Paul's talent. As a songwriter, he is highly underrated and arguably among the best in the world. As a singer, he is talented although not perfect – but as we know, that has never been the requirement of a folk singer, or even of a rock singer. Just look at Bob Dylan. As a guitarist, Paul regularly impresses: Not so much with outstanding technique, but rather with creativity in how the rhythm follows the words, and particularly with his regular adventures into open tunings.
Overall, the strength of Ellis Paul and his songs lies in the authenticity he brings to the table.
Authenticity is something that is truly lacking in most modern musicians, so it is refreshing when there finally is an artist who can provide it.
For that reason, listening to Ellis Paul is absolutely perfect when we are out traveling. When we are out discovering the world, living out our dreams, we are not looking for something fake or something that is just made to entertain: We are looking for something that moves us, something that is truly authentic. And therefore, many songs of Ellis Paul should be enjoyed by us adventurers.
Wide variety of travel songs
Many of Ellis Paul's songs are directly centered around the theme of traveling and being on the road.
Perhaps the best example is his early hit, 3000 Miles. Here's a part of the lyrics that many young travelers can possibly relate to:
Now twenty-one is as good a guess as any age that I'd confess to,
Let's just say I'm old enough to get away.
Back in school, I found the only written truth
On bathroom stalls and telephone booths,
I studied a while, but college got in my way.
But I've learned much more from the back of this Greyhound,
Believe me, I've been here fourteen days!

Three thousand miles,
I've come a long, long way,
Three thousand miles…

Have you seen how the world outside is turning?
And it's yours, hey we were put here for the learning,
People talk to themselves on Greyhounds, even the driver strains to hear
They tell the same forgotten story, will it fall on forgetful ears?

Lyrics from '3,000 Miles' by Ellis Paul
Another prime example of inspiring travel lyrics is found in the love song, Take All The Sky You Need:
You turn a blue eye to me and you look right through me,
You said define what you think freedom means…
If you want freedom

We can wake up this lullaby town,
Burn through every red light we've found,
Lift a dust cloud, break the speed of sound…
You could break free

If you want to run I'll pack my suitcase,
If you want to stay I'll make a front door key,
And if you need space to fly free …
Take all the sky you need

Lyrics from 'Take All The Sky You Need' by Ellis Paul
The theme can also be spotted, perhaps more subtly, in the beautiful song, Sweet Mistakes. The song was features in the movie Shallow Hal:
So if you live your life in a three piece suit,
In a cocktail dress, or in combat boots
You pick your path, you walk your truth
And the world will come round to you

It's a long strange ride, I can't tell you why
But there's a place in your pocket where peace can abide
You pull it out, it's a compass, a guide
And it will put a little soul on you

Bless your sweet mistakes,
That crumbled you down to your knees.
That brought you to this place
Changing you by degrees…
When change was just what you needed…

Lyrics from 'Sweet Mistakes' by Ellis Paul
The song Take Me Down offers a different perspective on travel. You could argue it is a bit negative, but we must remember that everything in life brings us emotions, and that sometimes we gotta do what we must:
I'm a one man line at the twenty-four hour store
I'm in a town that reminds me of my home town streets
I roamed the aisles a thousand miles from what I was looking for
A familiar face that would smile at me sweetly

…

Everybody needs a place to call home
A roof over head, a bed for dreams of their own
I've never been so lonely as when I told you I was leaving
This time I'm really leaving

Lyrics from 'Take Me Down' by Ellis Paul
But perhaps the best travel songs are found in Ellis Paul's newest album, 2019's The Storyteller's Suitcase. Two songs stand out: Kiss Me 'Cause I'm Gone and You'll Never Be This Young Again:
Standing still would kill me,
But it'd thrill me,
To think I could, I might!
But this road song, it's a soul song,
Kiss me 'cause I'm gone!

Sunset Indiana, sunrise in Nebraska
See the Rockies 20 miles away.
The Sangre De Christos,
Twelve hundred miles to San Francisco
Hit the gas, I'm on my way!

'Cause I'm gone,
One click of the suitcase and I'm on my way
I'm gone,
No more waiting on lights that are slow to change
I'm gone,
Chasing the white lines down the old highway
Looking for a story,
Looking for someone who could make me want to stay

Lyrics from 'Kiss Me 'Cause I'm Gone' by Ellis Paul
Some of us have a sensation of how we simply have to go. Travel is the only option. And sometimes, we just need the last bit of inspiration to make the first step.
You only get so many heartbeats …
You only get so many first kisses, so sweet,
Dreams don't come easy and they don't come cheap,
Don't let the haters kick them out of you

Oh, you'll never be this young again
The train conductor's calling your ticket
And if it ain't now, then when?

The mountain top ain't gonna wait forever, fill your lungs with oxygen
And take your first step, breathe out, breathe in,
You'll never be this young again

Lyrics from 'You'll Never Be This Young Again' by Ellis Paul
Fascinating city songs
Not only are many of Ellis Paul's songs about travel in general. He has also made several songs about certain cities and states. These songs are wildly inspirational as well, giving a huge urge to visit, simply based on the words and the accompanying music.
Just take a look at Empire State, a song about the Empire State Building in New York:
I'm the Tower of Babel,
You want stories, man, I've got stacks
I rose up from the gravel,
With the crack of a hammer threw the gorilla off of my back

I cried that September Tuesday,
When the Towers came crumbling down
For as long as I'm standing,
I'll be the guardian of New York town

From the seventh wonder of the world
The world is nothin' but a tiny pearl

I don't know what will come tomorrow,
But I'm standing strong today
I was forged in steel,
I'm the king of the newsreel
That's how the Empire State's gonna stay

Lyrics from 'Empire State' by Ellis Paul
The Christmas song Snow In Austin is another great example:
I woke up to frost on the window,
I've been sleeping in a snow-globe town
Six inches on the ground
You always said I'd never would see a white Christmas,
Snow angels never make it to Texas
But you were wrong,
They're singing Hank Williams songs

If snow can fall in Austin,
Why can't you fall into my arms?
So you say your home is Boston,
What's New England got on all these Texas charms?

Lyrics from 'Snow In Austin' by Ellis Paul
Ellis even wrote about small, almost unheard of towns, such as Homer, Alaska:
Now mountains rise from ocean to sky in Homer, Alaska
And they'll steal your breath and your troubles in the blink of an eye
You'll hear a band with a steel guitar, there's a window seat right at the bar
The whales are breeching, Alice is preaching "Like a Rolling Stone"
She'll push a mason jar across the bar and say "Mister, welcome home!"

You've never been to a prettier place than Homer, Alaska
You'll never find a kinder face than the one behind the bar
Homer's a town full of misfit toys, renegade women and runaway boys
Everybody's got some story here in Homer town
I guess sometimes you gotta go to the end of the earth,
Just to turn yourself around!

Lyrics from 'Alice's Champagne Palace' by Ellis Paul
Ellis Paul's best songs and albums
Overall, Ellis Paul has been a big source of inspiration for many travelers. We highly recommend looking into his music. It's not for everyone, and it depends a lot on taste. But if you are into folk-rock, folk-pop or simply enjoy authentic music with great lyrics, then give him a listen.
Here are some of his best and most popular songs, aside from the ones already mentioned:
The World Ain't Slowing Down
Maria's Beautiful Mess
All Things Being The Same
The Speed of Trees
The Hero in You
If you want to listen to whole albums, then check out the following:
Ellis Paul Essentials (this album contains most of his best early songs)
The Storyteller's Suitcase
Chasing Beauty
The Speed of Trees
Sweet Mistakes
American Jukebox Fables
The Day After Everything Changed
Visit Ellis Paul's website for more information on tours, shows, concerts, etc. He even offers teaching, and you can buy CD's and merchandise on the site.