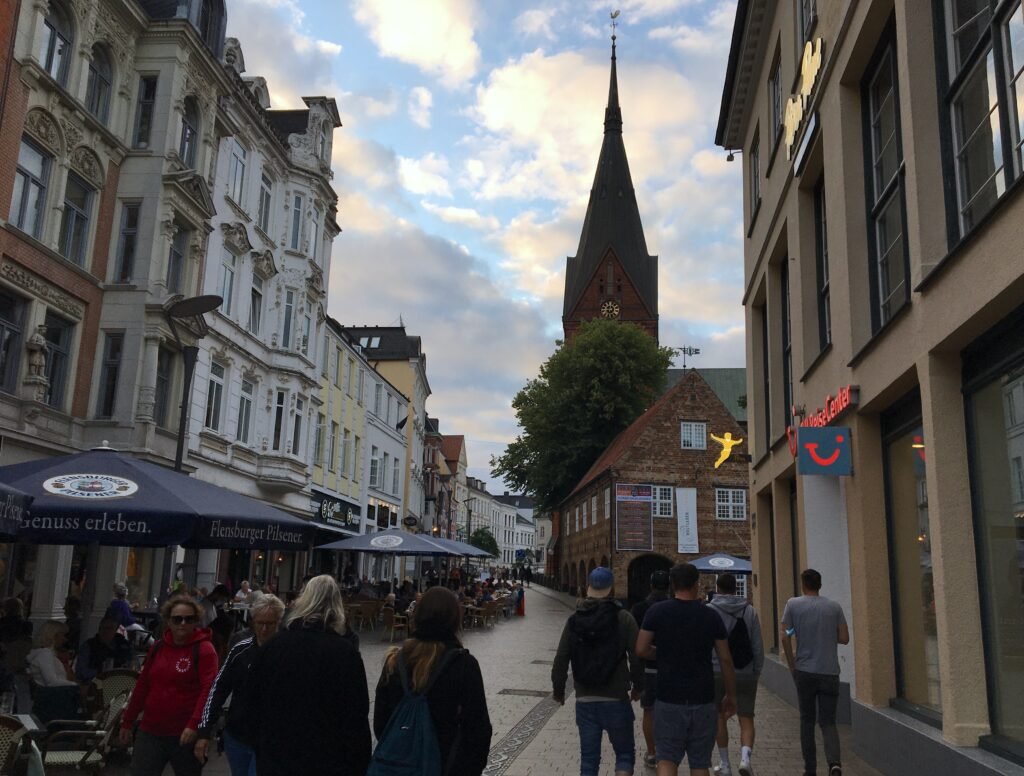 The German city Flensburg used to belong to Denmark. Since it is located right at the border, it shares both the Danish and the German culture, and it is a city with plenty of attractions. Get an overview of all the best things to do in Flensburg here!
89,000 inhabitants may not sound like much, but Flensburg is still one of the main cities in the region – and it has a rich history. That makes it a great city to visit, even if it's just for a day or two. Many people visit Flensburg as a day trip from Hamburg. How you do it is up to you – we simply want to guide you towards the best attractions so you can have the ideal trip. Let's get going…
Flensburg harbor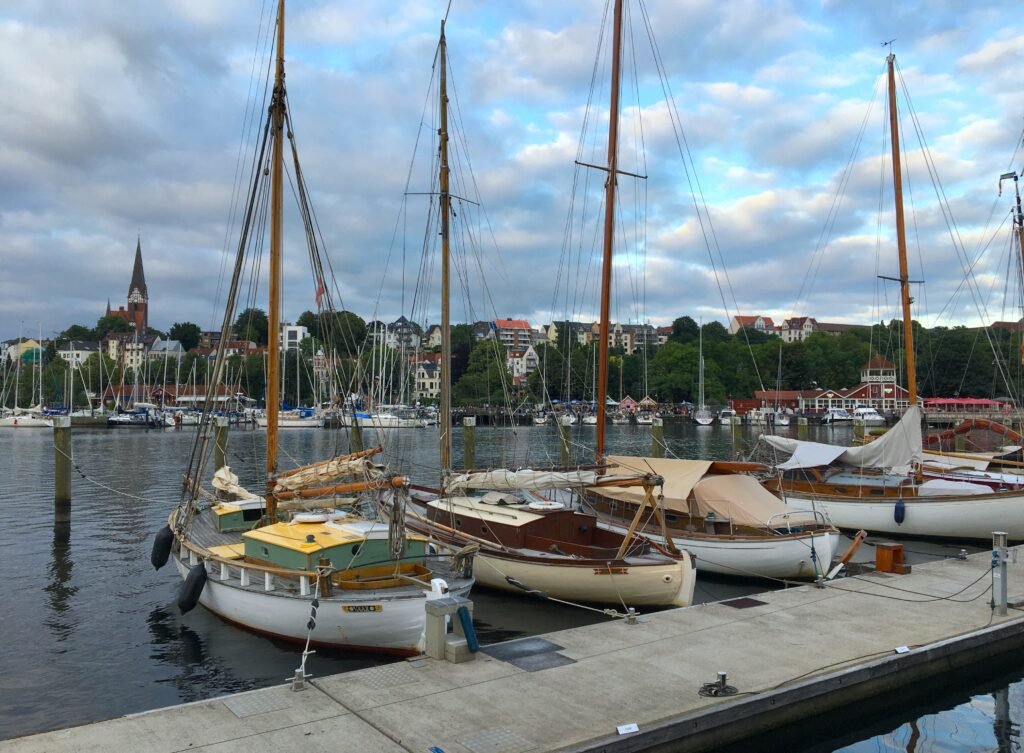 The harbor has always meant a great deal to the city of Flensburg. As a coastal city, it has a significant history of trading. Flensburg had its heyday in the 18th century when it was still a part of Denmark. But the history of the harbor dates all the way back to the 1400s. Throughout those centuries, it was the main center of trading between Denmark and Germany.
As a cultural tourist, it is a must to visit the harbor. It's a significant place historically, and it is quite an enjoyable place. Several museums are located in the area, and there are also cafés and restaurants nearby. And as you would expect, the harbor is still working, so you can always go there and enjoy the view of the ships!
Marienkirche
Marienkirche, or Vor Frue Kirke as it is known in Danish, has become a symbol of the city.
That also makes it one of the prime attractions. This impressive church is located at the northern square and it was built back in the 13th century when it replaced a smaller wooden church that was built by the Romans. This one is much more majestic, which is mostly due to the addition of the church tower in 1731.
It is one of the most important Lutheran churches in Northern Germany. The style is very Nordic with its red exterior. Many experts argue that it has the prettiest interior among all the churches in Flensburg. Marienkirche is also famous for its choir, Bach-Chor. Overall, it's simply a must-visit!
The red street
In the inner part of Flensburg's center, we find the red street – or Rote Straße as the locals call it. It can be a bit confusing since the street and most of its surroundings are not actually red. They simply took the name after a nearby hill.
Once this street was a center for the famous rum houses in Flensburg. Rum was very popular and frequently sold here a few centuries ago. It is still full of bars and places. to drink. So if you want to go out – not just for a quick party, but actually to try some quality drinks – this street is the place. It is perfect for anyone interested in liquor, and you can try everything from quality rums to whiskey, grappa, various wines, and of course beers as well.
The street also has some traditional buildings, souvenir shops, and flowers adorn the red street for most of the year. So even if you aren't into drinking, you should definitely take a walk here.
Nordertor
Nordertor (or Nørreport) is an important monument in Flensburg. There are just two historical gates still remaining. This is one of them, and definitely the most impressive one.
This gate was built in 1595 and it was meant to represent the city's privilege as a marketplace. It's considered to be another symbol of the city, so seeing it is a must – and it isn't much of a problem due to its good location.
Several times, authorities considered removing the gate, but somehow it ended up being restored instead. That happened just before World War I. Perhaps this decision brought good luck because Nordertor was very fortunate not to be hit by bombs during both world wars.
Nearby, there is another popular attraction – Phäenomenta.
Phäenomenta
Phäenomenta is a science center and museum. It is centered around science and tech, so if you are interested in these things, you will get a great experience here. It is possible to have lunch inside, so you can easily spend several hours.
Phäenomenta is open between 10 am and 6 pm during weekdays, and between 12 and 6 pm during weekends. Entry prices vary depending on age – with the highest ticket being 11 euros for adults.
Museumsberg
This is one of the largest museums in the entire region. Museumsberg is a giant building in Flensburg and most definitely one of the top attractions. Located in a historic park on a hill next to the old town, it is easy to visit, and even the exterior is enough to impress.
However, you need to get inside as well. Museumsberg focuses on art, which it has done ever since its opening in 1876. There are many exhibitions; some are permanent, while others are temporary. The collection of art primarily consists of paintings, drawings and sculptures dating from the Middle Ages up until the 19th century.
Schifffahrtsmuseum Flensburg
We mentioned the importance of the harbor earlier. Here is a museum focused on maritime history. It is located in an old building with a traditional Danish style. The museum exhibits much of Flensburg's history as a coastal city. You will see old parts from ships, and you will see examples of the things that were frequently brought into the city in the past centuries.
Schifffahrtsmuseum Flensburg is particularly focused on Danish history, and it always has exhibitions related to Greenland and to the Danish West Indies (now the US Virgin Islands) since the city used to trade a lot with these places. It is by far one of the best attractions in Flensburg.
As a bonus, one part of the building is an independent museum focused on rum (it is located in the cellar). We mentioned the red street earlier, and how rum has been an important part of local history. In fact, this small museum in the cellar of the Schifffahrtsmuseum is the only one in Germany that is specifically dedicated to rum!
Nikolaikirche
This old church is located by the southern square of the city. It is the main German church of the city, named after Saint Nicholas. With a remarkable Gothic style, this church really catches the attention. It has a 90-meter tall tower, reaching above most other constructions in the city.
The front of the church is decorated with the shield of armor of King Christian IV of Denmark. It's a Lutheran church, and you can easily visit any day of the week. Sunday is obviously the best day if you wish to attend mass (in German, of course).
Johanniskirche
If you are really into churches, you should see this one as well.
Johanniskirche, or Skt. Hans Kirke, is located in the oldest part of Flensburg, and its history dates back to the 1100s. It's a very traditional church, and it is considered to be one of the three most important ones in Flensborg.
The church is dedicated to John the Baptist – on the inside, he is portrayed in a wooden figure. There are also a lot of frescos, one of them shows the family tree of Jesus.
This is definitely a church worth visiting if you are into culture, architecture and art.
Isted Lion
This famous sculpture is another must-see attraction in Flensburg.
It was made by the Danish sculptor, H.W. Bissen. He made it back in 1860 and it was placed at a cemetery in Flensburg. It beautifully portrays a guarding lion. In fact, it was created as a memory of a Danish military victory in 1850.
The bad news was that Denmark lost Flensburg to Germany four years after it was placed in the city. The Germans took it and moved it to Berlin where it remained up until 1945. After that, the Danish government received it again, as a gift from the US military who seized it, and the Isted Lion was then placed on a square in Copenhagen. It wasn't until 2011 that an agreement was made to bring it back to Flensburg as originally intended. Now, you can once again see it at the old cemetery in Flensburg, just as the artist intended. Due to its beauty and history, it is arguably the most important sculpture in Flensburg.
Flensburg Casino
We have covered a lot of historic and cultural attractions so far. Let's put our attention to some modern entertainment before rounding off the article!
If you want to try your luck, and if you can afford it, it is always fun to visit a casino. Flensburg has a nice one, and it is open every day of the year except for Christmas days. It closes late at night, so you can definitely get a fun experience here. Flensburg Casino is mostly famous for its nice blackjack and roulette tables. Regular poker tournaments are also held at the casino. And of course, it has some basic slots as well.
—
To conclude, Flensburg has a lot of great attractions. Usually, tourists go to Flensburg for just a few days. A day trip definitely makes sense if you're staying in Hamburg or if you're based in Denmark. But it is such a charming city that it also deserves more. So if you have the time for it, it is quite easy to spend a week or even longer here. We have another guide on where to stay in Flensburg – that could be worth checking out if you are planning a longer stay.