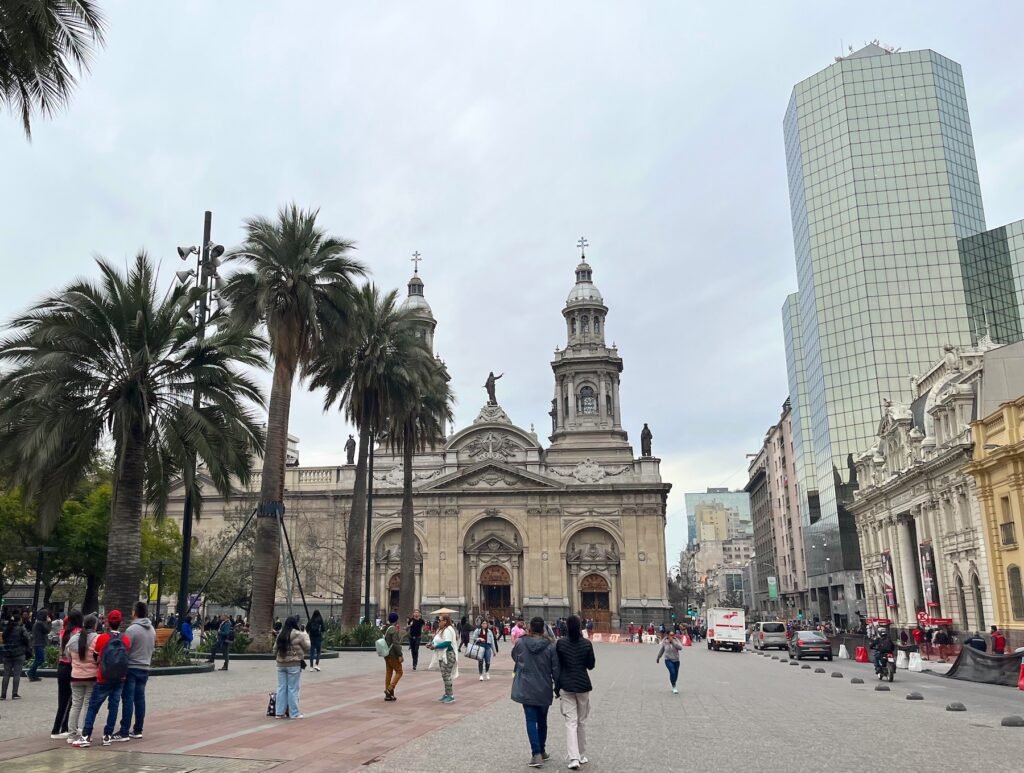 Santiago is a massive city with several interesting areas. Some neighborhoods can be sketchy so it's vital to find the right place to stay. In this article, we'll go through the best neighborhoods of Santiago de Chile.
Despite Santiago being an expensive city by South American standards, accommodation is fairly cheap. When you visit the Chilean capital, you will probably pay a lot for restaurant visits, groceries and attractions – but hotels are pretty fairly priced and Airbnbs are even more affordable.
Prices differ depending on areas and I would definitely say it's worth it to pay a bit extra to be in a nice neighborhood.
The overall best areas would be Lastarria, Bellas Artes, Las Condes and Barrio Italia. But other parts of Santiago can be considered as well. You can read more about what each area has to offer in the sections below.
In addition to the area recommendations, you will find a few hotel suggestions in each of the best areas.
Lastarria

Ideal neighborhood for: Cultural experiences, art, shopping
Hotel recommendation: The Singular Santiago
Lastarria is the neighborhood my Chilean friend recommended when I first went to Santiago. And staying there was a great choice – Lastarria is a relatively small area, but it has a lot to offer.
You will find cool street markets, nice cafés, cinemas, theaters, music shops and much more. It's a really authentic and artistic area. Plus, it's pretty safe and it's close to damn near everything. Barrio Lastarria is well served by the Santiago Metro and you can even walk to many of the key attractions of the city.
Cerro Santa Lucía is a wonderful attraction in Lastarria – an imposing hill with an old fortress. When you enter the gates and walk up the stairs, it looks so much different than the surroundings. It's a small oasis in the middle of the modern city.
As a whole, Lastarria is well suited for travelers who come to Santiago to experience the Chilean culture. First-time visitors can expect a pleasant first impression by staying in this neighborhood. And if you have already been to Santiago and are now returning for another trip, Lastarria should also be considered – it never really gets old and there's always something to do.
There are plenty of nice hotels and hostels in the area. I recommend The Singular Santiago if you want the best – it's a 5-star hotel in Lastarria where prices are actually quite reasonable.
If you want to stay at a hostel and meet other people, Hostal Forestal is a great choice. Solid location and incredible staff!
Bellas Artes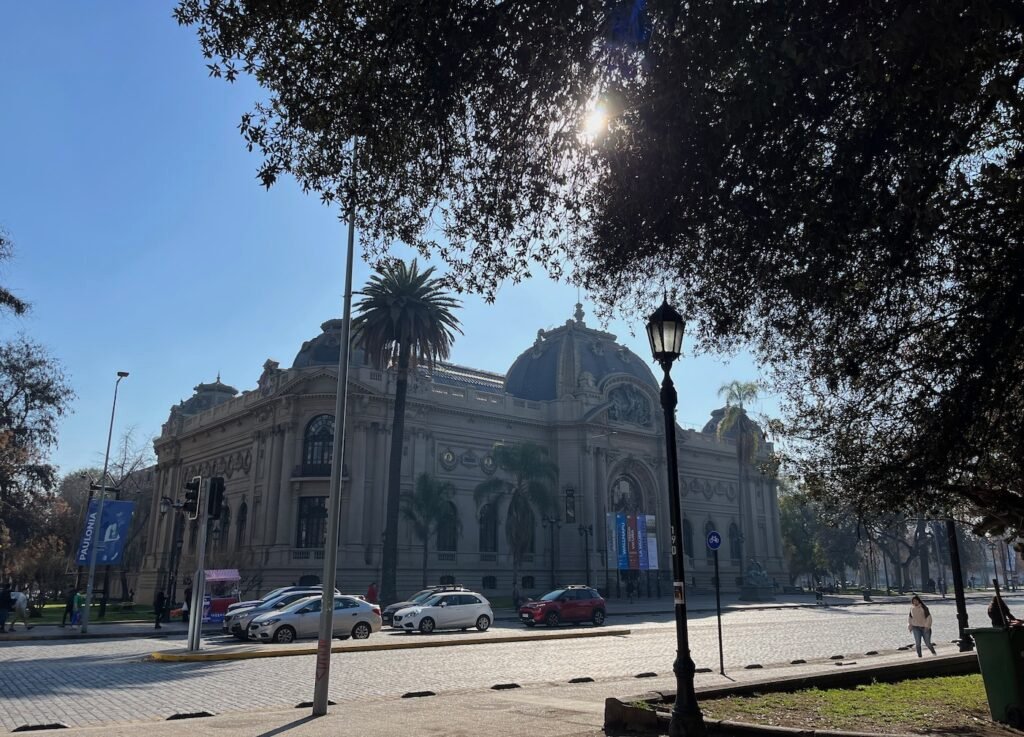 Ideal neighborhood for: Arts, museums, cultural experiences
Hotel recommendation: Hotel Sommelier Boutique
This tiny neighborhood is located directly west of Lastarria. It basically has the same vibe and it's an equally great neighborhood, although slightly more organized – fewer street attractions, more public buildings.
The area takes its name from Museo Nacional de Bellas Artes: Chile's best art museum, located in the northern end of the neighborhood. The museum is a must-visit regardless of where you're staying in Santiago. Another museum to visit in Bellas Artes is the MAC Museum of Contemporary Art.
Due to the presence of those two attractions, Bellas Artes is a great place to stay if you are into the arts and intend on doing multiple visits to one of these museums (I would say Museo Nacional de Bellas Artes should be visited more than once, to properly experience it).
The metro station Bellas Artes is located right in the middle of the neighborhood, giving easy access to the rest of Santiago. And from this neighborhood, it only takes a few minutes to walk west to Plaza de Armas or east to Lastarria. Overall, a perfect location.
Despite the neighborhood being small, there are several good hotels. You get the most value for your money at the Hotel Sommelier Boutique which is a cute and authentic hotel with a great location.
If you want to splurge, go for the highly rated 5-star Hotel Magnolia.
Las Condes
Ideal neighborhood for: City life, dining, shopping, business
Hotel recommendation: NH Collection Plaza Santiago
Las Condes is a pretty large commune in Santiago, and it's famous for being one of the richest areas in the entire country.
The far western end of Las Condes is the main business district of Santiago. It's known as 'Sanhattan' due to its similarity to Manhattan in New York City – you'll see skyscrapers, massive shopping centers, office buildings, luxury hotels, and also a hectic business environment!
Most business travelers will probably decide to stay in the part of Las Condes known as Sanhattan.
But this area can also be a decent option for tourists. Some of Santiago's best attractions are found in this district. The main one would be Gran Torre Santiago, also known as Sky Costanera. It is the tallest building in South America, and when you go to the top floor (which costs about $15), you get a perfect view of the city and the Andes mountains.
Staying near 'Sanhattan' is obviously a great choice, also because it has so many hotels and shopping options. Plus, it's a very safe part of Santiago since there's security and police everywhere. But you can also venture deeper into the commune of Las Condes where it's a bit more chill. And very high-end, to say the least. There are incredible restaurants in Las Condes.
Finding a hotel is easy since there are so many of them. Go to Booking.com to search for the best options. My personal recommendation would be the NH Collection Plaza Santiago. Simply because it's a hotel with all the necessary facilities, a wonderful location, and fairly reasonable prices compared to the other high-end hotels in this part of Santiago.
Barrio Italia
Ideal neighborhood for: Restaurants, nightlife, artisanal shopping
Hotel recommendation: Boutique Casa la Barca
Barrio Italia is a pretty cool area of Santiago. It's surrounded by a few metro stations, so getting there is easy. There is however a lack of hotels in Barrio Italia, but you'll find a few good hostels and several privately owned Airbnbs. So staying there is certainly a possibility.
The best reason to choose this neighborhood is that it has so many great restaurants. As the name suggests, it's a very Italian-inspired area. You'll see all kinds of people, but many of the restaurants and cafés are Italian. It's an incredible place to go for a pizza. There's also a solid variety of other cuisines, such as Peruvian, Japanese and Argentine restaurants. Plus local Chilean options, of course.
Prices can be a bit high in the area, but I'd say it's worth being in Barrio Italia whenever you want to go out. It's very popular among young people. Exactly due to the presence of so many bars.
That also makes Barrio Italia a solid choice for nightlife. Not necessarily a wild nightlife, but a very authentic one. Many of the bars are chill, it's common to find live music, comedy performances, or just great drinks. Barrio Italia has many fancy cocktail bars, but also down-to-earth bars with excellent craft beers.
There are not really any major hotels in Barrio Italia. I'd recommend going for Boutique Casa la Barca, an excellent boutique hotel just north of the neighborhood. Staying there gives you easy access to the restaurants and bars in Barrio Italia. Otherwise, try to find an Airbnb in the area. There are generally more holiday apartments in Barrio Italia than there are hotel rooms!
Other areas of Santiago
Of course, this massive city is not just limited to the areas listed above. In my opinion, those are the best ones, but you do have more options.
Centro, the historic center of Santiago, is highlighted by Plaza de Armas, the Metropolitan Cathedral, and the National Historical Museum of Chile. It's an excellent place to visit and I recommend everyone to stop by there to see the attractions. But staying near Plaza de Armas for the entire trip? I wouldn't do it. Too many locals told me it can be sketchy at times, with higher chances of pickpocketing and robberies. Especially at night.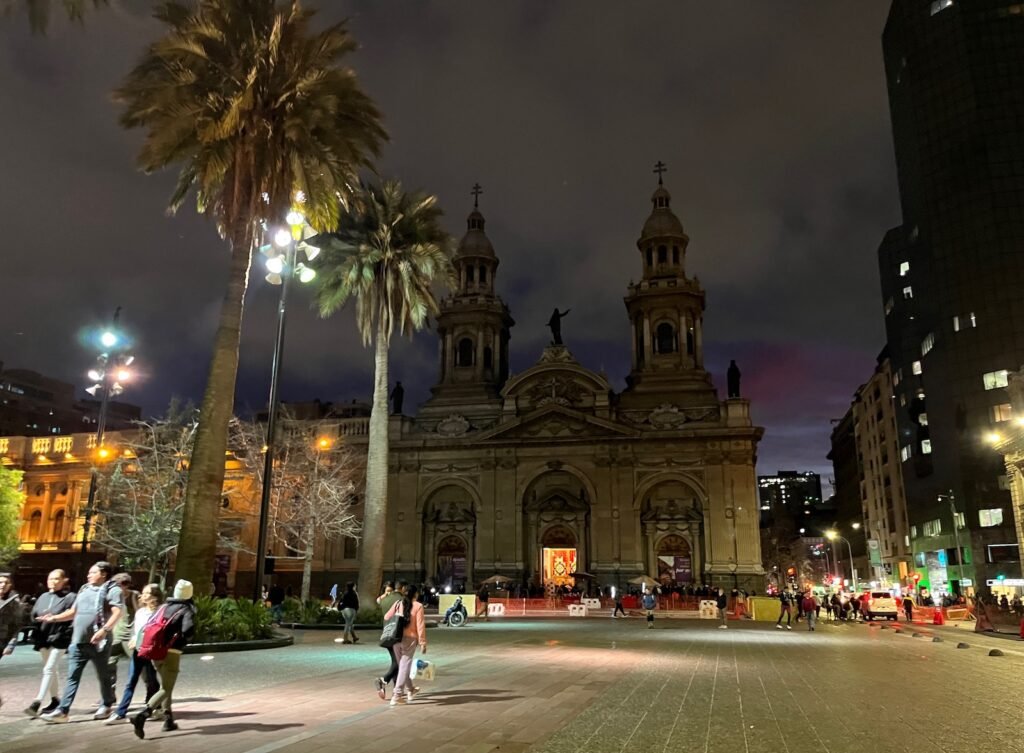 Barrio Brasil is the area around Plaza Brasil. A decent area, very central, and cheaper than the other neighborhoods listed so far in this article. Crime can be a bit of a concern, but not a massive risk either. There are some well-rated hotels in that neighborhood that you can consider.
Bellavista and Patronato, both just north of Lastarria, are solid areas if you are into nightlife. They have a lot of restaurants, bars and clubs. There are also several theaters in Bellavista. Some parts of these neighborhoods can feel a little gritty, but they are popular overall.
Providencia is one of the larger areas of the city center. So large that it covers several neighborhoods within it, such as Barrio Italia. It also borders Las Condes to the northeast, and that means some sections of Providencia are part of the city's main financial district – such as Barrio Suecia and Pedro de Valdivia. Staying in one of these neighborhoods within Providencia can be a really good choice, especially if you're traveling to Santiago on business or simply to get the 'big city' experience.
Is Santiago safe?
Safety is usually a key factor to consider when you search for accommodation in a Latin American city.
Fortunately, Chile is the safest country in South America and tourists are rarely targeted by criminals – if we look aside from pickpocketing and taxi scams.
Santiago is a huge city so of course common sense is needed – that's normal. But the fact is that it's safer than many North American cities and approximately on the same level as most big cities in Western Europe.
Some suburbs of Santiago should be avoided, but you aren't likely to go there as a tourist anyway. A few central areas like Centro and Plaza de Armas have risks of pickpocketing and robberies, but violent crime is rare for tourists.
You should always keep an eye on your belongings, don't use your phone on the streets at night (most locals will tell you this as well), and in Chile you can pay by card almost everywhere so there's no need to carry a big stack of cash around.
So as long as you have common sense and don't start any trouble yourself, Santiago is pretty safe, especially if you are staying in any of the best neighborhoods.
Conclusion
Where should you stay in Santiago? That was the main question going into this article. My top recommendation is the neighborhood Lastarria – with the best alternatives being Bellas Artes, Las Condes (specifically the 'Sanhattan' quarter) and Barrio Italia.
With that said, Santiago is a massive city and everyone has different preferences. That's why it's essential to find a neighborhood that matches your vibe. The area selection is an important part of planning the trip, and being in the right area can really make a big difference. However, I believe the neighborhoods listed throughout this article are solid for all first-time visitors, so you can choose any of them and expect a great stay in Santiago.