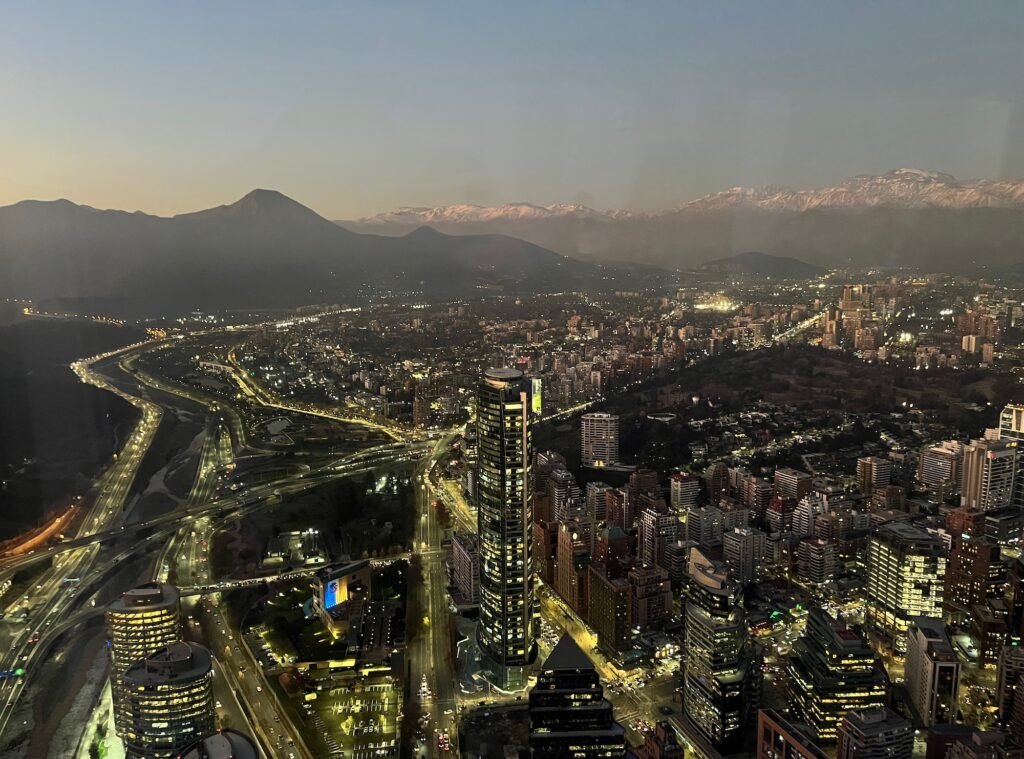 Santiago is one of the most visited cities in South America. Famous for its architecture and artistic scene, it is certainly a city that everyone should experience. Preferably in top-class accommodation, so here are some recommendations for luxury hotels in Santiago de Chile!
Several neighborhoods can be considered in Santiago. Most of the best hotels are located in either:
Lastarria
Barrio Suecia
Las Condes
Our favorite area is Lastarria, but below you will find a luxury hotel recommendation in each of these areas!
The Singular Santiago

Neighborhood: Lastarria
Starting price: $190
Average rating: 9.0/10
→ Book your stay at The Singular Santiago here
Featured in the book The Leading Hotels of the World, this hotel is usually considered the best in Santiago.
We stayed there for 4 days in July 2023 and it was absolutely incredible. The location is ideal for everyone who wants to do sightseeing, visit museums, and explore the old parts of Santiago. To be more specific, The Singular Santiago is situated in the neighborhood of Lastarria – a small area famous for its street market, shops, art and cafés.
Bellas Artes is just a few minutes away on foot, while the emblematic Plaza de Armas is also within quick reach. If you want to experience Santiago's nightlife, then Bellavista is nearby as well. And as for reaching the upscale Las Condes area, you can take the metro or a taxi.
The service is top-class at the Singular – even breakfast is a great experience. Relaxing at the spa is a great option on days that aren't so busy, and the rooms are extremely comfortable as well. As you would expect, rooms are cleaned around midday, but they are freshened up once again in the evening. You can enjoy a meal at the hotel restaurant or simply get food ordered to your room.
Prices start around $190 per night if you book at the right time. A fairly good price to stay at a 5-star hotel. Suites come at a higher price though, and generally you can expect higher prices in the peak tourist season (summer).
Solace Hotel Santiago
Neighborhood: Barrio Suecia
Starting price: $150
Average rating: 8.9/10
→ Book your stay at the Solace Hotel Santiago here
Another great option is staying at the Solace Hotel which is one of the most affordable 5-star hotels in Santiago de Chile.
Prices start at just $150, essentially making it equivalent to what 2- or 3-star hotels cost in Western Europe and the US, but you get a lot more for your money here.
The Solace is located in Barrio Suecia, which is one neighborhood that is part of the bigger area Providencia. It's essentially located near Santiago's main business district, but you also have some great tourist attractions nearby. For example – the Japanese Gardens and the Sky Costanera.
The hotel has a beautiful interior with large rooms and hallways that are well decorated. The view is incredible, as the hotel is surrounded by other large buildings. From the pool on the top floor, you get a clear view of the Sky Costanera which is South America's largest building.
You can expect great service as well. The staff is very friendly and talented at what they do. We highly recommend staying at this hotel if you want a great experience in the business district of the city – and if you'd like to save a bit of money compared to the other 5-star hotels in Santiago.
The Ritz-Carlton, Santiago
Neighborhood: Las Condes
Starting price: $230
Average rating: 8.8/10
→ Book your stay at The Ritz-Carlton Santiago here
The Ritz-Carlton is known for its high standards everywhere. That applies to their hotel in Santiago as well. Located in the fancy area of Las Condes, you will be staying in safe and clean surroundings if you book a room with The Ritz-Carlton.
Aside from being extremely well decorated, rooms also have very comfortable beds and chairs. Most of them come with a desk as well, making it ideal for people who need to get a few hours of work in. Of course, there are also excellent common areas where you can work. The Wi-Fi is as fast as it gets.
Enjoy the pool or the spa on days where you just want to relax a bit. With the excellent Estro restaurant on site, you can always get a bite to eat, whether it is for lunch or dinner. However, the area Las Condes offers a wide variety of great dining options, so you'll probably be eating out on most days.
It's a popular hotel for business travelers, families, couples, sightseeing enthusiasts, and just about every type of traveler. The area is safe and known to be upscale.
The only downside is that you will be further away from the historic center of Santiago, but with several good transportation options (Uber, Cabify, or a taxi arranged by the hotel) you can always get around easily. In other words, it's a really good hotel by most standards, and that's probably why The Ritz Carlton gets some of the best reviews of all the hotels in Santiago de Chile. Check it out if you want an experience beyond the ordinary!
Conclusion
Santiago de Chile has a wide variety of hotels. If you're looking for a 5-star luxury hotel in Santiago, the three hotels above are the best options.
We would recommend The Singular Hotel first, especially if you're into art and sightseeing. It's a beautiful hotel in an excellent area.
The other two hotels are great as well, particularly if you're traveling on business or with a large family.
Overall, there are many great places of accommodation in Santiago, but since 5-star hotels are so affordable in South America compared to Europe and the United States, it definitely makes sense to get a top option and make the trip unforgettable.
Don't miss our other guides and articles about Santiago if you're going to visit. We have a lot of content on Chile, as it is truly one of the best travel destinations in the world.