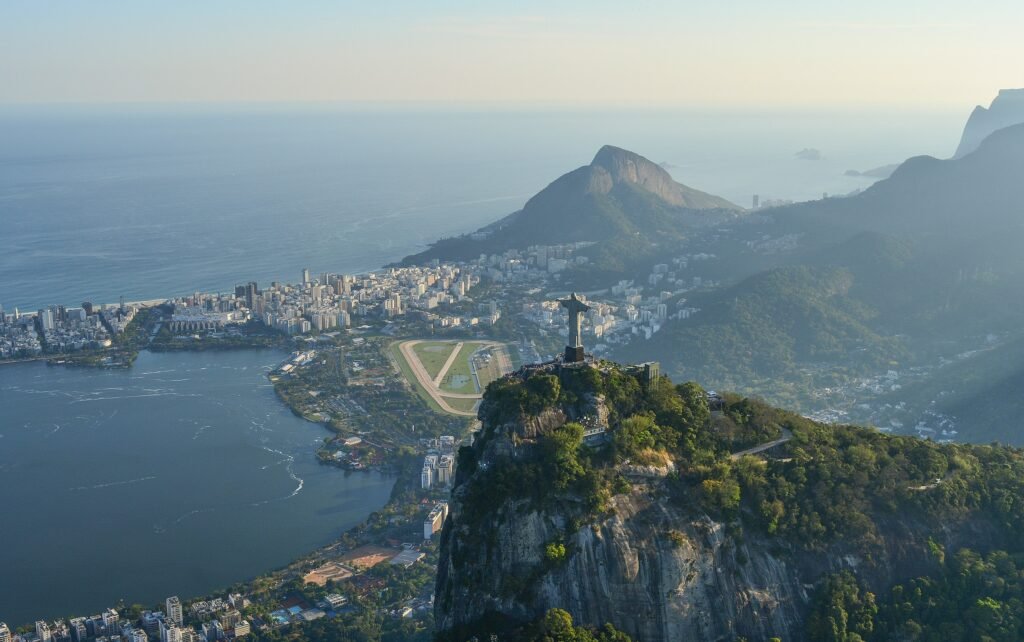 Brazil is a massive country with several interesting tourist destinations. There is something for everyone – huge cities, colonial towns, ports, resorts, beaches, badlands, jungles, rivers, all within multiple different climate zones.
In this publication, we are attempting to collect the most essential travel information regarding Brazil.
Covid-19 restrictions in Brazil
For the majority of travelers, the only requirements to get into Brazil are a negative RT-PCR test taken within 72 hours and filling out the Traveler's Health Declaration. Some nationalities are not currently allowed to visit Brazil unless it is essential travel, and in that case there might be quarantine rules.
The restrictions within the country are very different depending on the state you are in. Most Brazilian states are able to make their own restrictions. So check up on rules for masks, opening hours, gathering rules, etc. before you go.
You can get a Covid-19 test done at private facilities in most Brazilian cities. Expect to pay around 70-90 USD for a single test. In São Paulo and Rio de Janeiro, it is possible to do saliva based PCR tests if you are uncomfortable with the nasal swab.
Facts about Brazil
Brazil is the fifth-largest and sixth-most populous country in the world. It is the largest nation in South America and mainly covers the northeastern, eastern and central parts of the continent.
The language spoken in Brazil is Portuguese. However, the dialect can differ between states, and overall the Portuguese spoken in Brazil is slightly different to the Portuguese spoken in Portugal. Some people speak English in Brazil, but every tourist should try to learn some basic Brazilian Portuguese before going.
Brazil was discovered and colonized by the Portuguese. This began around 1500. It wasn't until 1822 that Brazil gained independence. The country is currently classified as a republic, with the main constitution being formed in 1988.
Throughout its history, Brazil has been a melting pot and the country has a mix of many ethnicities. Most Brazilians have Portuguese and Italian ancestry, while African ancestry is also very common. Northeastern Brazil has been very influenced by African culture, while Southern Brazil has been very influenced by European culture. In the three southernmost states, most people are of Italian, German, and Polish ancestry. Central Brazil, particularly the Amazonas, has many indigenous people – some tribes still have their own languages which adds to the cultural charm on the country. In major cities such as São Paulo and Rio de Janeiro, there are also many inhabitants of Japanese ancestry. Overall, 47% of inhabitants in Brazil are classified as white, while 43% are mixed, and just shy of 8% are black.
The currency used in Brazil is the real (reais in plural). Brazil is one of the largest food exporters in the world, mainly focusing on coffee, fruits, nuts, meats and corn.
Brazil's main religion is Christianity. Over 80% of the population is considered Christian, with Catholicism being the main denomination followed by Protestantism. Brazil has the world's largest Catholic population. The famous Christ the Redeemer Statue is the most well-known symbol of the country.
Regions and states in Brazil
Like the United States and many other large republics, Brazil is split into states. There is a total of 26 states along with the federal district. The states are categorized into geographic regions of which there are 5.
Get an overview of Brazil's regions and states here:
North Region
– Amazonas
– Pará
– Roraima
– Amapá
– Acre
– Tocantins
– Rondônia
Northeast Region
– Maranhão
– Ceará
– Piauí
– Bahia
– Rio Grande do Norte
– Paraíba
– Pernambuco
– Alagoas
– Sergipe
Central-West Region
– Mato Grosso
– Mato Grosso do Sul
– Goiás
– Federal District (Brasilia)
Southeast Region
– São Paulo
– Minas Gerais
– Espírito Santo
– Rio de Janeiro
South Region
– Paraná
– Santa Catarina
– Rio Grande do Sul
Each region has its own culture, while each state is able to determine a lot of its own policies.
The Northeast region is very popular among tourists. It is generally considered to be the region with the best beaches and with the most pleasant weather – it is near the equator, so the weather is warm all year around, although there is a rainy season.
The Southeast region is the economic and cultural engine of Brazil. This is where we find the two largest cities – São Paulo and Rio de Janeiro. The state of São Paulo has a population equal to the countries of Argentina and Spain.
While the Southeast region is the most important region to Brazil's overall economy, it is the South region that is the safest, the richest per capita, and has the highest standard of living. Brazil's three southernmost states, Paraná, Santa Catarina and Rio Grande, have frequently considered to break away and form a new country, but this has not yet come into fruition, and it is unlikely to happen in the near future.
Biggest cities in Brazil
Here are the top 10 largest cities in Brazil measured by urban agglomerations:
São Paulo
Rio de Janeiro
Belo Horizonte
Recife
Brasilia
Porte Alegre
Salvador
Fortaleza
Curitiba
Goiânia
Cultural traditions
As mentioned earlier, each region in Brazil has its own culture, but naturally, some traditions are prominent throughout the country.
The Carnival is the biggest event of the year. Everyone has heard about the Brazilian carnival. It usually takes place in late February or early March with huge celebrations in the streets of all major cities. The two biggest and most historic carnivals are the ones in Salvador and in Rio de Janeiro.
Aside from the Carnival, other Christian traditions such as Easter and Christmas are celebrated throughout the country.
Football (soccer) is by far the most popular sports. A huge number of Brazilians play football and follow their favorite teams. Flamengo is the most popular club in the country, followed by Corinthians, São Paulo and Palmeiras. Most large football clubs are situated in the Southeast and South regions of Brazil. What the entire nation can agree upon is supporting the national team. Brazil is the most successful national team in history, and the entire country follows its national team during the quadrillenial World Cup tournament. Brazil hosted the World Cup back in 2014.
Martial arts are also huge in Brazil. Many practice Brazilian jiu-jitsu, while art form Capoeira can also be considered a cultural highlight.
Motorsports are very popular, especially among the upper classes. Brazil has had several Formula 1 champions and it still hosts a yearly race at Interlagos in the state of São Paulo.
When it comes to food, most Brazilians eat meat, rice and beans every day. Consumption of fruits is also very common. Eating fish is popular but expensive. If you visit Brazil, you will certainly have a lot of dining options, especially in the bigger cities. São Paulo offers food from just about everywhere in the world – Italian, Japanese and Arabic food being among the most popular choices among locals. Distinctly Brazilian dishes and drinks should certainly be tried. Churrasco (grilled meat) is amazing. Caipirinha is a drink everyone should try in Brazil. And Feijoada (dish primarily with beans and rice) is consumed every week by Brazilians, in some cases even every day.
The Samba dancing and musical style is a distinctly Brazilian thing as well, although it originated in Africa.
Brazil has a great music scene with genres such as Bossa nova, MPB, Brazilian rock, funk, and obviously samba spreading to the rest of the world. The most historic Brazilian musical artists are Tom Jobim, João Gilberto, and the group Novos Baianos.
Best time to visit
The north of Brazil tends to be warm all-year-round but there is a wet season from March to August.
In the south, October to March is the period with the most rain, but it is also the warmest periods, so the weather is generally fine. The south sometimes gets snow in the winter (June to August).
Most travelers come to Brazil to experience the Carnival in cities such as Salvador and Rio de Janeiro. Therefore, February and March are usually the months where most tourists arrive and where prices are highest.
The winter in Brazil might be the most pleasant time to visit if you are coming for culture. If you are coming for the beach, just go in the summer, and preferably to the northeast region.
A lot of Brazilians travel domestically in the month of July.
The period from September to November is the Brazilian spring. It is a low-tourist season, so if you want to get the best flight and hotel prices, that is the ideal time to go.
Safety and health
Brazil is an unsafe country if we compare to other destinations around the world. Many Brazilian cities have a high level of violent crime. This rarely affects tourists, but you do need to take some precautions.
If you are visiting major cities in Brazil, particularly in the northeast, avoid walking around with your phone in your hand – it could easily get snatched. Don't carry too much money around, and if possible try to carry copies of your ID when you are out, rather than your actual ID. Don't show signs of wealth. Dress like the locals and try to blend in. Most places in Brazil are safe to visit during the day, except for favelas – if you want to visit a favela, go there with a guide and preferably with a group of other people. Avoid walking alone at night. Some areas are okay at night, so it is possible to go out to party – but don't do it alone, and stick to areas where there are other people.
Tourists never get killed unless they are entering very bad areas and interfering with local gangs.
Robberies can happen on the streets if you are very unlucky. In that case just hand over your belongings and don't try to fight it. It's a good idea to bring two phones to Brazil – your normal phone which you can use when you are inside the hotel/apartment, plus a cheap burner phone that you can carry around in public. It is a good idea to carry a small amount of cash (equivalent to $20) that you can hand over in the unfortunate event that you get threatened.
The most dangerous regions in Brazil is the Northeast followed by the North. The South and the Southeast are the safest regions of the country. Towns and smaller cities in the south are generally very safe. São Paulo is a business city with plenty of police and private security, so this city is also relatively safe, at least in most areas.
Most Brazilians prefer to drink bottled water or using a water filter at home. You should probably be drinking bottled water which can be bought in most hotels and in supermarkets. The food is generally safe to eat, try to find popular restaurants where locals like to go dining. A yellow fever vaccine is recommended if you visit inland regions. For coastal areas, it is not required. No other vaccines are required either, but you might want to consider them anyway. Many tourists decide to get vaccinated against Hepatitis A and Typhoid before visiting Brazil although both diseases are very low risk, especially if you are practicing good hygiene.
Dengue fever is an issue in most places in Brazil, and particularly in São Paulo. Do what you can to protect yourself against mosquitoes. Some travel publications claim that the risk of getting dengue is around 1% for each month you spend there. It's hard to estimate the exact risk, but do what you can to avoid mosquitoes. Malaria is only a risk in the Amazon region, it is not spread near Brazil's main tourist destinations along the coast.
Check the current health risks with authorities before your trip.
Practical information
Plan as much ahead as you can. Book your flight at least two weeks in advance (this will give you a better price and more flexibility) and book your hotel/holiday apartment before you actually arrive.
Learn as much Portuguese as you can before you go. Some people speak English, but not everyone, and not always fluently. You can use an application like Duolingo, or one of the many learning websites to pick up some words. There are great YouTube videos for learning as well. A textbook in Portuguese can also be considered. It can help you learn, and it can keep you occupied on the flight to Brazil.
Most Brazilians pay with credit or debit cards everywhere they go. You can do the same. Still, it's a good idea to have some cash on you as well.
Don't carry around too much cash at once (just bring what you need every time you go out) and don't flash fancy watches or jewelry. Dress like the locals as much as you can. In the cities, that will typically mean very casual clothes such as a regular branded shirt along with jeans or shorts.
Download Uber for your phone – it is the safest and best way to get around in the Brazilian cities, and it isn't too expensive.
Brazilian people are very friendly and love to meet foreigners. So socially, you will have a great time, at least if you are outgoing. A lot of people just start chatting out of nowhere – you don't have to make a particular effort to make friends, it usually happens naturally if you are open to it.
It is generally best to avoid talking about politics. The current political climate in Brazil is very polarized, with many supporting the far left and many supporting the far right. It is best not to get involved in these talks.
Conclusion
Brazil is an amazing country to visit, and if you go there, you will likely have the experience of a lifetime. But planning the trip isn't always easy since there are many things to take into account. We hope this guide has inspired you and brought some useful tips!