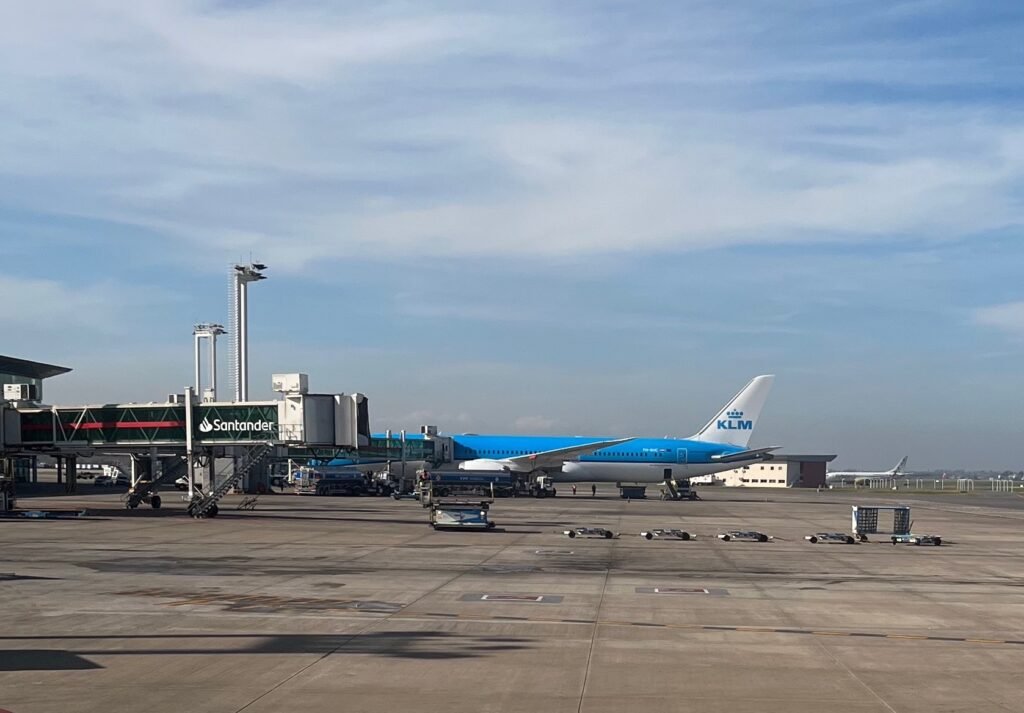 KLM Business Class is a mixed experience. The service can sometimes be great, sometimes below average. Flying business is still miles better than flying economy, also with KLM, but improvements are needed. Here is a review of KLM Business Class.
We tested KLM Business Class twice; on a long-haul 14-hour flight and on a short 1-hour trip. The long flight was on the 787 Dreamliner, and the short one was on the Embraer 175.
The service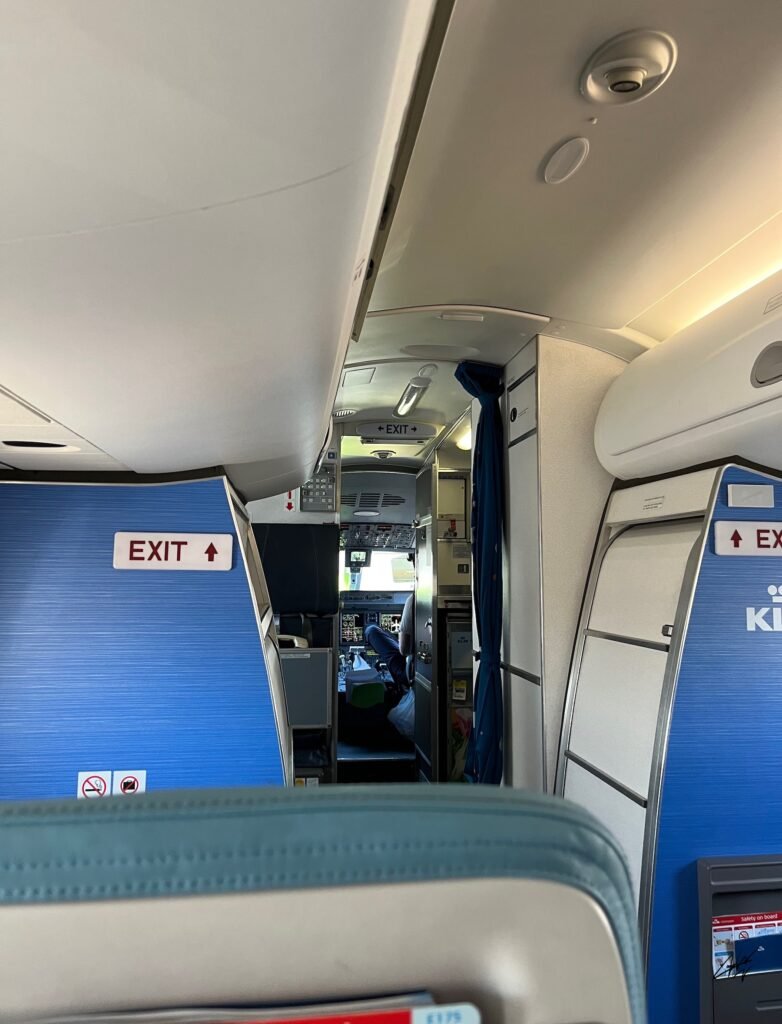 It was almost strange how much the service varied. When flying the small route, the crew was exceptionally friendly and extra attention was given. Seats had plenty of room, the quick meal was great, and boarding was super fast (possibly because there were fewer passengers, even on business).
But on the long-haul flight, it was a much different experience. The crew seemed not to care too much and more focused on their own enjoyment; spending a lot of time having conversations with each other and with a few select passengers, while other passengers seemingly had to go out of their way to obtain the attention of the crew.
That was a bit strange to see, and it is clear that KLM has a much different service strategy than partner Air France. On KLM Business Class, everything is more casual in comparison to Air France Business Class and other airlines where they often check on you, greet you extremely politely, and constantly offer you more.
If the service level on the long-haul flight was equal to that on the short flight, KLM would get a good rating. But since it's apparently not a given to get great service, there's room for improvement and the rating is just average for now. With that said, we are going to try another long-haul KLM flight in the future to see if it's any different.
Rating: 5/10
The seat

If you're flying on the Embraer, the seat has a lot of legroom but standard comfort.
On the 787 Dreamliner, the seat is very comfortable. It is super spacious and transforms into a flatbed if you want to sleep. However, the armrest and the little storage cabinet show some sign of wear. Not important, but visually it does take the experience down a little.
You get a pillow, a blanket and a headset while flying business on the Dreamliner. That makes for a comfortable trip. It's pretty normal for business class, but still worthy of a good rating.
Rating: 8/10
The food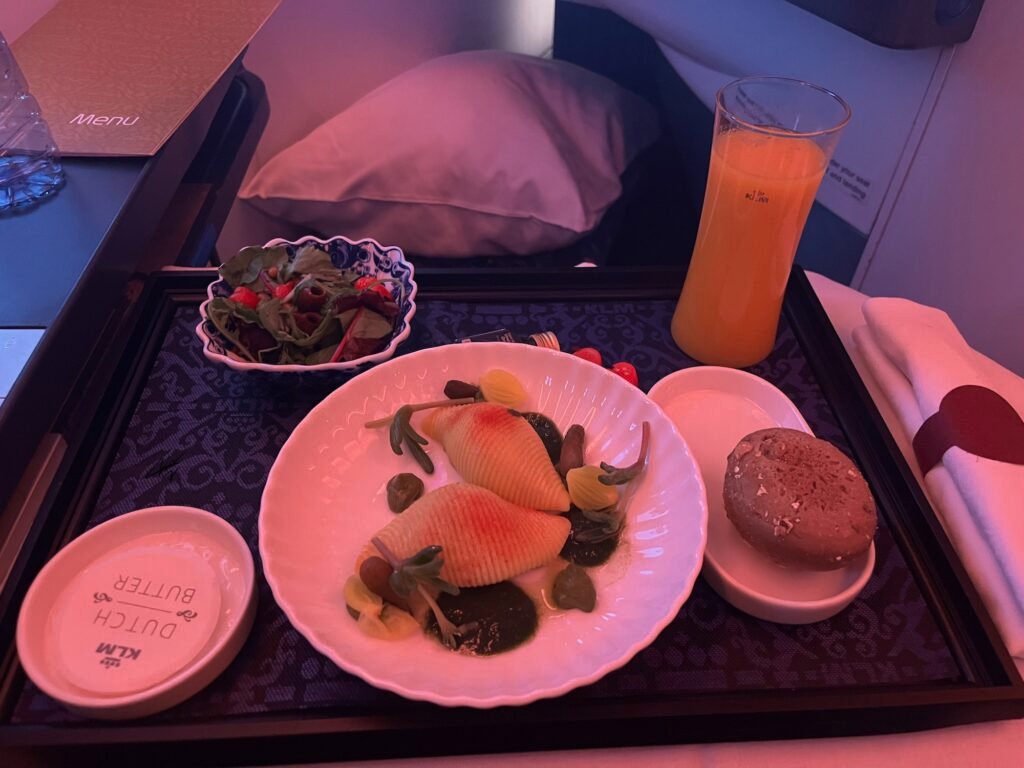 KLM serves great meals to its business class passengers.
On short European flights, you get a little box of food, fairly simple stuff but tasty enough in comparison to most airplane food.
On intercontinental flights, it gets better. You get an appetizer and three options for the main meal. This is accompanied by wine or any other drink of your choice. The main dishes are usually inspired by specific cuisines from around the world. It seems like KLM changes the menu every three months, so if you're a regular flier, you will experience new meals over time.
For breakfast, you will usually get two or three options as well. For some strange reason, we weren't offered a drink to go with breakfast, and it was necessary to reach out to the crew afterward to get something.
But the food is surprisingly good and nutritious compared to most other airlines, even on business. The amounts are solid too. You can grab more snacks during the flight if needed. Plus, if you're flying business out of Schiphol Airport (KLM's main base), you can enjoy the buffet in the Crown Lounge.
Rating: 9/10
Movies and entertainment
When we flew on business class with KLM, there was initially an issue with the entertainment system. Most screens on the plane simply didn't work. Some did, but most didn't and this led to complaints by many passengers.
The crew responded that there was an issue with the electronics (!) but after resetting the system, they began to work – approximately two hours into the flight.
That's unacceptable, but we assume it's not a normal thing.
The selection of movies and entertainment is quite good. It's similar to that on Air France, but seemingly with some unique selections as well.
There are countless movies. Some recent blockbusters and award winners, plus classics. There are TV series too, but usually just a few episodes of each. Enough to get you through the flight, however.
You can also follow the route along the way, something that can be quite fun to do:

Basically the selection and the options are fine, but when the system is down for the first two hours, it's not ideal.
Rating: 5/10
Overall flying experience
Overall, we just can't rate KLM among the best. The service is lacking in intercontinental business class, there are issues with the screens, and the seats show some signs of wear. They are comfortable but could be taken better care of.
The pilots fly well, landings are relatively smooth and there's no issue there. The airplane itself is comfortable enough. We don't consider the Dreamliner to be as comfortable as the Airbus A350 or A380, but it's definitely better than most.
Business class is still worth it with KLM – you get a better seat, better food, early boarding, lounge access, and other benefits. But when compared to other airlines, KLM could do better.
Lounge access

If you're flying business class with KLM, you can enter the KLM lounges at Amsterdam Schiphol Airport. The Crown Lounge 25 is accessible to Schengen passengers, while the 52 is accessible to intercontinental passengers.
Crown Lounge 52 is beautiful, comfy, and has pretty good food (included in the price of your business class ticket).
So at least there is a major highlight of KLM Business Class: Access to the amazing lounges at Schiphol.
But note that as of mid-2023, KLM does not include lounge access in its 'Business Light' fare. You have to go for 'Business Standard' or 'Business Flex' to get lounge access.
Aside from being able to visit the Crown Lounges at Schiphol, you can also enter lounges in other airports around the world if they are affiliated with Flying Blue. That includes lounges in Paris, New York City and Buenos Aires. But again, not on a Light ticket – only on Standard or Flex, so be sure to choose the correct business class ticket when you make your booking!
Is KLM Business Class worth it?
Yes, it's better than economy class. It's also a lot more expensive, typically 4x as expensive. So it depends on your budget. But if you can afford it, go for it.
Sometimes there are discounts – so look out for them in advance. If you can get a discounted business class ticket, it's definitely worth it, no matter the company.
Don't miss our general KLM airline review.