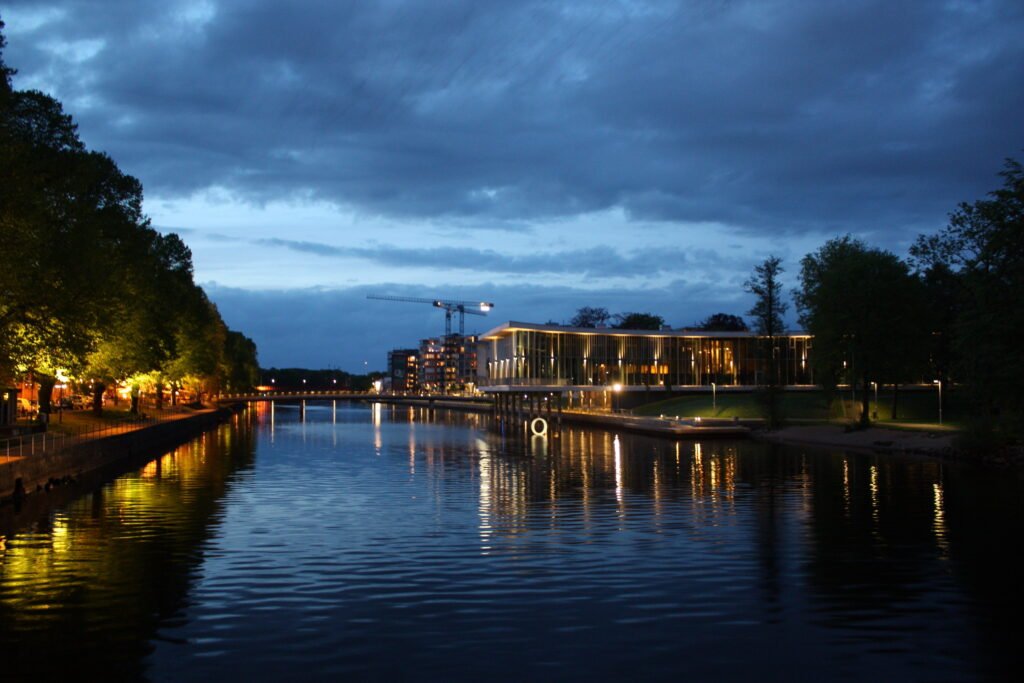 Despite the fact that Halmstad is a somewhat small city, it undoubtedly ranks as one of the best destinations in Sweden.
This is mainly due to its perfect location on the western coast right between Gothenburg and Malmö. Halmstad is rich in art and has world-class sculptures situated around the city. The municipality also sports a long coastline which makes it a popular summer destination for Scandinavians who want to enjoy the beach.
Halmstad receives a lot of domestic tourists from all over Sweden each summer. It also gets a lot of Danish visitors thanks to the ferry connection between Halmstad and Grenaa. For these reasons, it has a great infrastructure for tourism, and you will find multiple nice hotels in Halmstad. Now that internationals are becoming interested in vacationing in Halmstad as well, we are providing this guide to help you figure out where to stay if you come to visit the city.
We will recommend some of the best hotels in Halmstad – both in the city centre and near the coast – and we will describe the best areas and neighborhoods of the city.
Central hotel in Halmstad
Hotell Mårtenson – Book here
If you want to explore Halmstad's art and culture, the ideal choice is to stay in the central part of the city.
The city centre is separated into some different neighborhoods, but it is very compact, so it doesn't matter too much which neighborhood you decide to stay in. However, the top choice is arguably the Old Town, and we also find some nice hotels here.
One of them is Hotell Mårtenson, one of the oldest and highest-rated hotels in Halmstad.
This hotel has a history dating back to 1858 and it has a perfect location in the heart of the city. Located in the northern end of the Old Town, bordering the square Norre Torg, the cultural attractions of the city are all just a quick walk away. Within minutes you can reach Halmstad Castle, Store Torg, Norre Kats Park, the Picasso Park, Hallands Konstmuseum, and the St. Nikolaj Church.
The rooms are very cozy. Each room has its own style and its own decorations. But generally speaking, the interior is quite traditional with a wooden floor and simplistic Swedish furniture. The hotel has a nice bar and a really good restaurant. Breakfast is typically included if you book a room – but consider eating at the hotel's restaurant at night as well.
Hotell Mårtenson has a gym, free WiFi, and the staff speaks English. Families are very welcome. It is even allowed to bring pets when you stay there. However, most visitors are solo travelers and couples who come to experience Halmstad's culture. Families generally decide to stay closer to the coast.
Expect to pay around 1500 SEK (170 USD/150 USD/120 GBP) per night for a basic room for two people. A deluxe room, where you'll have more space, will likely set you back around 2500 SEK (280 USD/245 EUR/210 GBP) per night. The price doesn't get much better than that if you want to stay in the centre of Halmstad at a cozy and historic hotel.
Book your room at Hotell Mårtenson here!
Cheap hotel in Halmstad
Hotel Continental Relax & Spa – Book here
The price is always one of the key factors on any trip. If you want to save a bit of money while you visit Sweden, it makes sense to stay in one of the cheaper hotels in town.
We recommend staying at Hotel Continental Relax & Spa. Prices typically start around 1000 SEK per night for a regular double room which is a great price for a hotel with this quality. Especially in Sweden which is obviously one of the more expensive countries in Europe.
The hotel is located in a calm area in the modern part of Halmstad. It is not situated in the Old Town, but rather on the other side of the river, near the train station and the student area. This is still very central, and you will easily be able to get around the city and to the coast.
Just like the previous hotel we recommended, Hotel Continental is quite historic as it is located in a beautiful building from 1903. The rooms are super comfortable and decorated in a traditional manner. Some rooms even have a small wood stove which gives a very authentic experience!
Despite the relatively low prices, the hotel has some decent facilities. That includes a section for spa and wellness, a gym, a sauna, and a bar. Extra fees apply to some of the facilities. If you are coming by car, you can park it next to the hotel. There is no need to reserve parking and it costs 8 SEK/hour.
This hotel should be the pick if you want to stay in a nice building in central Halmstad without having to pay a fortune.
Book your stay at Hotel Continental here!
Hotel in Halmstad near the beach
Hotel Tylösand – Book here
Tylösand is the resort town located right next to Halmstad. It only takes about 15 minutes to drive from Halmstad to Tylösand and vice versa, and since Tylösand is home to Sweden's best beach, it certainly makes sense to stay there on a trip to Halmstad.
Considered by most people to be the best hotel in Halmstad municipality, Hotel Tylösand is located right on the beachfront about 10 kilometers west of Halmstad city centre.
Unlike the previous hotels we have recommended, this one is not traditional, but rather very modern. The building has a modernist exterior, and once you get inside, it becomes obvious that they have been very creative with the decorations. Hotel Tylösand embodies the simplistic modern Scandinavian style that has become so popular around the world. The hotel achieves this while still offering the highest degree of comfort. Hotel Tylösand is the most popular hotel in the region – but that also means you have to book early if you want to stay there!
On top of the location right next to Sweden's best beach and the impressive rooms, Hotel Tylösand has plenty of extra facilities: It has a pool, two spas, two saunas, a gym, several wellness treatments, and the high-class Restaurant Akvarell. The most unique thing about this hotel is that it has art exhibitions and facilitates several events. Especially in the summer when musicians come to play there. It even has a nightclub, so it certainly isn't boring to stay at the hotel! However, don't worry about the noise – the rooms remain comfortable and quiet despite the fact that so many things are going on at the venue.
As you likely imagine, it isn't cheap to stay at Hotel Tylösand, but it is the best option if you want to be near the beach and if you want a luxurious experience.
Reserve your room at Hotel Tylösand here!
Best areas of Halmstad
The Old Town is the best area of Halmstad when it comes to sights, attractions and eating out. There are also some decent hotels in this area. Our first recommendation Hotell Mårtenson is situated there.
The two areas to the south of Halmstad's Old Town – Slottsjorden and Söder – are more residential, but if you go further south you will reach the central beach area Västra strand which is a nice place for tourists.
Northwest of the city centre, Galgberget is a beautiful hill that has several attractions, including Hallandsgården. Many locals go to Galgberget for hiking and picnics. It is a very green area that is enjoyable all year round. However, there aren't that many accommodation options there, so it is mostly a place you visit during the day while staying in another area.
On the other side of the Nissan River, facing the Old Town, there are some cool neighborhoods as well. The area around the train station is solid, there are many hotels there, and some activities to do as well.
Laholmsvägen is a major street that runs through Halmstad. In the northern end, which is in the central part of the city, there are many shops and restaurants. Further down it gets more industrial, but it leads to the shopping mall Hallarna which could be of interest, in the neighborhood of Andersberg.
The port district in the southern part of the city is very busy. It's obviously an area you will go through if you come in by ferry, but otherwise there is no point in staying there.
Östra stranden, a long beach south of the port district, is a great place to stay. However, it more suited for camping than for a hotel stay. If you come to Halmstad in an RV or an autocamper, there is a ground near the beach where you can park and stay.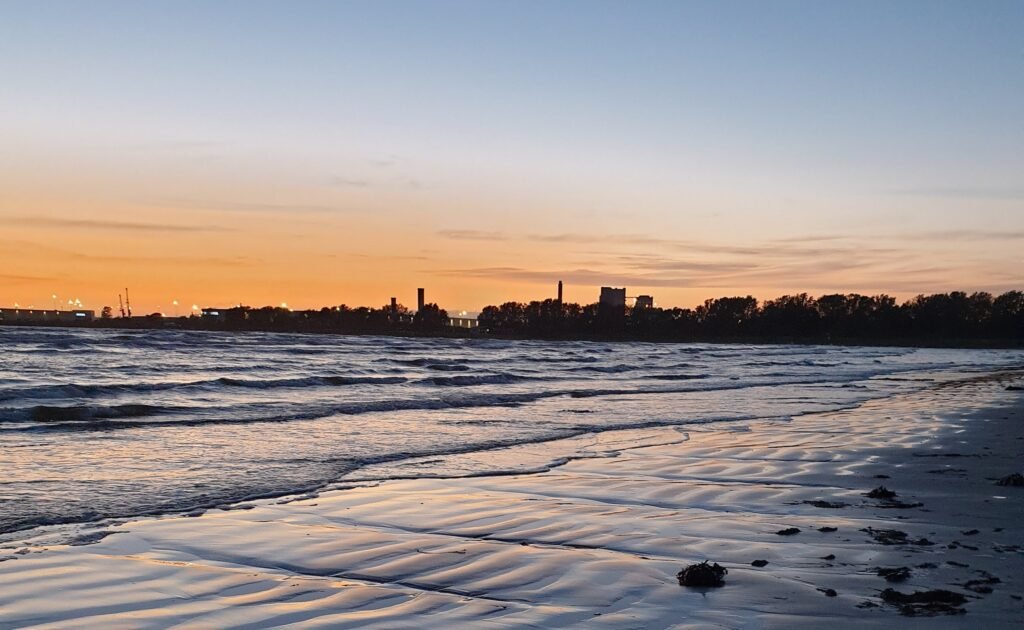 Some travelers also decide to stay in some of the neighboring towns and resorts – and not in Halmstad itself. This entire region is rich in nature and your find countless beaches, forests and plenty of golf courses.
The top resorts near Halmstad are Tylösand to the west and Båstad to the south.
Tylösand is famous for having Sweden's best beach. Hotel Tylösand is a great place to stay if you want to be near it.
Båstad, on the other hand, has the longest sandy beach in the country. It is called Laholm Bay Beach and it stretches about 12 kilometers long. It is one of the top resorts in Sweden. Hotel Skansen is a nice hotel in that area.
So if you are wondering where to stay in Halmstad, there are many suitable areas in and near the city. It's all about finding the area that is best for you. If you are mostly into culture, stay in the city centre. If you are mostly into beach and nature, stay in Tylösand or Båstad.
How to get there
Halmstad has a small airport (Halmstad Airport) but it is mostly used for seasonal charters and for some domestic traffic.
The best way to get in is therefore to fly to either Gothenburg or Malmö, and then driving or taking the train onwards to Halmstad.
An alternative way is to take the ferry there. There are daily connections between Grenaa in Denmark and Halmstad. So if you are vacationing in some Danish city, like Aarhus, Aalborg or Billund, you can sail onwards to Sweden and have yourself an additional adventure. There are also ferry connections to cities in Norway and Germany.
Conclusion
Halmstad is a cool but underrated city. It already gets a lot of Swedish, Danish and Norwegian tourists, especially in the summer, but it still needs to get its international breakthrough. With more people visiting other cities in Sweden, such as Stockholm and Gothenburg, it is only a matter of time before Halmstad also gets some more attention.
This guide has showed you some of the best places to stay in Halmstad. If you want to search for more places yourself, you can do so at Booking.com where they have a list of the best hotels in the city. We hope you are ready for your trip – have a great time in Sweden!