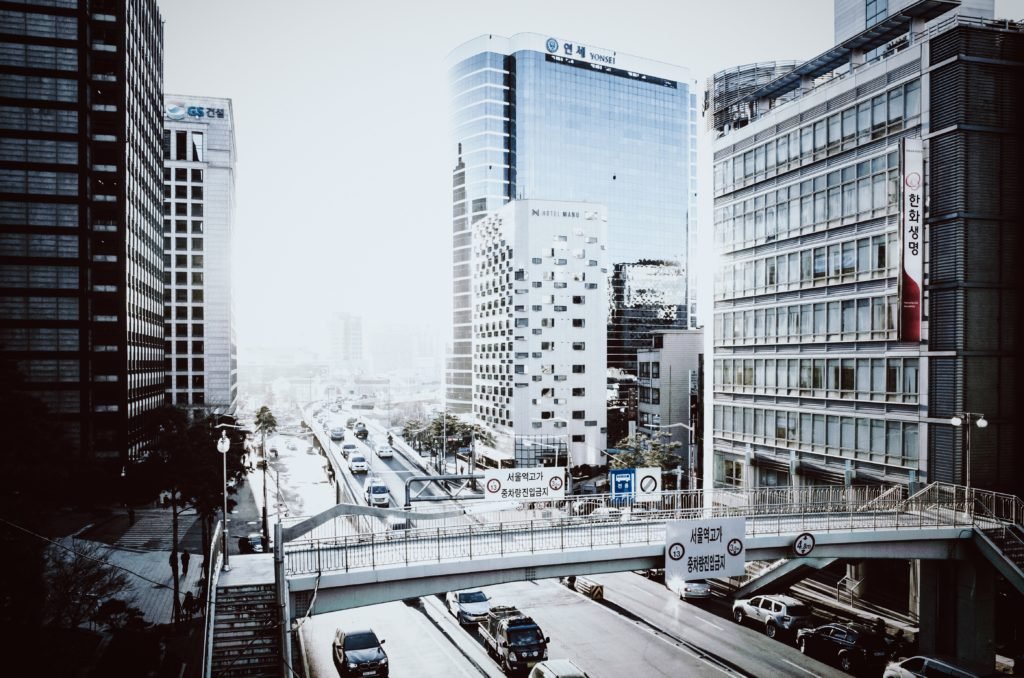 The wonders of Korean fashion and cuisine have been unveiled in trending dramas, prompting an influx of visitors to the capital Seoul.
Hoping to revamp your wardrobe? Looking forward to breaking in those taste buds? Curious to learn all there is about Seoul? This travel guide will help you navigate the intriguing playground of Seoul's commercial delights while rounding off the itinerary with stunning but oft-overlooked landscapes.
How to get around Seoul
Living up to its metropolitan status, Seoul's public transport is efficient and comprehensive, a starburst of travel routes connecting the city center to satellite regions. The most convenient mode of transportation is Seoul's subway system as the color-coded lines are easy to navigate and trains follow a strict schedule. Announcements and signage are also available in English, Chinese and Japanese.
The network is operated by Seoul Metro and KORAIL, featuring these frequently used lines:
AREX – The airport express line that links Incheon International Airport and downtown Seoul, passing through the major stations of Hongik University Station, Gimpo Airport Station and Seoul Station within an hour.
Line 1 – A major line that runs from Seoul Station, Line 1 splinters off in all directions.
Line 2 – Visitors take this central loop the most as it hosts the largest number of transfer points. You'll likely transfer or disembark at City Hall, Gangnam, Myeongdong, Hongik University, Digital Media City and Dongdaemun History & Culture Park stations.
Line 3 – This line covers the culturally rich region of Jongno-gu; major attractions such as Gyeongbokgung Palace and Insadong are located here.
KTX – While technically not part of the Metro system, KTX trains is the fastest inter-city transport. Travelling from Seoul Station to Busan would take 2.5 hours compared to 4 – 5 hours by bus.
Purchase a prepaid T-Money Card for travel convenience. Simply locate a "Ticket Vending and Card Reload" machine in any subway station and feed it an initial charge of 2,500 won – 500 won goes towards the deposit, and the 2,000 won is your starting credit. Since the basic fare costs around 1,000 won, those planning to hop around town should charge their T-Money card with at least 10,000 to start with. Make sure to have cash on you; these machines don't take credit cards.
T-Money can be used on other public transport like buses and taxis. Buses are a good alternative to the metro and often access harder to reach places. Each bus stop is equipped with signs detailing each stop along the bus line (and an arrow to indicate direction), as well as an electric board with live updates on bus arrivals. That said, not all buses announce their stops in English so go with what you're comfortable.
Some navigational tips to make your travels smoother:
Naver Maps reign over Google Maps in Seoul; it is a lot more accurate.
Most metro stations split their platforms so check which direction the train is going before tapping through the turnstiles. If wrong, you'll have to ask the staff to let you through to the other side.
Some line transfers are a long walk between platforms so if you're on a tight schedule, allocate some extra time for the commute.
Most station staff and bus drivers don't speak English so note down destination addresses in Korean just in case you're lost.
Best tourist attractions in Seoul
Seoul might have made a name for itself as a fashion and pop-culture hub, but history isn't far from reach either. When putting together a list of things to do in Seoul, make sure to balance out city fun with cultural experiences! Add in a splash of nature for a picture-perfect trip.
Emerge from Dongdaemun History & Culture Park Station into the cutting-edge Dongdaemun Design Plaza. The venue for Seoul Fashion Week and home to indie brands, concept galleries and a LINE store; it is the center of fashion and design events. Yet it is Dongdaemun's 24/7 retail haven that you travelled so far for. Prepare for endless shopping at various malls, ranging from the fast-fashions of ApM Mall and Migliore to Doota's classy and upscale choices. There's even a massive wholesale market where you can pick up fabrics, home décor and DIY jewelry parts.
COEX Mall isn't just a mall. It is a complex that encompasses an exhibition center, office blocks, phases of shopping mall and aquarium. Spend some time scouring the depths of the ocean via COEX Aquarium's 90 exhibition tanks, where mermaids and fish alike roam freely. COEX Library is another highlight, floor-to-ceiling bookshelves carving out a reading nook in an otherwise open atrium.
Learn about Korea's royals at the expansive grounds of Gyeongbokgung Palace and neighboring Changdeokgung Palace. Consider renting hanbok, Korea's traditional wear, for an elevated tour experience; outfitted visitors can also enter for free. The sheltered corridors, shingled roofs and tree-dotted estate evoke the Joseon Dynasty charm; imagine serene walks around the central pond while officials and housekeep bustle within the low stone walls. Changdeokgung Palace even offers secret gardens for clandestine meetings.
The National Museum of Korea is Korea's ultimate history book, six permanent galleries delineating everything between Prehistory and Early Modern periods. National treasures are spread out over three floors, ranging from excavated items from Unified Silla to religious art. Sculptures and metalwork share space with the Great Bell of Bosingak. There's even a gallery showcasing art from along the Silk Road to demonstrate how cultures intersect.
Get a glimpse of old-time living at Bukchon Hanok Village or Namsangol Hanok Village. Where the former is a residential area (keep those voices down and be respectful), Namsangol Hanok Village was created to keep the tradition alive. You'll find five restored traditional Korean houses with matching furniture and items, one transformed into a tearoom for refreshments. There's also a pavilion, traditional garden and performance arts stage to help serve various cultural activities, including hanbok dress, folding hanji paper, etiquette school and more.
Insadong charms with the nostalgic tinge of fall, blending the wooden façades of traditional Korean buildings with Ssamzigil complex's looping walkway. The smaller buildings hoard traditional Korean cuisine and handicraft stores, while the latter offers branded home items, personalized trinkets and pricier goods. On the other end of the street are the customary skincare and cosmetic stores, balanced out with cafés and pat-bingsu (shaved ice dessert) shops.
Hang out with the skateboarders and joggers at Hangang Riverside Park! Exchange the hemmed-in streets for the long promenade along Hangang River which features grassy patches, bicycle trails, skate parks, children's parks and basic facilities. You can even order fried chicken delivery and have it delivered to the roadside. Spread out the picnic blanket and sit down for a chill time.
Surely you've heard of the jjimjilbang, Korean bathhouses that offer more than just shower stalls. Alternate between hot and cold pools to relieve tension in the muscles, then steam out your pores doing sauna. If you're feeling brave, surrender yourself to the not-so-tender mercy of scrub masters. You will leave pink-skinned and born anew.
Energetic and youth-driven, the streets surrounding Hongik University Station are a heady concentration of trendy fashion, cafés, cheap eats and bombastic street performances. Commonly referred to as 'Hongdae', it is the nighttime place-to-be. Indulge in rounds of Korean barbecue and karaoke or stock up on bargain buys as you wait for the main attraction – electrifying live performances by dancers and musicians at this pseudo stage.
Upgrade your skincare routine with a shopping spree through Myeongdong Shopping Street. This tourist hotspot offers up international brands along with local names, shop staff calling out in various languages to promote new cosmetic goodies. Turn down the narrower streets for clothing boutiques once you've loaded up on the makeup – complete the package! Best of all, you don't have to shop on an empty stomach. Come sunset, the main street comes alive with vendors dishing out cheese-baked seafood, deep-fried tornado potatoes and juicy skewers.
Add some nature to your Seoul visit by ascending the hills of World Cup Park. Consisting of five smaller parks that overlook the World Cup Stadium, it attracts hikers and cyclers. Photographers and influencer-hopefuls will fall in love with Haneul 'Sky' Park, designed as a maze of silver grasslands that burn red in colder months.
Namsan Tower might be a bit of a tourist cliché, but its views over Seoul are unparalleled. Wait until sunset to clamber up N Seoul Tower, to watch the city brushed in strokes of orange and purples. Palgakjeong Pavilion at its base is another viewpoint taken over by romantics, many having stayed for the view after contributing to the Locks of Love. To avoid crowds, visit early morning or late evening.
If you've ever wondered where the canopy of colorful lanterns belonged to, look no further than Bongeunsa Temple. Founded in 794 by the highest-ranking monk of Silla, it's a Buddhist relic that stands out among the pomp of Gangnam district. Recognized for its restoration work, the temple welcomes many curious eyes with a monumental statue and host of smaller counterparts.
Schedule in a hike up Bukhansan National Park for a break from the city's frenetic pace. 5 million visitors drop by annually to top up their nature meter and are rewarded with ever-changing sights. As you trek your way to the peak, make brief stops at the historical temples and old fortresses along the paths.
One of Korea's strongest draws is its intense cuisine so take the chance and drop by Seoul's traditional food markets. Gwangjang Market has long established its presidency with over 5000 food stalls, all serving mouthwatering and budget-friendly eats. If you're not sure what to try, we recommend mung bean pancakes, tteokboki (spicy rice cakes) and sundae (Korean sausage).
Where to eat in Seoul
Just as there are 'best attractions', there are also 'best eats'. While it's impossible to mention every deserving restaurant, here are a few top picks to start you off:
Name of the restaurant chain and food item, Andong Jjimdak specializes in Korean braised chicken. Served as one huge dish, it pairs tenderized chicken with glass noodles, potato and carrot chunks, finely chopped vegetables and rice cake. You can finish off the ganjang-based sauce with a side order of seaweed rice, which is mixed into the leftovers near the end of the meal.
Na Jeong-sun Halmae Jjikkumi
Hunt down the bronze octopus statue that marks the start of Jjukkumi Alley, a restaurant cluster serving spicy stir-fried baby octopi. Na Jeong-sun Halmae Jjikkumi specializes in this extra spicy dish so only challenge if you're confident!
Korean barbecue restaurants are everywhere but if you'd like to try different meat-marinades without breaking the budget, Palsaek Samgyeopsal is a solid choice. Serving up thick slices of pork belly with eight types of sauces, you can enjoy veggie-wrapped bites flavored with ginger, wine, ginseng, curry and other unique tastes.
This is the stop for seafood lovers. Fresh scallop, crab, prawn, sea urchin and more are offered at this massive seafood market. Choose from the still-alive displays of sea bounty and don't be afraid to eat some raw! You can also ask the restaurants above the stalls to prep the food for you.
Fried chicken is a must if you're out in Seoul, especially during late-night hours. Dig into Kyochon's honey and signature soy-garlic menu and compare it to other best eats; Kkanbu and Hanchu Chicken are two other much-loved chimaek spots.
For generous heaping of street food, head for Gwangjang Market's overwhelming variety. Blood sausage, sushi rolls, red-slathered tteokbokki and skewered fish cakes barely skim the dishes available. Hop between the stalls to try all of Korea's signature foods, including live octopus and steaming bibimbap.
Ox bone soup is your saving grace during Seoul's freezing winters, cloudy broth evoking the best of home comforts. Season your seolnongtangwith salt, grounded pepper and spring onion to enhance the soft brisket and beef cuts. Mix rice and wheat noodles for maximum carb consumption.
Day trips from Seoul
Thanks to Seoul's diverse neighborhoods and the comprehensive Metro network, the city appears to be larger than it actually is. Straddling the border is Bukhansan National Park, while Suwon city similarly blurs the line with a short commute. Follow the tendrils of train lines for scattered gems just beyond Seoul's borders.
The DMZ, or Korean Demilitarized Zone, has always been something of an intriguing but scary prospect. Feel the tension in person with a tour of this border territory; it is a day trip made for the politically and historically inclined.
One of Seoul's closest neighbors, Suwon City is under an hour's commute away. Visit Suwon Hwaseong to see how 18th-century fortresses were designed. For more insight into Korean tradition, swing through Paldalmun Gate for the old town quarter teeming with local markets and a canal.
Two contrasting entertainments are located at southeastern Yongin city: the traditional Korean Folk Village and thrilling Everland Amusement Park. Hundreds of hanok houses make up the Folk Village estate, providing a cultural classroom for traditional craft making. On the other hand, Everland is Korea's largest amusement park, featuring fun rides and a zoo.
Rock quarry turned park, Pocheon Art Valley gifts you with a day in nature. Colorful tiered rock formations allow interesting photo spots, while there are plenty of rest areas around the lake for picnics.
Explore Gapyeong to fulfill your K-drama dreams. Especially beautiful in the fall, Gapyeong town circles around Cheongpyeong Lake which offers water sporting activities; water skiing, jet skiing, obstacle courses, etc. It is also famous for Nami Island, featured in the drama Winter Sonata.
Plus a Spring special:
Pictures of Jinhae dominate every spring, heralding Korea's most popular cherry blossom viewing – Jinhae Gunhangje Festival. Between the serene Yeojwa Stream and pink-scattered Gyeonghwa Station, you'll fill up your camera roll with pastel blossom landscapes. If you're planning to go, try to avoid visiting on weekends as it gets crazily crowded.
Extra travel tips
Korea might be the one country where asking for someone's age isn't rude at all but a courtesy. Because age and social hierarchy are so important, figure out where you fit into the dynamic. If you're with an older associate, for instance, show respect by waiting for them to eat first.
Most shops and restaurants take debit and credit cards but prepare loose cash just in case. You're also more likely to get discounts while shopping if you offer to pay in cash.
If you're there on business, note that people receive things with two hands, not one. When taking business cards or welcome gifts, reach with both hands and thank them with a shallow bow.
Most Koreans don't speak foreign languages (although Seoul is moderately better with English and Chinese usage) so learn a few easy phrases. They'll be impressed and touched even if you're simply saying, "Sorry but I don't speak Korean."
The key to a successful trip is research so hopefully, this guide will help you extract the best possible experience in Seoul!