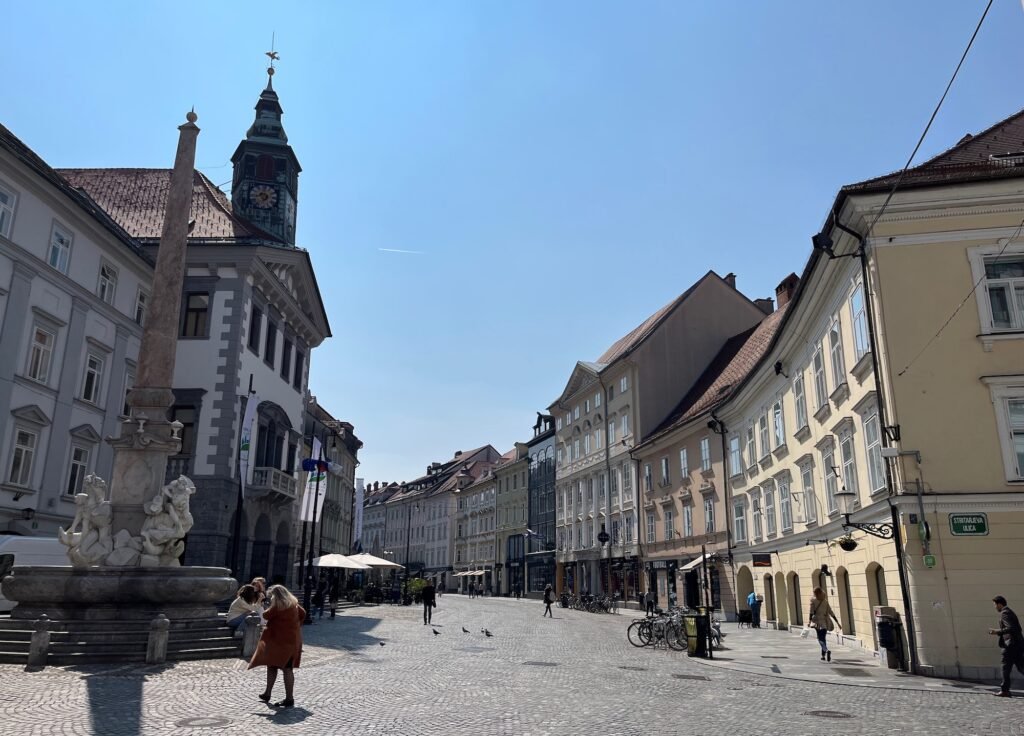 Not sure whether or not you should go to Ljubljana? Many travelers have been in that situation. But we can safely establish that Ljubljana is one of the coolest and most authentic cities in the world. If it's within your reach, it absolutely makes sense to visit Ljubljana.
Let's look into some of the things that make Ljubljana great – plus some things that may not be so great, and additionally how many days you should spend there.
Why Ljubljana is worth visiting
The city centre of Ljubljana is very pretty. It's a great destination for couples who want a romantic trip. It's also a great destination for solo travelers and groups who want to do some sightseeing.
The most impressive sights in Ljubljana are the Castle, the central bridges (including the Dragon Bridge), the Nikolaja Church, and the Tivoli Park. Then there are other attractions such as the Nebotičnik café, located on the top of the Nebotičnik skyscraper. The Central Market is great whenever it's open, and overall you can do some great shopping in Ljubljana.
Ljubljana is not a very multicultural city. Most residents are Slovenes, with some Balkan minorities and European visitors sprinkled in here and there. So the city is authentic and true to Slovenian culture. It also feels extremely safe.
For a capital city, Ljubljana is quite small. Some may see that as a downside. But if you like smaller cities, it's certainly a positive thing, and Ljubljana can be a refreshing destination if you are just arriving from a large city.
There are a lot of amazing cafés and restaurants in the city centre. The café life is famous in Ljubljana. From early spring to late autumn, people will be sitting at the outdoor cafés enjoying the social life and getting a refreshment. It's a very social city, there are plenty of places where you can eat out and get into random conversations.
Ljubljana also has a lot of students. This gives the city a youthful vibe. There are some clubs and bars if you want to party, but you'll have to look up the best places in advance. Slovenian people, both men and women, are considered extremely attractive by most people who come to visit. So if you like to date when you travel, it's not a bad destination at all!
Lastly, people have great English skills. Young people will speak English very well. Older people generally speak some English too. The level of customer service is high everywhere you go in Ljubljana.
For all these reasons, we definitely think Ljubljana is worth visiting, and we actually consider it one of the top destinations in Europe!
Ljubljana downsides
Again, Ljubljana is small. If you prefer huge cities you might get bored if you stay too long.
Prices can be surprisingly high – at least higher than in rest of the Balkans and Eastern Europe – so it can be a bit tricky. Hotels are reasonably priced, but supermarkets in central Ljubljana can be quite expensive. When it comes to restaurants, you'll find everything from cheap to high-end places. Just go for the restaurants and cafés that seem popular among the locals and you will be fine.
Finally, Ljubljana has a location that can be a bit hard to get to. There are not a lot of trains going to and from Ljubljana. The airport is not that well-connected either. Maybe that will change in the future, with more flights going to Ljubljana. For now most tourists actually come to the city by car. Slovenia is a small country, easily reachable by car from neighboring nations such as Italy, Austria, Hungary and Croatia. If you don't have access to a car, buses are a cheap way to get in!
Aside from that, we can't think of any more downsides. Ljubljana scores well in almost everything.
How many days in Ljubljana?
The sweet spot seems to be 3-4 days. That gives you some time to see the main attractions, eat out a couple of times, and be able to settle in at a comfortable pace.
It is possible to see all the most important attractions on a single day trip. But if you want to immerse yourself in the local culture, try to stay for a bit longer.
Ljubljana can work as one of several destinations if you are doing a road trip around Slovenia or the entire former Yugoslavia. It has a location right in the middle of Slovenia, making it a great base for exploring the country. You could easily stay for two weeks in Ljubljana, rent a car, and go back and forth between other Slovenian destinations each day.
Is Ljubljana safe?
The city is very safe, even at night. Ljubljana is considered the safest capital in Eastern Europe and that might also make it the safest capital in all of Europe.
It's rare for tourists to experience crimes of any kind. Even pickpocketing is somewhat rare compared to other capital cities. There is virtually no risk of terrorism.
Health-wise you don't have anything to worry about either. It's fine to drink the tap water, and being in Europe there aren't any tropical diseases to worry about.
There aren't any neighborhoods that are truly dangerous. Some are better than others, as is always the case. Statistically, Šiška is the one with the most crime, but even there it's difficult to call it unsafe for someone uninvolved in local matters. If you get a hotel or a holiday apartment in the centre of Ljubljana, there is absolutely nothing to worry about. The city is as safe as it gets for visitors.
Where to stay?
Staying in the Old Town is best. Especially if you want to do sightseeing.
The Atelier Hotel is a great choice where you get a lot of value for the money. It's only a 3-star hotel, but the rooms are super comfortable, the breakfast is fantastic, and everything is clean. The staff is extremely friendly. Yet, the prices are very reasonable. The location is in the city centre, just a few streets north of the Old Town and near Tivoli Park. It's the best value choice in Ljubljana and we certainly enjoyed staying there.
If you want to splurge, go for the InterContinental. It's a 5-star hotel right in the centre. The InterContinental has all the facilities you ever need. Your room will come with an awesome view, and there are two excellent restaurants at the hotel. It's a fantastic choice but it costs about twice as much as the Atelier. So it's not the best value, but it is the most luxurious. Go for it if you want a fancy experience!
Otherwise, search for more options on the map below. But we really recommend the Atelier Hotel if you want the best combination of price, quality and friendliness.
Conclusion
Ljubljana is absolutely worth visiting. There are some nice attractions, the people are friendly, and the culture is very authentic.
It might not be the best option if you are only into massive cities. Because Ljubljana is quite small. But it's an awesome place to be if you prefer a calmer and more laid-back place.
And while Ljubljana does get many tourists, it is still off the beaten path when compared to other European capitals!