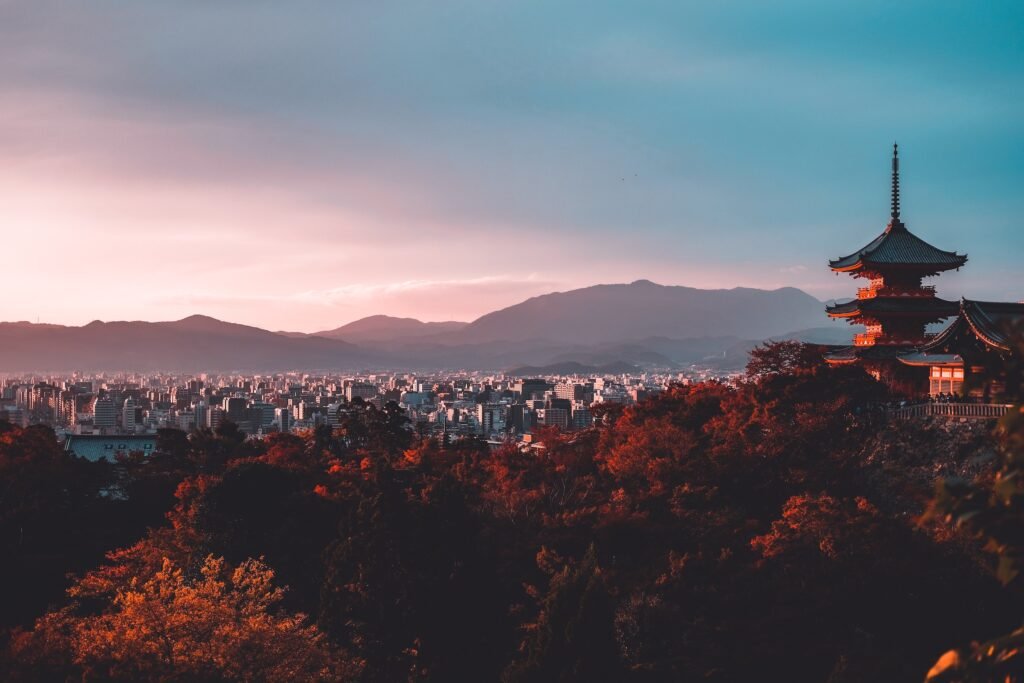 In a country that is already rich in culture and history, Kyoto is the pinnacle of that very essence. Every street you turn, building you see, or park you visit, will radiate the aura of Japan during a past era. Witness the delicate craftsmanship of the buildings that have been preserved for decades and stroll through the thousands of shrines and temples located in this very city.
For any travellers that are more akin to a city with a slower pace and peaceful lifestyle, Kyoto is a must-visit. Whether you plan on exploring Kyoto for a short trip or a long one, knowing which areas to stay at is key to a successful trip. Below are some of these areas which you may want to consider settling at.
Higashiyama
A neighbourhood in close vicinity to the central shopping areas and hosting multiple historical attractions, it is a prime location to stay on your trip to Kyoto. A notable one is 'Kiyomizu-dera', a grand Buddhist temple and a UNESCO World Heritage site, this stunning temple also boasts spectacular views of the vibrant autumn foliage during that time of the year. Another significant place to visit is the 'Yasaka Shrine'. Located at the end of one of the main shopping streets, it will be hard to miss. What makes this shrine so special is that just behind it, lies the sprawling 'Maruyama Park'. This park has everything you could want from koi fish-filled ponds, small local cafes, ice cream shops, clear views of the mountains, and a small densely grown area with a little waterfall and river. During the short cherry blossom period in spring, the park is transformed into a pink paradise, featuring larger-than-usual trees sporting the pink leaves, with even light fixtures being put up to make it a delightful spectacle at night. This region is home to a good majority of the top sightseeing spots, and perfect for anyone planning on a trip that involves a lot of temple and shrine hopping. But it gets even better.
The enchanting district of Gion is also found here, famous for its traditional style restaurants and teahouses, as well as the elusive 'geisha' and 'maiko' which you may spot in the dark hours of dusk. Just off of the previously mentioned shopping street that leads towards 'Yasaka Shrine', you will stumble into 'Hanamikoji Street'. This street is the epitome of what you may think of when you think about old-school traditional Japan. The beautifully preserved wooden architecture is apparent throughout all the buildings down the street and makes you feel as if you have gone back through time. The establishments here have been around for generations and have a long-standing reputation and clientele, meaning that prices you may find here will be on the pricier end, so do not be surprised when you see that.
Capped off by the long beautiful 'Kamo River' which separates this area from central Kyoto, this district encapsulates many of the factors that make Kyoto such a great city to visit. The winding river is the perfect spot to sit by and unwind or to have a nice peaceful lunch. Even into the late hours of the evening, especially during the warm summer, you will find people gathered alongside the river banks relaxing or happily drinking the night away.
Where to stay in Higashiyama?
Given the extreme desirability of guests wanting to stay in this area, it can be a challenge to find the perfect accommodation here. So, preferably for people who are travelling solo or in pairs, I highly recommend a guesthouse. Yes, you do not have the comfort of your own private room and may unfortunately be assigned to the same room as a loud snorer, but given how exceptionally cheap some of these guesthouses are, it is a perfectly viable option. Guesthouses in Japan are also famously clean and well kept, contrary to what people may believe when they think of cheap shared accommodation.
Aside from that, I recommend the 'Kyonoyado Kiyomizu Gojo Kuretakeso' hotel if you are able to find a room available, as it is located in a very prime location within the Higashiyama area. The rooms are surprisingly quite spacious for what you may expect for a Japanese hotel, and they are even tatami-matted. They offer an incredible Japanese breakfast selection and are even equipped with a traditional public bath. While the rooms themselves come with their own private bathtubs, why not take the leap and experience a Japanese public bath?
Make your reservation and book a room right here!
Kyoto Station Area
This is the best for travellers who are only staying for a very short period of time around 2-3 days, or ones that dislike travelling even further to an accommodation after arriving in the city. Aside from being close by to the biggest transportation hub in the city, most of the main attractions are located further out. Luckily, Kyoto Station also acts as the main terminal for many of the buses, allowing you to visit multiple attractions all over the city in a short period of time. The surrounding area is mostly built up of conglomerate shopping malls and office buildings, but you can always find nice little restaurants and unique shops. The major landmark in this area is undoubtedly the 'Kyoto Tower'. Impossible to miss once you exit the station, the observation tower presents guests with panoramic views of the city and is a staple in the silhouetted skyline of Kyoto.
Where to stay in the Kyoto Station area?
As this area is typically more suitable for people only staying for a few days, I have gone with a cheaper hotel in 'APA Hotel Kyoto-Eki Higashi. Practically visible from the station, it only lies a measly two-minute walk away. A traditional Japanese public bath is available here which includes an open-air area, and a plethora of views of 'Kyoto Tower' can be seen from the many rooms. The rooms are smaller than the previous hotel but completely standard for a typical Japanese hotel, and assuming that the trip is only a short one, you probably will not be spending much time in the hotel room anyway.
Reserve your room at the APA Hotel Kyoto here!
Arashiyama
This is the district found in the western outskirts of the city. Now you might be wondering why I would be recommending an area further out from central Kyoto, here are the reasons why. Arashiyama is one of, if not the most tranquil place in the whole of Kyoto. It is home to the world-famous bamboo grove and free-roaming monkey park on top of a mountain that you have probably seen countless times on social media. The sprawling and towering bamboo lines the pathways, with bright rays of light cutting through the vegetation. Truthfully, with every step you take, a photo opportunity presents itself in this forest. The monkey park offers sweeping views of the Arashiyama area while being surrounded by free-roaming monkeys. There is a little building at the top once you reach the summit, where you can buy apples or peanuts to feed the monkeys. This is a fair warning that the trek up the mountain can be quite challenging, especially during the unforgiving humidity and heat of summer, so be sure to be prepared.
The whole area itself is an absolute heaven for anyone with an affinity for nature and scenic views. The impressive wooden 'Togetsu Bridge' spans over the wide river, with extraordinary sights of the lush rolling mountains in the background. In the autumn season, when the foliage reddens in colour, the mountains are transformed into a masterfully painted blaze of inferno. It is truly a breath-taking view and is no surprise that it is one of the top places to see the autumn foliage. Pleasant cruises can be taken on traditional wooden-style boats down the river, offering alternative viewing points of the gorgeous surrounding nature. A special train service, specifically for sightseeing can also be found in operation here that cuts and winds through the mountains. Called the 'Sagano Scenic Railway', old-fashioned trains are all used for these journeys, adding to the ambiance of the experience. Most popular during the autumn, this and the boat rides both make for very romantic activities.
Where to stay in Arashiyama?
While Arashiyama is beautiful and extraordinary, given the fair distance from the city and in unison the other attractions that Kyoto has to offer, it should only be for people who want to stay a few nights outside of the city, or for those that solely plan on only staying here for their whole trip. As this area personifies peaceful and traditional atmospheres, I have gone with recommending the 'Ranzan Ryokan'.
Although expensive, it is located in a wonderful location beside the river and the 'Togetsu Bridge' in sight, it is almost impossible to find a better spot than this. As typical with a Japanese 'ryokan' breakfast and dinner is served in the traditional 'kaiseki ryori' style. A large public bath is also available to guests here aside from the private bathrooms. Within a twenty-minute walk from all the top attractions, you will have no trouble exploring Arashiyama at your own pace.
So, for those seeking to wind down and relax to the chirps of birds and swaying of trees, Arashiyama is the perfect place to visit.
Book your stay with the Ranzan Ryokan here!
—
Are you ready for your trip? After these recommendations on where to stay in Kyoto, we hope that it has become a bit easier for you to find a good hotel. Be sure to enjoy your trip once arriving, and let us know if you have any further questions about Kyoto!