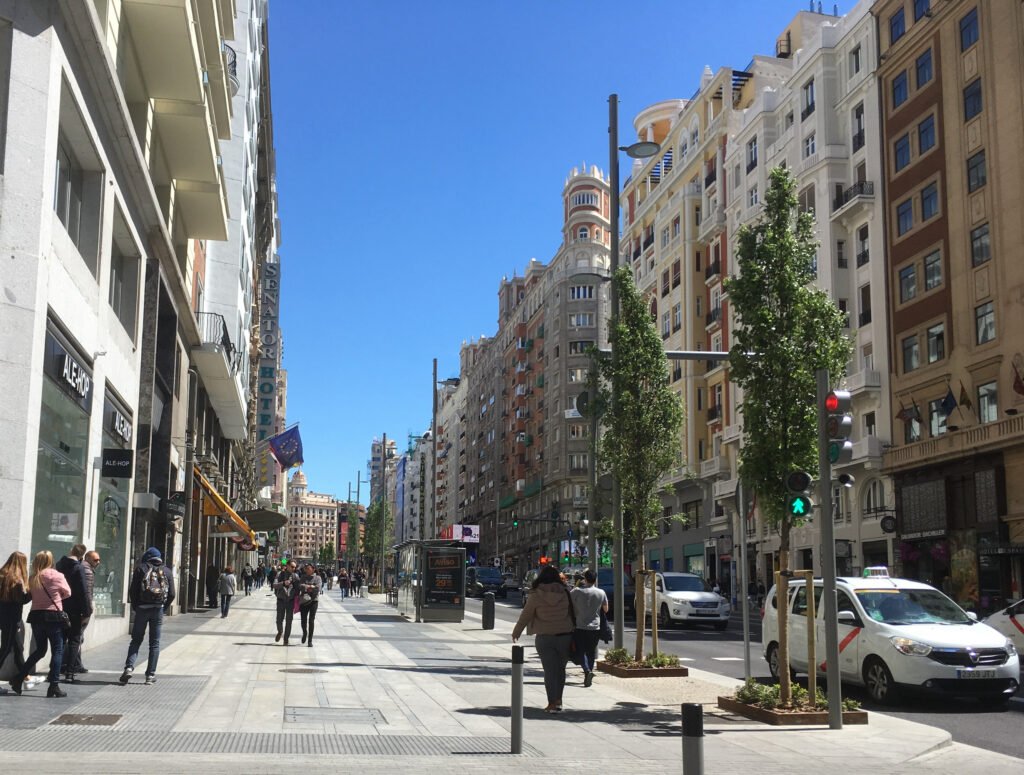 Madrid is the capital of Spain and one of the best tourist destinations in the country. It is now possible to book a trip to Madrid with cryptocurrency: If you book through a specific platform, almost all the major hotels in Madrid are available for travelers who wish to pay with crypto.
On top of that, there are some cool shops around Madrid that accept payments in crypto. It is also possible to buy and trade digital currencies around the city. Here is a guide that focuses fully on traveling to Madrid and paying with crypto!
Pay for your trip to Madrid with crypto
You can pay for your flight and your hotel with crypto. The only thing you have to do is to book through a travel portal that accepts cryptocurrencies.
The biggest crypto booking portal is Travala.com. It works just like other booking portals such as Expedia and Booking.com, the only difference is that you have more payment options.
On Travala.com, you can search for flights to Madrid and pay for your booking with crypto. You can also search for hotels in Madrid – there are several hundred options – and when you find one you like, you again have the chance to pay with crypto.
You don't have to buy a full vacation package. If you only need the flight, you can simply book that, and if you only need a hotel, you can book that on its own.
Several cryptocurrencies can be used at Travala. That includes Bitcoin, Bitcoin Cash, Ethereum, Monero, DAI and USDT. Generally, it is best to make the payment with a coin that has low fees and near-instant confirmation. Monero would qualify as such.
Many of the best hotels in Madrid can be booked with crypto: We would recommend staying with the classic Hotel Emperador on Gran Vía has the top priority. It is a beautiful, large and super central hotel with great service.
A nice alternative option would be the 7 Islas Hotel, situated in the neighborhood of Chueca on one of Gran Vía's side streets.
Since the flight and the hotel are typically the main expenses of a trip, it is certainly possible to travel to Madrid and charge the majority of the costs to your crypto portfolio if you so choose.
Using crypto in Madrid
Using crypto in the stores and restaurants around Madrid can be a little more difficult than the earlier steps.
Some places do accept crypto, but most generally do not. In Madrid, it is the norm to pay with cash when you go to restaurants and shops, and most places also accept debit and credit cards. Crypto is not yet so well-adopted among local business owners, but you will find more options in Madrid than in many other European cities.
If you want to spend from your crypto portfolio on your trip, you can exchange from crypto to fiat once you reach Madrid. There are many Bitcoin ATMs around the city. Alternatively, meet up with another crypto enthusiast and make the trade from crypto to euros. Then you can spend cash money around Madrid and make the most of your trip.
Here is a list of local places in Madrid where you can pay directly with cryptocurrency.
Obtaining crypto on a trip to Madrid
If you need to obtain more crypto while you are visiting Madrid, this is very easy.
Many shops around the city – including Eroski, Fnac, Game and Worten – sell Bitnovo cards. These are basically coupons that you buy anonymously in a store, and you can then redeem it for crypto online. Similar to how Netflix and PS Store vouchers work! Fees are reasonable, so this is a great way to obtain (or invest further) in crypto while you're on a trip to Madrid.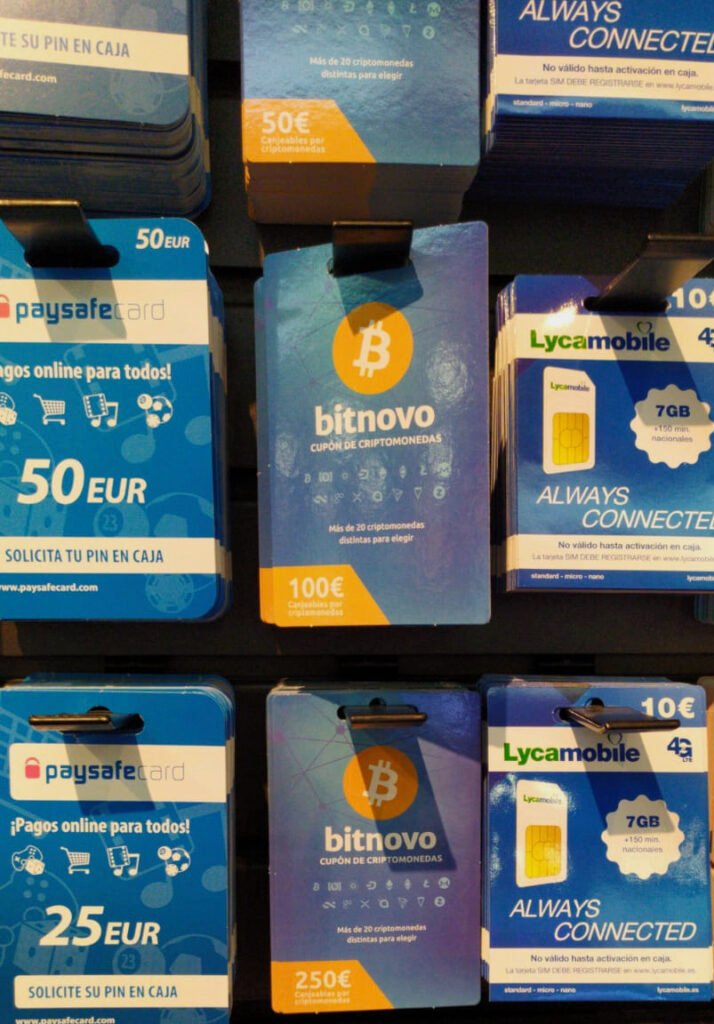 Additionally, there are crypto ATMs around the city where you can buy and sell. Due to the size of the city, and its role as a key financial location in Europe, many inhabitants own crypto and regularly do MeetUps.
Overall, Madrid is one of the best places to visit in the world if you want to spend in crypto and obtain more crypto along the way!
Things to do upon arrival
If we look away from the financial aspects, Madrid has plenty of interesting attractions that you can explore.
If you are into culture, history and art, we would recommend:
Puerta del Sol & the bear statue
Plaza Mayor
Templo de Debod
Prado Museum
Reina Sofía Museum
If you are into sports, check out:
Santiago Bernabeu
Wanda Metropolitano
The race tracks
And finally, if you are into shopping and relaxation:
Gran Vía
Salamanca and Goya neighborhoods
Retiro Park
Príncipe Pío shopping centre
La Gavia shopping centre
Some attractions are free, others are paid. It is generally difficult to pay with crypto, since most traditional venues still don't allow it, so bring some cash or a credit card when you go out to see the attractions in Madrid.
DON'T MISS: The best alternative things to do in Madrid
Conclusion
Madrid is an awesome city with some mind-blowing attractions and a great social scene. Crypto is relatively popular and you will find more options to buy, sell and trade than in most other European cities.
Thanks to crypto booking portals, you can now pay for the majority of the expenses with crypto if you visit Madrid on vacation. Travala lets you pay with crypto when you book a flight or a stay with a hotel. It can be fun to do so if you are a cryptocurrency enthusiast and if you also have plans to explore the Spanish capital in the near future.