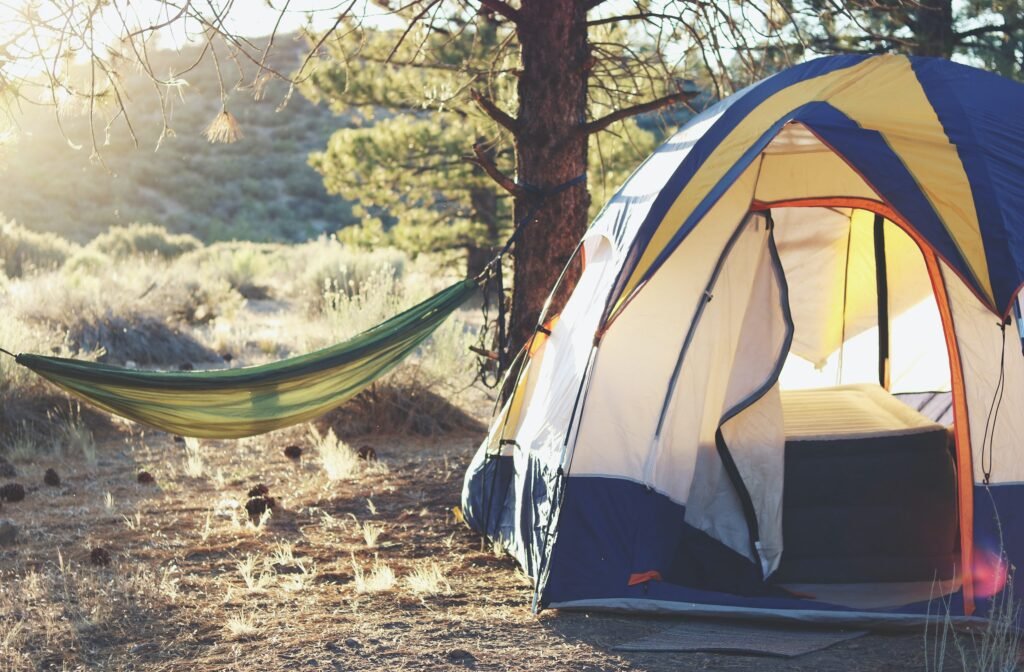 Tired of the same old hotel rooms and Airbnb apartments? Do you want to try something different next time you travel? Then have a look at some alternative accommodations. Staying at a different establishment can give an entirely different experience when you travel. In this article, we are looking into the 7 best alternative accommodation options out there!
We will basically list and describe some options of accommodations that aren't hotels and holiday apartments. Maybe you can try one of them next time you travel, and maybe you can even make it into a bucket list and try all the options. Some of these accommodations are completely free, some are cheap, and others are really expensive. Alternative stays open up to all sorts of experiences.
Camping
If you love nature, camping is the ideal choice. You also get a great sense of freedom. Everyone should try to go out into the wild and stay in a tent. It's a great experience since you get to feel nature fully. You can also keep on moving every day so two days are never the same.
Camping can be done alone, with friends, with family, or any way you like it. Obviously, camping should ideally be done in natural settings, so you need to get out of the cities if you want the perfect camping trip. And you do need some equipment: First and foremost a good tent, but also a good backpack and some other essentials.
Hostels
Hostels are very popular, but they are still considered 'alternative' since most people prefer to stay in regular hotels.
The great thing about hostels is that you get to be more social. In most cases, you will stay in rooms with complete strangers. This is a formidable way to get acquainted with new interesting people. Many hostels also have events and activities – in Europe, it is very common to go out bar crawling with the staff and the other guests.
Another benefit is that hostels are cheap. In many expensive cities, you'll find centrally located hostels that cost a fraction of what the nearby hotels charge for a stay. For this particular reason, many young travelers decide to stay in hostels. But the option is there for everyone – and if you like to be social and meet new people, while also saving a bit of money, hostels are definitely for you!
Couchsurfing
Couchsurfing shares the main benefits that hostels offer – you get to be social, and you'll save money.
In fact, Couchsurfing is almost free. Although the official Couchsurfing website has begun to charge money from its userbase to use the platform, staying with people is free in itself.
If you haven't used Couchsurfing before, let us briefly describe the idea: Local hosts allow travelers to stay with them in their apartment or house, usually free of charge. The experience can be very different from host to host: Some hosts love to be social and spend a lot of time with their guests, while others are more reserved but still kindly open up their home to give travelers a free place to stay. Some Couchsurfing hosts give you a full room to sleep in, although the most common thing is for guests to sleep on the couch (hence the name)!
To use Couchsurfing when you travel, you will have to sign up to the website and contact local hosts in the city you are visiting. It is not always possible to find a place to sleep on there, and it is generally easier for women than it is for men. The more places you stay, the better your reputation will get, and the easier it will be to find connections in the future. Many Couchsurfing travelers end up becoming hosts themselves – often because they get great experiences on the road and want to give back to others.
Couchsurfing can be seen as a lower-quality but almost-free alternative to Airbnb. And that makes it one of the best forms of alternative accommodations out there.
Cottages
Staying in a cottage can be a great experience. Cottages are small, old-fashioned buildings. They are usually located in the countryside, in very authentic surroundings. You will often have a local host and get a small room in the cottage. Other times, you might have an entire cottage to yourself. It depends on what type of experience you book!
In Scandinavia and on the British Isles, cottages are extremely common. You will also find them in North America and in other European countries.
Cottages can be reserved on sites such as Airbnb and Vrbo. In many European countries there will be local agencies where you can book a stay in a cottage, so it is something you should research further once you have decided upon a destination.
The benefits of staying in a cottage are that it is very cozy, it feels a very traditional vacation, you will typically be close to nature, and it is very stress-free. For those reasons, we highly recommend everyone to try staying in a cottage at least once. And after you have tried it, you will likely want to try it again and again.
Boats
Staying in a boat is also an alternative type of accommodation. And it is a great experience – especially if you haven't already tried it!
In many cities around the world, there are so called houseboats. They are often located on canals or harbors. These boats will be designed for living. That means they will typically have a small room or two, a place where you can store food and where you can eat, and a bathroom inside the boat. You can book this experience on Airbnb or similar sites, or you can get in touch with local homeboat owners who are renting out their boats.
Staying in a homeboat will probably not give you the opportunity to sail anywhere, but it will be a unique stay. Many houseboats are located in interesting places, allowing you to go out and get some cultural experiences while on the trip. In cities such as Copenhagen and Amsterdam, it is common to stay in a houseboat, so try it out if you ever go there. It is also common to have a houseboat at many lakes and rivers in the US.
Another option is to actually rent or buy a boat or a yacht. In that case, you can have a trip where you actually go out sailing and where there is a bigger emphasis on the water. It will even allow you to travel from coast to coasts and see different places. It will also be more expensive though, and it will require that you know how to sail.
Vehicles
Yet another great option – staying in a vehicle.
Like camping, this is a very liberating way to travel. You can rent or buy a recreational vehicle (RV) or a caravan. This will allow you to drive around from place to place and visit several destinations along the way. If you are traveling solo and don't mind being a bit Spartan, you can even do it in a regular car!
A good RV should have enough space for a few people, there should be room for storage, and it should allow you to cook and clean. You will have to find water and fuel along the way, but that is very easy, so if you simply know how to drive, you can do a vehicle trip. Like many of the other alternative accommodations mentioned in this article, staying in a vehicle is something that everyone should try. It's a great way to travel with family, as you really lose the stress and get some valuable time together, but it can also be done solo or with friends.
No accommodation
Now we are really out there – but consider the idea. Some travelers see it as a challenge to go somewhere without having anything booked. YouTuber Simon Wilson frequently does 3-day challenges where he goes somewhere without money. Sometimes he does succeed in getting into a hotel room, a hostel, or sleeping with someone else – but sometimes he ends up sleeping on a park bench. That's how it goes.
Traveling without accommodation is like being temporarily homeless. It isn't particularly comfortable, but it can be a fascinating journey, and it can give you some valuable insights. You also save a bit of money this way.
Of course, only consider this when you visit safe destinations, and we will have to stress that it is only for the most extreme travelers out there.
---
As you see, there are lots of great options when you need somewhere to stay. It is certainly comfortable to be staying in a nice hotel or in a well-located holiday apartment, but if that's all you ever try, you will miss out on other experiences.
Have you ever considered Couchsurfing, camping, staying in a boat, or even sleeping on the streets for a night? If you have the guts to try something new, and if a certain type of alternative accommodation appeals to you, by all means – give it a chance! Just stay safe and always remember to enjoy your destination!